Here are the Bicolano dishes most searched by home cooks around the country, from the past year until the present
With most of the country in lockdown since March 2020, home cooks – both new and experienced – saw themselves spending more time in the kitchen. Despite the convenience of food deliveries and take-out, nothing really beats the taste and comfort of home-cooked food, especially if it's a recipe from childhood or inspired by a favorite regional delicacy.
We wanted to know what kind of recipes people were cooking up from their homes in the past year in lockdown. Coming from the knowledge that Bicolano cuisine is a popular choice among diners and home cooks around the country, data company Nerve did a scan on the most popular Bicolano recipes people around Luzon, Visayas, and Mindanao searched for online from January 2020 to August 2021.
Which dishes made it to the top five? Here's what the numbers have to say!
Bicol express
This spicy, creamy dish made it to number one in terms of search popularity – it reached a whopping 81 searches in May 2020 at the height of last year's lockdown. In March 2021, it was beaten by laing by a mere two searches, as Bicol express had 30 while laing had 32.
Contrary to common belief, Bicol express isn't actually a Bicolano dish. It was popularized in Malate, Manila by a woman named Cely Kalaw from Laguna, whose childhood was mostly spent in Naga City, Bicol.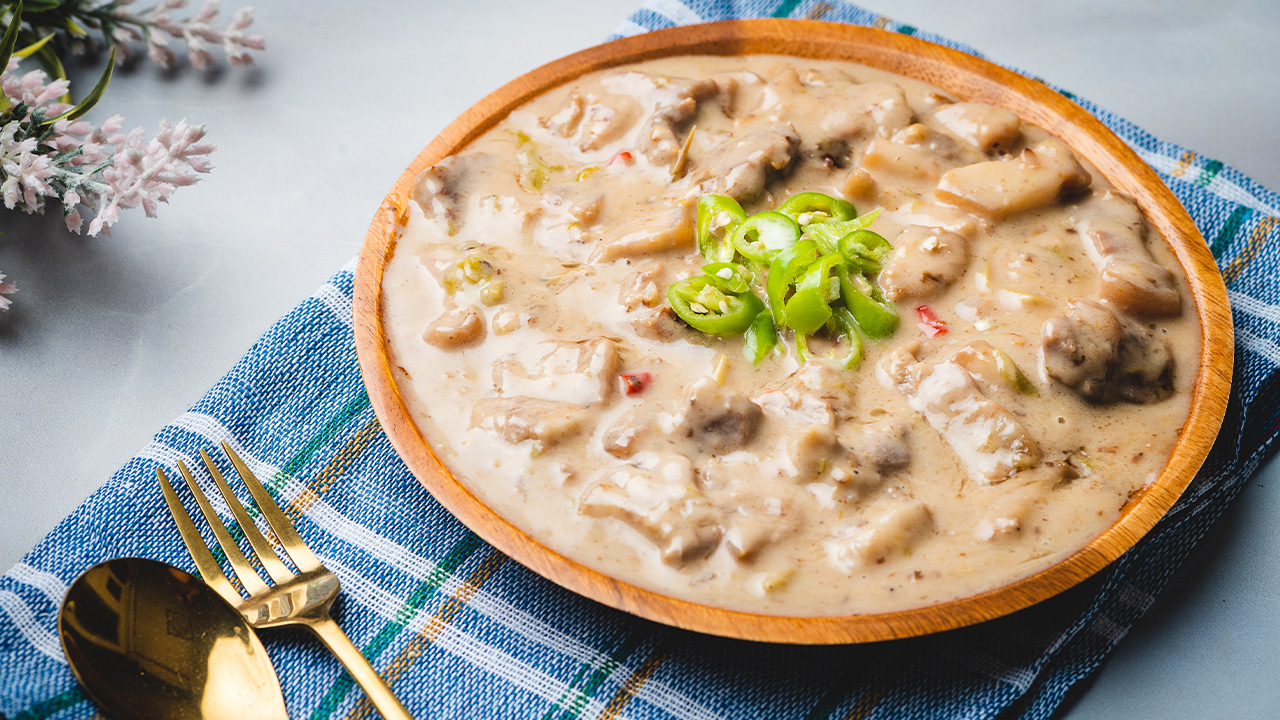 Inspired by the creaminess and spiciness of Bicolanos' native gulay na lada (vegetable with chili), she adapted her own take on the traditional stew at her restaurant in Manila, adding pork belly strips and shrimp paste to the dish but keeping Bicol's star ingredients of gata (coconut milk/cream) and lots of sili. It is said that Cely named the dish after the train traveling from Manila's Paco station to Bicol.
Just like many Filipino dishes, Bicol express can be served differently depending on the region or household, but it almost always ends up the same hot, spicy, and filling creamy meat stew that's perfect with warm rice.
Laing
We gata hand it to laing – this creamy vegetable dish came in a close second to Bicol express! The dish reached its peak in June 2020 at 44 searches, and stayed strong until August with over 35 searches. Since then, it dwindled in numbers, but then shot back up in March 2021 with 32.5 searches, beating Bicol express that month.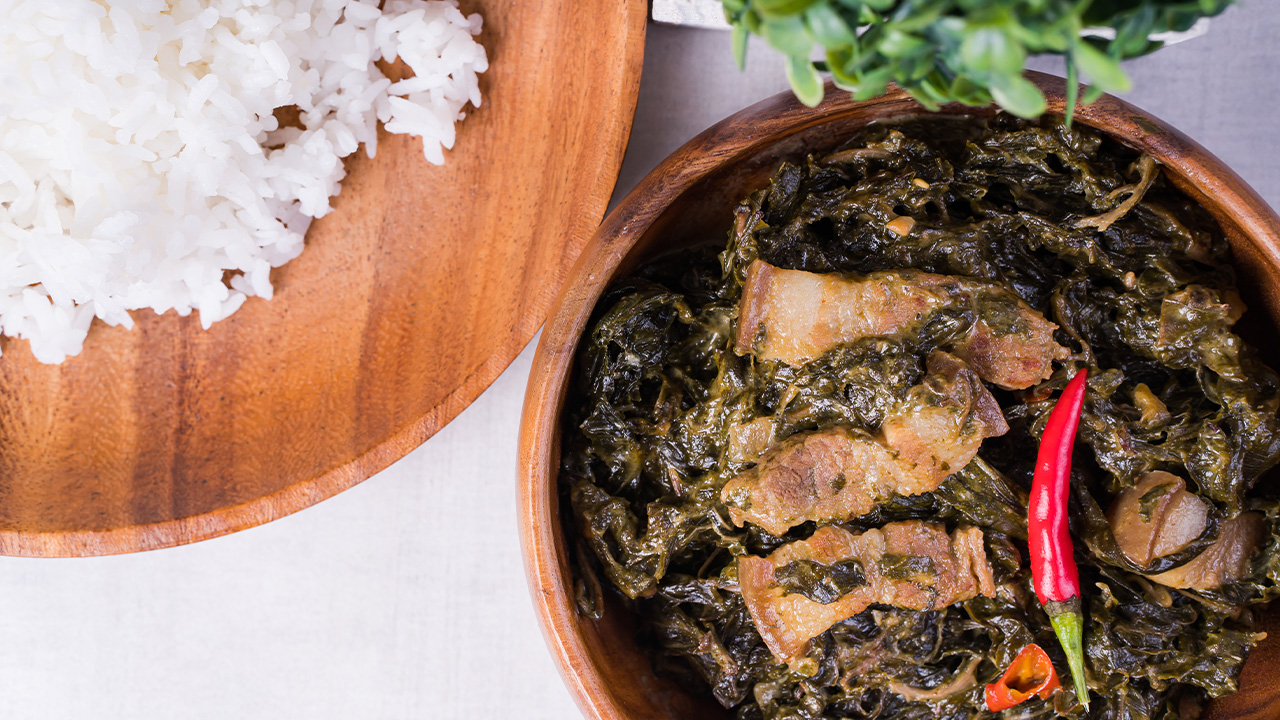 This spicy, creamy veggie dish is typically made of shredded gabi (taro) leaves, stewed in spicy coconut milk with siling labuyo, garlic, ginger, and sometimes tanglad (lemongrass) and bagoong (shrimp paste), with fish or pork added to the mix.
Note: Laing is actually the Manila version of the Bicolano dish known as pinangat.
Pinangat
It's no surprise that pinangat comes in third, right after laing, but the Bicolano favorite's searches are significantly less than its Manila counterpart. In terms of searches, it reached its highest number in March and May 2021 with 16 searches. The rest of the year, pinangat only acquired around five to nine searches per month.
Authentic pinangat na gabi uses whole gabi leaves that are wrapped around pork or fish (pinangat na isda) using a banana or coconut leaf. The meat-veggie "pouch" is then slowly steamed in coconut milk, peppers, and spices until everything is tender, soft, tasty, and creamy.
It's a popular stew originating from Camalig, Albay that showcases Bicol's abundant resources – aside from coconut milk and sili, it also makes use of taro leaves, which is another key element in many Bicolano dishes. Bicolanos also like to use smoked fish for their pinangat. It is also called tilmok, tinuktok, or tinulmok in some areas of Bicol.
Pinangat is usually eaten with rice or as a side dish to grilled pork or seafood, just like laing.
Sinantolan
With sinantolan (or ginataang santol) ranking in fourth place, it seems that Filipinos gata have their gata fix! Sinantolan peaked in June 2020 with 12.5 searches, but stayed relatively low (below 10) until August 2021, with a small spike of 10.5 searches on that month.
As someone who loves sour dishes, sinantolan is a personal favorite – this Bicolano delicacy uses minced santol (cotton fruit), a sour-sweet native fruit that is cooked in coconut cream, sili, onion, garlic, and bagoong until creamy, tangy, and a tad spicy. Sometimes, meat or seafood is added.
This soft veggie stew is best enjoyed as a side dish to fried or grilled meat or fish, or as a tasty dip for crackers and bread. Or you could enjoy it on its own, like I do!
Pancit bato
No, this dish isn't made from stale, hard noodles – pancit bato is a noodle dish that originated from Camarines Sur in the Bicol region in a town called Bato. It's said to resemble pancit canton, but the special noodles used are actually a bit thicker and firmer in bite, similar to miki.
The celebration staple pancit bato is cooked like most pancit dishes, with chopped vegetables like carrot, cabbage, snap peas, and green beans, and the occasional addition of chicken liver, pork, and shrimp.
The searches for pancit bato stayed below five the past two years, but the dish was searched for the most in March 2021 at over eight searches. It stayed a bit above five searches in April, July, August, and December of 2020 and January, February, and June of 2021.
Kinunot
Rounding out the top five is the coconut cream-based kinunot, a pescatarian-friendly Bicolano dish made with flaked padi (stingray) or fish, malunggay (moringa) leaves, sili, and coconut cream sauce with spices.
Searches for this traditional saltwater fish dish reached its highest in March and April 2021 at over three searches, followed by in January at two and in June 2020 at almost three. The rest of the year, it stayed below two searches.
The remaining few Bicolano dishes that garnered maybe one to two searches a few times a year include the spicy, tangy kandingga, the Bicolano version of bopis, made with pork innards (heart, lungs, spleen) cooked in vinegar and other spices.
The sweet chakoy also made a brief appearance – the Bicolano pastry is a fried, fluffy doughnut sprinkled with sugar and usually filled with cheese.
The Bicolano noodle soup dish kinalas also stayed low-key (zero to two searches) the past year, but peaked just recently in July and August 2021 with five to six searches. This hearty soup similar to beef mami is made with noodles in a hot broth, cooked with shaved meat from a pig or cow's head and a rich, brown sauce from the brains of the animal. – Rappler.com