Been wanting to try your hand (or tongue) at the do-or-die dalgona candy challenge? Check out these local shops – if you dare!
Are you up for the trending #HoneycombChallenge, inspired by the literal do-or-die third episode of Netflix's hit Korean thriller Squid Game?
The Korean childhood street snack – a sweet, brittle candy called dalgona, or honeycomb toffee – has been taking the world by storm, that even Korea street vendors can't escape from the show's viral fame, selling over 500 dalgonas a day (from less than 200 before the show's premiere).
A handful of local shops have also been riding on the dalgona wave, offering the sugar disc with imprinted shapes to customers who want to test their candy-tracing skills at home, battle it out in-store, or just enjoy a good sugar high. Don't worry, no one's getting killed today, but if you've been dying to try your hand at the game, get those toothpicks (and tongues) ready, because here's your shot!
The Dessert Museum
The Dessert Museum at Conrad Hotel in Pasay City is offering a Dalgona Candy Kit (P249) of eight pieces, wrapped in sister brand Bakebe's pretty box. Their honeycomb candies bear the same shapes the Squid Game contestants had to carve out: an umbrella, triangle, circle, and star.
Customers can place their advanced orders via The Dessert Museum's Facebook page from 10 am to 7 pm daily. Delivery costs are shouldered by the buyer.
Bakebe
Interactive baking studio Bakebe is giving in-store customers the chance to do the challenge for free while baking their own cakes.
Customers who are baking for the day can try their hands at the honeycomb challenge and win a free gift from Bakebe if they're successful. If you lose, "an epic consequence awaits," Bakebe writes on Facebook – we hope it's just embarrassment!
Bakebe is open daily from 10 am to 8 pm at SM Aura, Bonifacio Global City. Their last baking session is at 5 pm. Strict safety protocols are implemented.
Bakebe also offers company giveaway boxes of its dalgona candies, complete with customizable logos. Customers can place their bulk orders on Facebook.
Ciao Cha Café
Aside from milk tea and coffee, Ciao Cha Café in Angono, Rizal, also serves its own homemade dalgona candy at P70 for three pieces in square and X shapes. The candy is also available paired with a piccolo-sized iced latte for the same price.
Whether you've won the challenge or just given up, Ciao Cha recommends you drop the dalgona disc (or what's left of it) into your coffee so it'll melt, giving your drink a "toffee-sweet taste." You can even try it with milk tea – just add P35 to any drink of your choice to Squid Game-ify it.
Ciao Cha Café is open daily from 2 pm to 2 am. You can place your delivery orders on its Facebook page.
Hodai
Korean-Japanese BBQ restaurant Hodai's stakes are pretty high. If you successfully complete its dalgona challenge in-store, you get a free Daebag Set coupon worth P599. Aside from free honeycomb, you get a free samgyup meal of unlimited pork, beef, shrimp, sashimi, sushi, side dishes, and sauces. Sign me up!
The game is applicable to dine-in customers ordering a Daebag Set. After randomly choosing one of four boxes with different shapes, customers must trim away the shape's edges using only the allowed tools of cold water, toothpick, and/or their tongue before time runs out.
Hodai's challenge will run until October 10 at its branch in West Triangle, Quezon City, from 12 pm to 10 pm daily.
2Story Kitchen
2Story Kitchen, located in Villa Angela at IT Park in Bacolod City, sells palm-sized dalgona candy at P50 apiece.
"Popular in the '70s, the dalgona, meaning 'it's sweet,' was made for children after the Korean War. It is still eaten as a retro food," the restaurant said on Facebook.
No challenge needed – customers can just try out the candy for dine-in or delivery through 2Story Kitchen's Facebook page.
Big G Family Mart
The Bulacan-based convenience store is challenging walk-in customers to trace a randomly-assigned dalgona shape without breaking it, under 5 minutes. If you lose, you lose P20 – sounds fair.
If you just want some sugar sans the stress, customers can also order the candy for delivery at P20 a shape. Big G Family Mart is located along Sampaguita Street, Malolos City, Bulacan.
School Tteokbokki
"As of now, everyone has failed," Korean street food restaurant School Tteokbokki said on Facebook, challenging more dine-in customers to flex their fingers and finally win the resto's free dalgona challenge. If successful, you get a surprise prize.
Think you have what it takes to break the losing streak? School Tteokbokki is located at Mayor Gil Fernando Avenue, Marikina City. The branch is open daily from 10 am to 9 pm.
Sweet Avery, a local bakery and baking goods shop, offers the "Squid Game Honeycomb Sugar Candy Umbrella Man" treat at P349 for five pieces and P249 for three. The shapes available are pentagon, square, snowflake, heart, and flower (I think I'll pass on the last three).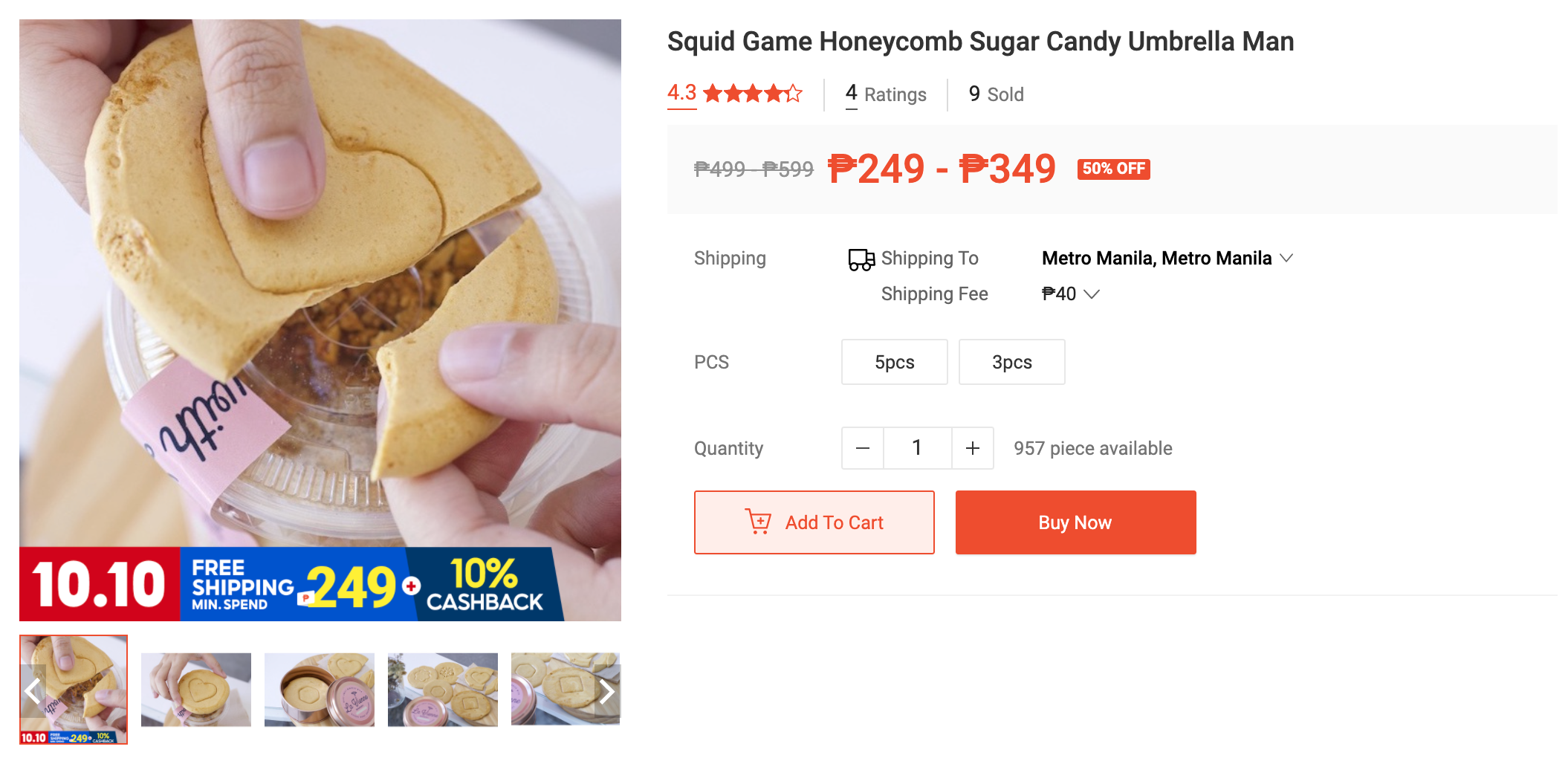 The candy kit is available to order through its Shopee page. Sweet Avery ships from Pampanga.
By Design PH
Want to feel like a true contestant and win some money by carving candy? Sweet. With By Design's sugar honeycomb challenge, all you have to do is buy one can with four shapes at P150 each. To win the cash prize, customers must film themselves successfully completing the challenge.
The first shape you pull out from the can should be carved using only a needle. If you crack the disc within the specified time limit (5 minutes for the heart, 6 for the star, and 10 minutes for the circle and flower), you get both pride and pesos – P150 for the heart, P200 for the circle, P300 for the star, and P500 for the flower.
For the complete mechanics, you can check out By Design's Facebook page, where you can also place your orders for next-day pickup. – Rappler.com