Snack should add to one's overall nutrient intake – here are easy and healthy options for you to try out!
I am a self-proclaimed snacker. Actually, I'm more like a grazer. I graze. I take little bites of everything, because I love the varied tastes and textures, going from salty to sweet, fruity to tangy, and fresh to crunchy.
If I know that I am setting my kids up for a life-long relationship with food in the formative years, then I think it is important to understand whether or not I am setting the right example with my snacking habits.
Of course, everyone being home in quarantine has changed the way we eat. We rarely dine out. We get take-out once a week as a treat. Sunday brunch is now in front of the laptop while watching worship services.
Sundays mean I get up a little earlier than everyone else, enjoy my time in the kitchen, and then relish in the time we all sit around the table while listening to God's message for the day.
On the other hand, breakfast for the kids while they are in online "zoom" school differs from kid to kid because of their preferences. I remedy this by putting a breakfast grazing board on the table so they can choose what they like, sit down if their schedule permits, or come back for a snack when they are ready.
This "grazing" style breakfast allows me the time I need, to work, or run my meeting for Best Buddies, and it also gives me a little bit more leeway in getting a later lunch on the table, too.
Experts say
Rebecca Lwin, a registered dietitian, who blogs at The Expat Dietitian, cleared up my question on snacks for kids. "We should be offering snacks in between meals because kids simply cannot eat enough in one sitting to last them to the next meal, which could be 5-6 hours away," she said.
However, Rebecca emphasized that each snack should be adding to their overall nutrient intake, and not just empty calories.
So that means that "their snacks should be 'real food.' These include opportunities to provide protein, carbohydrates, fruits, and veggies, that provide energy as well as vitamins & minerals."
Quarantine Living: Adjust diets and snacks for the kids too?
She goes on to explain, "kids' appetites will naturally up-regulate or down-regulate depending on their activity level, so this time of quarantine-living with relatively less activity shouldn't change the way we provide for their meals and snacks too much. We should still provide balanced meals & snacks that include all the food groups and a variety of food should offered over the course of the week"
No more "Clean Plate Club"
What is even more important than providing these healthy options for kids? "We should let kids regulate the amount they eat based on their own hungry and full signals, without pressure from us as parents."
Allowing our kids to tune into their own bodies, and listen to when they need to stop eating or have a little snack is vital in helping them develop a healthy relationship with food.
Mindful snacking
The tendency for my kids, since we have all been at home, is that when they are bored (not necessarily really hungry) they start looking for a snack. It's my job to make sure that there are lots of options that do not contain so much sugar so that they can snack without that awful sugar spike.
So, what are some "healthyish" snacks that are good for the kids, and easy to prepare?
FRUIT
I have always enjoyed fruit in many forms. Having fruit washed and ready to eat in the fridge, cut up in containers is the perfect way to curb unhealthy snacking. Gelli loves melon and grapes. Jegs and Nino enjoy bananas. Gia loves berries and pineapple. And Mig loves apples. Not everyone is a big fan of papaya, but when that gets overripe I throw in freezer bags and always add to smoothies and shakes without them knowing.
Check out: @cratetoplate
Smoothie bowls are great snacks for kids and adults alike. This strawberry mango smoothie bowl is topped with vegan Coconola from The Superfood Grocer, and homemade lemon curd.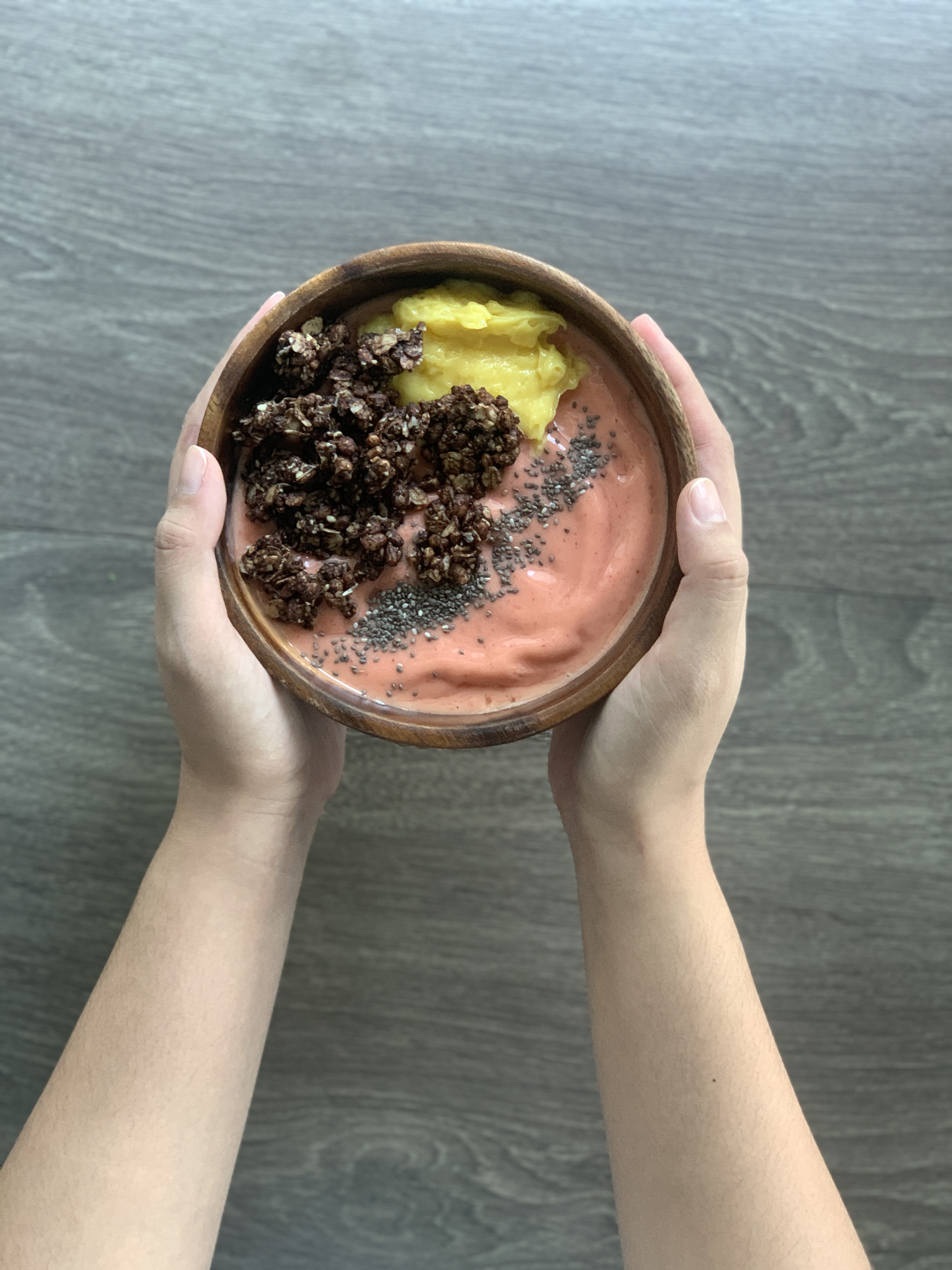 CHEESE
Cheese is great snack for growing kids and for Nino. It's keto friendly and helps build and maintain strong bones and teeth. It has niacin, vitamin B12, and is a great source of protein. Having cheese cubed and ready to eat in the cheese and cold cut drawer is a great way for the kids to help themselves to a few pieces, paired with crackers or fruit.
Check out: Real California Milk Cheeses at the @sourdoughcafedeli
Pair it with: Mushroom Chips from @thesysufoodhub
YOGURT
I have always preferred to sweeten my own yogurt with honey, and the benefits of a small cup of yogurt included in a balanced diet provides protein, benefits digestive health, strengthens your immune system, and can even help prevent osteoporosis. Check out: @madzoon.ph
Top with: @comvita_ph Manuka Honey
Timing our kids' snacks properly curbs their hunger pangs and provides the necessary energy to get through the day, so they can make it to the next meal. Plus, when given little snacks in between meals that are sensible and healthy choices, kids will be less likely to overeat when it's time to sit down for the larger meals.
When taking the time to plan our menu for the week, I always think about our meals first, then how to recycle leftovers, and then what snacks to provide for the kids in between our three square.
Stopping for a "snack" is not just a family norm for us, merienda is a cultural institution here in the Philippines!
Here is another example of a quick snack that provides crunch, is packed with flavor, and can be prepared in just a few minutes.
OVEN BAKED GARBANZOS
Drain 1 400 g can of Garbanzos
Add in 2 tablespoons Olive Oil
Add 1 teaspoon Spanish Paprika
Add 1/2 teaspoon garlic powder
Add 1/2 teaspoon onion powder
Toss until well coated
Airfry or oven-toast for 8-10 minutes until crispy at 180 degrees Celsius.
– Rappler.com