Queer-owned business Puesto is built on owner Miel's desire for inclusivity, serving dishes that even vegans and vegetarians can enjoy
Most chefs and business owners have a story to tell through their food. A dish could be a homage to their childhood, or their menu, a reflection of their quirky personality.
For Miel Ochoa, Puesto's purpose is about making everyone feel included, regardless of one's race, gender, belief system, or diet. It was through Miel's love for Thai cuisine, cooking, and a desire to fight for what is right, home-based online business Puesto was born.
The point and pride of Puesto
Puesto began when Miel was a senior at university and a preschool teacher at the same time. Before deciding to cook full-time, Miel needed help to kickstart their longtime dream of putting up their own food business.
(Miel's pronouns are they/them.)
"I never had capital, so what I did was I asked a friend, and an organizer of Metro Manila Pride, Kuya Jihad Mambuhay, to order from me but he had to pay upfront. So the income from that time, I just made snowball until I got where I am today," Miel told Rappler.
Puesto was initially just a fallback financial option for Miel, in case teaching "didn't work out." However, considering most teachers' poor compensation in the Philippines, plus the shutdown of schools due to the pandemic, Puesto turned into Miel's bread and butter.
The income Miel earned was the means to their ultimate end: to become a human rights lawyer for the LGBTQ+ community, which Miel is proudly part of, and one that Miel has seen oppressed countless times.
Miel, who identifies as a queer and non-binary (and is a Taurus), is part of the Bahaghari Metro Manila, the national democratic organization of militant and anti-imperialist members of the LGBTQ+ community in the Philippines.
Miel has been "grinding hard" every day, taking in orders daily to save enough money to finally open their own carinderia. The carinderia would ideally be what would sustain them financially once he starts law school.
"I've seen my collective be arrested in person (Pride 2020) and that scarred me, I felt helpless, and useless, that's why I want to one day be Bahaghari's legal counsel so I can help make sure that what happened last year, the police brutality & unlawful arrest my collective experienced, will never happen again," they said.
It's non-stop work for Miel, prepping for the day ahead the night before, as some ingredients take longer to prepare. Mornings start at 5 am with a daily trip to Balintawak before dawn to buy fresh produce. Cooking and packing takes up the whole morning until 11 am, which is when Miel lets customers know that their orders are ready for pick-up.
"Our process is very simple, nothing too complicated. We don't even have google forms. It works for us. You order food, then we send it over the next day. We're not even on food apps. We keep things simple. We sell food. We feed people. That's it," they said.
Thai is of the essence: A menu that speaks for itself
Puesto's menu plays around with different aspects of Southeast Asian cuisines, but the best-seller — Thailand's national dish, the world-famous pad thai — is close to the real thing.
As delicious as the original, pescatarian-friendly pad thai with shrimps already is, Miel made sure that even vegetarians and vegans could have their authentic Thai fix, without compromising on taste, quality, serving size, and affordability. At its core, Puesto's menu is all about inclusivity, Miel said. No one needs to feel left out.
"As a queer person, I've experienced so many times not being included in spaces I wanted to be in. So at a degree, I can empathize with vegans when it comes to having very limited food options when they order food in establishments. We, queer folks, have limited spaces to move in, have limited available experiences without having to compromise our lives & safety because of rampant homophobia and transphobia. The inspiration is inclusivity," Miel said.
Puesto's pad thai is available in three variants: pescatarian, vegetarian, and vegan. The pescatarian option is made with shrimp paste and topped with fried egg, shrimp, and fried tofu; the vegetarian version comes sans the egg; and the vegan variant is made only with tofu. Each variant comes with fresh, crisp veggies, such as toge (bean sprouts), leeks, and crushed nuts.
Whichever variant you choose, the quality remains the same — rice noodles are cooked to perfection and are coated in a smooth sauce that balances the savory, salty, tangy, and sweet flavors of a good pad thai. The veggies and nuts provide a welcome crunch and the tofu, a soft chewiness, resulting in a satisfying noodle dish that's simple in its components but varying in texture and complex in flavor. It's not dry, nor nakakaumay; instead, its umami profile makes this dish easier to scarf down than you realize.
Note: Puesto's pad thai comes with a bit of heat, so the spiciness of the dish may come as a surprise for those with a low spice tolerance.
The vegan and vegetarian options cost P250 per tub, while the pescatarian variant costs P260. Each tub is supposed to be good for one to two people, but Puesto generously fills each tub to the brim, so it can actually feed up to four people. You can also get the pad thai in trays, good for 9-12 people.
Puesto offers also offers vegetarian-friendly Vietnamese Spring Rolls on the menu — hefty spring rolls stuffed with crunchy carrots, radish, four kinds of mushrooms, and vermicelli noodles, deep-fried until golden-brown and best paired with Puesto's homemade sweet vinegar. (Note: The rolls' crunchiness may vary, depending on how far your location is from their QC hub).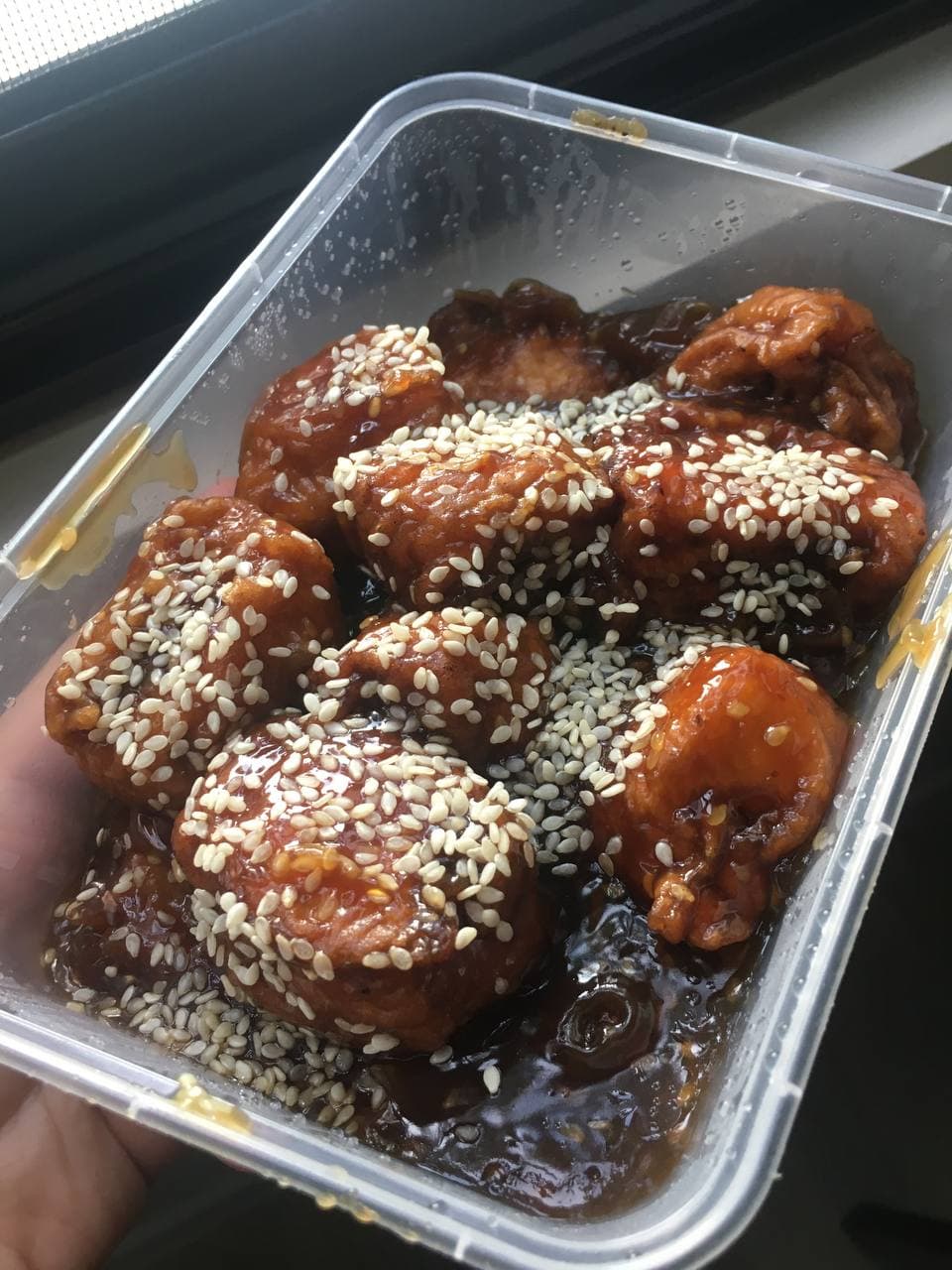 Puesto also turns the famous orange chicken into a meat-free dish vegans can enjoy: their orange tempeh. The dish has the same addictive sweet, tangy, and thick citrus sauce, but instead of chicken, it envelops huge fried chunks of breaded tempeh, and is topped with white sesame seeds. Tempeh is a plant-based meat alternative made from fermented soybeans, typically sold as bars. It's firmer than tofu and has a chewier, firmer bite than textured vegetable soy protein.
Looking for more heat? Check out Puesto's Korean-inspired Rebolusyon-Yangnyeom tempeh, featuring the same deep-fried, battered tempeh but doused in a sweet, spicy, and savory gochujang sauce made from the famous Korean red chili paste.
Both dishes costs P425 for a tub, P850 for two tubs, and P1,700 for four. They're also available with chicken as the protein.
Other items on Puesto's menu include the satay pasta, turmeric chicken wings, chicken poppers, tempeh goreng, and tofu sisig.
Aside from catering to different diets and belief systems, Miel also made sure that the items are affordable. "I wanted to show that food, like Pride, is political. Because it's about access, who gets to eat and who starves. It's political because not everyone gets to eat three times a day because of economic disadvantages," they said.
"We need to have more conversations about it to address it so we can provide long-term solutions for it. I don't exactly have a brand, I just want to feed people good food that has no compromises."
Initially, Puesto may have struggled to find its puesto or position within an admittedly saturated online market of home-based food businesses.
However, Puesto's organic success, driven primarily by word-of-mouth from loyal patrons, have helped to solidify its position as an inclusive (digital) safe space for all that serves simple, good food, a feeling of community, and ultimately, a bigger purpose. — Rappler.com
Puesto is located along Mendez Road, Barangay Baesa, Project 6, Quezon City. They take orders daily via Instagram.