UP Diliman's iconic restaurant is remembered fondly by many for their food, cakes, and comforting ambiance
When UP Diliman classic The Chocolate Kiss Cafe announced that they were closing their doors in August 2020, hearts were shattered. But a silver lining remained – their Quezon City baking commissary would still be open for deliveries! Patrons breathed a sigh of relief; at least their Devil's Food Cake and Dayap Cake would still be within reach.
Almost a year later, the restaurant announced what's become a norm for many small businesses – they would be permanently closing shop on June 22, after 23 years of business.
The beloved neighborhood restaurant, which was frequented by patrons from different generations, is bidding its last goodbye kiss. Here are a few things to remember the iconic UP Diliman spot by:
It's been a UP staple since 1997.
Chocolate Kiss first opened its humble doors at the second floor of the University of the Philippines Bahay ng Alumni building inside the UP Diliman campus in 1997. Its menu consisted of comfort food and freshly-baked cakes, making it a go-to chika corner for the older (and more affluent) crowd, or a "fancier" dining choice for students looking to splurge their extra allowance for the week, either during a barkada hangout or in a romantic campus date.
Chocolate Kiss kept its iconic location inside campus for decades. They decided to open their second branch in UP Town Center, Katipunan Avenue in 2018 to cater to a larger crowd.
It's a family-owned venture.
Ina, the daughter of café co-founder Maline Flores, was only in grade school when they first opened their doors.
"We didn't know our lives would be changed when my family opened The Chocolate Kiss Café. I was a grade-schooler then, and the year was 1997. From going home directly after school (or work, for my elder sister), our family suddenly had this point of convergence, an unplanned extension of our home," Ina wrote on Facebook.
Ina explained that it was the result of her mom and aunt's dream – to give the UP community "a new dining experience, and an alternative to college canteens." Both her mom and aunt are UP alumnae.
"It became a hangout of sorts, though everyone in the family pitched in in ways we could. We taste-tested and critiqued what would be put on the menu (best job yet!) My siblings, who are both from the UP College of Fine Arts, got involved in some design aspects of the business, such as the interiors, product packaging, and posters. I learned how to work the cash register machine and do cash counts. Little did I know that I would eventually oversee the Café's operations full time," Ina shared.
More than their food, they are known for their freshly-baked cakes.
The Chocolate Kiss was also a staple in many families' dining tables, with their freshly-baked whole cakes a favorite take-out choice for families celebrating birthdays at home. They are famous for their best-selling Devil's Food Cake, a rich, moist chocolate cake with a chocolate fudge filling and a fluffy, sweet marshmallow frosting.
"Baked-fresh every day, our cakes are a result of decades of tried-and-tested traditional recipes, made with real butter and eggs, pure vanilla, and carefully-selected chocolate, fruits and nuts," they said said on their Facebook page.
Their unique Dayap Cake is also a best-seller: moist chiffon cake is layered with a caramel filling, flavored with fresh grated dayap zest, frosted with marshmallow icing and candied dayap rind. Dayap is Southeast Asia's key lime citrus fruit, close in flavor to the calamansi.
More than their cakes, it was a place known for happy memories.
For those in UP Diliman, Chocolate Kiss, better known as ChocKiss, is remembered fondly by many generations of students. For many of its patrons, countless memories were made in this iconic cafe – whether it was for study sessions, first dates, or a venue to celebrate special occasions, like engagements, graduations, and even weddings.
For lots of people, it was the light at the end of the tunnel after long hours of studying.
It was also a popular go-to place for student-run organizations to buy tokens for their guests. The Dayap cake was universally loved, among other specialties.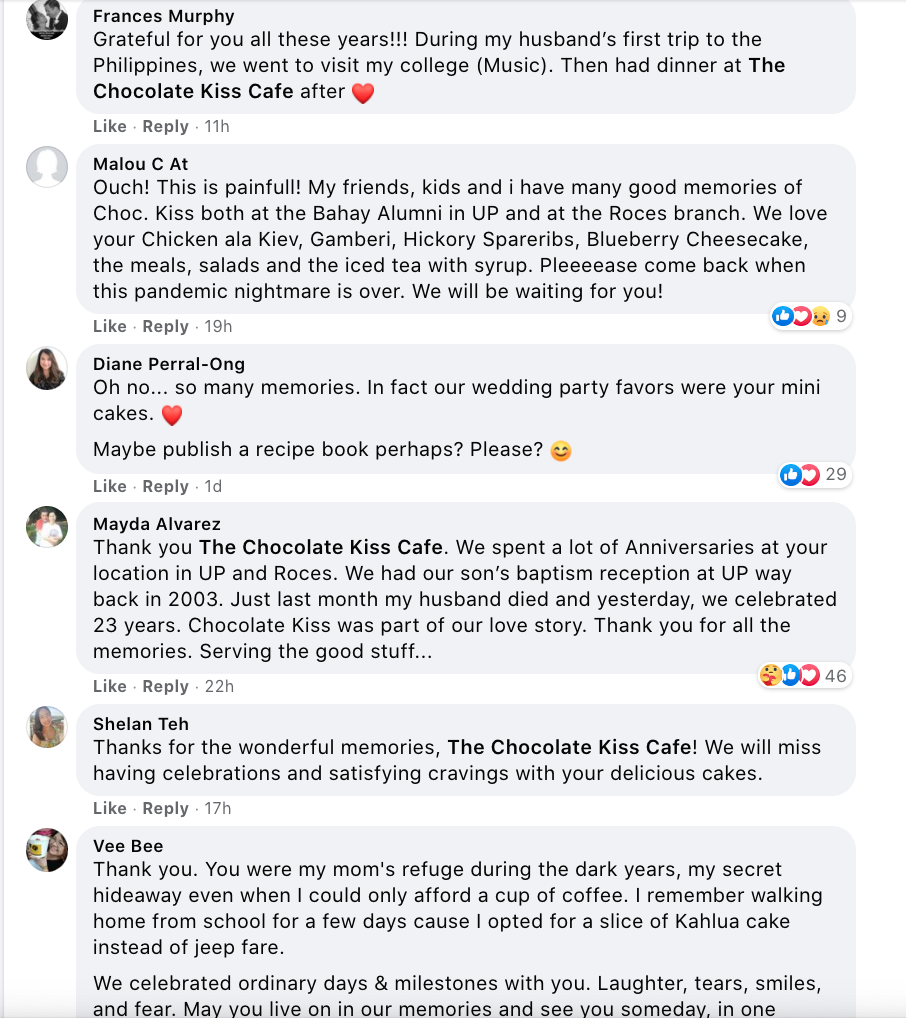 Chocolate Kiss is a part of many people's fondest memories and love stories; it was even a "refuge" for the dark years of a patron's mother, and a reliable hideaway for those in need of a break from the stress of work or school.
Saying goodbye to a well-loved restaurant almost feels like saying goodbye to a friend you won't ever see again, so here's to all of ChocKiss' patrons who hope for the return of their safe place. – with reports from Steph Arnaldo and Adrian Soriano/Rappler.com
Customers can still order cakes and pastries via The Chocolate Kiss' website with a two-day lead time until June 22.
Adrian Soriano is a Rappler intern.