Glazed donuts sandwich fresh strawberries, jelly, and other sweet ingredients inside
Fresh strawberries and homemade donuts in one sweet pastry? Sold.
Slowly making their way onto sweet tooths' radars is the strawberry donut sandwich, a visually-appealing dessert that features a glazed donut split in half, stuffed with fresh strawberries and other sweet ingredients inside.
Curious to try it out? Check out these local bakeries that serve their own takes on the freshly-baked, sweet and tangy treat, ready for delivery around Metro Manila.
Gourmet Cravings
Anniel Prats, owner of small business Gourmet Cravings, makes her whole strawberry donuts from home, without any preservatives.
Everything is handmade – from the soft, powdered donuts that are slightly toasted on the outside, to the thick strawberry jelly that's not too sweet nor sour.
The glazed donut sandwiches a heaping amount of fresh, sweet, and whole strawberries and a generous amount of jelly. It might seem like a lot going on, but the sweetness of it all is actually well-balanced. The classic strawberry-filled donuts cost P95 a piece, with a minimum of 6 pieces per order.
Gourmet Cravings also offers another variant – the strawberry cream cheese bombers – which includes a light, vanilla cream cheese filling that works well with the strawberries. These cost P130 a piece.
Gourmet Cravings is located in Almanza Uno, Las Piñas City. For orders, you can message them on Facebook.
Aging's Food Delight
Aging's Food Delight sells strawberry cheesecake donuts at P380 a pack of 4. They also use freshly-picked strawberries from Baguio alongside a cheesecake filling, in between plain donuts dusted with powdered sugar.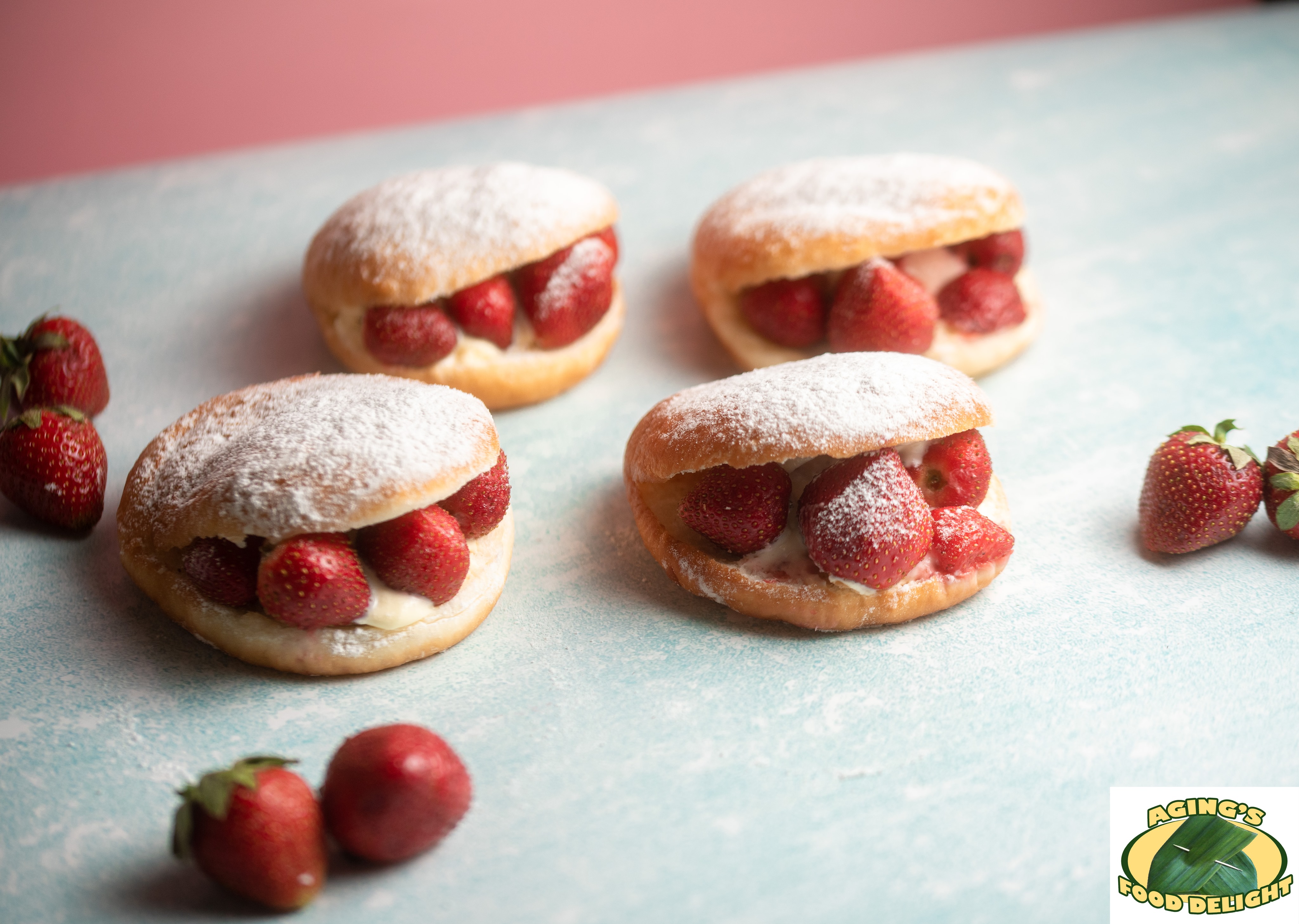 Aging's Food Delight is located along 17 Pasig Blvd, Pasig City. You can place your orders via SMS at 09298410424 or phone at 86710172.
Pufft Bakery
Pufft Bakery created its own version called the strawberry monst, inspired by the Donut Man California's strawberry donuts.
Pufft's signature glazed ring donut is cut in the middle, stuffed with a huge serving of tangy, juicy strawberries and a sweet homemade strawberry jelly inside. It costs P880 for a box of 4.
Pufft Bakery is located in Taguig City. You can place your orders via Instagram.
Angge's Kitchen
Angge's Kitchen offers strawberry donut sandwiches at P200 for a box of 4 pieces. The donuts sandwich a thick strawberry jelly, sliced strawberries, and whipped cream inside.
Angge's Kitchen is based in Parañaque City. To order, you can message them at 09662671747. – Rappler.com