In light of its closing, some of the famous Cubao dive bar's fixtures chart its queer legacy
Today x Future wasn't built to become a "gay bar," a "queer hotspot," or any of those labels. But it certainly was a sanctuary, welcoming and embracing everyone.
The famed Cubao dive bar first opened in 2008, frequented by a motley crowd of bohemian types. But towards the latter part of a decade and after relocating within the neighborhood, queer kids started to flock the place on weekends.
Today x Future's narrow space was drenched in the neon red glow of a sign that proudly proclaimed: "The future is now," and it couldn't be more apt as it gave a home to trailblazing creatives. The club was a hub for counterculture, and it seemed natural that LGBTQ+ people would gravitate towards people who didn't bat an eyelash over free, unabashed expression.
Whenever the opening riff of Robyn's "Dancing on My Own" played, bodies stampeded to the dance floor, pressed closely to each other like sardinas. The sound system boomed with the loudest and unlikeliest of queer anthems (i.e. songs that make gay people scream) – sometimes, odd interjecting calls for a couple to "MOMOL." This was one of the clubs where Sarah G's "Tala" was put on rotation early, arguably preempting a craze several years later.
Future – as it was diminutively and fondly known – was such a cramped room and impossible to dance in it… by normal standards. But that made it such a character of its own, and even more interesting characters spilled onto the curbside of General Malvar Avenue, huddling in circles and holding council while clutching beer bottles.
This was the scene on a busy weekend, but it's difficult to pinpoint when it started to look like this. There are few milestones to mark exactly when the place became a go-to for the LGBTQ+ community. It's probably easier to specify – as individuals – when it became a habit for them to unwind at the Cubao haunt.
Today x Future announced that it was closing after 3 months of struggling to stay afloat in the middle of the COVID-19 pandemic and climate of uncertainty.
Many of its regulars asked in the wake of the shocking news: "How do you even mourn a place?" After all, it was a home to many queer and trans individuals; there, they felt at ease and accepted.
Its "last hurrah" was its annual Pride afterparty, "Money Success Fame Glamour" – broadcasted online in these exceptional circumstances. The symbolic weight of that can't be understated.
Until the owners had to turn over the keys to the landlord, its legacy – especially among the queer community – remains formidable and one of a kind.
Here, the founders themselves, DJs, and promoters put on record what made Today x Future the LGBTQ+ haven that it was.
Days of future past
Today x Future first set up shop at Cubao Expo, a burgeoning creative enclave whose heyday was in the late oughts.
Sharon Atillo (Co-founder): I guess you could say this all began with friendship, with hanging out, at a store called I Love You. There'd be a lot of slow nights and so to pass the time we'd drink, and of course, we'd need music. Chie [Castañeda] was the first person we hung out with actually as he was a regular at the record stores in Cubao X, then he brought [his sister] Leah to our store. So at first it was just my laptop and Leah's speakers which we called "woofer," I think.
The music was of my era and the Fluxxe [party series] era… Some Joy Division, New Order, the Killers, Human League, some new wave.. I'm not very good at music genres… We didn't have techno then, and I don't think there was house on my laptop.
So we'd have drinks and later on we'd be dancing like crazy people inside the store. Then later on some friends would join, and I think maybe weeks after, we were then offered a space around the corner that could be a café/bar.
Then we got to have proper DJs with proper music set up and line up with different genres daily… This pre-TxF nights resonate so much because I think that the energy we had those night totally carried on towards the "future."
Leah Castañeda (Co-founder): Today x Future began in 2008, when I was still moving on from a bad relationship. I thought I'd put my little savings into something productive or else, I'd be dead broke.
My music roots come a long way, my brother, Chie, being my mentor. From the Beatles to '90s alternative, to ethereal and indie pop to techno.
The scene mostly consists of my friends from the creative and events industry. These are the people I grew up with. The people I went to raves with or did fashion shows or shoots with, to the people I did events with – fashion, arts and the band scene back when I was working with The Dawn.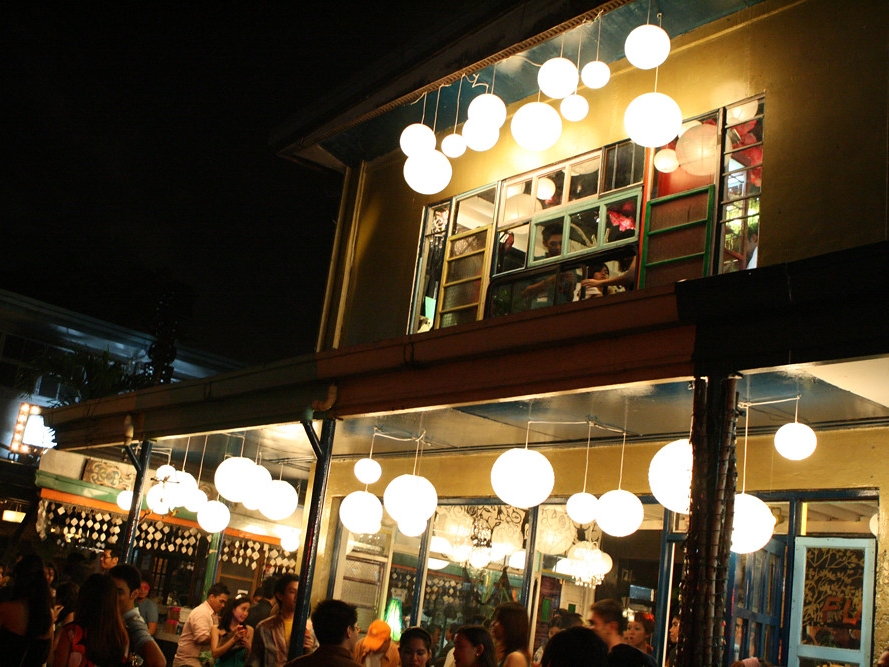 Samantha Nicole Samonte (Part owner and DJ): I started going during the earliest years of Future back when it was in Cubao X and when we could all stay until 6 or 7 AM.
It was an irresistible, beautiful, liberating mess that I kept going back to! The place and people were authentic, the music was genre-spanning, from indie pop and alternative to dubstep, electro and a ton of local indie bands and DJs playing all the time. As a newcomer, I was introduced to a good number of people I looked up to in the art and music scene, and it was lovely getting to know them outside of stages or art galleries.
It was always the thematic weeknights that I loved going to the most. The weekends were a given big fun but back then, Leah told me to come more often during weekdays because it's when the subculture really shined. There were film showings, retail popups, endless conversations, and there was even a time the entirety of Future was covered in sand when The Beach was shown, and really fantastic music was being played by the DJs, primarily by Chie.
Of course, the cast of characters wow just as uncompromising as the vibe and place. You could really feel the culture alive and thriving there. Living in Las Piñas then, I didn't care that I was burning so much taxi money going back and forth just to be there. Then I lucked out and married into the Future family. Hahaha!
Jujiin Samonte (Promoter & DJ): Today x Future was the extension of the offbeat, bohemian fashion paradise that was the I Love You Store (my favorite store to visit to shop and be inspired at that time). The store (2nd floor) wasn't just enough for its patrons so the bar (1st floor) made sense.
Darryl Reciña (Promoter & DJ): Technically, ang una kong nakita ang I Love You Store sa Cubao X. Nasa baba ng ILY Store ang Future sa spot na 'yon. (I first visited the I Love You Store at Cubao X. Future was downstairs from that spot.) I was a fresh college grad at that time.
My friend Paulo Castro told me about the place. He (and Jujiin [Samonte] his boyfriend) introduced me to everyone. I fell in love with everything and everyone instantly! As in, fakk, I found my people!
Talagang kinausap ko si (I spoke to) Geof Gonzales (of Rabbithole Creatives, who was the production head of ILY Store at that time) at nag-apply ako (I applied) as an intern. Wala akong naipon sa allowance ko dahil after my shift lagi akong umiinom sa baba, sa Future, my love. (I didn't get to save anything from my allowance because after my shift, I'd go drinking downstairs at Future).
Most of the people who frequented Future were people from fashion and art.
Karlo Vicente (Promoter & DJ): I was actually at the opening night (when it was still called I Love You x Future). However, I can't remember much from that night LOL. During the first few years, I went there a lot. When Future was still in Cubao X, I think there was a time, until very early 2010, when I went there almost every night. (I think I only stopped going because I moved to Singapore for a while, but even then, I'd sometimes fly back and go to Future – like straight from the airport, grab a drink and meet everyone at Future.)

In those days, whenever I went to Future, it's like just people who know each other. But a big crowd of people who know each other – a mix of the fashion kids, the art people, the Fluxxe crowd. And people dressed up. Well not all, of course, but a lot of them anyway. You can dress up or dress down, do whatever you like.
Also, on weekends, I remember it usually ended late. There were nights when I'd get there at 2 or 3-ish, and it didn't really feel that late. We usually stayed until around 6-ish/7-ish, and Chie would play the last song: "Just Like Honey" by The Jesus And Mary Chain. They also sometimes put the DJ on the roof. This was when they were still in Cubao X.

But there were also periods around 2012 until maybe 2015 when I went to Future almost every night. I spent a lot of my very extended youth at Future.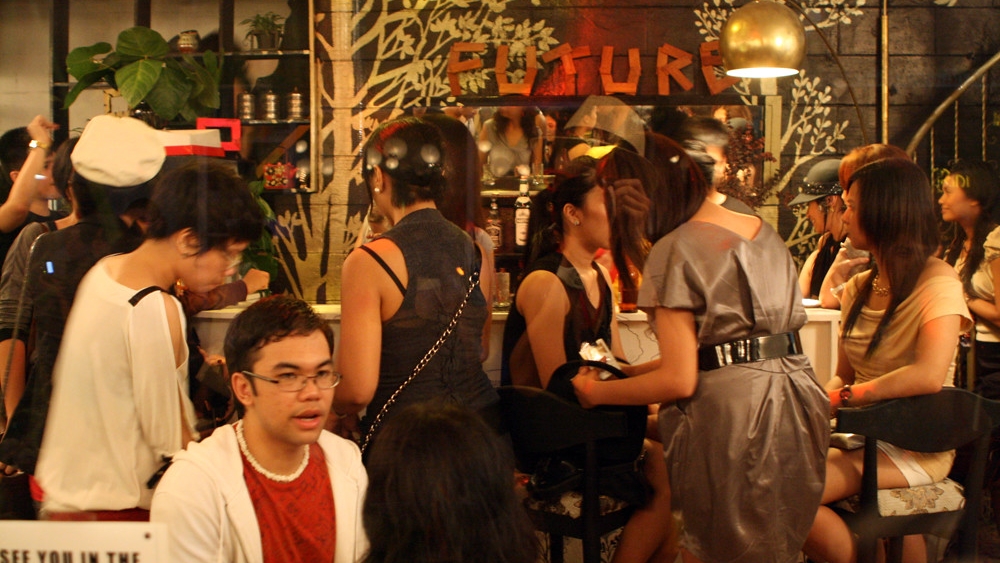 Xtina Superstar (DJ): I remember it being chill and more relaxed. It was a place to see familiar faces.
Melvin Mojica (Promoter & DJ): My first visit was in their old branch pa inside Cubao X. It was like visiting a friend's house – eh kasi nga (because) my old friends were the ones behind it, so swabe lang. (It was cool.) Fun.
Julianna Force (Promoter & DJ): My first ever visit at Future was when it was still at Cubao Expo and it was a Panty Monsters event. It was overwhelming for someone like me who was a house party/DOTA girl, but girl, the scene was amazing! Everyone was just so cool (well, not everyone, but most of them were) and the energy was super fun.
My first few visits were honestly very awkward cause I was "hanging" with the regulars as a newbie, basically like a freshman trying to impress the seniors. Despite that, I never [did] not enjoy a night at Future.
Jer Dee (DJ & illustrator): My first time at Future was in 2016. It was a Friday night; I went at around 9:30 PM to meet up with a friend who was also going. When I got there, the only people inside were myself, the manager, and the bartenders.
It was only later on that I learned that the crowds only filled up after midnight. So I stuck around, alone on the couch, appreciating the interiors because it felt like I was in a house party – that was the first vibe I got inside Future.
I considered leaving after finishing my bottle of beer who the hell waits for another 3 hours alone in a bar? An introvert's nightmare.
Then the DJ started to play. I think it was an indie set: Lykke Li, Passion Pit, MIA, MGMT – very early 2010s/hypem era, lol. I was really surprised because I've never heard any of these songs played in other bars.
Then I started hanging around the dancefloor bopping to the music, only to realize 3 hours have passed when my friend finally showed up. We went outside to go for a smoke and I was even more surprised that people from various creative industries – some of whom I even worked with – were also there.
Everything just clicked. I immediately felt at home. Thank God, I didn't leave early.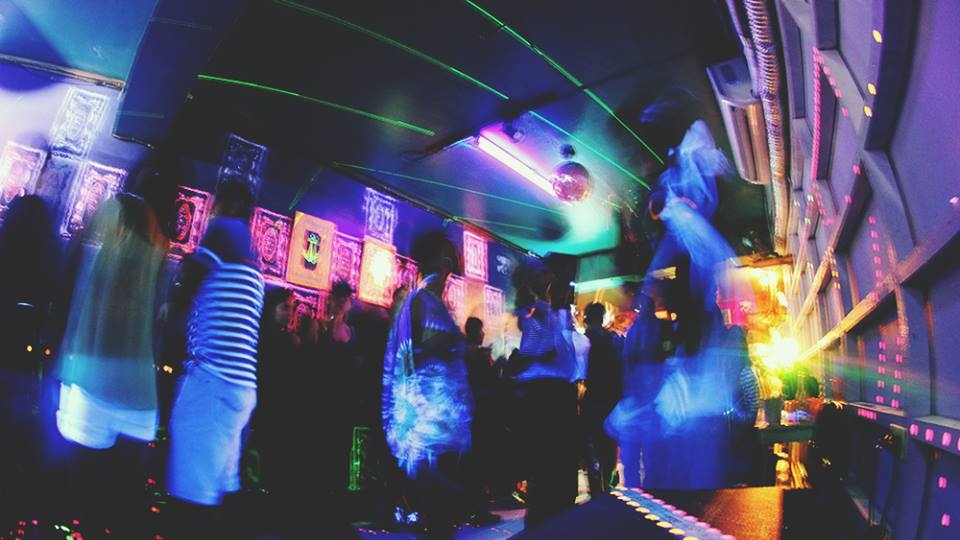 Kim Galanza (Promoter & DJ): As someone who was "fresh-off-the-boat" coming from Iloilo City – a provincial boy – and who only saw and imagined being in the scene through features in Preview magazine (at that time TxF was still in Cubao Expo), the very first time I stepped foot was pure euphoria.
Obviously, I fell in love with the music and the people. I knew it was where I wanted to be from the moment I stepped in. Then fast forward to actually being accepted and finally being part of the family, it wasn't even validation, it was pure outright acceptance, that I, a lost little gay boy from Iloilo, could belong to a community with like-minded ideas & tastes.
Not only was it a blanket of comfort that eased a level of loneliness being away from home but it also paved way for personal growth. If I could sum it up as best as I could, my entire experience in Today x Future – from bystander to regular to being a part of the family – TxF was able to help me shed layers, distilling me into something pure, into the person who I am now.
Christine Ferrer (Manager – 2017-2019) How can you describe in a few sentences a place many grew up with and considered as their home and safe space?
Ever since Future opened its doors back in 2008, it was already different. Wide genres of music, art, fashion, and film emanated from its walls. Over and above all is the sense of acceptance. There is a relief in finding a safe place, where one can experience freedom in finding and being yourself.
Building a haven
Sharon: It wasn't planned to be a safe queer space and I think at that time gender labels were not so much of a thing yet. We just had lots of happy and gay friends who were creative and that was all.
I guess the moment when we moved to Malvar Street was when the label being a safe space started. We attracted even more people eventually and I guess people of similar frequencies just gravitated to us. What made us a favorite is maybe because we were a place you could let your hair down – no judgements – with people who knew how to have FUN.
Leah: It just became what it was because Future was welcoming to all. As far as I could remember, no matter your gender, if you are ridiculing a guest of mine, or anyone for that matter, I will personally kick you out. A lot of Cubao X kids can attest to this, hahaha!
I think it was also because of the power of social media. Before, we would do text blasts and would print flyers for people to come. Now, it's very easy to spread the word or create a buzz about something online.
Samantha Nicole: Considering how fluid, welcoming and non-judgmental Future is, it naturally attracted queer people. Everyone desires a sense of belongingness and freedom of expression, and this must really be the place!
What I do remember when we started to attract more from the community is when it became like an unofficial afterparty place post-Pride march and we opened up more nights to various regulars who became our promoters. It was like a floodgate that Future welcomed with open arms, hahaha – so much so that we had to impose a small cover charge just to control the crowd that would come on weekends.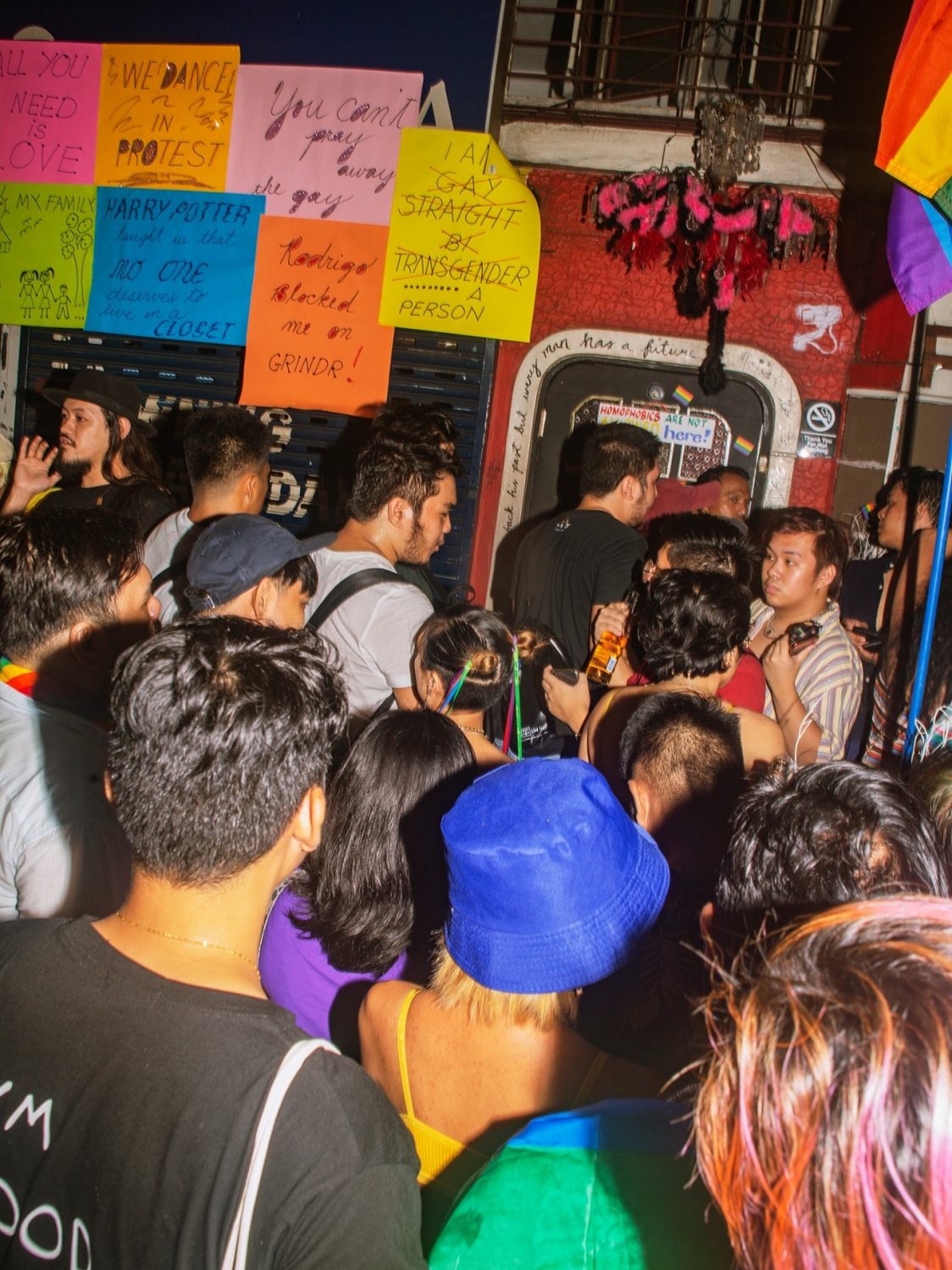 Christine: [I think] it was TxF's Money Success Fame Glamour 2018 party.
We knew that a lot of our friends and regulars who attended Pride March in Marikina Sports Complex would flock to Future after. Beneath the loud music blasting from the speakers, there was an unmistakable low hum, building up, slowly getting louder.
Lo and behold, there was a sea of people. What greeted me was a joyous sight: Crying, dancing, hugging each other while exclaiming "Happy Pride!" That was a pivotal moment for me: seeing them all proud, full of love. All of them at Future because they are home.
Leah: I grew up in a family that hosted parties and always welcomed guests, making sure everyone has a good time. I guess that carried over when we started Future. We always want you to have the best possible time without any worries and maybe it could become your second home.
We also made it a point to teach our staff and security that every person who comes to Future is important and must be treated with respect; that they weren't just guests. They can become family and friends.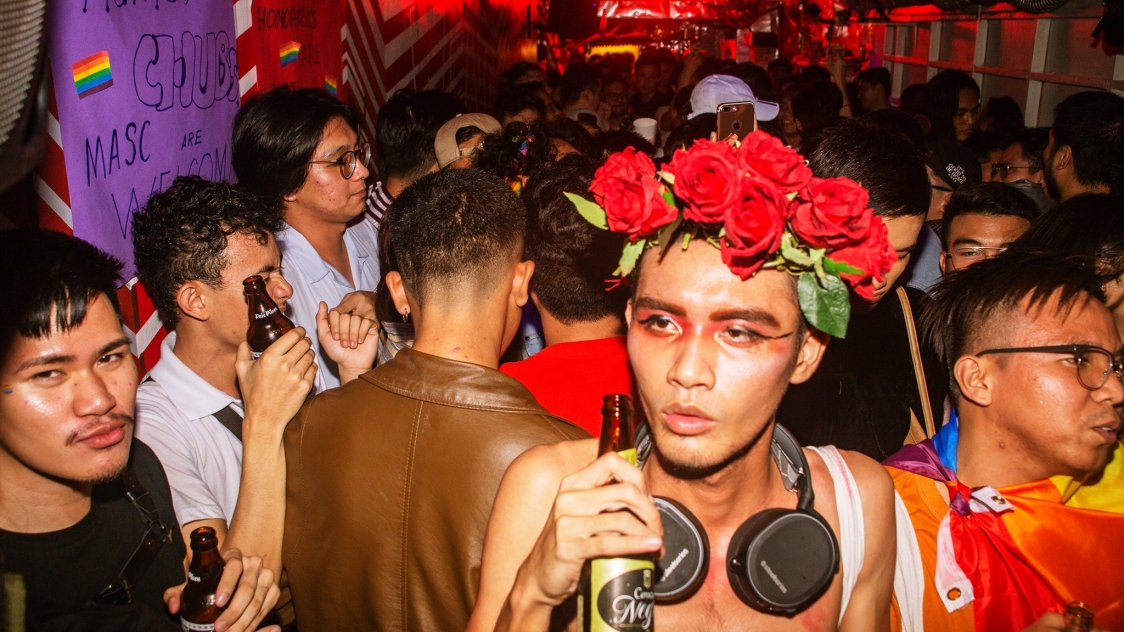 Sharon: Sometimes, I'd arrive early and I'd realize there'd be a lot of people coming in and I didn't know who they were!
Samantha Nicole: Like what Sharon said, when we would come in, we started seeing unfamiliar faces, which was great! Our community was growing, and many of them would come even on weekdays when we would play music they may not be familiar with, but we've been playing in Future for the longest time.
Apart from that, what I noticed was how we – Leah, Sharon, Chie, Austin [Castañeda], and I and all the other regulars and TxF team would welcome newcomers to the place – we make them feel like this is the place where you can be who you really are. No pressure, no pretense. These newcomers remember that and then the next time, they'd bring more their friends, and those people would bring theirs and so forth.
I think all those free shots and birthday pizzas also helped, hahaha! But really, it was such a natural and sincere way of building something that lasts a long time.
Darryl: Basta nakita namin kada party, parami nang parami ang pumupunta. Mga kaibigan. Mga 'di kakilala – na sa kalaunan, naging kaibigan na rin. (We observed that every time there was a party, more and more people came. Friends and strangers alike, who later on became friends.)
Kim: I would like to see it as a diverse haven for everyone. The early Today x Future I knew had a diverse spectrum of an audience. It did not matter what part of the gender spectrum you are. It just embraced you for (being) who you are.
To me TxF unfolded before my eyes as an LGBTQ+ haven as it openly embraced everyone to its doors sans judgment giving everyone a piece and taste of who they were regardless of your taste in music, or your ideologies.
Julianna: I will credit the founders of TxF for it being a safe space for all, including the LGBTQ+.
It has always been open to all [music] genres and all humans which made it a haven for us because being queer, all you want is to belong. We felt like we belonged in TxF.
Karlo: Well, I can't speak for an entire community, but I think being in a crowded space, seeing people you know, or at least relate to, is usually fun. And having somewhere to do that regularly made it special, I guess.
Xtina: Speaking from experience, there was a time in Manila when a lot of clubs wouldn't let me in because I am a trans woman. (See: dress code policy).
TxF was one of the few establishments thats would welcome me with such warmth, regardless of my gender, or the clothes that I choose to wear.
It felt like home to me. That's when I noticed it becoming a safe space not just for me but also for the other LGBTQ+ individuals who felt invalidated by society because of their gender/expression.
Melvin: I'd like to think na the LGBTQ+ crowd loved going there kasi walang (there was no) discrimination. We look after each customer. We make sure they get a proper ride home, or something.
Jer: It's this little discreet bar tucked between unassuming buildings that looks so dormant in the morning, but lights up so bright at night. The size of Future is not that huge, so everything feels so intimate and there's a certain safety that comes with it being small.
It's also a cultural melting pot where people from all walks of life gather together and you can strike up a conversation with anyone and go home learning something new.
On top of that, I feel like Future is a space where you can freely express yourself without any homophobic judgement from others.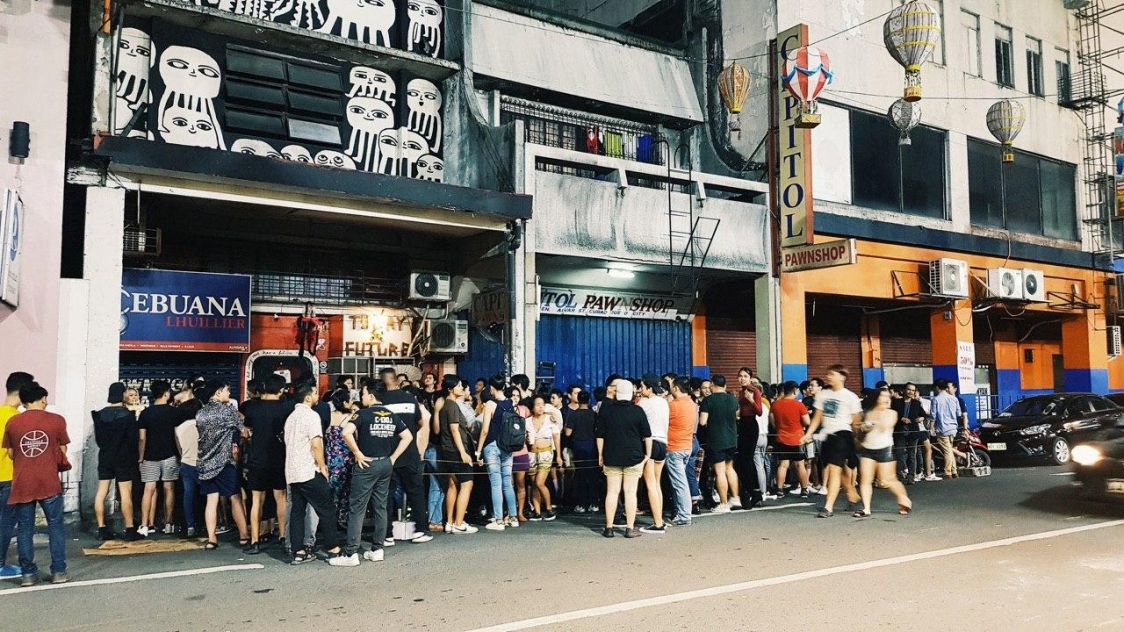 Julianna: Being part of the LGBTQ+ or just being different in general always has a feeling of displacement and discomfort with your identity or an element of being conscious about your difference from others.
And that because TxF welcomed everyone, there was naturally a space for us in it. It's like how they always said it, TxF is not a gay bar but it's a place where everyone is welcome.
Kim: Egos were shed as you entered, from the doors to the dancefloor, TxF gave an extra later of comfort and safety to the LGBTQ+ crowd – something that is essential when you are in a place you call a haven. It's like a table that housed a million jigsaw puzzle pieces, in the end, everyone just purely connected.
Jujiin: Build a house. Light a disco ball. Play music. Welcome everyone. The LGBTQIA+ crowd will find you and love you and cherish you. That's what TxF had done.
It didn't need to act cool. It didn't need to trumpet its support for the LGBTQIA+ at the start because it wasn't really the idea during its inception. It was authentic.
It was simply seeing every person and it was enough. It gave us a real sense of belonging; that anyone could feel safe being themselves.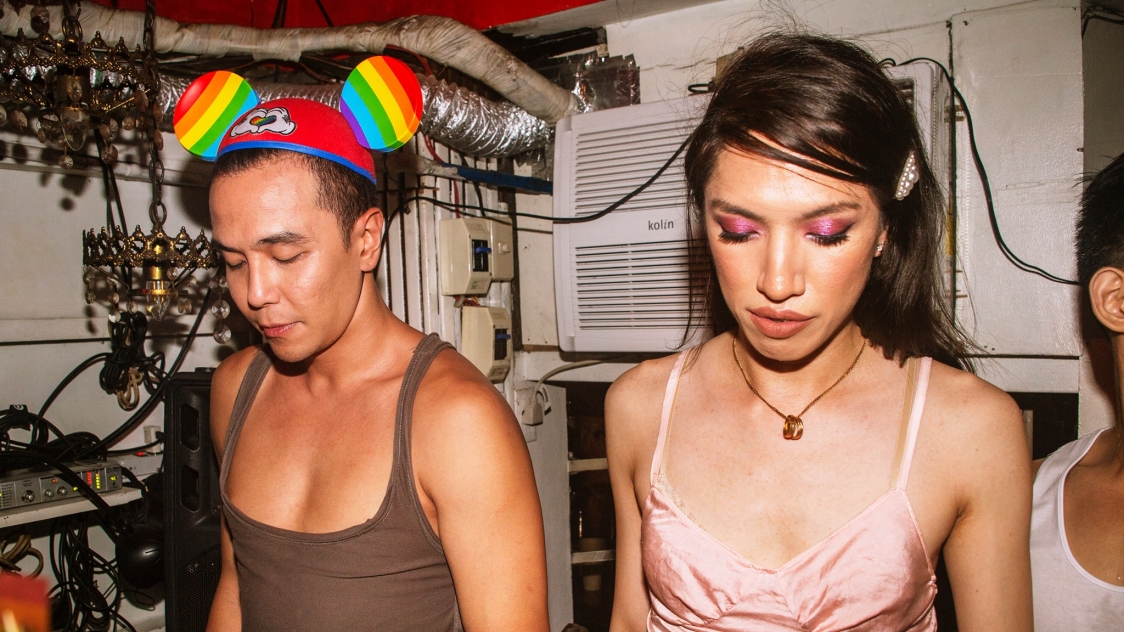 Darryl: We became a family. And we have Future to thank for that. Sa lahat ng mga nagmamahal sa Future, walang dahilan para mag-alala. Magpapahinga lang kami. Hindi kami mawawala. Babalik kami, sigurado yan. Itutuloy namin ito. P*tang ina, Future will live forever! (To everyone who ever loved Future, there's no reason to worry. We'll just take a leave. We're not gone. We'll return, that's certain. We'll continue this. Son of a b*tch, Future will live forever!).
Christine: For some, the refuge extended into becoming a lifeline. Future drew out the best in people, whether sharing the love for music and the arts, learning to spin, dancing their hearts out, building friendships, finding that special someone. It was a belonging.
The Future will always go on.
Party monsters
LGBTQ+ subculture flourished at Today x Future. Ever a hospitable environment for the avant garde, the irreverent, and the fabulous, the club hosted regular parties thrown by its queer pioneers. Some of these branched out and even went on to become institutions in their own right.
Xtina: Panty Monsters is a collective of creative individuals which included Jujiin and I.
Jujiin: It started when Lotho Lotho (fashion stylist extraordinaire, now based in Dubai) came up with an idea to form a group of fashion misfits for parties. Our answer (or more like a f*ck you) to exclusive fancy clubs with strict dress codes was to wear "panty". The name "monster" was added as a wordplay from Michael Alig's Party Monster (a group of club kids)
Darryl: It was Lotho Lotho's brainchild. Basically, we got pissed off at spots that refused entry to "crossdressers." So t*ng ina, si Lotho, along with Jujiin Samonte & Xtina Superstar (DJ duo Badaf Punk), Paulo Castro, Peabo Orilla & me (Ows, Tokyo?!), Rcxy Bautista, Nixon Marquez & Mike Lavarez started our own scene. Tapos eventually sumama sa amin sina Homer Espiritu & Melvin Mojica (Nasty Bordon) at Judd Figueres & Paul Jatayna (Peanut Butter & Jelly).
At Future ang nagbigay sa amin ng lugar, ng bahay – nang walang pag-aalinlangan. (Future gave us a space, a home – without reservations.)
Every Panty Monsters night was a sardinas party. The queer population suddenly had a home! Na na-extend hanggang Poison Wednesdays na laging puno sa linggu-linggong ginawa ng diyos. (It branched out to Poison Wednesdays, which has always been jampacked every week that the Lord has made). Thanks to Lotho and Future.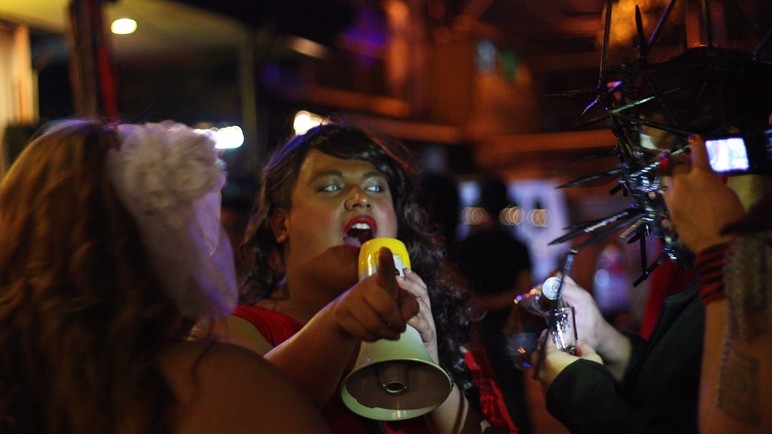 Xtina: We played anything from campy pop, dance, rock, etc.
Jujiin: It became a venue for weird kids who listen to pop music.
Darryl: Maingay. Sigawan. Fashyon. Kabugan. Ang daming baliw. Kagulo. Pawisan. Sardinas. (Noise. Shouting. Fashion. Flaunting. So many crazy people. Chaos. Sweat. Sardines.)
Everyone was welcome. Everyone was safe. At higit sa lahat, masaya. Palagi. (And above all, everyone was always happy.)
We. Found. A. Home. Our home.
Xtina: It was crazy, fun. Imagine entering a room full of people with overflowing personalities. It's like a circus of amusing individuals having the best time of their lives on the dance floor.
So many unforgettable moments, but the one that struck my mind was when we played at Malate for their Pride party. We were all dressed in flamboyant outfits (I was wearing a tanga so I was basically half naked, lol), and then I remember the party ending at 6 AM, so we had to walk far to get to the main road [just] to get a ride.
We ended up standing beside the gutter of the road, until the sun hit us like a spotlight. Everyone who was just about to start their day was staring at us, probably thinking, "Why are they dressed like that?"
To me that moment was memorable because it felt liberating knowing that we didn't really care what people think about us. It was such a glamorous moment.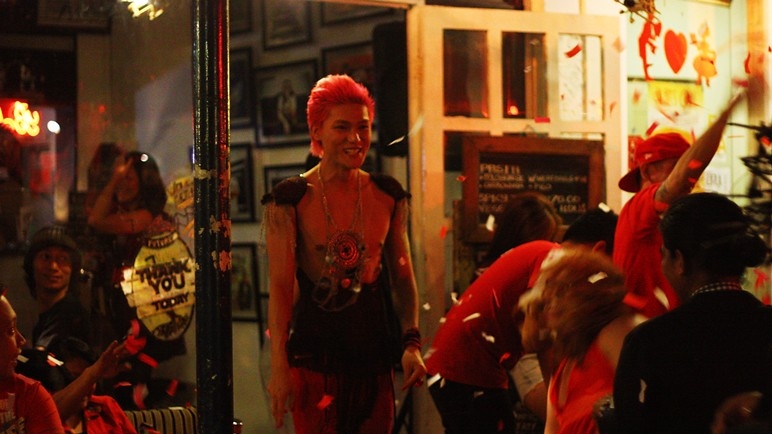 Melvin: Two years ago, my old friend Leah approached me and asked if I was up for it. This was the time na I was almost there every night. My mother thought I was working for a beerhouse kasi I called it Beerhouse Disco with pole-dancing Kate Moss and Devon Aoki on the poster designed by my other friend Nimu Muallam.
My parties – well, we called them events – were like Prom parties. I never had a Prom kasi. After Beerhouse Disco, I called it Disco Prommm. I eventually got tired of calling it Disco hence, Dancechalant and effortLAST. Those last two names were my favorites. Feeling ko ang genius ko. Haha. In my opinion, ang ganda ng mga posters.
All my parties naman walang nilangaw (went ignored). Thank God! Beerhouse Disco was on a Friday, so they thought of putting me on a Saturday. I think it was a big deal kasi the owners believed na kaya mong punuin yung venue (that you could fill up the venue). My usual customers were mostly college kids to young professionals from mga brokenhearted to those who just got their sweldo (pay).
Julianna: Bad Girls was about pushing my Ariana Grande agenda, to be honest. Hahaha. Just kidding. For me, it's about loving pop music, enjoying it with people who love it too and not caring if some people think it's low brow. (It's all about enjoying music you like, and you love pop music.)
The first ever Bad Girls party was back in 2014. Karla, Judd Figuerres, Mikee Rayos, and I were part of the original ensemble. We started it by asking Austin Castañeda if we could host an event just because we wanted to celebrate the iconic American Horror Story: Coven season. As in that was it. We really just loved it and thankfully Austin gave us a Wednesday.
We stopped for a bit, and then [there was] the new incarnation with just me and Karla which started in 2017 (Thank you so much Sam, Leah, Sharon and Austin for giving us that opportunity!)
In the early days, I think what made Bad Girls stand out was that we were doing thematic nights like Coven, Carnival and Mean Girls. TxF also didn't have a dedicated pop night, which Bad Girls provided And Bad Girls being one of TxF's well-attended and quite high earning events adds to it being a stand out. We're really proud of that. Teehee.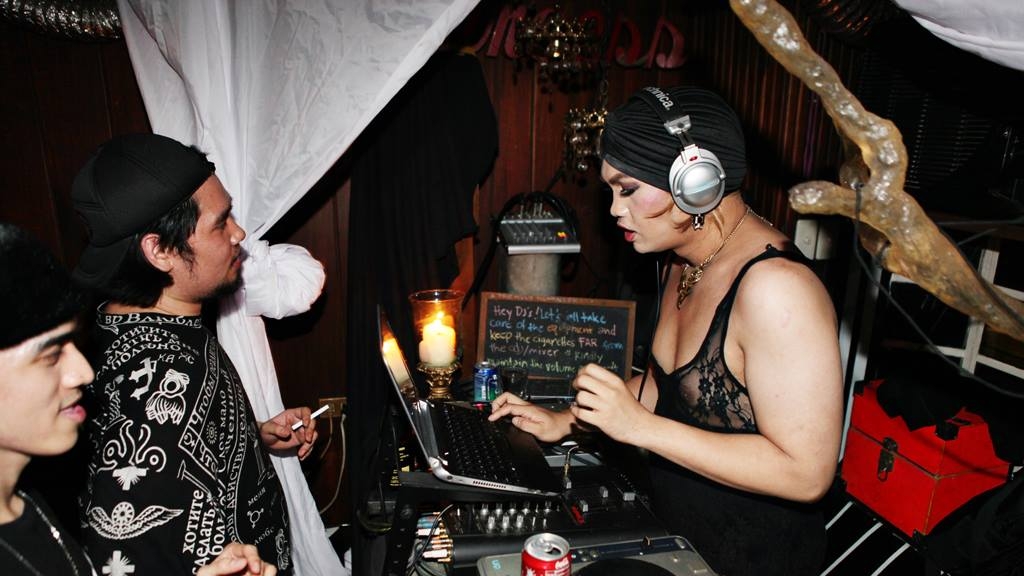 Jer: Bad Girls is a pop music-focused Saturday event held by Julianna Force and Karla Ynzon. It's usually at this night where you can hear the gay bops: Ariana Grande, Lady Gaga, Carly Rae Jepsen, Whitney Houston – you name 'em.
What I love about Bad Girls is it's unapologetically pop. Feel-good, diva diva & birit pop without judgement. You can literally play High School Musical songs, and the crowd will go nuts – I love that. I haven't seen that anywhere else.
Julianna: As 1/2 of Bad Girls my role was basically the muse of Bad Girls and my partner Karla Ynzon was the machine that dealt with everything else behind the scenes. As hosts, we would choose the DJs (and that just basically boils down to if we like you), make the poster (who in the years of Bad Girls, a lot have contributed like Keb Toralde, Mikee Rayos, Jox Gonzales and for the very recent ones, Jer Dee), and come up with the event names which is the hardest thing and its mostly just random things in my head. (One of faves is Seashells Seashells by the Future. Super nonsense, but I was laughing at that so hard)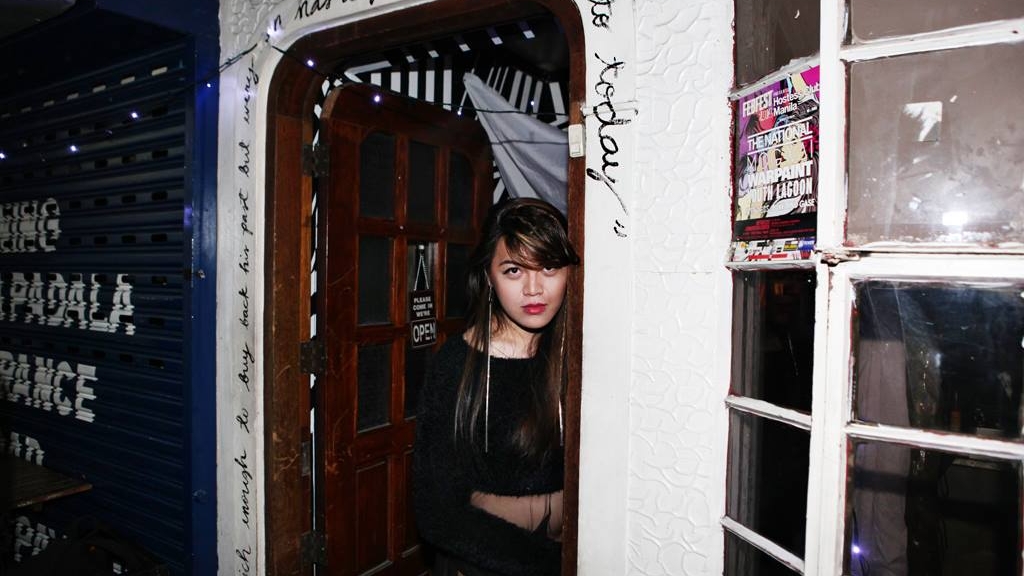 Jer: I usually do the posters for these events especially the latter ones, from 2017 onwards. It started with Julianna asking me to do their Halloween poster in 2016. I loved it, and she loved it as well. From then on, I regularly made their posters up until the end.
I made sure to make the posters distinct from the other events of Future but still keeping in line with the lo-fi aesthetic of their posters. It was kind of a creative outlet for me as well because these are the types of work that I've dreamt of doing as an illustrator and I'm so glad that they've given me the opportunity to contribute to them.
On top of that, I get to spin/do DJ sets as well. My timeslot is usually at 11:30 PM to 1 AM, which is usually the time where people arrive. I actually love playing at this time because I get to play deep cuts from various pop stars instead of the "Break Free's," the "Run Away with Me's," and all that.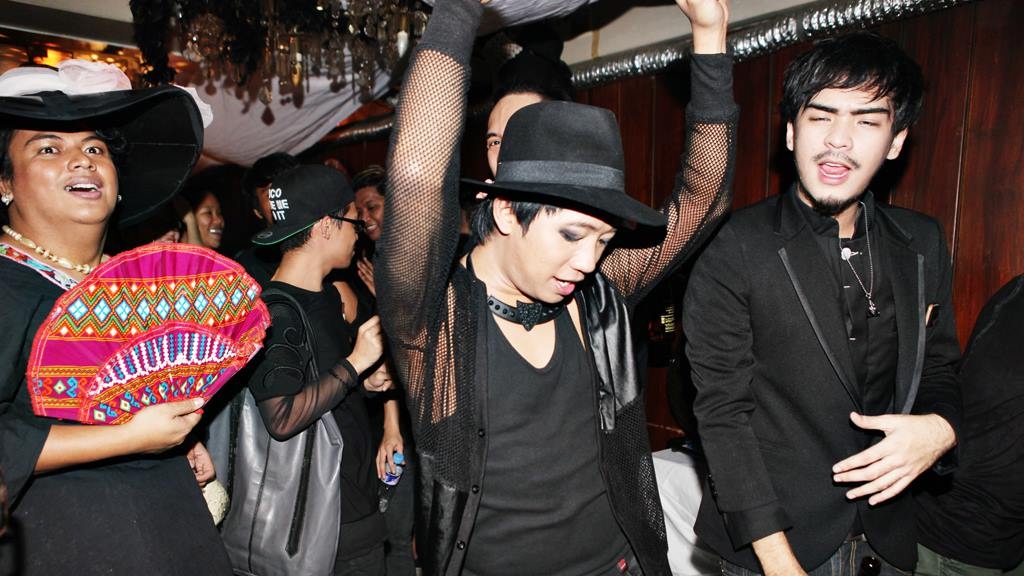 Karlo: I started as a promoter at Future quite late. I started DJing at Future back when it was still new. But doing parties at Future, I think I started in 2015.
I posted something on Facebook saying I wanted to do an all-Italo disco night, and Leah said I should do one at Future. So I did one at Future. I called it Sadomasodisco. (I did two of those nights in the same month – one at Future, one at Mao Den. But the first was at Future.)
It was kind of a last minute thing. One night, [Samantha] sent me a message saying they had a free night. She asked me if I had an idea for a party, and if I wanted to take the date. I said yes because I already had this idea for a party anyway.
At that time, I wanted somewhere I can play and listen to 80s electro, new beat, a mix of new wave, cold wave, a bit of industrial, and slow, minimal, organic techno – I really didn't want to use the word techno, but yes, something in that direction. I didn't think anyone was doing something like that here.
She gave me June 3, and when she asked me it was already almost the end of May. LOL. I thought it would just be a one-time thing, but it ended up being monthly (well, not at first, after a few months).
Kim: We were lucky that me and Mersi, one of my closest and one half of The Koolaids (our DJ duo), were asked by Leah to create something new for Future. We started with RATCHET! a more pop-oriented foray (that began its mid-week parties and eventually got bumped to a weekend).
However, me and Mersi also grew out of that, and really found our love for house and disco, thus The Rhythm Agency was born. The Rhythm Agency was our nod to early 90s Chicago House but we trickled to disco or nu disco, and sometimes a bit of techno, but its core was really for the kids to get to know what house music was all about.
Karlo: The music [at Blitz], I think, is different from the other events at Future. It's not as commercial as the usual weekends, but also not as experimental as the other nights. As for the regulars, I just ask my friends to come, and thank god some of them come.
At first, I just wanted Blitz to have a "sound." I usually get the same people to play, and then add others to the rotation especially when I see someone whose sound I like. Of course, the sound has evolved from the first one, but there's still a bit of that in there somewhere.
I just tell the DJs/musicians to play whatever they want. I don't really like dictating. I trust their taste anyway. And I sure hope they like that.
The sound of the future
Music programming at Future was as diverse as its crowd. The club held fast to the queer roots of dance music, as well as the special place that pop anthems hold among members of the community.
Xtina: I think music played a big part in establishing TxF as an LGBTQ+ haven. It's what brought everyone together, as cliché as it may sound. Since day one TxF gave DJs like me the freedom to play whatever music we want and I will be forever grateful to Leah, Sharon, Austin and Sam for that.
Melvin: Future was all about inclusivity more than anything else!
Kim: The TxF sound really has evolved but did not really divert from its core. It changed because it had to give way by a level or two to new eras. From a late Tuesday night discussion I had with other hosts, it could be a generation thing. It's adapt or die.
And this is where the themed nights played its role. From Ruthless that housed experimental and noise, to Up North that catered to hip-hop.
It wouldn't be TxF if you don't play the good classics from Robin S, Crystal Waters, Moloko, Armand Van Helden (just to name a few staples). TxF was always a time capsule bringing you every classic imaginable. It's a neon ballroom of sorts fusing together what is current and your delectable classics. TxF respected the classics, that's non-debatable.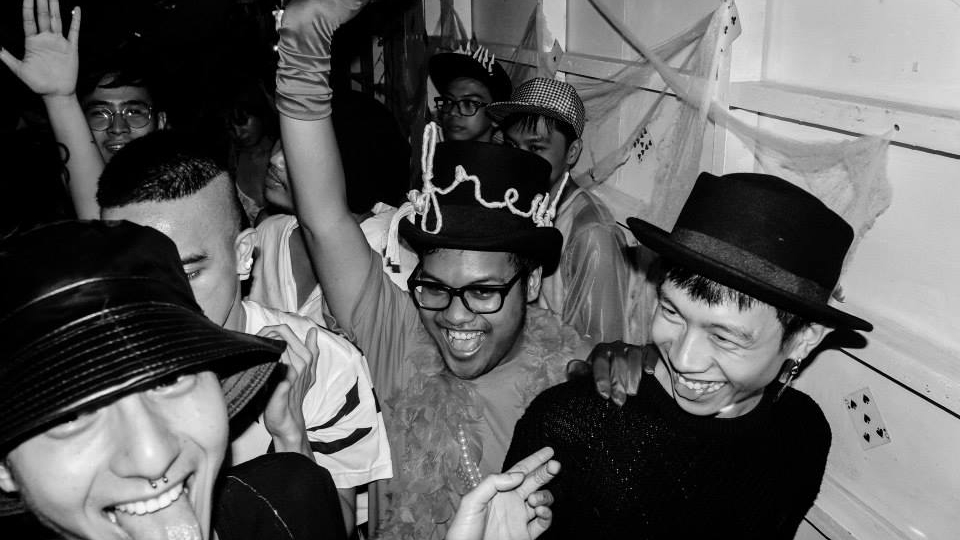 Jer: I think it's the fact that queer people are more receptive towards pop music and the fact that the management has nights dedicated to wildly different genres I think played a huge part on it being a safe space for queer people.
At a 1AM set – arguably primetime hour on Future where the dancefloor is packed, you could play a song by Robyn then switch it up to a Sarah Geronimo song then you'll have the gays shrieking.
I really couldn't see this happening anywhere else. The gays live for pop music, and I love how Future gives us the opportunity to bop to that.
Karlo: Variety is always good and keeps things from getting boring, and can you really accuse the LGBTQ+ community of being boring?
Christine: Music at TxF for me was the best. Since way back, one would hear playlists not usually heard anywhere else.
I loved it when the kids dance blissfully, the music guiding their feet and making them feel. I am glad there is a place that broke barriers for them. Some nights when they sway and sing their sad but hopeful hearts to Robyn or Carly Rae, I see how music heals and remind them everything's going to be all right.
"l am human and I need to be loved / Just like everybody else does," sings The Smiths. We need music to get by. Thank you, TxF. Thank you, Leah, Sam and Sharon.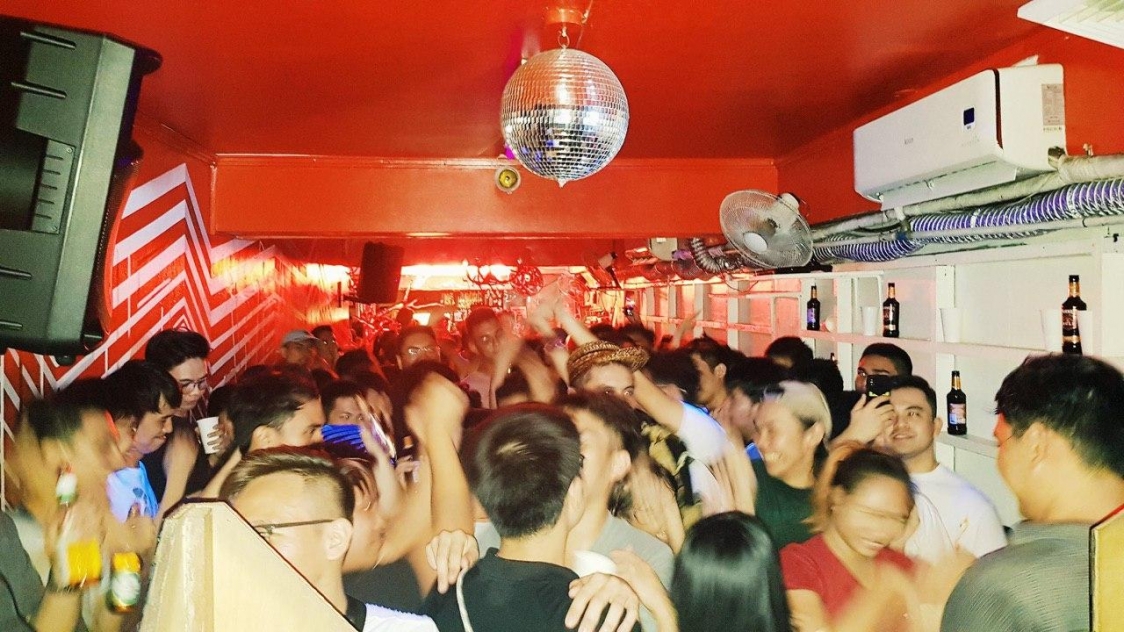 Songs that make gay people scream
Some of the Future DJs share a few tracks that (in their opinion) were favorites among its regulars across the years — for posterity.
Jer:
2016: Sarah Geronimo – "Kilometro"
2017: Little Mix – "Touch"
2018: Ariana Grande – "God Is a Woman"
2019: Ariana Grande – "thank u, next"
Honorable mentions – gays scream to this, every year: Carly Rae Jepsen – "Run Away with Me"; Lorde – "Supercut"; Robyn – "Dancing on My Own"; Ariana Grande – "Break Free"; Lady Gaga – "Born This Way"; Beyoncé – "Crazy in Love"
Kim: This, I'm kind of nervous about. LOL. But all these songs I have listed are just my personal faves during that particular year up until now.
Timeless cut: Robyn – "Dancing on My Own." You can't argue that. It has been played since the moment I first stepped into Future up until the present, and the screams will deafen you.
2009: La Roux – "Bulletproof" or Lady Gaga – "Bad Romance"
2010: Kylie Minogue "All The Lovers" (It's this over "Fireworks" by Katy Perry. Kylie forever)
2011: Rihanna – "We Found Love"; Runner-up: Lady Gaga – "Born This Way"
2012: Beyonce – "Love On Top" (Prepare for major dancefloor choreography moment)
2013: Britney Spears – "Work Bitch"
2014: Iggy Azalea – "Fancy" (feat. Charli XCX)
2015: Carly Rae Jepsen – "Run Away with Me"
2016: Ariana Grande – "Break Free" (For formality. TxF Gays will kill me if I exclude Ari in the list)
2017: Dua Lipa – "New Rules"
2018: Ariana Grande – "thank u, next"
2019: Dua Lipa – "Don't Start Now"
2020: Lady Gaga – "Rain on Me" (feat. Ariana Grande; by wishful thinking. it's what the gays would've wanted but blame it on Mizz Rona)
Xtina:
2009: 2NE1 – "Fire"
2010: Robyn – "Dancing on My Own"
2011: Lady Gaga – "Born this Way"
2012: Nicki Minaj – "Starships"
2013: Miley Cyrus – "We Can't Stop"
2014: Iggy Azalea – "Fancy" (feat. Charli XCX)
2015 to 2020: Anything Ariana Grande or Carly Rae Jepsen, lol
A timeless classic that would make the gays scream regardless of the year: "All I Want for Christmas Is You" (Extra Festive) by Mariah Carey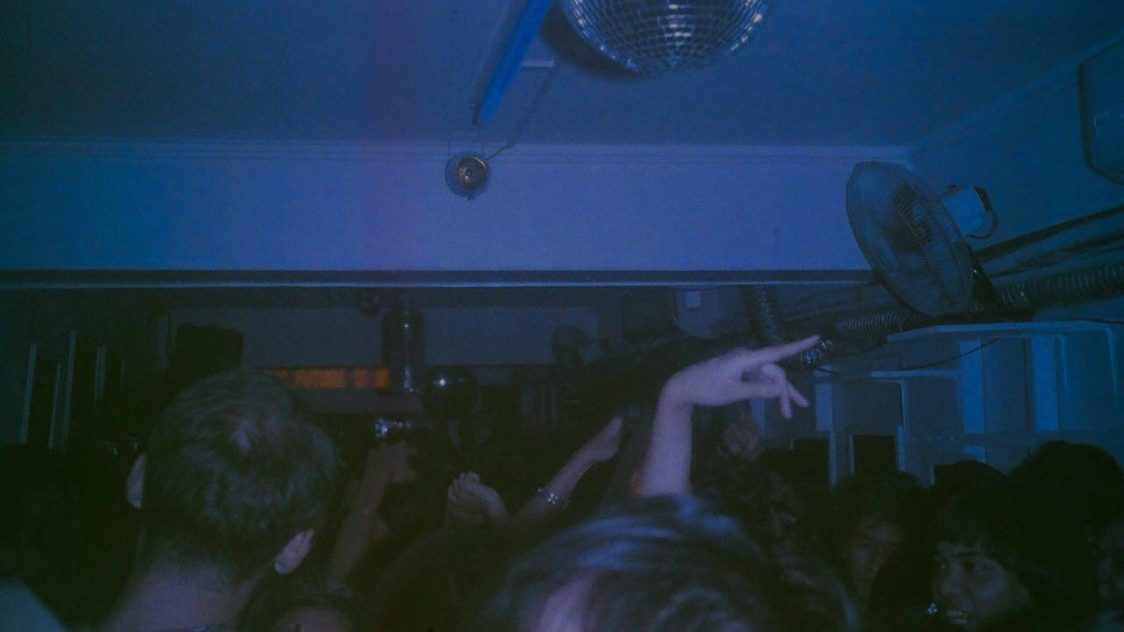 – Rappler.com