Looking for an outdoor space in Cebu to take your kids?
Now that Cebu is under Alert Level 2, children are no longer restricted to their homes. The problem, however, is that clean, safe, and accessible parks are still hard to come by in the Philippines, and Cebu is no exception.
Still, there are great alternatives. Though they may not be the large, sprawling parks we wish they were, these spots would still make for a wonderful day out with the whole family while still being mindful of COVID-19 protocols.
Plaza Independencia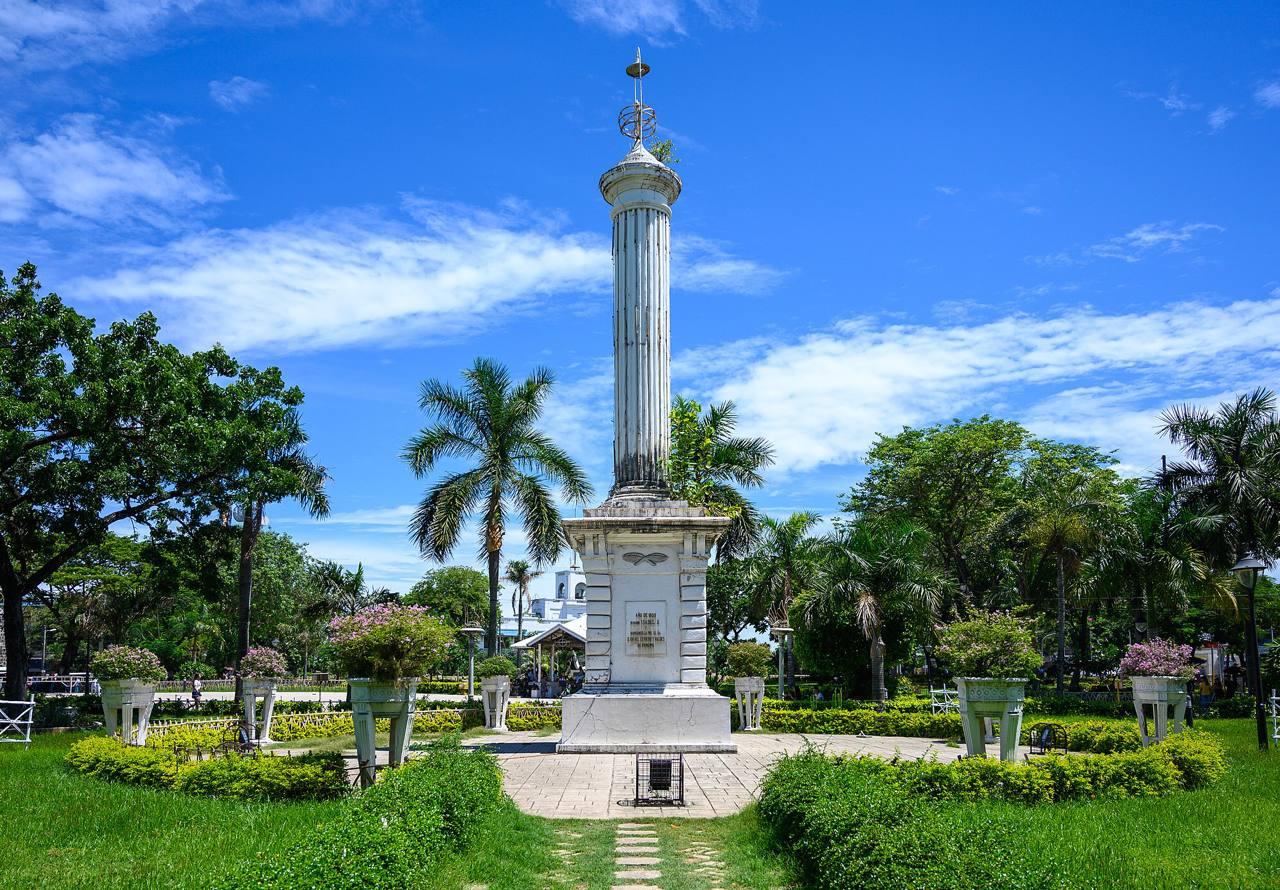 A historical landmark, Plaza Independencia is a go-to park for most families in Cebu. It is open to the public with no entrance fees.
It's close to the Cebu City pier and police station. Families can go out for a stroll or have a picnic in the large and open grass area.
Also at Plaza Independencia is the historic Fort San Pedro, built during the Spanish colonial era.
Senior Citizens Park
Outside of Cebu City Hall is the Senior Citizens Park, created specifically for the city's elderly population.
At the center of the park stands a fountain area that quite resembles the centerpiece at Fuente Osmeña Circle.
While there are no play structures here for the kids, it is a nice place for a walk before or after shopping at nearby Carbon Market.
Plaza Rizal – Lapu-Lapu City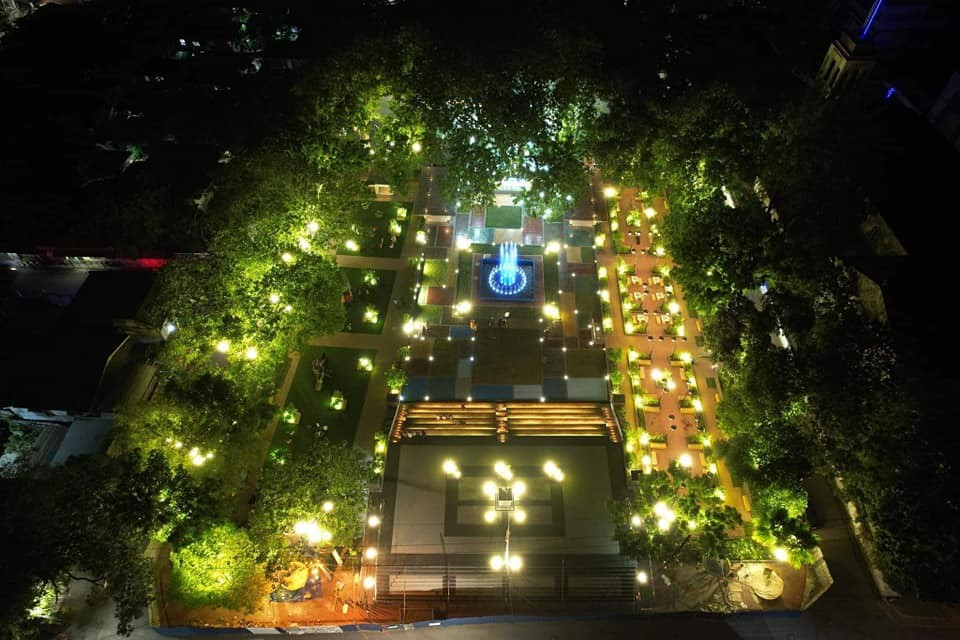 Renovated in July 2021, Plaza Rizal is a good family bonding option for Cebuanos who live in Lapu-Lapu City.
The plaza stands beside the Nuestra Señora Virgen Dela Regla Church. It really serves as a recreational hub, featuring fun playgrounds, historical monuments, and a musical fountain for family entertainment.
At the highest part of the plaza stands a statue dedicated to the late Jose Rizal, which can be a meaningful backdrop for family pictures.
Mandaue Learning Green Park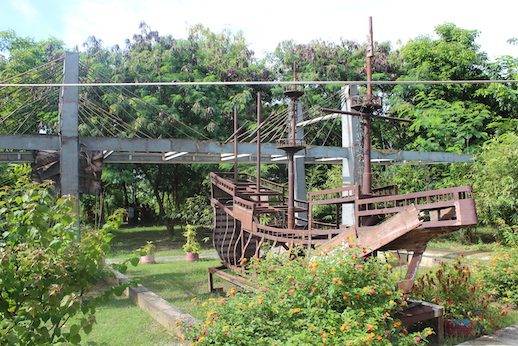 Formerly a dumpsite in the city of Mandaue, the Mandaue Green Learning Park is a 10-hectare eco-park developed by the city government.
The eco-park features a wide array of vegetation, a small chapel for Masses, and stone animal figures that can entertain the kids. You can even take pictures beside a miniature replica of the remains of an old Spanish ship.
Naga City Boardwalk
One new attraction in southern Metro Cebu is the Naga City Boardwalk.

It's very "Instagrammable." While bonding with your family you can also grab a bite to eat at several food stalls.
Cebu Business Park
While it's not technically a "park" in the sense that it was built for leisure and recreation, it is common to see people hanging out and exercising at the open lots and wide roads of the Cebu Business Park (CBP), Cebu's main central business district.

On the weekends, it's home to Sugbo Mercado, where you can grab a bite to eat.
Its Christmas Bazaar also showcases the best local food selections and affordable gift items.
The Terraces at Ayala Center Cebu
While we don't want to encourage people to go to malls, we'll make an exception for this one, because there is actually an outdoor park and playground on the grounds.
There are also plenty of fountain gardens around the Terraces area that's perfect for taking pictures with the kids.
Skypark SM Seaside Cebu
Found on the third level of SM Seaside City, the Sky Park is a comfy outdoor space that features two major playgrounds, three event amphitheaters, multiple picnic areas, and a beautiful view of the mountains and ocean.
You can bring your kids to the Water Play playground just outside the Mountain Wing area of the Sky Park, or to famed Cebuano designer Kenneth Cobonpue's Sky Play, just outside the City Wing.
SM Seaside City also has a wide range of restaurants and coffee shops.
IT Park
IT Park is a well-known hangout spot and a go-to for evening entertainment. It's also home to the other Sugbo Mercardo.
D'Family Park
Entrance fee: P15 (adults); P10 (children)

Owned and operated by the Metropolitan Cebu Water District (MCWD), D'Family Park is one of the oldest go-to family bonding destinations for many generations of Cebuanos.
The park has many features, including swimming pools, a playground, a mini-zoo, a multi-function clubhouse, and a huge stage for concerts and other grand events.
The park is usually open from Mondays to Sundays, from 5 am to 9 pm. You can get to D'Family Park by riding a jeepney going north from the University of San Carlos-Talamban Campus, and you should see it along the road (near the Pag-Ibig Fund building).
Cebu City Sports Center
Entrance fee: P15

The Cebu City Sports Center (CCSC), also known by locals as "Abellana," is the go-to place if you're looking for an open-air track to run on.
Originally, the center was built to serve as the main venue for the 1994 Palarong Pambansa, and is currently where the Sinulog Grand Parade's final event is held.
CCSC's eight-lane rubberized track oval is open from 5 am to 8 pm from Mondays to Saturdays. On Sundays, it will be open only from 5 am to 12 noon.
Anjo World Theme Park
Entrance fee – P600
Anjo World is Cebu's first theme park and features more than 12 kinds of rides.
It has a ferris wheel, snow world area, and areas of the park replicating tourist attractions in other countries.
The theme park is located near Belmont One, Cebu South Road, Upper Calajoan, Minglanilla, Cebu.
Tops Lookout
Tops Lookout is a famous tourist destination found near the peak of Busay Hills in Cebu City. Families come to the place to get a breathtaking view of Metro Cebu and the sea.
If you're commuting to Tops, you can take take a motorcycle taxi from JY Square in Lahug, Cebu City. The fare costs P100.
West 35 Eco Mountain Resort
Entrance fee: P85

Found in mountainous Barangay Gaas in the municipality of Balamban, the outdoor spaces of West 35 Eco Mountain Resort offers your family the opportunity to escape the stresses of city life.
The place features an open-air restaurant, a free-use adventure playground, and a 360-degree viewing deck that allows you to get a good view of the hills and mountains of Cebu.
To get there, you might need a private vehicle, or you can take a V-hire from Ayala Center going to Balamban via the Transcentral Highway.

The fare will cost around P100 to P120. – Rappler.com