Are you a physical book person or an e-book person?
MASSACHUSETTS, USA – I had to move away for graduate school a few weeks ago. It was a frenzy of shopping, packing, weighing suitcases, repacking, all on an endless loop until I decided to make drastic cuts.
First to go: the books. When I would ask people how many books I should bring with me to graduate school, I got varying answers: "All of them! But you're talking about the ones on your iPad, right?"
"None! The libraries have everything!"
"As many as you can — who knows what you'll feel like reading when you get there?"
"Just the ones you feel attached to," and so on in a series of puzzling answers.
As I sat amidst my discarded towers of books, I began to look at them with a bit of resentment. What were these archaic masses of woodpulp and glue even doing with me? And why did so many of them seem to be recent purchases, still acquired after I'd bought an e-reader?
This big move and the books I have had to jettison have led me to think about books, and how and why they matter — or even if they still do.
In the age of digital reading and human hypermobility, purchasing and collecting physical books seem to be going out of style.
READ: The future of digital publishing
The impracticality of it all
Some points against physical books:
1. They're heavy, as evidenced by the above anecdote of moving
Those little trade paperbacks don't look like much when you heft them in your hands, but try carrying 20 of them and you'll stagger a little bit. No wonder bookshelves tend to sag after a few years.
2. They're more expensive than e-books
The difference between a physical copy and a digital copy can range from a few cents to 6 times the price, depending on how recently published and how in-demand the title is.
E-books can even be free, if you go to resources that offer books in the public domain (check out gutenberg.org), if your library offers e-book access to certain titles, or if you know where to look for — um — not entirely legal copies.
Try and estimate about how much you've spent on your print books so far, and you might wince at the number.
3. They age and get damaged, which happen much more quickly in a tropical country like ours 
If you've ever experienced the pain and agony of losing your books to floods, sudden gusts of wind and rain that blow onto your bookshelf, and the occasional coffee spill, then you may be considering swearing off print books forever.
Books as art objects
Yet there are things that physical books can achieve that e-books never will.
1. The physical book is a potential canvas for brilliant design
Cover designs come to mind, of course. [That's the next piece from me.] But there's also the artistic possibilities of books on shelves and the unexpected ideas they can generate.
Take, for example, book spine poetry, which arranges books to crete new verses from the titles [and sometimes authors] on their spines.
Or the recently released Harry Potter 15th Anniversary Editions from Scholastic, which creates a panorama from the spines of all 7 books:
2. The art that can go into the craft of the insides of a book and how they can affect form
There are some explorations of poetry and fiction that just can't be replicated in e-book form.
One puzzling example would be Jonathan Safran Foer's Tree of Codes, which is a novel literally cut out of another novel. The text was created from cutting and erasing portions of Bruno Schulz's Street of Crocodiles, resulting in an entirely different storyline from the original.
Watching the process of making the book sent chills up my spine, and made me want to rush out and buy my own copy — USD$40 price tag notwithstanding.
3. The presence of physical books in our bedrooms, offices, living rooms — even the backseats of our cars — and what it says about us
A shelf bursting with volumes is often an indicator of scholarly or professional zeal.
Isn't it funny that when lawyers or professionals are consulted on the news, the background is always a shelf of books? Never mind that these books might not be theirs, or that they probably haven't read all of them — these shelves need to be there to convey credibility.
There's a magic lost in only buying ourselves e-books, one of which is falling in love with a book's cover. While we dismiss the love for a cover as superficiality, we also have to admire the artists and designers who take time to use the cover as a canvas.
For next week, I'll be writing about book covers and why they should be judged, and what they say about us as readers and writers. – Rappler.com
Woman enjoying a book photo from Shutterstock
You can also read: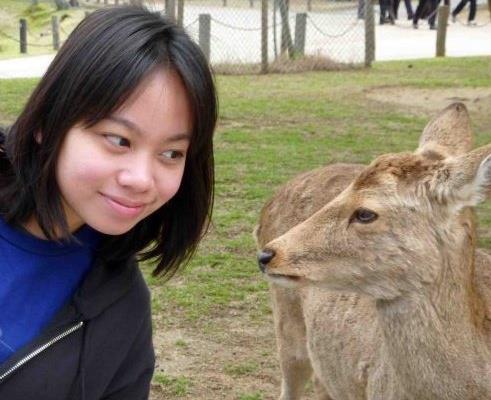 Florianne L. Jimenez is a full-time graduate student in English and teaching associate at the University of Massachusetts Amherst. She is also a Palanca award-winning non-fiction writer, who still writes when she has time.