The instapoet sparks a Twitter debate once more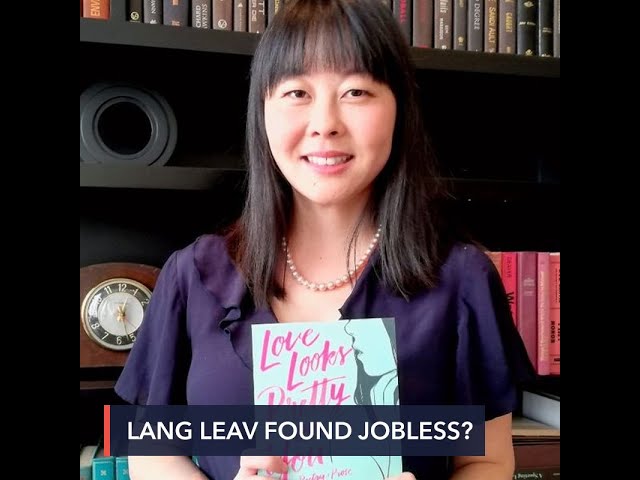 Internet poet Lang Leav trended on Twitter on Thursday, November 19, after she responded to a tweet that referenced her writing style.
On November 18, Twitter user @call_me_jas0n shared a screenshot of a text from shopping platform Lazada's courier about a delivery.
In the caption, he wrote "Lang Leav found jobless," evidently referring to the way the text was formatted so that the message was broken up into single lines – similar to the way Lang writes some of her poetry.
As of this writing, the post counts over 4,000 retweets and 2,000 quote tweets, and over 38,000 likes, with many people enjoying the post's humor.
The joke, however, may have flown over Lang's head. She replied to the tweet saying "Lang Leav found jobless after selling millions of books," adding an angel smiley emoji.
Her response didn't sit well with some people, who felt that she couldn't take a joke.
"Sis literally jumped from Lang Leav to Lang sense of humor (no sense of humor)," said @kiseeeyl.
"gerl, joke kasi yun nakatira ka ba sa kweba (girl, that was a joke, do you live in a cave)?" said user @ifyouseekkae.
The person who posted the original tweeted also replied to her response, saying "Nobody asked."
Others, however, jumped to Lang's defense, saying that people were "shaming" her writing style.
"oo, lang sense of humor si lang leav (sure, she doesn't have a sense of humor), pero you didn't have to go down like that," said @salitangwakin. "we demand for art to be respected, yet we go down and discriminate poetry like this. yikes."
"You ppl with insensitive asses calling out Lang Leav and bash her for not knowing the word "sarcasm"… more of that, putting her writing style into shame. Remember this: SARCASM CAN BE A JOKE, BUT IT CAN BE OFFENSIVE TOO," said @ecstatic_elegy.
Some of her fans also took the opportunity to share her writing.
Lang is known for her "instapoetry" – simple free-verse writings mostly on love and relationships, that have become popular among hugot-loving Filipinos.
As per her tweet, she has released several books, including the poetry collections Lullabies and Love Looks Pretty on You, and the novels Sad Girls and Poemsia.
Her work, however, has sparked debate among the literary community, with many writers questioning the classification of her work as literature. – Rappler.com