The Mompreneur Awards celebrate motherhood and business enterprise
MANILA, Philippines – On Sept 14, mom-entrepreneurs [aka mompreneurs] from all over the metro gathered in celebration of motherhood and business enterprise, and to honor a chosen few. Inspiring mompreneur Janice Villanueva, founder of Mommy Mundo who organized the event, brought mompreneurs together for the second annual Mompreneur Manila awards at the Blue Leaf Pavilion in Bonifacio Global City.
Inspiring talks from leading mompreneurs gave way to question-and-answer sessions with aspiring and even well-established business owners. The latter received advice and encouragement on how to nurture their growing businesses and business ideas.
The theme of the day was "Passion and Purpose." PR maven Amor Maclang of Geiser Maclang shared how her business came out of a desire to make a difference in the world for her daughter and for others as well.
"Doing well means doing good, especially in a time where larger companies' CSR [corporate social responsibility] is an afterthought," shared Maclang. Her advice to aspiring momprenuers: find your passion, create the blueprint for your business and follow it all the way to the social good, not just for your community but for the whole country. 
Anne Arcenas-Gonzalez shared the Havaianas story and how her small business, initially based in her brother's room, grew into a company that now represents international brands and that provides "attainable luxury" for every Filipino. 
"Staying true to your branding and sticking to the core values and service that you aim to provide can position your company for success," Gonzalez said. "Happiness is a key component in any business." She reminded mompreneurs that happiness is a concern not just for customers, but also for employees. She also stressed the fact that the retail market is changing because of the digital age.
Other speakers who shared their insights and experiences were power couple Aj and Audrey Dimarucot, style expert Jenni Epperson and educator Joy Abaquin.
The most exciting part of the day was when the awardees were recognized for their businesses and achievements.
Nominees for Brand and Product Innovation were:
Jill Borja
Tricia Matoto-De Santo
Willette Fajardo
Paola Loot 
Jackyln Zapatos
Nominees for PR and Word of Mouth Marketing were:
Gwendolyn Carino
Jeannie Castillo
Maricar Loriaga
Denise Gonzales, Noelle Hilario and Monica Manzano
Nominees for Social Mompreneurship and Advocacy were:
Anna Meloto
Jenny Ong
Ginger Arboleda
Roxanne Aquino
Nominees for Brand Positioning and Marketing were:
Audrey Dimarucot
Marivic Sulit
Monica Manzano and Denise Gonzales

Mutya Laxa Buensuceso
The winners:
BRAND AND PRODUCT INNOVATION: Paola Loot
PR AND WORD OF MOUTH MARKETING: 

Jeannie Castillo 

SOCIAL MOMPRENEURSHIP AND ADVOCACY: Jenny Ong

BRAND POSITIONING AND MARKETING: Audrey Dimarucot
– Rappler.com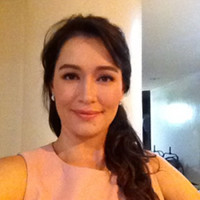 Michelle Ressa-Aventajado is a Filipina American who grew up in NY and now makes Manila her home. When she's not busy raising her four children, she enjoys teaching, reading and writing about her passions. Follow her blog Momma 'N Manila as she documents her adventures and growth in parenting.