This is AI generated summarization, which may have errors. For context, always refer to the full article.
Ruby finds love in a married man who loves her despite her inability to walk but he ends their relationship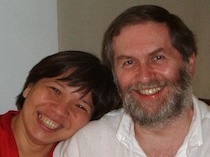 Rappler's Life and Style section runs an advice column by couple Jeremy Baer and clinical psychologist Dr Margarita Holmes. Jeremy has a master's degree in law from Oxford University. A banker of 37 years who worked in 3 continents, he enrolled in and subsequently gave workshops in work-life balance and gender sensitivity training. He has been training with Dr Holmes for the last 10 years, as co-lecturer and occasionally as co-therapist, especially with clients whose financial concerns intrude into their daily lives. Dr Holmes needs no further introduction.
Dear Dr Holmes and Mr Baer,
It has been a year since my relationship with a married man ended. We were together for 3 years and 7 months until the wife found out about us.Our relationship was special. I am a paraplegic due to spinal cord injury. I use the wheelchair full time after a vehicular accident. The guy continued to pursue me despite my acquired disability. I was struggling then because of my religious beliefs and my feelings towards him. In the end, I acceded to be in a relationship with him though he admitted his status from the beginning. It was a long distance relationship. He was an expat in Shanghai and would visit me 5-7 times in a year. We would even go on trips together. Proximity was never a problem. Thanks to modern technology, we communicated frequently. I admit, the pain after the break-up has dissipated by now but I still think of him constantly. He insisted in the past that he wants us to be friends even if the relationship ends. But all that changed. The wife even spoke to me, pleading me to stop all forms of communication because she plans to fix their marriage. Please help. I'd like to move on. I also have the notion that I will never find anybody like him who'll accept my disability.
Thank you,
Ruby
—————
Dear Ruby:
Thank you very much for your letter. We will do our best to be worthy of your trust. In truth, we'd hoped to answer your letter much sooner than, it seems, we actually can. 
However, first, we needed more time to mull over your situation to get as close a feel for it as we possibly could.
Second, we need to ask a few more questions, if that is ok with you?
For the avoidance of doubt, it is perfectly ok if you don't want to answer them. Whether you do or don't, we will still do our best to be as helpful as we can by answering this in our column. 
However, if you can find the time and strength to do so, it would be a big help for us. It would help us see your relationships (with him, with his wife, with yourself) more clearly and thus (we hope) make us more helpful. So, here's hoping you can answer any of the following questions or (better) all ☺:
How did you first meet?
Did your relationship change through the years you knew each other? 
How did his wife find out? 
Did you hear from him at all after his wife found out? What was the last  communication between you?
Before we end this letter we'd like to say—and please forgive us if we sound awkward and clumsy doing so, since we say these things so seldom—that we admire you so much: admire your courage, your being the person you are, and your unrelenting self honesty. Mabuhay po kayo – MG Holmes and Mr Baer 
—————
Dear Dr Holmes and Mr Baer: 
I met him online on Dating4Disabled. I had a mission then to capture one of our disabled leaders who used the site to victimize foreigners and get money from them. He befriended me and from the many people I've exchanged hi and hello with, he was the only one who seemed genuinely interested. I was of course using a pseudonym and explained to him my purpose there after I felt comfortable. He learned about the site from a friend.
Yes, our relationship changed through the years. He even became more caring especially after I shared with him my disability. He made himself also always available and would often tell me his whereabouts since he frequently travelled. I don't know how his wife found out. The last time I spoke with him was through Viber and they were together. I suspected that the wife caught him that way. Because of the smartphone and the app Viber, he frequently communicated with me. Then the next day, he called and briefly explained that he told the truth to his wife about us. Things happened quite fast. Then I heard the wife asking me to stop communicating with him. He told me though that their relationship is routine, that they are independent and live separate lives. Their marriage is only bonded by the contract. I believe in him too since he was able to spend Christmas and New Year with me.
He emailed me 10 days after the last phone call. He apologized and thanked me too for the journey he will forever remember. That was also the last time he tried to communicate with me. I stopped communicating too. Also, we were together for 4 years and 7 months and not 3 years. 
I hope these help.
Thank you 🙂   Ruby
—————
Hi, Ruby:
Thank you so much for your immediate answer to our questions. 
Please forgive us if we have a few more questions to ask, and if you feel they are intrusive,  you won't have to. Still, we hope you do  (uh-oh, we so hope this is not a mixed message ☺ ]  because they would really help us answer your specific concerns and not give the usual generic answers. 
Here are our questions: 
1. I know he heard about the site from a friend, but why was he interested in the first place? Especially since he was a married man?
2. Did you ever talk about the possibility of his wife finding out? 
3. Did you ever talk about a future together? 
Thank you so much, Ruby. we are sorry if answering these questions hurt you once more, but we hope doing so will also help you move on more quickly.
Best regards—
MG Holmes and Mr Baer
————— 
Dear Dr Holmes and Mr Baer:
1. I think he was curious but I don't quite remember well the reason. However later on, he told me that he was greatly attracted to my legs (because I encouraged him to admit it). So I assumed he was a devotee. 
But our relationship never developed due to sexual attraction, etc. I think it was icing on the cake because it makes our intimate moment pleasurable. 
2. Yes. But he always told me that he could manage things.
3. We talked about it briefly like if he was in a hotel for his trip, he'd tell me about how accessible the place was or if we lived together, we'd talk about the household chores and who will be responsible for such chores 🙂   
Ruby
—————
Dear Ruby:
Thank you very much for your immediate replies to our questions. We tried to incorporate everything you wrote plus your answers to our questions, but we found that the best way to share the results of our correspondence was to share it as is. It is more accurate, for one thing; and also shows your sincerity throughout all this.
Is it all right if we invite the readers to share their advice? They will anyway, but this way they may be kinder, we think. But in the end, it doesn't matter whether they are kind or not, our courageous and honest warrior.  
Best regards—
MG Holmes
————— 
Dear Dr Holmes and Mr Baer, 
Asking the readers to comment is all right with me. Thank you!  Ruby
————— 
Dear Readers:
There you have it. The 3 of us (Ruby, Jeremy and moi) would appreciate your thoughts on this issue. Not-ahem-because we have no answers of our own, but because this column is already quite long as it is. Another reason is that some of your comments in previous Rappler columns, have been insightful and thus quite helpful. We figured, why not start with the insights (whether positive or "negative") now, and continue this next week. We know Ruby can take everything you share, as you can see from the way she wrote her first letter and her subsequent answers to our subsequent letters.  
– Rappler.com
Need advice from our Two Pronged duo? Email twopronged@rappler.com with subject heading TWO PRONGED.