When he only goes on a date with you in private and only to have sex, it's time to change the game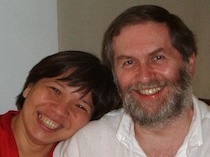 Rappler's Life and Style section runs an advice column by couple Jeremy Baer and clinical psychologist Dr Margarita Holmes. Jeremy has a master's degree in law from Oxford University. A banker of 37 years who worked in 3 continents, he has been training with Dr Holmes for the last 10 years, as co-lecturer and, occasionally, as co-therapist, especially with clients whose financial concerns intrude into their daily lives. Together, they have written two books: "Love Triangles: Understanding the Macho-Mistress Mentality" and "Imported Love: Filipino-Foreign Liaisons."
Dear Dr Holmes and Mr Baer,
I have been itching to ask for your help for months now but I was shy. I have finally decided to do it today after a lot of prayers.
I am dating a 39-year-old separated man for 2 years now. No one knows about it because there is a legal case going on for separation. I met him 12 years ago before he got married. We were in constant communication even during his marriage and when it didn't work out for them, that's when "we" got together.
However, there is a big question in my mind since I have not been in a long-term relationship. At first we would go out and travel, but now, he only sees me when he has time and it all ends with sex. It's like he only sees me to have sex.  
He always checks up on me and make sure I get home on time, et cetera, BUT what I don't understand is why I feel that he only sees me for sex.
I don't know what to do. I am not sure if this is normal with two people who care for each other. I'm like a spare, or a secondary option. I asked him if he were dating another girl, he would always tell me he had an ongoing legal case and he cannot date anyone.
I need your help. I am confused and I couldn't share it with anyone. I am tired. what should I do or what it is that am doing wrong? Help me. – Serena
————————–
Dear Serena,
Thank you for your letter. It seems that your relationship with this man (lets call him Frank) has become seriously imbalanced which is of course why you are so upset about how it has developed. Initially you say that you would go out and travel but now, supposedly because of Frank's legal case, Frank only sees you for sex. 
You do not tell us how this transition from a normal relationship to one limited to a mere sexual arrangement actually happened, but if the legal case had already started when you and Frank began to see each other, that can scarcely be a valid reason now. There is also a certain irony in suggesting that legal problems prevent socializing but can be forgotten when it comes to sex. Presumably the judge would see things slightly differently!
"Why buy the cow when you can get the milk for free?" seems to describe Frank's current position best.
So what should you do next?
You should put everything on hold till Frank has gotten his legal separation, then have a normal relationship and see where that takes you both. This will flush out whether he wants to buy the cow if the milk stops flowing. When having this conversation with Frank, it might be wise to be truthful about your concerns. If this is a step too far, which it should not be if you want a relationship based on mutual trust and understanding, you can always tell him that you don't want to do anything – like be discovered having sex – that might prejudice his legal case. 
Frank's reaction to this move should go a long way to making clear whether this relationship is a wise investment for the future or a waste of your time. All the best – Jeremy
Dear Serena: 
Thank you so, so much for your letter, and for writing it so well. I say this because many people have written us about the same subject, but you have shared your story so succinctly (and yet including all the major points) that many women will be able to resonate with your situation.
And it can be a killer, can't it? You love him and the thought of his not being in your life kills you and yet….and yet…why does he treat you so badly? And is it worth the risk of losing him to do as Jeremy asks?
If you hate the situation you're in, the answer is yes.
I think so.…but then I am married and 63 years old and it's not quite the same as someone who is in the throes of romantic love and held hostage by passion [ahem—not that I'm not, my hubby, Jeremy! ☺] so it is easier to say. 
Maybe the information below will help you decide: 
One of the basic tenets of family therapy (and for all intents and purposes, you and Frank are a family, Serena) is that the family is a system that, like other systems, seeks homeostasis, the tendency towards a stable equilibrium. Within the family, that would normally mean emotional and/or psychological stability. If anything new happens, the family will find a way to incorporate that new development into something that runs smoothly—or at least as smoothly as it has in the past. 
Right now, your homeostasis is: you want your relationship to change and he wants the status quo. It has been that way for a while. If you continue the way you have been towards him—including the complaints, questions and, I suspect, even tears?— he will not change. There is no reason to. What he realizes is that all he has to do is wait out your little storm, and then things go back to normal: he visits you, you don't go out together so as not to be seen because of his "court case," more often than not you have sex, then he leaves for (his own) home.
Both your holding patterns continue. The only way things will change is if you do. 
You know this by experience since I reckon you've tried changing him to no avail.
The difficulty is, your change has to be real, because like bloodhounds, men who aren't willing to commit more than they already have, can sniff out whether you are serious or whether all it will take is waiting it out longer to get your relationship back as it was before. 
I guess in the end, it will boil down to your delivering the following message: Either our relationship includes more than visiting me occasionally or we say goodbye. 
If you mean it, then your relationship will change. Not necessarily the way you expect or even want to, mind you. He may decide that saying goodbye is his easier option and I imagine the possibility that that might happen has hurt and frightened you already. 
But think about it, Serena: would you prefer the (perhaps) never-ending hurt of not knowing what he truly feels about you, or the hurt of knowing he doesn't care but then moving on from this certainly to something else, or possibly even the joy of realizing he cares enough to change. Good luck! – Margie
– Rappler.com
Need advice from our Two Pronged duo? Email twopronged@rappler.com with subject heading TWO PRONGED. Unfortunately the volume of correspondence precludes a personal response.
When leaving a message on this page, please be sensitive to the fact that you are responding to a real person in the grip of a real-life dilemma, who wrote to Two Pronged asking for help, and may well view your comments here. Please consider especially how your words or the tone of your message could be perceived by someone in this situation, and be aware that comments which appear to be disruptive or disrespectful to the individual concerned will be removed.