'This is the hard part, when you want to protect your child from everything that hurts him," writes Anne Portugal, 'And you realize that you can't.'
They say you learn a lot in school. Well, kindergarten has taught me something new this year as I entered it not as a child but as a mom— confident, proud and totally clueless of the disappointing yet encouraging, heartbreaking yet heartwarming episodes that would come soon after. 
First day of school and I couldn't wait to send him. I thought it would be nice to have a little time for myself while he was busy doing whatever it is they do in kindergarten. So the school year has finally started… and ended. All. Too. Soon. And when I saw his doe-eyed, tiny little self on stage— there were big, unstoppable teardrops dripping from my eyes. I wished I could return to the very first day all over again.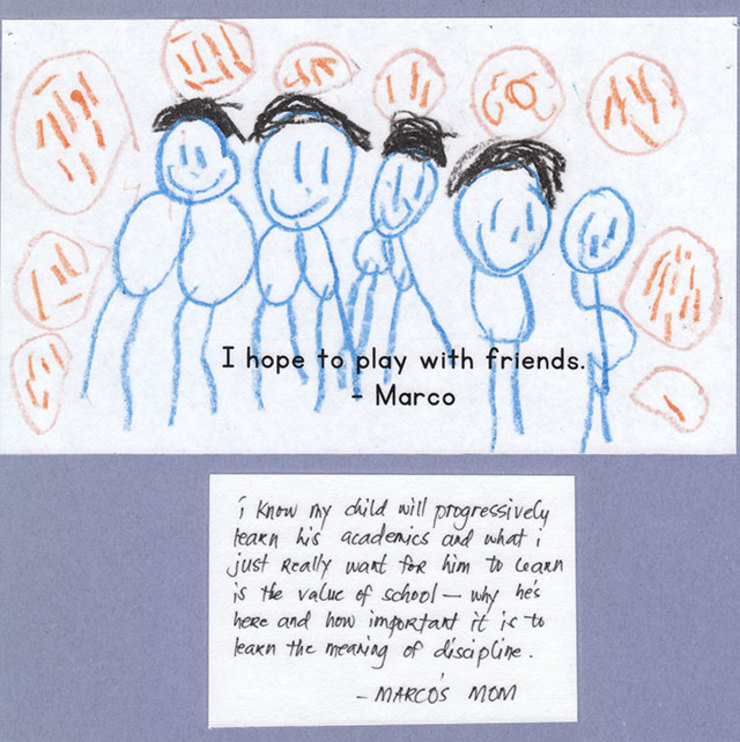 Expectations
At the kindergarten orientation, parents were asked to write down what they expect their child to learn throughout the year. I wrote mine with ease: "I know my child will progressively learn his academics and what I just really want for him to learn is the value of school— why he's here and how important it is to learn the meaning of discipline."
From a first time kindergarten mom, I thought my expectation was fair enough until I saw what my son wrote: "I hope to play with friends."
So it hit me, as a self-diagnosed over analyzer, I was overthinking this whole school thing. He just started school, was immersed in a new world and all he really needed was to find a sense of belonging and to have fun. 
As parents, we have the responsibility to help our kids adjust to this new environment and to support them as they blend in with the rest. Expecting too much too soon will only impede their natural way of coping. They need to figure out how this new world works without it being forced on them. At the same time, we need to remember that while we are their cornerstones, we can't fight their battles for them.
Creepy-crawly
One time, my son came home with tanbark in his lunch box, complete with a creepy crawling centipede. I. Freaked. Out. I'm not particularly fond of insects— let alone, a long, fat one with many legs, which was, by that time, already exploring my kitchen floor. 
I was yelling at him, asking why he would put that blasted thing in his lunch box, I had no idea how to get rid of it. I stopped short when I saw the look on his face while saying, "I don't know how it got there, Mommy."
Then I knew. My only problem was how to get rid of the centipede and his was how to stay away from mean friends. Never mind the insect.
It took a while before he could grasp that he should stay away from "friends who get him in trouble." I had to keep reminding him that he's a good boy, that he knows what's right and what's NOT right, that he should be nice to everyone but he doesn't have to be friends with everyone. This is the hard part, when you want to protect your child from everything that hurts him… and you realize that you can't. 
Disappointed, angry, frustrated
As a mom, I think highly of my son – so highly that I often forget that he's not perfect and that he's allowed to make mistakes. 
I picked him up from school one time and his teacher approached me with a written report. As it turned out, he and "his friends" opened the bathroom door when someone was inside. Of course, this was an offense that the school wouldn't let pass.
I was so disappointed and angry and frustrated. I couldn't believe that my kindergartener was capable of doing anything other than RIGHT. I was so mad at him and questioned myself at the kind of discipline I was giving.
After I've had something to eat, I calmed down and realized, we're both not perfect but we're both trying our best. We can't control every circumstance; we can only choose how to handle it. 
That night, I hugged him really tight and told him that what he did was wrong, that there will be a consequence; that I love him and that we are going to make it right. 
I am almost certain that he will make more of these wrong choices as he goes through life but I am confident that he will know how to fix it because now he knows that he should.
The size of his heart
During his last day of kindergarten, he had this photo of himself with a phrase of what he wants to be when he grows up. I was almost expecting to see "I want to be Iron Man" but was again in the verge of tears when I read instead, "I want to work with my Dad." 
Sometimes, I underestimate the size of his heart. As a parent, I think it's natural to expect my child to excel on something or to be the best in his profession someday, but I sometimes forget what's important… for him not to lose his heart.
The only award my son ever got this year was for perfect attendance. I really wasn't expecting anything more. I was just happy that he stayed out of trouble. But at the awarding ceremony, his name was called. At that moment, I wanted to burst out, tears in full force. My face was already crumpling, and I could sense that the person next to me wanted so much to give me tissue, though she didn't have one.
Then, he was called onstage. "Marco Portugal for his Amazing Writing this semester."
Just a few days prior, I was contemplating going back to work. I was questioning my worth and didn't want to just be a stay-at-home mom. I wanted to be the writer that I was going to be before I got married. 
But that did it for me. At that very moment when he walked up that stage, I knew I was right where I belonged – right there, as Marco's mom. Forever, as his mom. So I shed a lot of tears that day, but this time, they were happy tears— because I'm proud of who my son is becoming. I'm proud of who I am becoming. You see, I've learned quite a few things from kindergarten this year. One of them, and most important at this point in my life: how to love myself more, especially now as a mother. – Rappler.com
Anne was a news writer. Her self-published book, Ask Me Love, is now available at Amazon and Buqo