'Now that he is far from me, I don't know why I love watching porn movies and after watching, it leads to masturbation. After the act, I feel so dirty and so guilty,' writes one Two-Pronged reader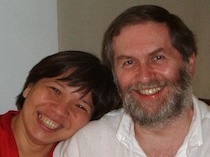 Rappler's Life and Style section runs an advice column by couple Jeremy Baer and clinical psychologist Dr Margarita Holmes. Jeremy has a master's degree in law from Oxford University. A banker of 37 years who worked in 3 continents, he has been training with Dr Holmes for the last 10 years as co-lecturer and, occasionally, as co-therapist, especially with clients whose financial concerns intrude into their daily lives. Together, they have written two books: Love Triangles: Understanding the Macho-Mistress Mentality and Imported Love: Filipino-Foreign Liaisons.
Dear Dr Holmes and Mr Baer,
I am a 50-year-old single mom. I have a boyfriend in Manila and we see each other every day through Skype. Every two weeks I travel to be with him for a week in their house (he's living with his old mom and brother). Sex for us is wonderful (we're turning 7 years in December).
My problem is my fantasies. Before, I fantasized about threesomes… I know he enjoyed it because it was repeated several times with the same girl we met on the Internet. Then lately he told me that it's not normal anymore and he's happy with just the two of us. We know that the girl likes him and is longing for him.
Now that he is far from me, I don't know why I love watching porn movies and after watching, it leads to masturbation. After the act, I feel so dirty and so guilty. My boyfriend knows that and it seems that he's not bothered at all. He said it's just normal and he'd rather that than I have sex with another man.
Can you please advise me. Am I still normal? How can I stop it?
Thank you so much.
Betty 
————————
Dear Betty,
Thank you for your letter.
Firstly, how nice to hear that it is not only the young who are enjoying a wonderful sex life. More power to both of you.
Secondly, it seems as though you have three issues: you have threesome fantasies that your boyfriend (let's call him Jamie) no longer considers normal (or maybe just doesn't enjoy); you watch porn, masturbate and then feel dirty and guilty; and you want to be assured you are normal.
From your letter it is not clear to me whether when you indulged your threesome fantasies it was virtual or real. Either way of course, Jamie brought it all to an end when he told you he was happy with just the two of you. While this is what most women would love to hear, you do not say what your reaction was: delight, frustration or something else. 
Perhaps it was frustration and this then led you to watching porn. (Though I am not in anyway suggesting that porn is not a normal activity and needs something negative to push people in watching it). 
Your resultant feelings of guilt and dirtiness are also not explained in any detail but presumably relate to your upbringing when you were taught that masturbation was wrong.
People like to joke that 99% of men masturbate and the other 1% are liars! The percentage is lower for women but it is still indicative that masturbation is a very widespread feature of women's (and men's) lives.
This leads us to your desire to be normal. But what is this normality that you seem to crave? 
Is it just statistical normality: you want to be one of a majority, like heterosexuals, meat eaters, believers in God, supporters of the Lakers (joke only)? That does not sound like you. So perhaps it is an external normality imposed, say by religion, or social mores.
Yet the definition of normality is transient: think of women's fashions, premarital sex, women in the workplace, openly gay politicians and business people etc.
When it comes to normality in the privacy of your home, then surely it is simply whatever you and your partner(s) deem to be normal. It's no different from eating: surely if you don't like broccoli, you aren't going to eat it just because the Internet tells you (say) 56.57% of Asian women like it. No, you will eat something else and be happy with that.
Same with sex. When you alone, or you and Jamie, agree on what you like, that becomes your definition of normal (unless of course it involves third parties who have not been consulted or public order, as in stripping off and having sex in Rizal Park during daytime).
So try to analyze why you have such a reaction to masturbation and perhaps you can resolve that issue yourself. Alternatively, you could do something more radical – discuss plans to move permanently to Manila so that you can be with Jamie all the time and watch porn together!
All the best,
Jeremy
Dear  Betty,
Thank you very much for your letter, which I hope Jeremy has answered to your satisfaction, except maybe the question of: How do I stop masturbating?
The old me would usually reassure the person asking that there was nothing wrong with what you were doing so there was no need really to stop it.  But that was because these were mainly young people who enjoyed masturbation and were worried that it was a sin. In other words, they would've continued doing so if they were certain that their God allowed it. 
Not to worry, I did not try to convince them that their God was wrong, rather that perhaps they were hasty in listening to that particular God [which, admittedly, some people may have thought even worse ☺ ]. 
I said this (and would continue saying this to people who automatically accepted as God the exact same judgmental one their parents/school/church taught them).
A God that would have them worry themselves sick about whether they got pleasure from touching themselves, rather than about whether they were unkind to any schoolmate they considered "abnormal" or were harsh to maids that worked for them, was a God they might wish to consider "upgrading" to a less judgmental and far more loving God.
That is, a God that does not let you get away with evil, but does not brand every little thing you do as abnormal or guilt-worthy.
Perhaps a God more like your boyfriend's, Betty.  His God seems to allow him to explore sex in ways not harmful to others (as in threesomes) and also to change his mind when he feels uncomfortable and wants it to be just the two of you. His is the same God who understands that self pleasure is not only not bad but can actually be good, especially if it makes temptations like sleeping with other men less, well, tempting.
In other words, I believe that following exactly what your chosen God wants is essential for mentally health, but that some gods are perhaps more  conducive to mental stability than others.
It's obvious to everyone I am not an expert on religion and I hope just as obvious that I do not claim to be one.   But insofar as religion (as opposed to spirituality) dovetails with clinical psychology, I am on solid ground: If the God you choose, for example, insists you judge LGBTs or unwed mothers as sinful, this derails any attempt to be stable and healthy.  Insofar as your chosen God judges women as sluts for pleasuring themselves when away from their boyfriends (or, indeed, even with them), then, again, your chosen God might get in the way of a wonderful relationship with your boyfriend whose chosen God seems more relaxed than yours.
I am in no way suggesting you choose a God that merely makes life easier; all I would hope is that you might question a God who finds nothing inconsistent about celebrating threesomes and unmarital sex, but refuses to accept masturbation.
However, having said all that, I shall not treat you like an adolescent boy who revels in an activity that helps him sleep more easily and be less sexist with other people as well as, I hope, gives him untold pleasure, and to whom I reassure that masturbation is neither intellectually, socially or physically harmful and to some people's Gods, not religiously harmful either.
I shall treat you the way I wish the Catholic Church treated us: providing you with information for example, on birth control, instead of scaring you with lies, or tempting you with unproven joys that you may not even want as long as you follow their rules.
Instead, because you are an experienced 50-year old woman who has written us for, among other things, information on how to stop masturbating, may I recommend the following links and wish you the very best of luck. You might want to try clicking here, here, here, or here.
MG Holmes
– Rappler.com
Need advice from our Two Pronged duo? Email twopronged@rappler.com with subject heading TWO PRONGED. Unfortunately the volume of correspondence precludes a personal response.
When leaving a message on this page, please be sensitive to the fact that you are responding to a real person in the grip of a real-life dilemma, who wrote to Two Pronged asking for help, and may well view your comments here. Please consider especially how your words or the tone of your message could be perceived by someone in this situation, and be aware that comments which appear to be disruptive or disrespectful to the individual concerned will be removed.