This is AI generated summarization, which may have errors. For context, always refer to the full article.
'I have a girlfriend but I can't help but fantasize about other women. In fact, I masturbate a lot,' goes this week's dilemma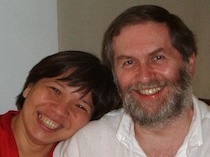 Rappler's Life and Style section runs an advice column by couple Jeremy Baer and clinical psychologist Dr Margarita Holmes. Jeremy has a master's degree in law from Oxford University. A banker of 37 years who worked in 3 continents, he has been training with Dr Holmes for the last 10 years as co-lecturer and, occasionally, as co-therapist, especially with clients whose financial concerns intrude into their daily lives. Together, they have written two books: Love Triangles: Understanding the Macho-Mistress Mentality and Imported Love: Filipino-Foreign Liaisons.
Dear Dr Holmes and Mr Baer,
I have uncontrollable sexual urges. I have a girlfriend but I can't help but fantasize about other women. In fact, I masturbate a lot. I have paid prostitutes and have tried different dating aps where I have experienced doing virtual sex.  
I have heard somewhere that once a person is so addicted to sex and he/she doesn't care of the physical appearance of his/her partner, that person is considered as a maniac or sex addict.
I won't deny that I am already at this stage. I get excited and aroused just by the idea that a woman would like to have sex with me and I don't care how she looks. The worst part here is that I fantasize about having taboo sex. 
Please let me hear your thoughts about my condition. I think I'm in need of advice from the experts.
Aldo 
Dear Aldo:
Thank you for your letter. In order to be more helpful to you, could you answer the following questions please: 
What exactly do you mean by virtual sex?

Can you give an example of the taboo sex you fantasize about?

How far have you gone to have physical, not virtual, sex?

 

Apart from paying for sex, do you get women drunk or use other means to persuade them? 

 
MG Holmes and JAF Baer 
Dear Dr Holmes and Mr Baer:
I really appreciate your response. I have done phone sex, and I exchange sensual messages through text and we exchange pictures and quick videos. 
About the taboo sex, I have fantasized about incest, which I thought is an alarming sign. The farthest I've gone as far as physical sex is when I had sex with a transsexual person…I don't really get women drunk to persuade them. I don't have the guts and will never have to force someone.
I am the type of person who has a very high sex drive and a crazy imagination but will never ever force someone to have sex with me. Thank you very much for responding, I thought I will not hear from you two. 
————————- 
Dear Aldo,
Thank you for answering our questions.
I am slightly at a loss understanding where your problem lies. I accept your analysis that you have a high sex urge but cannot see why you categorize it as uncontrollable. There is after all nothing in your account of your behavior that confirms that. You do not for example suggest that you cannot work or socialize normally because of your 'addiction'. You just have a lot of sex and there is nothing wrong with that. Indeed, many would no doubt be delighted to trade places with you.
As for your fantasies, they are just that – fantasies. Everyone has fantasies and some of us have more vivid imaginations than others. Sometimes they come in dreams, other times they come while we are awake but unless you choose to act on them, they are for the most part quite harmless.
Obviously, if someone is fantasying about butchering a entire family of neighbors and is finding it increasingly difficult to refrain from actually going round to kill them, that is a different matter. But you just want to have lots of sex with lots of women. What could be more normal?
I have just one caveat though. I am presuming that you are a young to middle aged man. If it turns out that you are in fact over 80 years old, perhaps you could write to us again. All the best-,
JAF Baer
Dear Aldo:
Thank you for your immediate response to our original questions. Before we ask even more follow up questions, let's answer some of yours, ok?
We have not come across any research that characterizes sexual addiction as not caring about a potential partner's physical appearance and getting aroused by the idea that a particular person wants to have sex with the supposed sex addict. In fact, this is probably a lovely trait that many people – especially those who do not consider themselves attractive – would find laudable.  
Thank you for clarifying what you mean by virtual sex. One question: is this with people you know or have met through the Internet? After having encounters with them, do you proceed further?  If so, in what way? Does your girlfriend know about sexual activities that don't involve her?
So far, your sex drive does not seem to have affected your (or others') relationships, careers or lives in general. Thus, unless you tell us more (vis a vis the questions below and the different ways you feel this is harming your relationship with your girlfriend), the problem (in case you have any) seems different from one that is sexual. 
We need to ask you more about your fantasies and your masturbation history so we can make sure our answers are based on clinical experience and methodologically sound research. When it comes to sex, it is so easy to disguise opinion and biases as fact!
Here are our questions:
When did you first start fantasizing about incest?  Do you have particular people in mind? Before you fantasized about incest, what were your sexual fantasies like?  Finally, in addition to this, are there other "taboo" activities you also fantasize about?
What do you mean by "I masturbate a lot"?  How often in a day? A week?  What factors determine whether you masturbate a lot or a little? How long have you been masturbating this often?  Have you tried to stop ever?  If so, what happened?
I hope you don't mind our asking so many follow up questions (and eek! We may ask more, ok?). That is because there are many issues involved with using sex as part of a diagnosis, 
Example: Sexual addiction and/or hypersexuality. Some psychiatrists and clinical psychologists say neither diagnosis really exists. Read up here and here .
For example: Some mental health professionals believe a diagnosis of OCD (obsessive compulsive disorder) is sufficient to describe anything that includes thoughts that won't go away or behaviors that can't be controlled, including sexual. 
Is it possible that you simply have a higher sex drive than most men? Since you do not coerce or intimidate women to have sex with you, what's wrong with that (excluding the relationship – as opposed to sexual –  issue of being unfaithful to your girlfriend, that is)?   Anyway, let me stop here till we hear more from you, ok?
Aldo: My girlfriend does not know about the sexual activities that don't involve her. Yes if I could, I would meet up with the people I have met through the Internet. So far, this has only happened once but I have had a lot of sex on the phone prior to that. 
My sex drive does not affect my life in general so far unless of course my girl friend and the people around me find out about the sexual activities i have been doing. 
I can't remember exactly when I started fantasizing about incest but as far as I know I learned about it through erotic articles and porn movies.
I came to point where in everyday I masturbate but I get to control this.  The most that I would is twice but it's rare. A week without masturbating would be a challenge for me.   
Dear Aldo:
Thank you for answering all my questions.  While I think I have a clearer idea why you think you have a sexual addiction, I feel that, if you have anything at all, it is an intimacy disorder. Your porn watching, using dating apps, enjoying both virtual sex and fantasies, all seem under control. 
Even your saying: "A week without masturbating would be a challenge for me" seems merely acknowledging it will probably be difficult, rather than worrying it would be impossible to achieve.  Should I have misread you, please write to us asap. 
What may not be under control is your secret-keeping. I don't know how serious you are about your relationship with your girlfriend, but if you are, hiding what you do is hiding who you are from her. This is hardly the way towards an enriching, loving relationship that validates each of you.
Who knows, maybe you can find a way you can tell her about what you've done and how you hope both of you can find a process to stop it.
If you aren't that serious, why don't you cut each other loose so she can find someone who is? You, on the other hand, can do what you enjoy relatively free of guilt.     
All the very best,
MG Holmes
Need advice from our Two Pronged duo? Email twopronged@rappler.com with subject heading TWO PRONGED. Unfortunately the volume of correspondence precludes a personal response.
When leaving a message on this page, please be sensitive to the fact that you are responding to a real person in the grip of a real-life dilemma, who wrote to Two Pronged asking for help, and may well view your comments here. Please consider especially how your words or the tone of your message could be perceived by someone in this situation, and be aware that comments which appear to be disruptive or disrespectful to the individual concerned will be removed.