'I've always wanted to stop doing the deed. As a child, I felt it wasn't normal,' goes this week's Two-Pronged dilemma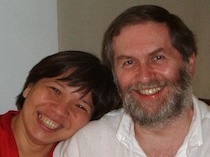 Rappler's Life and Style section runs an advice column by couple Jeremy Baer and clinical psychologist Dr Margarita Holmes. Jeremy has a master's degree in law from Oxford University. A banker of 37 years who worked in 3 continents, he has been training with Dr Holmes for the last 10 years as co-lecturer and, occasionally, as co-therapist, especially with clients whose financial concerns intrude into their daily lives. Together, they have written two books: Love Triangles: Understanding the Macho-Mistress Mentality and Imported Love: Filipino-Foreign Liaisons.
Dear Dr Holmes and Mr Baer,
I learned to masturbate when I was only about 6 or 7 years old. I didn't have any idea back then what I was doing. All I know is that it felt good and that it was prohibited, since when I mentioned my discovery to my yaya (nanny), that touching my private part in a certain way actually felt good, she said she would tell my mom like I did something wrong.
That time, my parents went to work everyday, and so, our household helpers were the only ones left with us children. Also, they were not the type of parents who really talked to their children to give them reminders or ask how their day was. They worked, put food on the table, sent their children to school, and expected everything to be all right as long as we lived a comfortable life. And so, they never knew about it. In fact, 20 years have passed and not a single soul knew about it.
As I discovered touching my private parts at a young age, sooner I experienced my first orgasm, and eventually I become fond of it. But how I discovered about pleasuring myself is another story.
During that time we had a relative who was I think in his teens. He stayed in our house for some reason (I didn't know why, since I was young and probably didn't care about it). 
He always played with us and I liked him because he also seemed to be always in my favor. Until one day, he started to touch my private part, but I didn't resist because he's a relative, I trusted him, and it didn't occur to me that it was a big deal. He told me not to tell anyone and that it was our secret. 
I didn't think it was bad or inappropriate back then, and so I let him touch me like nothing was wrong. Though in time I had a feeling that it shouldn't be happening because it was kept a secret, I didn't resist and I kind of liked it. For me, it was like some sort of special thing between us. I became fond of him as a child, but this happened only for some time, since his stay was only temporary. That's when I learned to touch myself. 
As I was growing up, I thought that something was wrong with me because I was doing it and other kids probably didn't. Until high school came and I encountered the term for it at school: "masturbation." That's when I learned that I'm not the only one in this world who knows about it, that I'm probably not the only one who does it, and that it's something you can't be proud of. Eventually, I learned as well that what happened to me back then isn't supposed to happen, that it was a violation, and that it is not okay and is not right.
I've always wanted to stop doing the deed. As a child, I felt it wasn't normal. As a grown-up, I have my beliefs, which I chose and value dearly, and a part of me feels bad for myself because I learned to do it out of a very unpleasant experience. However, I can't control myself. I promised myself countless of times to stop doing it, for my own sake, but I always fail.
Though I'm still a virgin, still I feel bad for myself. Like I said, I have my beliefs, and one is that orgasm is a gift under the beautiful sacrament of marriage, and I want to give that gift to myself – which is experiencing it at the right time (which is when I'm married) and with the right person – but, as you know, I was robbed of that gift when I was young. 
Now, I think, with my situation, the least I can do is to stop doing it, so I could still somehow give that gift for myself. I believe orgasm is wonderful and I want it to be special, not something I need to have just to satisfy my body's urge. Call me corny or whatever but this is my belief. 
For me, life is too short and significant to be taken for granted, so I don't want to deny myself all the simple and important things in life, one is joy of making love (and having orgasm) with the person whom I will love and who will love me for the rest of my life.
I want to stop masturbating. But the question is, how? I find it difficult to control my urges which started when I was young. I hope you can help. 
Thank you for your time reading my letter. Having to tell this story means so much to me. I hope you can help me. Your response will be greatly appreciated.
Thank you and God bless.
Sincerely,
Amanda
Dear Amanda,
Thank you for your letter.
First, let's be quite clear about masturbation. There is nothing psychologically or physically wrong with masturbation in itself, provided it is not done to excess – meaning it does not interfere with the person's ability to work or have meaningful (not necessarily sexual) relationships with others. 
Let's move on to masturbation in the context of religious beliefs. This seems appropriate since you allude to your beliefs and to the sacrament of marriage. You do not, however, go on to reveal the particular framework of these beliefs, which frankly is not very helpful when trying to answer your letter, but clearly it is one of those that disapprove of masturbation, like Roman Catholicism. 
A simple answer to your letter at this stage could be to suggest that you turn to the purveyors of whatever religion you have chosen to believe in, be they priests, pastors, rabbis, imams etc. They are uniquely placed to explain why their religion has placed masturbation within their definition of the evils besetting the human race and how best to combat it. 
However, as countless men and women before you have discovered, it is a lot easier to understand the explanation than to stop the practice. 
Before passing the buck to the religious, who are after all mere mortals claiming to be in direct contact with the supreme being(s) who according to their interpretation set the rules which apply to our lives, let's just use common sense and reasoning to consider your problem a little further.
You say: "I learned … that what happened to me back then isn't supposed to happen, that it was a violation, and that it is not okay and is not right." This appears to conflate two entirely separate issues – abuse and masturbation. The abuse was indeed a violation, and also a crime in all probability, but masturbation is not. Whether it is "not ok" and "not right" however is a different matter.
You were eventually taught this years later at school, probably as part of a belief system that you have since chosen to adhere to as an adult of your own free will. If instead you had chosen, say, to join the almost one billion people who believe in Hinduism, you would not have had to wrestle with this issue at all because, unlike Roman Catholicism and some other religions, they do not brand masturbation as an evil that will prevent you from achieving their definition of nirvana. Indeed the Kama Sutra exhorts you to "churn your instrument with a lion's pounce".
You also state that "orgasm is a gift under the beautiful sacrament of marriage" which sounds suspiciously like another pearl of wisdom imparted in a religion class. This seems to me to equate orgasm with sexual intercourse, in the sense that both should only take place within marriage.
Well, whatever your religious leanings, biology is conspiring against you in this respect, at least to the extent that both men and women can experience orgasm involuntarily while asleep, whether they are married or not.
Of course you can argue that you are only referring to voluntary acts, which takes us full circle back to the psychological and physical effects of masturbation and the religious belief you choose to embrace.
In summary, you wish to be freed from a habit which is:
psychologically harmless
physically harmless
very pleasurable and highly addictive
BUT 
condemned by a large number of religions who choose, no doubt for impeccable theological reasons, to give more weight in the 21st Century to an ancient Biblical text about Onan (Genesis 38:8-10) than they do to other texts from the very same source such as "anyone who dishonors father or mother must be put to death. Such a person is guilty of a capital offense" (Leviticus 20:9) or "You have six days each week for your ordinary work, but the seventh day must be a Sabbath day of complete rest, a holy day dedicated to the LORD. Anyone who works on that day must be put to death" (Exodus 35:2). 
Willpower and/or the prospect of eternal damnation have proven insufficient of the task and so you have sought our advice. To my mind, you have at least four options: 
Ask for advice from a trained professional believer such as a priest or whatever, or
Interpret your religion more liberally – there are plenty of clergy who do not believe that masturbation will bar you from life ever after, or
Change religion, or
If you must cling to an ancient belief, adopt an ancient remedy: the chastity belt.
All the best,
JAF Baer
————– 
Dear  Amanda: 
Many thanks for your letter. I look forward to sharing my views with you next week, some of which are contrary to Jeremy's, and I hope that is ok with you?  I would also like to inform our readers that, believe it or not, next week's column will be in tune with the holiday season.  
Best wishes,
MG Holmes
Need advice from our Two Pronged duo? Email twopronged@rappler.com with subject heading TWO PRONGED. Unfortunately the volume of correspondence precludes a personal response.
When leaving a message on this page, please be sensitive to the fact that you are responding to a real person in the grip of a real-life dilemma, who wrote to Two Pronged asking for help, and may well view your comments here. Please consider especially how your words or the tone of your message could be perceived by someone in this situation, and be aware that comments which appear to be disruptive or disrespectful to the individual concerned will be removed.
Photo of woman via Shutterstock