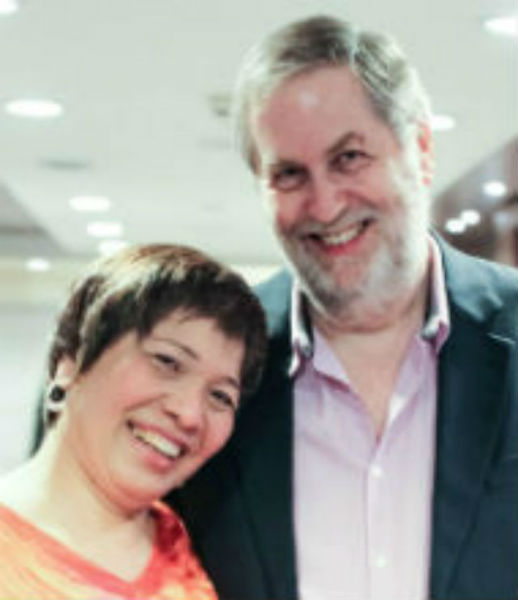 Rappler's Life and Style section runs an advice column by couple Jeremy Baer and clinical psychologist Dr Margarita Holmes.
Jeremy has a master's degree in law from Oxford University. A banker of 37 years who worked in 3 continents, he has been training with Dr Holmes for the last 10 years as co-lecturer and, occasionally, as co-therapist, especially with clients whose financial concerns intrude into their daily lives.
Together, they have written two books: Love Triangles: Understanding the Macho-Mistress Mentality and Imported Love: Filipino-Foreign Liaisons.
Dear Dr Holmes and Mr Baer,
I am 34, married, and have two kids.
I want to know if I have a mental disorder because I get turned on by the fantasy of sharing my wife with a stranger or friend.
I love to see my wife masturbate in front me. I get super aroused. And I get so turned on when we have threesomes, especially when I share my wife with my best buddy. My wife also enjoys this a lot.
I just want to know if I have a mental illness. Please let me know. For the record, we are already separated because she fell in love with the man we had our threesomes with.
I love her. I know all that she does too, including the threesomes she still has. The difference is that I am no longer included in those threesomes. I stopped participating because they destroyed my relationship with her.
I wish I hadn't shared my fantasy of threesomes with her.
I love my wife. I don't know how I can save our relationship. So many people will be affected if they know what happened between us. So many will be upset if they know that we are now separated and she has another man.
Plus, she wants a baby with this man. Our separation hurts me so, so much. It seems I am the only one upset about this. She behaves as if none of this matters to her.
I am trying to fix things between us to save our relationship and to make our family of 4 whole again. Also, I do not want any more stress, but my wife refuses to listen. She does not believe me.
Am I sick because I wanted to share my wife and also because I love to watch her having sex with someone else?
We've been together for 8 years and have been separated for one year. We pretend we are still together for the kids, but I want to fix this so we can be whole again.
Please help. What should I do? I'm really suffocated. I can't breathe. It's really hard for me.
I always look back and wish this had never happened. I also blame myself for what happened.
Oh, and by the way, we had rules before we decided to make this fantasy a reality. Our rule was no love with whomever had sex with the wife.
Please help me. I'm really depressed about what has happened to us.
I love my wife and in the 8 years we were together, I had no other woman. I have been really satisfied and contented with my wife since then, and I am the kind of man who is faithful and loyal.
I hope you can give me some advice and tell me if I am sick in the head for wanting to share my wife, for wanting to watch while she has sex with others, or engaging in a threesome.
Thank you and God bless you,
"Carl"
---
Dear Carl,
Thank you for your email.
Yours is indeed a sorry tale, which calls to mind the old adage "careful what you wish for." You got to live out your fantasy of a threesome and lost your wife in the process. Now you have the inevitable regrets, and realizing that you cannot turn the clock back, you want to find some solace in the notion that everything can be blamed not on you but on a mental disorder, a "sickness" in your head.
Well, there's the very bad news and the not so bad news.
First the very bad news: while threesomes are not the choice of the majority of people, there are plenty who have threesome fantasies, and as you are probably aware, quite a few who act on their fantasies. This is seldom the result of a mental disorder, merely the preference of a minority, just as peanut butter and anchovy sandwiches may be a favorite of some but are definitely not a majority choice. So there's no chance you can transfer the blame that way.
Your second line of defense is that you had a rule – no love – which your wife then broke. However, love is not something you can control like an electric light switch, and applying a rule to it does nothing to alter that reality. You cannot blame your wife for the consequences of indulging your fantasy at your request, merely because you do not like the outcome. You have reaped what you have sown – so live with it.
If there is anything to be said in mitigation, it is the possibility that given your wife's enthusiasm for threesomes, the disaster that has befallen you just might have happened anyway, even without you persuading her to indulge your fantasy. This is the less bad news but I doubt that will be of much consolation, particularly since it is only a hypothesis that can never be proved.
Finally, there is your 3rd line of defense – you love your wife and are "faithful and loyal." Frankly, this is merely self-serving. It is easy to be loving, faithful, and loyal when you are turned on by watching your wife with other men. What you should have considered before your self-indulgence was whether she would also find it as easy. Certainly, fidelity and loyalty seem rather unlikely qualities to survive when your husband asks you to sleep with other men and love, as already mentioned, is not always under our control.
It is always possible that your wife may ultimately fall out of love with her man and the threesome lifestyle, but until that comes to pass, your place is on the sidelines.
All the best,
JAF Baer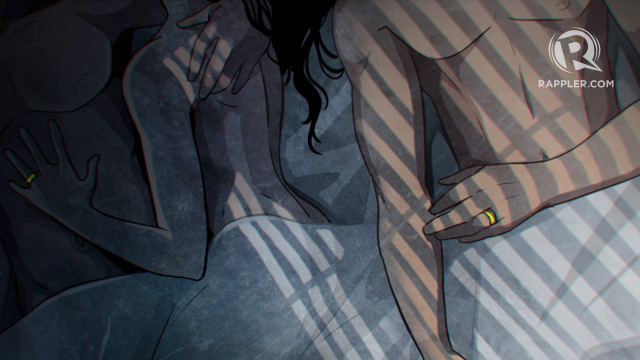 Dear Carl,
Thank you very much for your letter.
Allow me to expand on Mr Baer's penultimate paragraph that "[despite your claiming love for, and utmost fidelity to your wife] certainly fidelity and loyalty seem rather unlikely qualities to survive when your husband asks you to sleep with other men."
This is bolstered by something – and several scholars – have already written about several times: that most men would never allow (much less instigate) "their" women to sleep with another man. For many, jealousy (of a special kind) is a necessary component of love. Please read:
In all likelihood, your wife is not convinced that you love her as much as you claim, because not only were you not jealous about her sleeping with others, including your best friend, but you actually egged her on to do it.
You also mentioned that your wife "also enjoys this a lot." It is true that I do not know your wife, and am, thus, not privy to her thoughts. However, in my own clinical experience, threesomes usually start out with the man wanting the threesome and the woman going along just to keep peace or to please her man. However, very often it is the woman who ends up enjoying this setup more, which seems to be exactly what happened in your case.
Finally, you rather indignantly mention that your wife now wants a baby with this man. But, Carl, this makes perfect sense if she cares for him and at the very least, if she feels safe that he cares for her as well.
In other words, I doubt very much that your wife will return and you can once again be the "whole family" you were. Like you, I would be very happy to be proven wrong.
I am sorry that, not believing in "tips," I cannot give you advice on how to win your wife back.
Perhaps the most helpful thing I can suggest is to live by William Wordsworth's words in his Intimations of Immortality from Recollections of Early Childhood. For me, the ones that particularly stand out are:
"Though nothing can bring back the hour
Of splendour in the grass, of glory in the flower;
We will grieve not, rather find
Strength in what remains behind."
Lastly, should you ever find another love, in addition to reveling in its joy and wonder, perhaps you can remind yourself of the lessons you learned from what is now your past love.
All the best, dearest Carl, even if your life may not seem that way at the present.
MG Holmes
Need advice from our Two Pronged duo? Email twopronged@rappler.com with subject heading TWO PRONGED. Unfortunately the volume of correspondence precludes a personal response.