This is AI generated summarization, which may have errors. For context, always refer to the full article.
The pandemic has ushered in a different strain of wedding fever
They have been together for 12 years, gone through trials of adolescence, separate medical schools, long distance, and impatience. Their wedding was supposed to be a celebration of triumph over those adversities and the ushering in of a new chapter in life.
It was going to be big and grand and thematic, with some 500 guests, designer food at a glitzy hotel, and free-flowing drinks. But Riza Milante and her fiancé might have to wait a little longer. The coronavirus punctured a hole right through their wedding, and as the uncertainty of the future continues to be ambiguous, Milante saw her plans dwindle from her dream wedding to a small, socially distanced affair, to back to the drawing board. 
"We decided to just move the wedding date from 2021 to 2022," she said.
With no proper vaccination programs in place yet in the Philippines, they didn't want to jeopardize their guests' health, especially since her fiance's parents were flying in from overseas. It was a heart-breaking decision, but in an atmosphere of compromises, it was even more heartbreaking to have to make more concessions.
It's no big news that the wedding industry was badly affected by the pandemic. A traditional Filipino wedding, with its overflowing buffets, hundreds of guests, and cultural compulsion to beso even people you haven't seen in years? It's a superspreader event, if anything.
In 2019, the Philippine wedding scene was flourishing to the point of being a bubble. Top-tiered suppliers were booked years in advance, photoshoots looked straight out of a film reel. Some couples didn't mind spending millions for a single day.
Smaller-scale wedding
But circumstances brought on a new kind of practicality – a pandemic austerity, if you will. Back then, many believed that COVID-19 would easily be contained so when quarantine was announced in March, affected betrothed couples confidently moved their weddings to later dates.
Klaudine Yapyuco made no immediate precautions. Her wedding was scheduled for May and she thought to herself that the pandemic would have died down by then. "I was so optimistic about it that I just took the time to fix my wedding during the first two weeks of lockdown."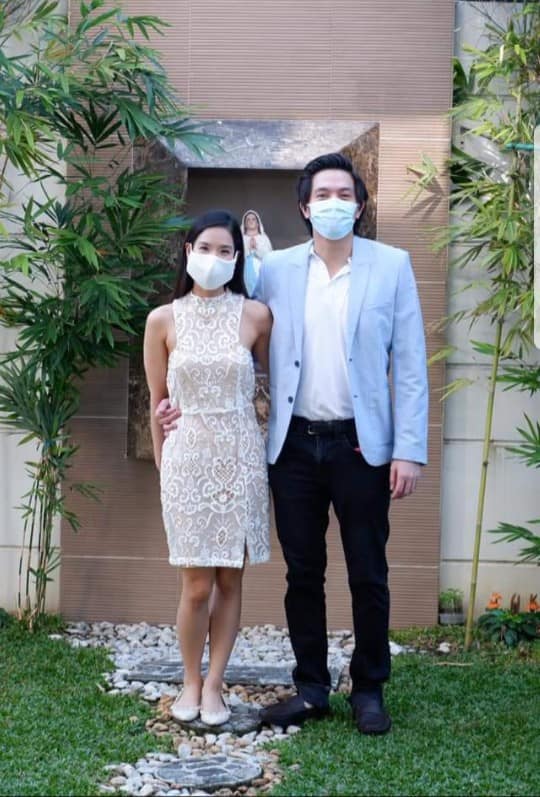 Her wedding was expectedly beautiful: Francis Libiran attire, top-tiered photo and video teams, 700 well-dressed guests in the exquisite Rizal Park Hotel.
But by the first extension, her hopes sank, especially with the snowballing of cases. "Without any new date in mind, I had to announce to our guests that we will be postponing our wedding celebration to also manage our guests who were flying from different parts of the world."
A month into the lockdown, and with no apparent end in sight, people began to see gray areas in the rules. Business was cautiously restarting and people were slowly going out of their homes. Carefully, Yapyuco set about organizing a pandemic-approved celebration. Her fiancé came from a traditional Filipino-Chinese family and their wedding date — May 9 — was non-negotiable according to feng shui.
"With help from my father-in-law who made arrangements with the judge and my employer who helped with the transportation from one city to another city to get married ('cause…MECQ), God made the impossible happen, and that's really a big blessing for us," Yapyuco, now Klaudine Co, explained.
The Cos married in an incredibly intimate setting at home with just immediate family. "I actually loved it since the two families were really able to bond during the lunch in our house right after the civil rites."
For JR Madrasto and his fiancée, the anguish of the pandemic was much more poignant. The lockdown was announced just a day before their wedding.
"We had everything prepared and ready," he said. "We had back and forth communications with all our suppliers and the church regarding possible situations. It was disappointing, heartbreaking, and scary all together because everything was uncertain all of the sudden."
Their already smallish wedding (of a hundred guests by the beach) was postponed until further notice. However, despite the expenses that they could no longer recuperate, Madrasto likes to think it was probably fate since they originally wanted an intimate wedding. With the restrictions, their guestlist was cut in half: "Guess we are really meant to have a small celebration for our special day."
Wedding supply…and demand
While couples are dealing with the breakdown of their dreams, there's another side of the wedding industry that's been affected—the suppliers, whose livelihood depended on the burgeoning celebrations.
Coordinators, for example, charge depending on the number of guests. So do caterers. And, to some extent, so do florists. With rules against large crowds and social distancing, toned-down celebrations seem fitting. Even bridal gowns went from fully beaded poufy frocks with endless trains to short and streamlined outfits.
Sought-after wedding coordinator Chinkie Uy-Agregado's knee-jerk reaction was to worry about her family, since the virus didn't seem to discriminate anyone. As the quarantine dragged on, however, her economic reality set in.
Photographer Carlo Acetre said he lost 80% of his bookings in 2020. "I was left scrambling with how to deal with all the couples who were rescheduling and thinking about cancelling," he said. To keep afloat, he had to take side jobs such as selling plants and building computers.
On the catering side, one of the country's most successful and oldest catering companies had difficulty finding their rhythm. Prior to the pandemic, the Taal volcano erupted, halting nuptial festivities in out-of-town location favorites Tagaytay and Batangas.
"The Tagaytay eruption showcased a limitation in one of the most popular wedding destinations today. Hearing the restrictions [for that] allowed us to recognize that this will tremendously affect our business model and it will be difficult to bounce back from," said a company representative who chose to remain anonymous.
The pandemic restrictions were even more extreme. The catering company had to deal with couples demanding refunds. "As much as we want to accommodate it, it's hard because we are also trying to sustain a business, and with no income coming in, we had no choice but to stick to our contract and try to appease them in other ways."
It was a tough act to balance emotions with the ever-changing, open-to-interpretation government rules.
How to hold a pandemic wedding
Like everything else we do these days, wedding fashion has now been taken over by face shields and masks. Wedding suppliers have to be extra meticulous when it comes to upholding all the necessary safety precautions lest be accused of spreading the virus.
"We have to take into account all the additional logistics needed to comply with the directives of the government. For example, the requirements in having tests, wearing PPE, and other aspects have to really be taken into great consideration, as well as the type of service that will fit the limitations set," said the catering rep.
He also admits that they have to continue being mindful. 'Regardless of the number of people, it is still a gathering and no matter how much you implement the precautions, the risk for COVID-19 will always be present."
When the pandemic hit, Uy-Agregado set to work handling her clients' frustrations as well as overseeing the new demands of wedding planning. Apart from rescheduling events, she also had to add clauses to her company's contract to accommodate movements and restrictions. Then there were shifting systems, swab tests. "Now, from the get-go, we manage the client's expectations by letting them know that there are possibilities of delay, change, and postponement."
Whatever speedbump occurs, she is always quick to reiterate that "whatever happens we will make sure that we get them married and that they will get to celebrate their love for each other."
Acetre, who recently became viral for candid photos he took of a couples' bloopers during a prenup shoot, said the events of 2020 showed the solidarity and resiliency of the industry, despite venues and related enterprises closing.
"A lot of us have helped each other in times of need, and with these challenges, so many of us have started new businesses to stay afloat and be diverse."
Small weddings
But just how everyone's suddenly treasuring Sundays with their parents and backyard dates with their children, the pandemic has stripped weddings back down to its essentials.
"The biggest gain for me is having to do intimate weddings again," said Uy-Agregado. "There is something beautiful about pared down weddings. It becomes all about the couple and less about everything else." She also added that the COVID-19 challenges forced the industry to do what it does best – think of creative ways to make this milestone even more special. For their couples, she has been organizing online weddings, recreating the celebration of love virtually. Video suppliers have also ventured into streaming, which allows guests to watch the affair even remotely.
Acetre believes that intimate weddings are here to stay in the foreseeable future because of the uncertainty of vaccination and cost-cutting measures. "I think until a good majority of the population is vaccinated or the number of new cases decline significantly, these precautions are here to stay."
But regardless of the kind of wedding couples get, these top suppliers are reminding everyone not to lose sight of what's important.
"Don't let COVID take away your true happiness: being able to spend the rest of your life with the one you love. I know you've heard it over and over last year — love is not canceled. We are here for you, we are your partner in making your dream wedding happen," said Uy-Agregado.
'Think of planning as a fun challenge, and see the intimacy of smaller weddings as a way to connect with everyone and to be only with those who matter the most. Love finds a way!' added Acentre.
Co agrees. Though she admits she's gotten lazy to start planning for a bigger wedding, she has not asked for refunds any of her suppliers. "Although I could've easily gotten refund for this because my date fell under MECQ, the wedding industry was also badly hit so there was no way I can insist on my refund," she explained. Currently expecting her first child, she's holding out for an April 2022 celebration, in time for her son's first birthday.
"The wait-and-see mindset won't work now especially since there are too many uncertainties during this time. What's really important is to get married, since the union is always what will make the marriage special and sacred. The bigger celebration can wait, but the life you'll start to build together is something that doesn't need to," she said.
Just like all of us, the wedding industry is just trying to roll with the punches and survive—and whatever pivots they make in the future, the ending is always clear: love wins. – Rappler.com