'Ang ma-fall, matalo' – do you agree? Rappler readers share the FWB commandments they believe should never be broken!
Have you ever been in – or at least, heard of – a friends-with-benefits setup? It's not having a friend who provides you with free food or money (if only); rather, it's having that one person who can satisfy your sexual needs at any time, and vice versa.
Engaging in a friend-with-benefits setup requires two consensual adults who mutually agree on the "just-sex-and-nothing else" rule. Sometimes also called a "f*ck buddy," a friend-with-benefits is there to provide sexual benefits, sans any romantic attachments or commitment.
For many, the setup is freeing – having someone you're comfortable with on-call for your sexual pleasure, with no strings attached. Sounds too good to be true? Well, most of the time, it is.
The friends-with-benefits agreement is a slippery slope to be on, because rarely do people just stop at the benefits part. Most end up finding themselves wanting and expecting more than just sex, while realizing that they're already catching feelings for the other. "We're just friends having sex," you say – until you're not. You could be one cuddle away from kilig, or just a smooch away from "true love's kiss."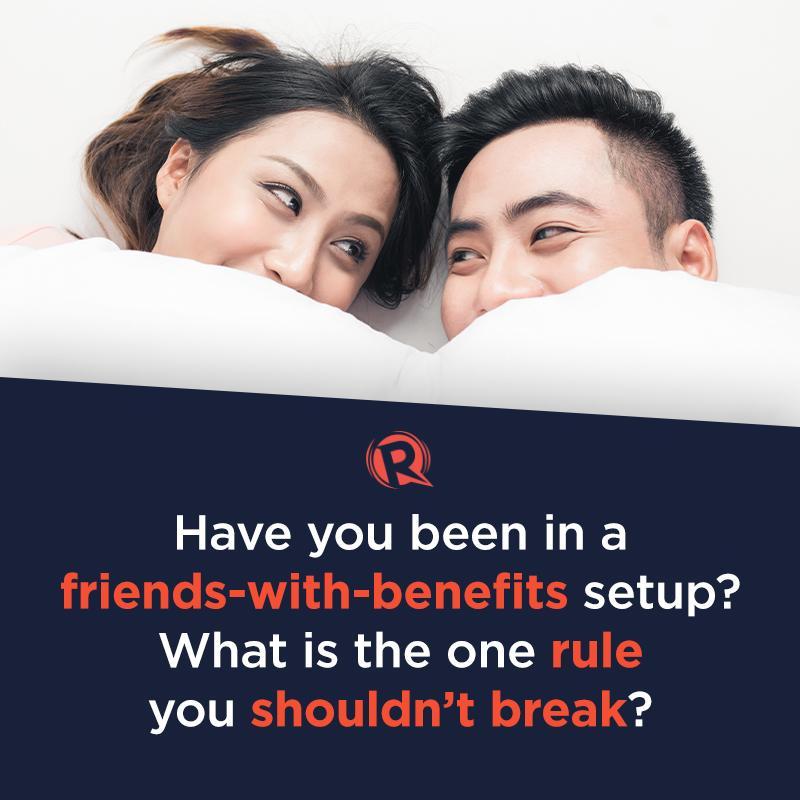 This is why most pairs set ground rules beforehand. But which friends-with-benefits commandments are never meant to be broken at all costs? We asked our Rappler readers for golden rules in a friends-with-benefits setup, and here's what they had to say.
Honesty is the best friends-with-benefits policy
Many readers agreed that it's always best to be honest and transparent about your intentions and boundaries at the get-go. Open communication, both at the start and during the relationship makes things easier for both parties involved.

What happens when you start developing emotions? Don't hide it, a Twitter user said. Lay all your feelings on the table as soon as possible.



Boundaries before benefits
Readers also listed down several boundaries they enforce to keep things strictly sexual – for some, this means no dates, no after-sex cuddles, no hugging, and no sharing of "personal stuff."


"Make it as transactional as possible," a Twitter user said.

Basically, just don't expect anything more than sex.

This is easier said than done for most people though, as many still find themselves getting emotionally attached too quickly and too easily.

"Madaling sabihin, mahirap (Easy to say, hard to do) for most. It takes a certain type of emotional stability para 'di ka mag-develop ng (for you not to develop) feelings," one Twitter user said.
To help prevent this from happening, he suggests to keep a "fubu" for only two to three months. "Anything beyond is a risk for attachment," he said.

That's why it's important to make sure the "sex itself stands alone," an Instagram user said. "As long as your sexual needs are satisfied, that's it."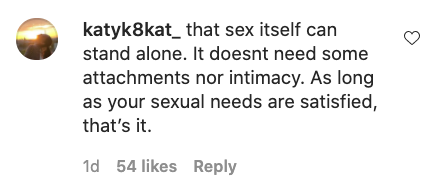 Also, it's key to remember that the setup is for a purely physical need, another Twitter user said. "Never beg for attention," he added.

Health is wealth
Don't forget to stay safe! Always "follow safety protocols" when meeting up with a fubu – that means practicing safe sex with the use of contraceptives, or providing a negative result of an RT-PCR COVID-19 test before doing the deed. Better yet, do both!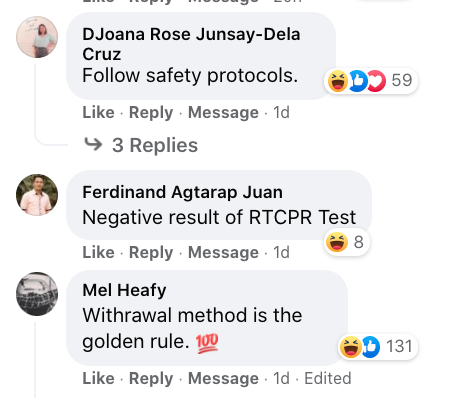 The #1 Golden Rule: Do not fall in love
Last but not least is the overall sentiment of the friends-with-benefits public: 'Wag ma-in love. Because ang ma-fall, matalo. (Don't fall in love, because who ever falls, loses).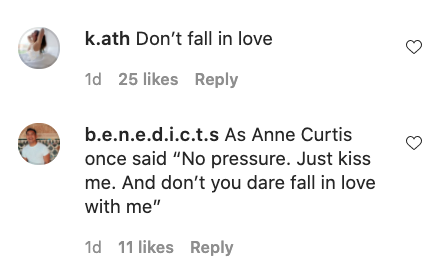 And if you do fall in love, the best thing to do is leave ASAP.

"Keep your feelings to yourself and don't be clingy. End of story," a Facebook user wrote as her "simple" secret to not falling in love.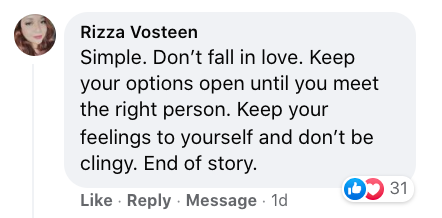 "Don't kiss and tell," is also something some readers recommend – "what happens between us, stays between us," they say.

One Facebook user keeps it straightforward – she believes it's impossible to have a FWB relationship that doesn't end badly. Sooner or later, someone is bound to get hurt.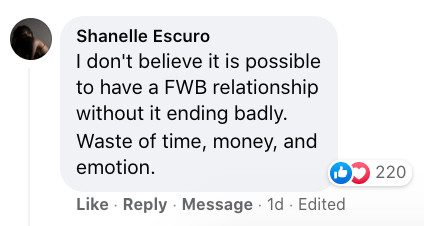 The lucky ones come out of an FWB setup satisfied and unscathed, while most crawl out of it hurt and confused, but with lessons learned along the way.
When starting your first FWB setup, don't forget to enter with caution and at your own risk – just make sure you know what you're getting into. Just like one Facebook user said, "Expect to get hurt, but you'll get through it." – Rappler.com