Ending a relationship is hard enough as it is – what more now when we're supposed to deal with it in isolation?
Remember when Angelica Panganiban's character in That Thing Called Tadhana went hiking in Sagada to cure her broken heart? And then suddenly, going on vacation became a new norm for those wanting to move on?
In recent years, you'd just pack your bags, go to the beach, and take a few days off the grid to "find yourself." Or at the very least, you'd take a trip to the nearest hair salon for that mandatory "new look, new me" Instagram update, or party at the club with your friends to mourn/celebrate your newly-ended relationship.
But with the pandemic leaving us isolated, most of these methods are no longer available to us during this time.
Curious, we asked our readers how they cope with breakups while also coping with a global pandemic, and here's what some of them had to say.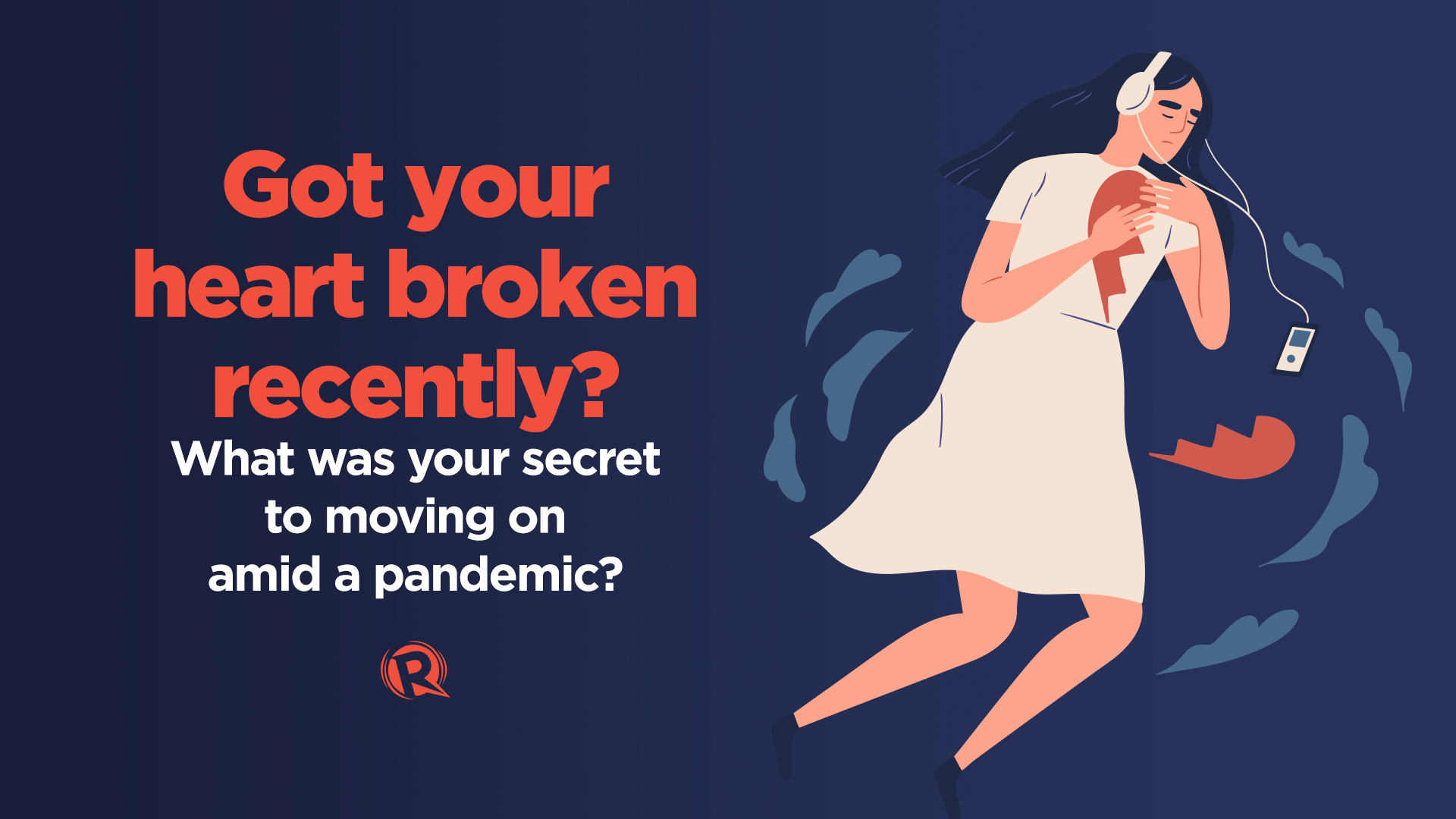 Readers said that they looked for distractions to avoid thinking about the breakup. Some said that they adopted a pet, listened to more music, worked out, or found new hobbies.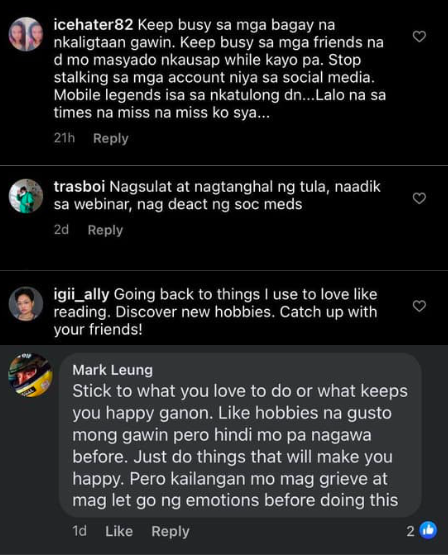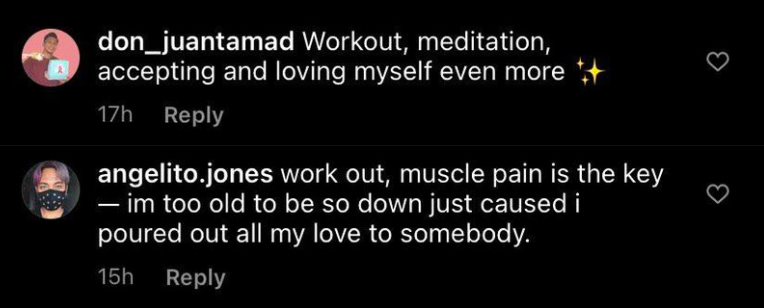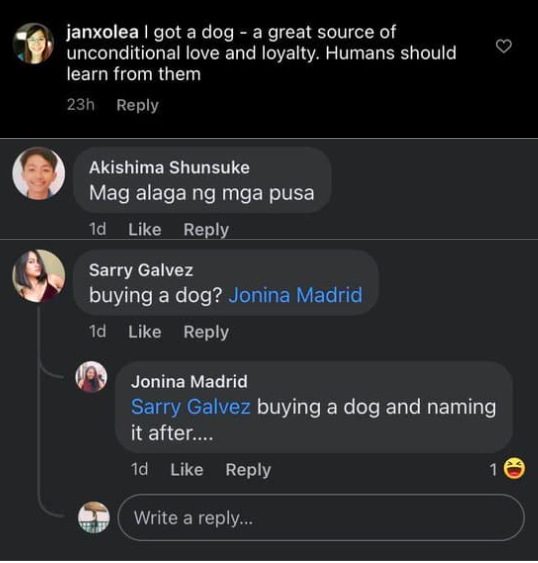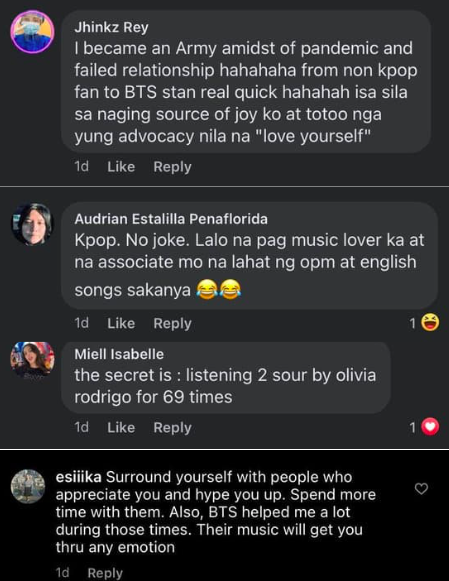 Gabbie, a 22-year-old college student, shared that she started an online shop weeks after breaking up with her boyfriend.
"I got so used to spending time with him and having this routine together. But then when we ended, I had to look for a replacement. I've always been interested in making accessories, but didn't have the time to focus on that before, so I gave it a try. It's still new, and it's mostly just my friends and relatives buying from me. But it's just interesting that what started as a distraction has now become a source of extra income for me," she said.
Other readers also pointed out that it's important to maintain distance from your ex – even online.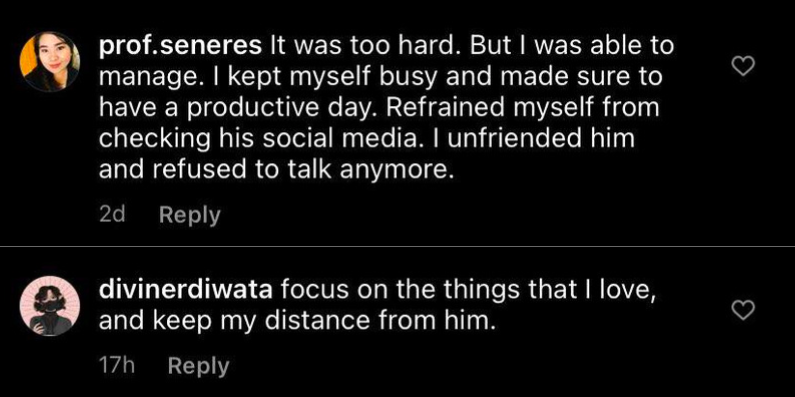 Angiela, a 24-year-old baker, said that she had no qualms blocking her ex-boyfriend's social media accounts after finding out that he was cheating on her. "Why would I care if others say doing that will make me look like I'm bitter or uncivilized? I mean, I got cheated on. I think I have every right to do what I want."
"And if I think that cutting my relationship with him, his friends, and relatives is the healthiest thing for me, then I owe that to myself. I swear, it's like letting go of very heavy, emotional baggage. 5/5 stars. Will recommend. LOL!"
Some also said that having a good support system, may it be reconnecting with friends or asking help from your family, also works wonders, too.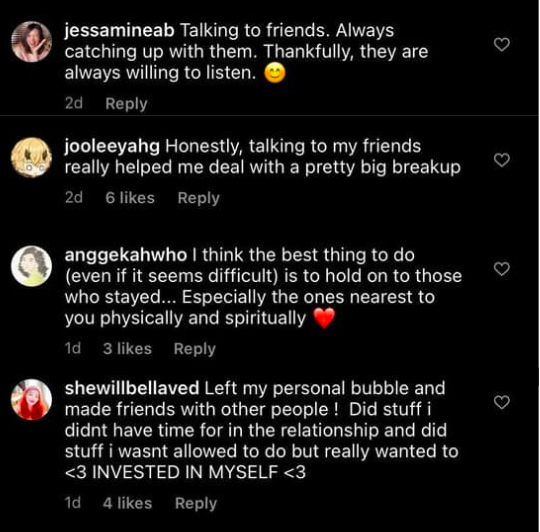 "I think the best thing to do (even if it seems difficult) is to hold on to those who stayed…especially the ones nearest to you physically and spiritually," said Instagram user anggkekwaho.
But most readers said that the most important thing is to be kind to yourself and allow your feelings to be felt and experienced.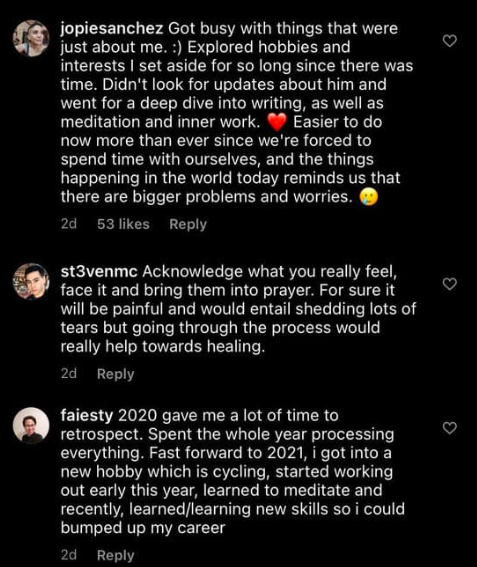 "Acknowledge what you really feel, face it.… For sure, it will be painful and would entail shedding lots of tears but going through the process would really help towards healing," said Instagram user st3venmc.
Instagram user beabealuice echoed the sentiment, sharing that she got cheated on. "[It] takes me a lot everyday to be okay. But all you have to really do is focus more now on yourself," she wrote.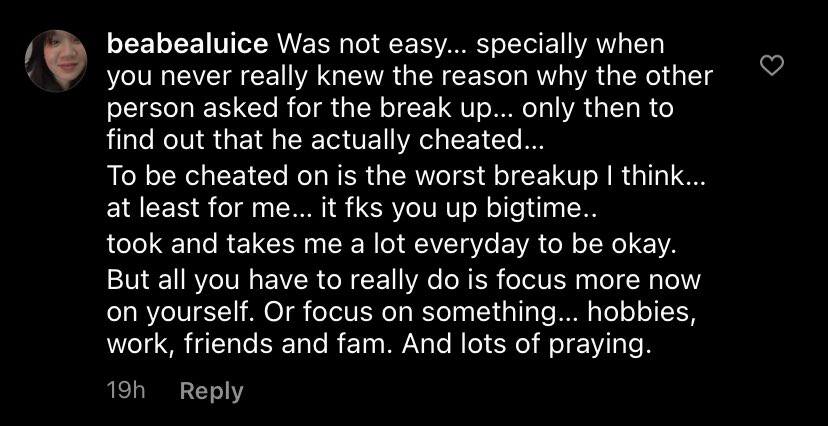 Instagram user yuniokamato said, "Leaving behind a long-term relationship is weird because you come out of it a foreign person." But now, five months after the breakup, she shared that she's "working on reworking [herself] until [she's] outgrown who [she] was."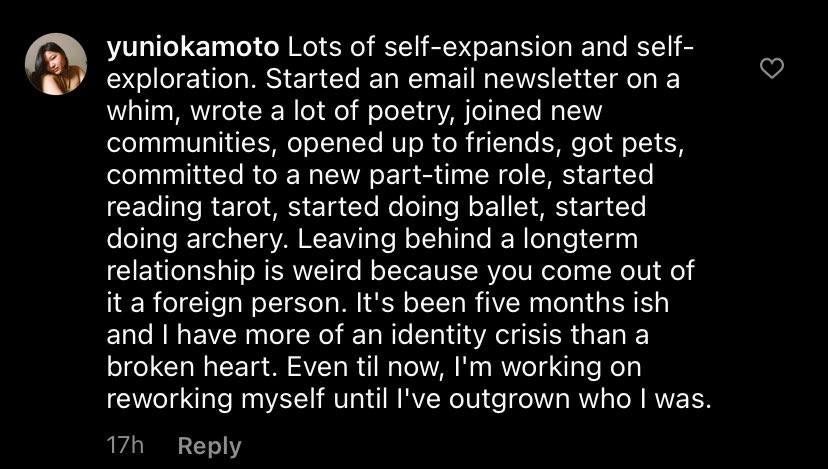 Nikka, a 25-year-old teaching assistant, opened up about ending her seven-year relationship amid the pandemic.
"Admittedly, there's a part of me that thought that hey, if we were in 'normal times,' the breakup probably wouldn't have happened. We may have both held onto the relationship a little longer. But after weeks of constantly thinking of what-ifs and what-could-have-beens, I do acknowledge that there were several factors, aside from the whole long distance thing, that caused our fallout," she said.
She continued, "It's hard but I still have to constantly remind myself that hey, you're allowed to be hurt, sad, confused, and lonely. I've never been as attuned with my feelings as I am now. I did not give myself a timeline, nor rush myself to feel okay. I let myself grieve, and wonder, and doubt. In the middle of processing my breakup, I was able to work on accepting it. After that, things just slowly get easier."
Toni, a 25-year-old writer, also emphasized how important it is to not gaslight yourself. "I'm the one who initiated the breakup and even before I verbalized it; I was already feeling so guilty because obviously, I still care about my partner. It's just that, I'm no longer happy with our relationship anymore," she began.
"But then I knew that it would be unfair on her end if I just let the relationship continue when she's no longer my priority. I mean, if there's one thing I learned from this pandemic is that life is short; do what makes you happy. I know that it'll hurt her and I sometimes still blame myself for that, but I know that she doesn't deserve what I'm giving. So I'm in the process of reconciling that within myself."
Readers also pointed out that having a journal could help you be more honest with yourself.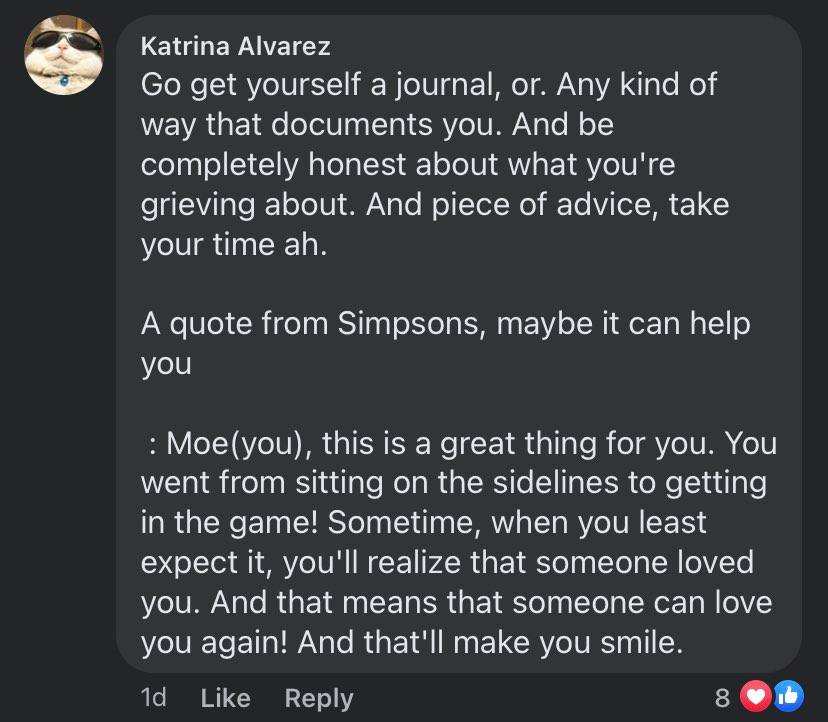 Facebook user Nheri Rome Ordoñez shared that she finally found the courage to free herself from an abusive relationship. "I'm happy but there's still a part of me [that] is grieving," she wrote.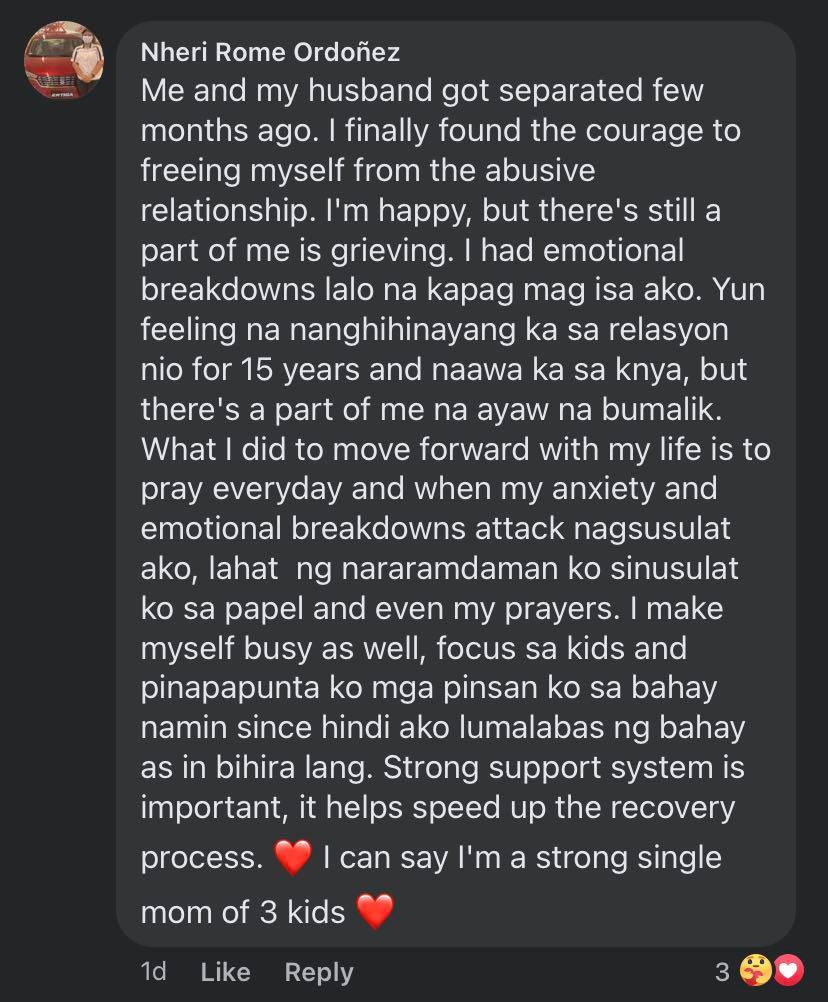 "What I did to move forward with my life is to pray everyday and when my anxiety and emotional breakdowns attack, nagsusulat ako, lahat ng nararamdaman ko sinusulat ko sa papel (I write – everything I'm feeling, I list them down) and even my prayers," she said.
Diana, a 23-year-old accountant, agreed that giving herself the chance to process her feelings made her more self-aware. "If the breakup happened pre-pandemic, I would have booked a flight to go somewhere, but since I was alone – no distraction, no close friends to invite for drinks, no extra work to throw myself into. I had to learn how to be satisfied with my own company. And I realized now that it's okay."
While there's several tips to move on now, some readers also left a reminder that healing isn't a linear process and that there's really no specific formula to follow.

Diana added, "Moving on and healing is different for every person and every relationship. There are days where I'd feel great and then suddenly, I'll be feeling down again. So I guess, with everything that's going on, especially with the pandemic, what matters most is to take it one step at a time."
What do you think of these words of advice? Share your thoughts in the comments section! – Rappler.com