Preview unveils the shortlist for this year's Preview Emerging Fashion Talent Awards
MANILA, Philippines – Once upon a time, said Preview editor in chief Pauline Juan, when they interviewed young designers for their annual Preview Emerging Fashion Talent Awards [PEFTA], they'd ask, "Who's your inspiration?"
"And they would mention celebrities like J.Lo and Gwyneth Paltrow, or designers like Alexander McQueen. But you don't hear that now," said Pauline. "Of course, in one way, they look up to certain designers, but they're able to take abstract forms and use those for inspiration."
During the unveiling of the designers for the 2013 PEFTA at SM Aura last September, this was more than apparent.
Ten up-and-coming designers covering apparel, accessories, swimwear and shoes were named awardees. Five of them were from fashion design schools Slims, School of Fashion and the Arts and the Fashion Institute of the Philippines.
"We figured that one of the ways to really promote young designers is to work with the schools because they're the ones who really teach and mold the kids," explained Pauline. "But we also realize there are some people who can't afford to go to school, some who are self-taught or some who come from abroad.
"So we bring them together so you can see varied points."
When Pauline took over the editorial reigns of the fashion magazine 12 years ago, the annual search for the country's rising designers was, in her words, "one of the ways that we used to differentiate ourselves from the rest of the people covering fashion."
Back then, names like Joey Samson, Ivarluski Aseron, Patrice Diaz and Dennis Lustico weren't the fashion icons they are today. "In a way, everything's been done but there are so many other things out there. And that's actually the challenge. You'll be surprised.
"I mean, I'm constantly surprised because every year when we do this I'm always, meron pa kaya? [Is there something left?] But every year there's something new."
Here are the PEFTA 2013 awardees and the new names to watch:
Pristine de Guzman
Inspired by the form and aerodynamics of sports cars, Pristine de Guzman's "Zephyr" collection features geometric dresses with bold lines, strong shoulders and sharp tailoring.
Geoffrey Zordilla
His "Flow" collection that features the manipulation of pastel-colored fabric to create soft waves and ripples was inspired by the sea.
Bea Samson
Called "Transit," Bea Samson's collection uses the designer' own photos of the metro's city lights and rush hour traffic to create bold prints that depict movement.
Tony Evan
There's an oriental theme that's evident in Tony Evan's collection which features intricate origami-like pleats and folds, creating dramatic yet feminine silhouettes.
Alexandra Cheng
The collection titled "Statue" brings together the toughness of tailored pieces and the lightness and movement of separates.
Marian Zara Madayag
Using acrylic paint and permanent markers, Marian Zara Madayag created her own prints composed curved lines with bright pops of color.
Kevin del Poso
Inspired by motion-freeze photography, Kevin del Poso's "Captured Movement" collection merges the static and movement qualities found in photography through contrasting pieces.
Bien Santiago
Her swimwear collection is inspired by the movement of wind and its effects on fabric, incorporating draping and pleating as well as appliqués and beadwork.
Adante Leyesa
Inspired by Philippine wildlife, Adante Leyesa's accessory collection uses locally sources materials, as well as beading, weaving and embroidery to mimic elements of nature.
Neeresh, Surreen and Reshnee Bhagwandas of DAS Shoes
Sisters Neeresh, Sureen and Reshnee manage to show each of their individual personalities in their DAS shoe collection: sexy and feminine, funky and futuristic, and classic and polished. – Rappler.com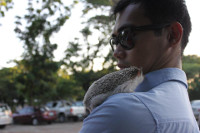 Peter Imbong is a full-time freelance writer, sometimes a stylist, and on some strange nights, a host. After starting his career in a business magazine, he now writes about lifestyle, entertainment, fashion, and profiles of different personalities. Check out his blog, Peter Tries to Write.