Men speak on what style really means to them
MANILA, Philippines – Perhaps the biggest news at Philippine Fashion Week [#PhFW] Spring-Summer 2014 was the arrival of David Gandy (face of Dolce & Gabbana Light Blue and ambassador of car brand Jaguar) as the new face of SM Men's Fashion.
The British supermodel arrived on Monday, October 21, via Delta Air flight DL731.
SM Men's Fashion hosted cocktails for Gandy on Wednesday, October 23, which was also the opening night of #PhFW Spring-Summer 2014.
Rappler stole a few moments with notable guests to ask them about David Gandy, men's fashion and their personal style.
Hideo Muraoka
On the importance of dressing up
"[Wear] anything that can make you feel better, that can make you feel more motivated for your day. The way you dress and how you take care of your body and your image is important."
On his signature style
"[I wear] what I feel comfortable in."
Daniel Matsunaga
On the importance of dressing up
"[When you dress well, you] feel comfortable, [and this helps you] achieve your goals, also depending on your line of work. In my case [as a model], I have to take care of myself and always dress well and properly in each event [I go to]."
On his signature style
"I love to wear [anything] comfortable and stylish. I love suits. I'm more into suits than shorts and [casual wear]. I'm more formal."
Fabio Ide
On men's fashion
"I think Filipinos are getting more concerned about how they dress up, how they look. Fashion in the Philippines is getting more [elevated] compared to before. Things are changing."
On the importance of dressing up
"The way you dress up defines your personality, the way you look, the way you think. It's important to look good not just to look good, but to show people your personality. The way I dress up is the way I want people to see me."
On his signature style
"During the day, I'm the jeans-shirt kind of guy. At night, I really like dressing up, like [pairing] a nice coat, a nice blazer, with jeans and a shirt. It's something that can work for different kinds of events or parties or guestings. It's easy [to put together] and makes you look good."
Anton San Diego
On men's fashion
"It's exciting. I love new designers [like] Dries Van Noten, Raf Simmons…They're pushing the envelope." 
On the importance of dressing up
"I think you dress up for yourself, like anybody else, even women. [You dress up] to feel good, to feel confident. It's an expression of who you are."
On his signature style
"Very classic."
Julius Babao
On men's fashion
"I think we're going back to the classics. Like David Gandy, whom we get to see wearing all these suits and vests. We're going back to the old days."
On the importance of dressing up
"To have confidence, to look good, to be happy."
On his signature style
"I like to mix rugged and formal. There is no standard for it. I wear what I like to wear, and I usually wear black."
On men's fashion
"I feel [we have] gone back to the gentlemen of days before. You see a lot of dapper men today. Whereas before there was really a lot of hip-hop and loose clothing, today it's very tailored. All the men's suits that I see are tailored, almost like a European fit."
On the importance of dressing up
"[Everybody] should dress up. It's a visual presentation of who you are. Dressing up for the occasion, for any occasion, is important because you are presenting yourself in certain way."
On his signature style
"Really simple and classic. I like clean lines; I don't like a whole lot of prints. I like to keep it simple, minimalist and clean."
On men's fashion
"I love men's fashion now because most men nowadays are very adventurous. They like to be adventurous in choosing clothes that have many shocking colors and prints, which is in fashion now. Men are very daring now."
On the importance of dressing up
"It's very important. [As with] women, [men] need to have confidence and to show people that they also need to look good."
On his signature style
"My design aesthetic is always couture. Most of my clothes are embellished and crystalized. [They look] heavy but they float." – Rappler.com
Watch out for our SM Men's Fashion photos and David Gandy exclusive. Philippine Fashion Week runs until Sunday, Ocobert 27, at the SM Mall of Asia.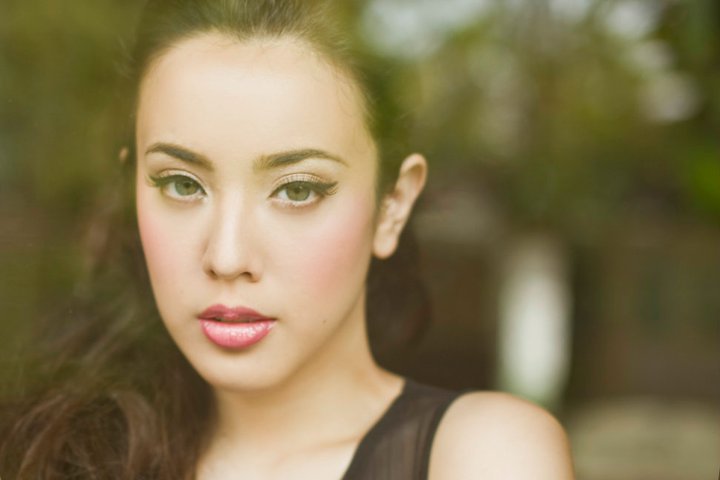 Victoria HerreraVictoria Herrera is a TV and event host, model and freelance writer. She was features editor of Status Magazine before joining the short-lived radio show, "The Dollhouse," as an on-air personality. In 2011, she published her first book titled "Unscripted," a compilation of inspiring, heartfelt conversations from the radio show. In 2013, she launched her social enterprise Change Clothes that focuses on selling second-hand clothing to raise funds for non-profit organizations. Victoria lives between Singapore and Manila, pursuing her love for learning, travel and adventure.