Nigel also recalls photographing Pinay model Anna Bayle, saying it was a very memorable experience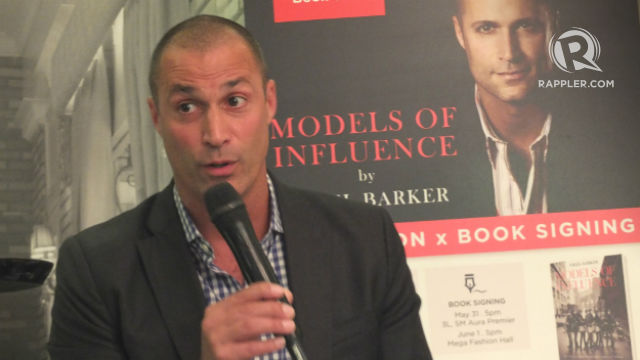 MANILA, Philippines – Known to viewers all over the world as the dashing judge and noted fashion photographer (as Tyra Banks often introduced him) on America's Next Top Model, Nigel Barker has since left the show and is continuing with his many projects, among them a new book calledModels Of Influence. (READ: Nigel Barker on what makes you look great in photos)
At a recent press conference in Manila, Nigel said he was a big fan of Filipino beauty and recalled shooting Pinay model Anna Bayle, who came to fame in the late '70s and '80s. 
"The very first famous Filipina I photographed, Anna Bayle, that set the mark. I met her really socially initially and we got to photograph her for Tatler magazine, and her moving in front of my camera – the way she moved, the old school methods in her, you couldn't take of your camera off of her for a second, for you would miss a picture. That was a very special moment for me. She was super nice, super friendly woman," Nigel said.
"Until I came here and got to photograph many of your celebrities, models, and I actually noticed a big part of the character of Filipinos is to be friendly, and to very hospitable, to be very charming, to very graceful. That's not necessarily a characteristic that you'll find in a model all over," he said.
"Every country, every place has a sensibility to it but that's something very special and for me, what really makes a picture iconic and special is the person itself, the person I am photographing, the life they led, how gracious they are, [how] charming they are.
"These are things that can be enormously alluring and for me that a very special potent part of the Filipino beauty – it's an inner beauty attribute which is a wonderful thing. It really means anyone can have it regardless how pretty they are outside because it comes from within," he added.
He also has nothing but good things to say about America's Next Top Model creator Tyra Banks, whom he worked with many seasons in the show, which is airing its 22nd season later this year. Nigel was a judge for 17 seasons. 
"She is all those things [model, entrepreneur]. She's not my boss anymore but you know what, I had a great time working with her. Everything we did together in America's Next Top Model, we traveled all over the world together… she was an incredible character, an amazing person. Incredible work ethic. She created a television show that changed the way we do reality television – one of the longest-running reality TV shows of all time." –Rappler.com