Rappler speaks to Barbara de Laere about the shift and what it means for Aveda's customers
Beauty brand Aveda announced on January 1, 2021, that all of its products are now 100% vegan. That means both future launches and older products are now produced without beeswax, one of the last animal-derived ingredients in the brand's inky list.
The process, Aveda global brand president Barbara de Laere told Rappler, involved combing through all of the ingredients they used – over 900 of them – going up and down the supply chain, and making sure animal-derived ingredients are not involved in any step of the process.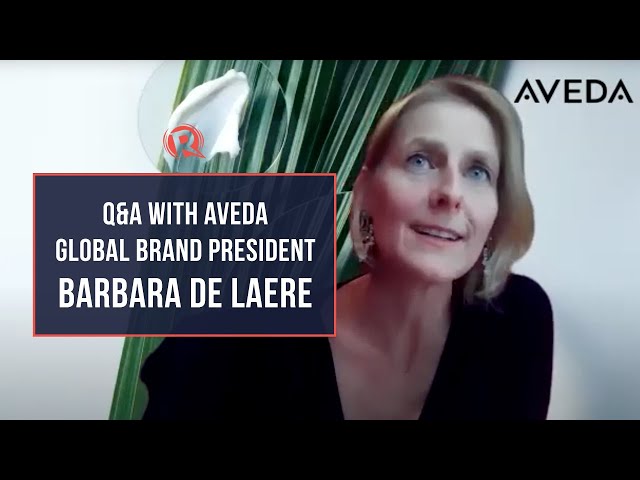 De Laere said the process took several years, because the goal was always "go over and beyond the expectations the consumer has when they use a certain product."
The most difficult to find plant-derived alternatives to, said De Laere, were honey, beeswax, and beeswax absolute. Beeswax is used in color cosmetics and hair products, and helps in making products easier to apply. Beeswax absolute, meanwhile, helps in the aroma of Aveda's products. The company eventually developed a proprietary blend to replace these ingredients.
Carbon-negative goal
Aveda, founded in 1978, has always made sustainability a goal.
It's been cruelty-free since it was founded (which means it doesn't test on animals), which means going full vegan made "a huge amount of sense for the brand," said De Laere. The point of Aveda, she said, is to prove that you "don't need to compromise between being responsible and sustainable and being profitable successful and profitable at the same time."
It's important to note, however, that while Aveda is cruelty-free and 100% vegan, its mother company, the beauty giant Estée Lauder Companies (ELC), is not. While ELC itself does not test on animals, "animal testing on cosmetics products exists if a regulatory body demands it for its safety or regulatory assessment." Some countries require animal testing on products, including cosmetics, because they get permits to be sold. Aveda is one of 6 ELC brands that are fully cruelty-free
Neither formulas nor price points will be affected by the shift to vegan, said De Laere.
"We have been producing vegan since August of 2019… if there would have been any issue, we would have about it and we would have solved it. Luckily, we haven't heard any issue," she told Rappler ahead of the company's announcement.
On top of consistency with the brand's ethos, De Laere explained that shifting to 100% vegan was a necessary response to consumer behavior. "We're also seeing with our consumers this incredible drive for ethical consumerism. People vote with their dollars and they're interested, more than ever, in the heart and soul of the brand," she said.
Aveda, the company announced in a media briefing in December 2020, has bigger goals in mind – it aims to be carbon negative in its production by fiscal year 2024. "Carbon negative" entails the company's entire ecosystem – which includes its affiliate salons and sourcing pool for its ingredients, which had already become smaller because of its shift to 100% vegan. "The ROI (return on investment) on these investments are enormous – not just from a business perspective," she said."
"The future of beauty has to be sustainable. There's going to be – and rightly so – an explosion of demand from people wanting to know: what is this product, what's the footprint, how about the environment, and how are you taking responsibility as a company? It's a role that we have to play," she added.
The shift has to do with giving people both the choice and the education to consume what's best for one's "three homes" – "the body, the people that you love, and the planet that you live on," said De Laere.
De Laere will also be the first to acknowledge the (rightful) skepticism that comes when a multinational pledges sustainability and environmental consciousness. For Aveda, she said, the key was "transparency and being very open." In late October, Aveda and ELC tapped blockchain technology to track the production and processing of vanilla from Madagascar.
Veganuary, too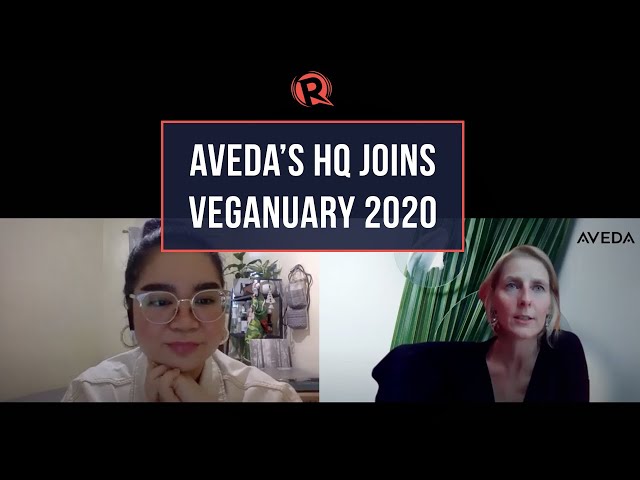 To mark, and perhaps, boost the company's push to 100% vegan products, it's also joining in Veganuary, an event run by a UK-based nonprofit that encourages people to go vegan for an entire month. The preparations at the Aveda HQ in Blaine, Minnesota, is almost as intensive as ingredient audit. De Laere said that months prior, non-vegan members of the Aveda team had been slowly switching to vegan alternatives – like using plant-based milk instead of dairy milk.
The effort is company-wide and company-backed – vegan cooking lessons, and seminars are being line-up, to help the non-vegans ease into the challenge. "We're using our partners to help our teams without fear to start to dabble into the vegan world," she said.
In a way, the Veganuary challenge and how it's unfolding over at Aveda, proves that moving towards sustainability entails both an individual's and a community's efforts. Speaking to media during a briefing, De Laere said Aveda's shift to being 100% vegan wasn't just a challenge to its competitors and colleagues and in the beauty industry, but an invitation.
"Naively, I believe that we can change the world. The power of one and the choices we make, even if they're tiny [make an impact]," said De Laere, who herself is a vegan. – Rappler.com
Looking for new skincare products? Use this Beauty MNL promo code for more savings.