Here's a rundown of what's inside the kit – and if it's worth the splurge
Fans of both Korean star Park Seo-joon and makeup are in for a treat with the release of Australian brand BYS' beauty kits in collaboration with the Itaewon Class star.
The kit features BYS' bestsellers, most of which are products and shades that suit most people. BYS earlier announced Park Seo-joon as its latest endorser.
The kit, which retails for P6,999, comes in boxes featuring Park Seo-joon and contains 9 beauty products plus a plushie version of Simba, the actor's very own pet dog.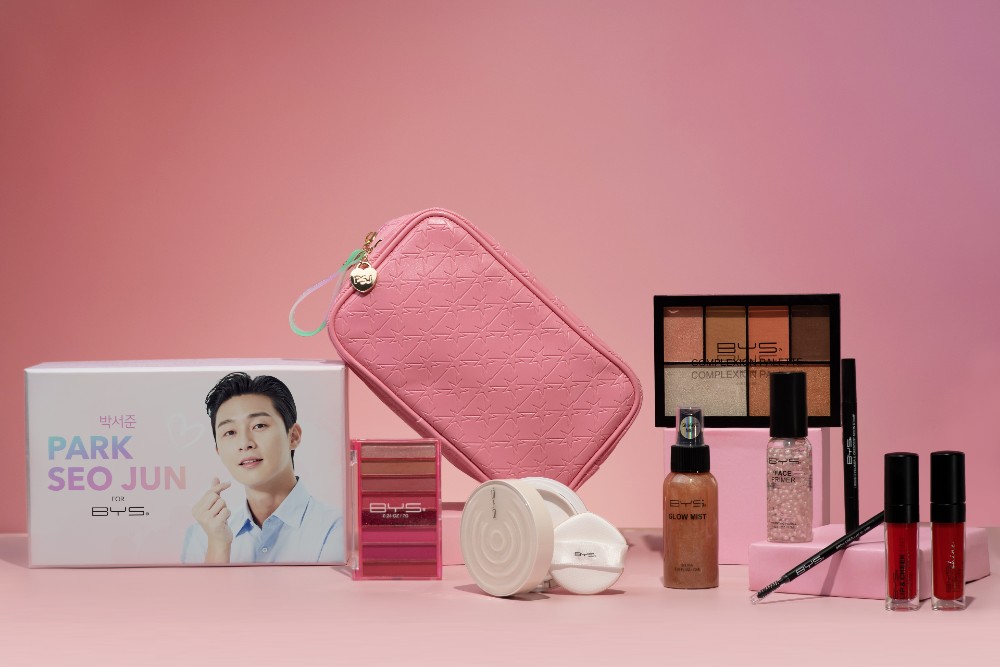 The star of the kit is the BYS Cream Cushion that comes with its "v-puff," a makeup sponge that vibrates the moment you slip your hands between the sponge and the handle. It's weird, at first, to have a makeup application tool vibrating on your face. But as soon as you get over the novelty of the sponge, you'll find that it does help – just a bit – in the application process.
The downside, however, is that like most cushion compacts, the shade range isn't that great. Natural Beige has a touch of pink undertones and might be too pale for most people. Even on my relatively pale skin, it registers as way too light, depending on the lighting.
The word "cream" might also clue you in on its finish – it's absolutely dewy and hydrating so if you have oily skin, you might just want to pass this on to less naturally-shiny friends. 
The BYS Face Primer with Hydrating Pearls is a pleasant way to prep your skin for color base. The hydrating pearls suspended in the gel burst as soon as you pump the product out. Application is just as easy, with the product sinking into the skin easily enough before drying down to an oh-so-slightly sticky finish – perfect if you want your makeup to last just a little longer. It's vegan-friendly, paraben-free, and cruelty-free. It doesn't seem – nor does it claim to be – oil-controlling, however. I'd skip using this if you have oilier skin.
The Glow Mist in Golden would be perfect for use on the beach or during evening events. While the product looks deep in the bottle, it sprays out as a sheer bronze shimmer – although people who are really pale might not be able to pull it off.
The color products are an interesting mix of shades for daily and more edgy looks. The BYS Complexion Palette in Dreamgasm contains blush, bronzers, and 3 shimmer powders that you can use a whole range of ways. The blush, a peachy orange shade, could also be used on the eyes. The shimmers, too, can be used as either highlighters or eyeshadow, depending on your skintone.
I'm especially drawn to the huge white pressed shimmer – it looks white on the palette, but is a mix of both warm and cool-toned shimmer once swatched. The bronzers (or contour) powders can also be used on the eye; one shade is a light caramel brown while the other is a much darker true brown that leans on the redder side of things.
BYS' choices for eyeshadow palettes are interesting. The Vertical Palettes come in either Transparent Neon Pink or Transparent Neon Blue – shades that the average makeup user seldom gravitates toward. If you just happen to be a PSJ fan (hence you're getting the kit), think of it as a chance to expand your makeup horizons.
The neon blue palette has matte shades that range from dark blue to mint green, as well as blue and silver shimmers. If you're not ready for a full blue eye, you can mix these with a liquid (maybe even a tiny bit of the primer) to use as an eyeliner. 
Lip products both come in bright shades of red. The BYS High Shine Lip Gloss in Heat is an unabashedly glossy shade of red – arguably something you wouldn't be able to use outside of your home in a mask-wearing world because while it claims to be non-sticky (as far as some glosses go, this isn't goopy at all), all glosses stick. Don't let the red intimidate you. I find it's best used sparingly and sheered out – as if you'd just eaten a popsicle.
The same goes for the BYS Lip & Cheek Tint in Sultry, another bold shade of red. The formula is more of a gel than a liquid and easily sheers out, when applied sparingly then blotted to a sheer wash of pink on the lips. 
Rounding out the kit are the Auto Thin Brow Liner in Brown and the Liquid Eyeliner Pen with Crescent Moon Stamp. In the grander scheme of things, the eyebrow and eyeliner products aren't spectacular, but get the job done. The moon stamp is a cute addition, though – just in case you want to spice things up. Note, however, that the formula is not waterproof.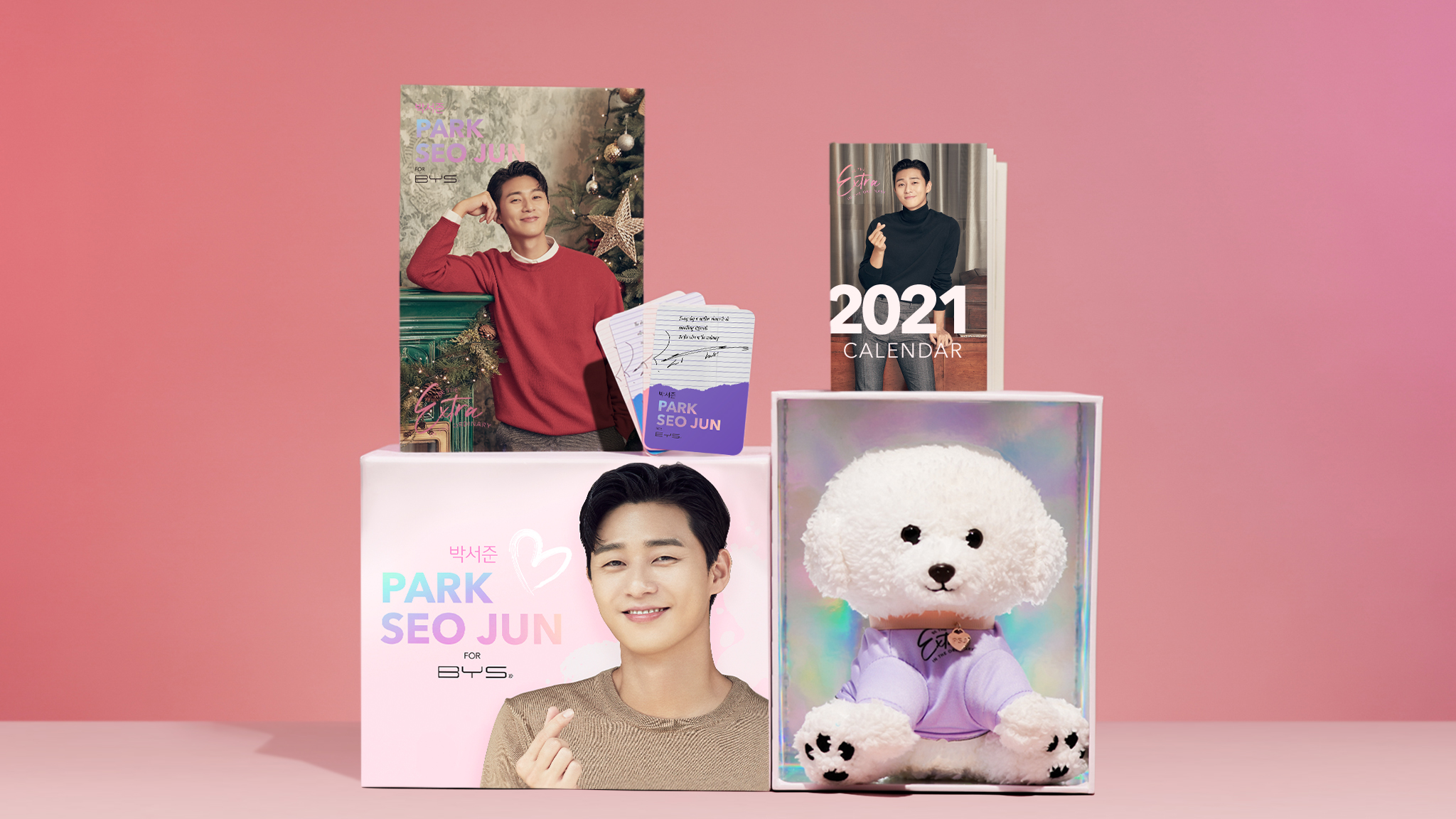 Unsurprisingly, the highlight for PSJ fans might just be the limited-edition Simba plushie that comes with a PSJ calendar, photobook, and photo cards.
The beauty kits are available in-store at BYS counters in Watsons and SM Beauty stores. It's also available online via Lazada or Amorfia. – Rappler.com
The kit was provided by BYS. The thoughts and opinions in the piece are all the writer's own.