If you're not one of the lucky ones who have a cuddle buddy, don't fret, we got you
Disclosure: This article contains affiliate links from our partners. We earn a small commission when you shop using these links.
It's that time of year when you're probably glued to your bed in the mornings. We get it: the cold weather just makes you want to laze around in your sheets, cuddling your significant other to keep warm.
But if you're not one of the ~lucky ones~ who have a cuddle buddy, or if you've chosen not to have one whether by choice or circumstance *ehem LDR ehem*, then don't fret, we got you.
From comfy outfits to keep you cozy, to cute trinkets to fight the chill, these items will surely keep you company for the rest of cuddle weather.
Blanket hoodies
Are you the type to wrap yourself in a blanket? It keeps you comfy, yes, but untangling yourself when you roll up too tight can get exhausting.
Well, things just got less complicated with hoodie blankets! You can now wear your comfortable blankets anywhere and anytime. Bonus: it won't be difficult for you to use your hands or remove yourself from a tight roll.
Bleeves offer a wide range of wearable blankets to choose from. They have the Gidie (P1,295) – a giant hoodie blanket made of their signature Cuddle Fleece. Aside from its one-size-fits-most cut, they also have multiple unisex designs and colors available. You can also opt for their XtraLong length (P1, 695) option if you want the giant hoodie blanket to reach your ankles!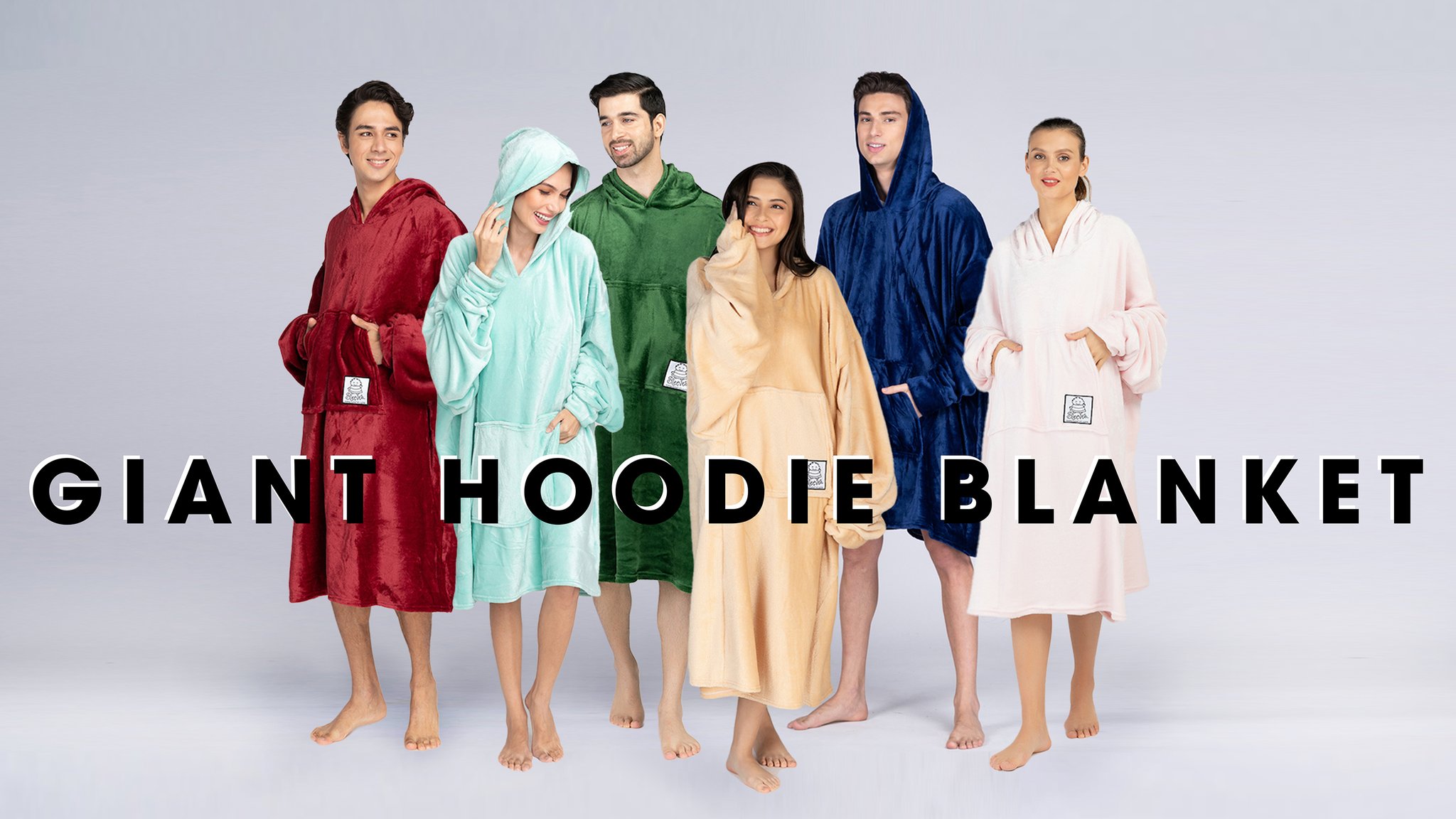 If you want something simple, sans the hoodie and pocket designs of Gidie, Bleeves also have blankets made with arm-length sleeves. Aside from the variety of designs and colors, they also have sizes for kids up to six years of age, and a travel option, where blankets conveniently fold into a pillow.
Snuggling sessions will be a lot more comfortable now with the whole family!
You can buy your own blanket with sleeves or hoodies and even personalize your orders through Bleeves website or Shopee.
Weighted blankets, robes
If the cold weather makes it even more difficult for you to get proper sleep, you might want to consider switching your regular blanket to a weighted blanket. Although they're usually on the pricier side, weighted blankets are designed to provide a lot of downwards pressure on your body (known as the "earthing" or "grounding" process) to give a calming effect, and reduce chronic stress and high levels of anxiety.
Who needs a cuddle buddy when a weighted blanket can give you the feeling of a big warm hug all night long?
You can get your own at Blanket Hugs. Starting from P3,990, their weighted blankets are made with organic cotton material and a bamboo-cotton cooling duvet. Sizes range from kids to adults.
Blanket Hugs also sell weighted robes (P1,999), perfect especially for people who always or easily get cold but just want to lounge. According to its website, the robe has a two-and-half-pound weighted wrap inside its collar which "helps harness the power of deep touch pressure stimulation to promote stress reduction and relaxation."
You may shop through their website.
Pillows
A good cuddle session won't be complete without an abundance of pillows. And if you're looking for a companion to survive the cold, dark days, why not give yourself a personalized pillow?
Pillow Art can customize photo pillows of your favorite character, artist, pet, or a significant other. Aside from the normal square or rectangular-shaped pillows that range from small to large, Pillow Art also has different designs and sizes!
They have a pillow ball (P600), a pillow pet (P650), a pillow head (P650), and mini-me human pillows (P900). If you want the ultimate comfort, they also have a memory foam pillow (P1,150), hotdog pillow (P1,180), and u-shaped body pillow (P3,500).
You can place your orders through their website or Shopee.
Scented candles
Without a doubt, good cuddles are relaxing. But if you don't have anyone to relax with, we know the next best thing: scented candles. Not only do they come in gorgeous packaging, but aromatherapy can do wonders to your mood.
La Vela Manila offers crystal-infused scented candles. Their candles come in a variety of scents – Lakambini (rose and lavender), Tala (vanilla and lily), Mayari (peppermint and eucalyptus), Bathala (wood sage and sea salt), and more. You can place your orders through their Instagram account.
Hot choco
What's cuddle weather without a cup of hot cocoa? For a unique twist on another cuddle weather staple, check out local chocolate brand Auro's the Big Bang Kit, which includes a hand-painted "chocolate bomb" and a pretty ceramic mug by Everyday.
It's like a galactic bath bomb, but made from local chocolate, sprinkles, and marshmallows. Just pour eight ounces of hot milk or water into your mug, drop in your Auro's chocolate bomb, wait for it to melt, and stir! It's beauty and comfort in a cup!
Place your orders through their Instagram account or Shopee.
Activewear
Treat yourself to plush, premium, and locally-made loungewear by Lipad Active, a local brand founded by a group of ex-flight attendants committed to locally manufacturing simple loungewear and activewear at affordable prices.
The comfy Jojo Plus Lounge Set (P450) is perfect for lounging around and keeping warm – the blanket-like fabric is extremely soft, fuzzy, and adorable. The elastic shorts come with two side pockets, too.
The pair is available in four pretty colors – cream, cloudy gray, powder blue, and teddy brown – and in two sizes: size A (S-M frames) and size B (L-XL frames).
Lipad also has a breezy Petrie Knit Lounge set (P350) that's both comfy and stylish – perfect for any cuddle weather selfies you might have, or for any last-minute errands. It comes in maroon, nude beige, and gray.
Check out their Instagram page or Shopee store for more details. – Rappler.com