This is AI generated summarization, which may have errors. For context, always refer to the full article.
Fashion designer Edgar Madamba passed away on Easter Sunday at the age of 73
MANILA, Philippines – Growing up in Ilocos Norte, I would hear about designer Edgar Madamba, the pride of San Nicolas, Ilocos Norte, who was able to make it big in the cut-throat fashion circle of Manila, and eventually the international fashion scene. In the '80s and '90s, it was impossible to attend a society event without seeing someone wearing Edgar Madamba.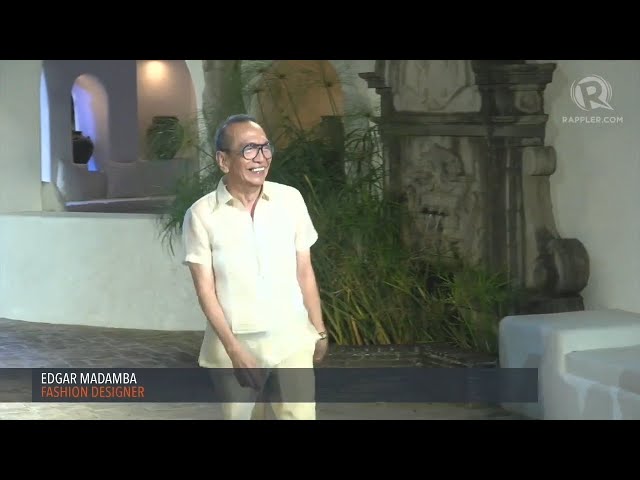 He was also a favorite wedding gown designer, not only because of his designs, but because of how special he would make every bride feel. With his stature, I never imagined I would ever be able to work with, and even be friends with THE Edgar Madamba.
I first met Edgar in Pinto Museum in Antipolo 2017. It was a meeting initiated by the museum's owner, Dr. Joven Cuanang, who was planning to create a "cultural renaissance" with the local handwoven fabric called Abel Iloco or Inabel. Dr. Cuanang tapped Ilocano designers to do a fashion show with creations promoting Inabel. Edgar had used Inabel for decades – for him it was only natural to use the handwoven fabric. "In order to truly promote inabel, I see it as a regular fabric, just like any fabric that I use in my designs," he once told me.
But Edgar's creations were far from ordinary. They were glamorous but not ostentatious. His good friend, designer Barge Ramos, put it best, "His designs had a certain timeless element about them, classic in short. Embellishments and beadwork were very minimal, not overpowering the basic design. He knew when enough was enough. He practiced restraint in design which is a difficult discipline among designers nowadays."
One of his most iconic designs is the "balimbing skirt" inspired by the fruit locally known as "balimbing" or star fruit. His gowns and skirts followed the unique shape of the fruit, a distinct cut that ebbs and flows beautifully with every movement.
Another trademark is the corset with terno sleeves in a structured transparent fabric. During an Inabel fashion show at Pinto Museum in 2018, he added his signature rosettes to his corset ternos and paired them with his favorite inabel fabric in "Binakul" which has geometric patterns and interlocking lines that create the illusion of optical art.
Edgar also loved using vintage inabel fabrics in his barongs and designed modern "patadyong" skirts in 50-year-old inabel fabrics. He was inspired by what he called "the glamorous era of the 50s" of full skirts and tailored tops, a period he always goes back to with his creations. And this was also how Edgar carried himself – I would often see him wearing a tailored white polo folded up the the elbows, cream linen slacks in a classic cut, and white converse chuck taylors – he was a throwback to elegant times, yet still fashionable in the present day.
I consider myself lucky to have had the opportunity to work closely with him and eventually call him a friend. Just a few weeks after we first met, he agreed to meet me at a coffee shop near his atelier. I showed him my children's designs which were the work of a novice. But before he gave me tips as a veteran designer, he acknowledged my vision right away which was basically dressing up kids in classic children's clothing. Anything he said after was welcome, do this and that, fix the seams not just outside but inside, use pure cotton lining – it's more expensive but your clients will thank you after. One of his last texts to me was, "Nina, now your clothes are speaking beauty because of your sincerity to your craft." And that was the most valuable lesson I learned from Edgar: his sincerity to his craft, his clients and himself.
Edgar was loved and adored by both clients and friends because of the way he connected with them. He made everyone feel beautiful and important. He always had kind words, and always had a gentle demeanor – even in the middle of the chaos of a fashion show.
Edgar passed away on Easter Sunday, April 9, 2023, at the age of 73. The deluge of tributes on his Facebook account from Filipinos all over the world, his peers in the fashion industry, his friends and loved ones are just a snapshot of Edgar Madamba's influence and brilliance. Those who knew him much longer are so lucky because the love and talent he gave to the world are nothing short of extraordinary.
His wake is at the Madamba Ancestral House in San Nicolas, Ilocos Norte. The interment will be on April 22 at the Catholic Cemetery in San Nicolas. – Rappler.com
(Niña Corpuz is a broadcast journalist turned fashion designer creating handwoven Inabel clothes. She is the founder of clothing brand Nina Inabel. You can see her designs on Instagram @ninainabel and @ninacorpuz.)