These items can help you experience what it's like to be a 'Squid Game' player!
Whether you've seen the series or not, we're pretty sure you're aware of how Netflix's Squid Game has taken the world by storm.
The series morphs popular childhood games into deadly survival challenges as 456 players fight against each other to win 45.6 billion South Korean won (or around P2 million).
With its popularity, it's no wonder that viewers who turned into avid fans (and even those who just wanted to join the hype) are eager to purchase any merchandise that is inspired by Squid Game.
We've rounded up a list of Squid Game-inspired merch (from figurines, tracksuits, and yes, even that "red light, green light" doll costume) that you can add to your cart now:
These Squid Game-inspired full sublimation jerseys and jackets from Chronos Athletics are perfect for your workout routines! Priced between P600 to P1100, you can choose among four designs of the active wear with sizes also ranging from 2 XS to 3 XL.
The numbers are also customizable so you could choose what player number you would be. We're pretty sure that tiny detail will drive you to push harder for the upcoming challenges!
Customers can place their orders through its Shopee page.
Thrift Apparel MNL
From the creepy doll to the shapes from the trending Honeycomb challenge, Thrift Apparel MNL offers a wide range of designs for their Squid Game-inspired shirts.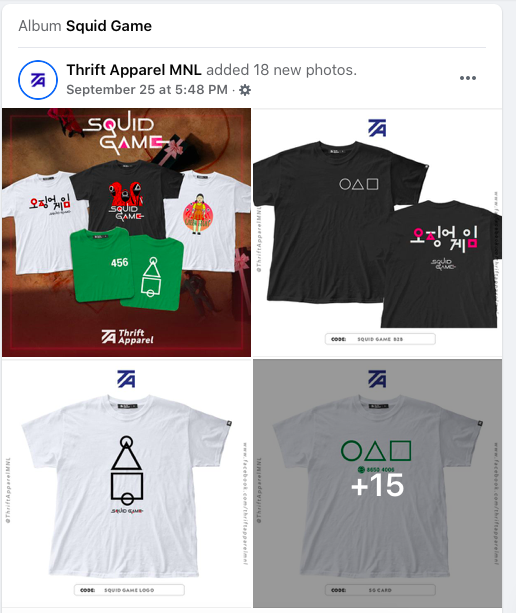 Priced at 300 pesos, the shirts are available from sizes XS to XXL. Customers can send their order forms through its Facebook page.
SpaceBoyfriends
A California-based Filipino shop owner also launched a full-blown Squid Game-inspired apparel line. From caps, beanies, fanny packs, sweaters, and even rash guards, SpaceBoyfriends have it!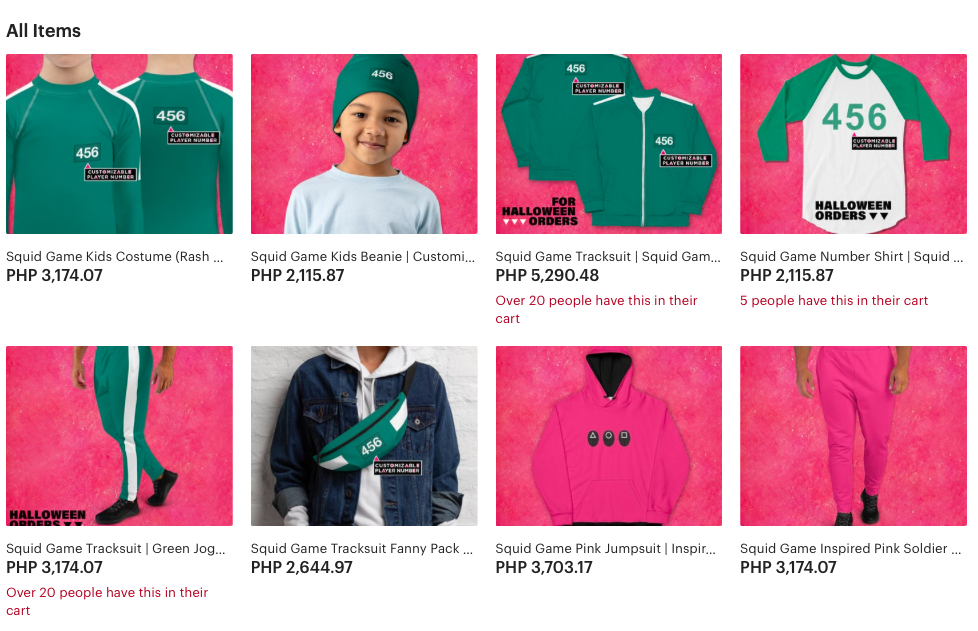 Since the international shipping fee might be expensive, invite your friends to order theirs as well so all of you can divide the cost. You were able to save up, plus, your whole barkada now has a theme for your Halloween party!
You can place your orders on their Etsy account.
While children are not advised to watch the series, it doesn't mean that they can't join the Squid Game fun! Tiangge Avenue makes customized dresses inspired by the giant robot doll that catches the contestants in the "red light, green light" game.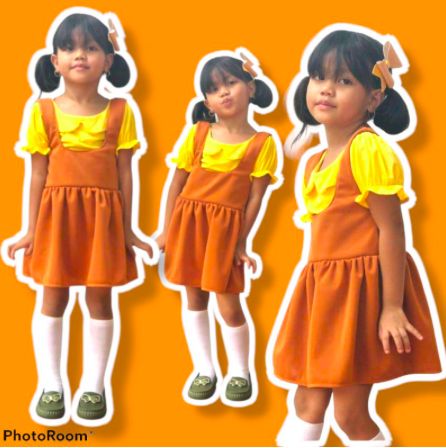 If you're up for the challenge of seeing your child wearing the outfit of that creepy doll, place an order through their Shopee account.
Sebong Prints
Complete your Squid Game outfit with these customized tote bags! Priced between P359 to P375, Sebong Prints has three tote bag designs that you can choose from. Further specifications about their bags were also posted in the tweet.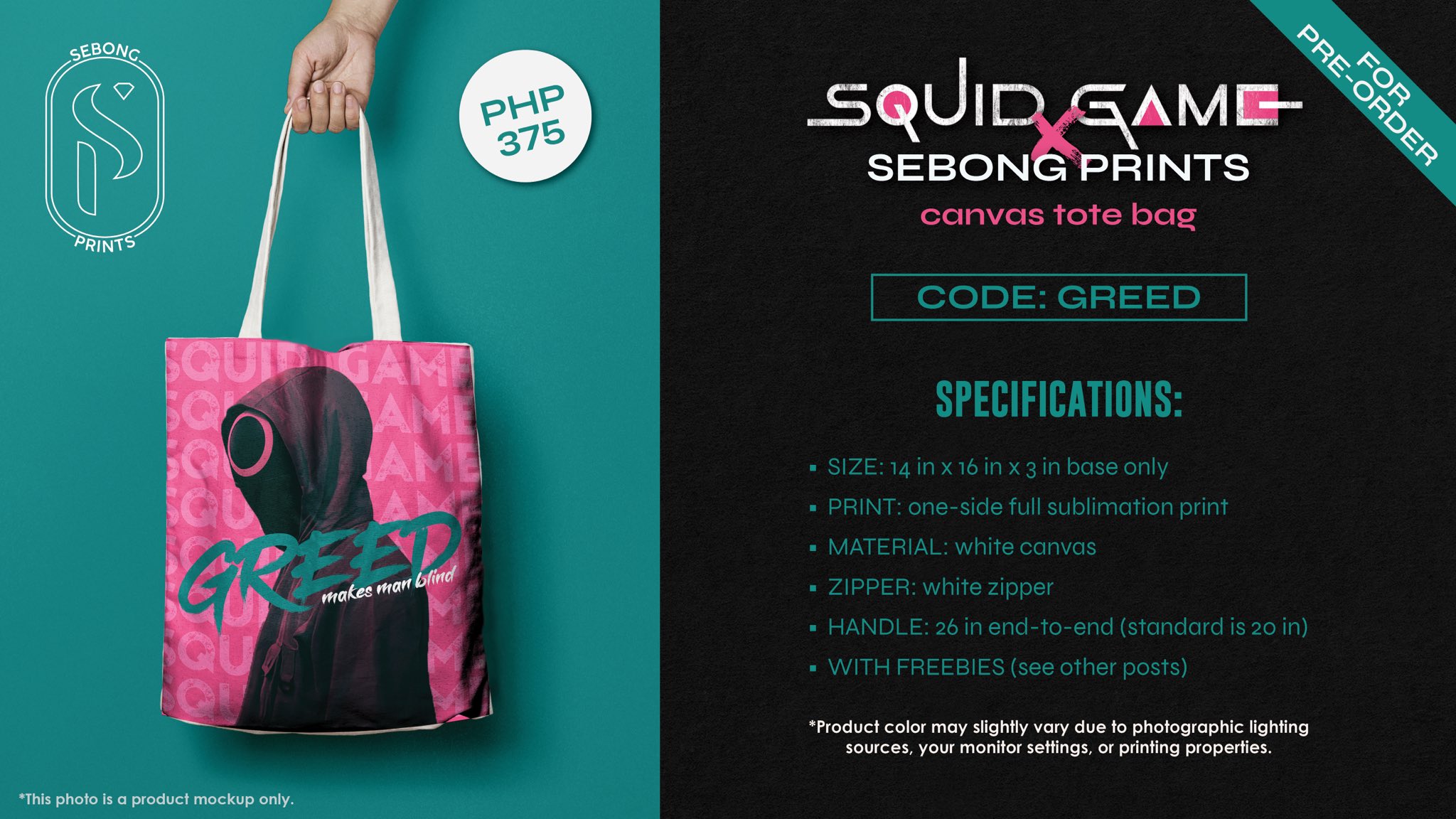 Aside from tote bags, the shop also offers bucket hats and button pin sets. Squid Game stickers and photo cards will also be given for free for every purchase.
Customers can order through their Twitter account.
UNBOX Greenhills
If you're not the type to wear your fandom, these collectible keychains and figurines from UNBOX Greenhills are perfect for you!
Starting at P250, you can choose whether to get the doll or the body guard figurines.
UNBOX Greenhills is located at the Greenhills Mall in San Juan, Metro Manila.
And if you already have the clothing and the collectibles to match, you can also buy dalgona candies from these shops to complete your Squid Game experience!  – Rappler.com
Don't break the bank on your costume! Use these Zalora voucher codes.