The fashion designer talks to Rappler about including Iloilo's story into his work
Before getting recognized as one of Miss Universe Philippines 2020 Rabiya Mateo's choice designers, Tata Pinuela has been making wedding gowns, suits, dresses, and festival costumes for Iloilo's Dinagyang Festival. For the latter, he works hand-in-hand with different artistic directors and choreographers.
He is the owner of Desenyo Artikulo Couture, known for its formal gowns and suits.
The path to designing
Tata, whose real name is Paul Jerome Pinuela, graduated from the St. Therese MTC – Colleges with a degree in Hotel Restaurant Management and Culinary. He was also a member, performer, and assistant costume designer of the Edwin C. Duero Dance Company of the Philippines.
"I didn't study formally like other designers," Tata said. "I am a self-proclaimed, self-taught designer. I draw inspirations from my environment and from the things I see and feel. I design based on my intuition. Also, to be in the industry, I believe there should be a collaboration with your client as to how they want their gowns should be."
Tata said he was already interesting in design at a young age.
"I remember back then, our family is fond of joining religious activities like fiesta celebrations where I admire queens in their fabulous gowns. During Mayflower celebrations, I've drawn interest in sagalas where the Reynas wore different colorful attires. Also, I spent most of my time dressing up paper dolls as a child, with different outfits out of magazine cutouts and I really enjoyed it so much," he said.
"I am also into sketching and drawing. My exposure to performing arts in high school has ignited my love for art and for fashion and since then I know that I was different from the rest of my classmates. In college, I was able to apply my inclination to art. I was a representative of my school and won a national competition for cake decoration."
Before he went full-time with design, Tata was a laboratory assistant at his alma mater, doing extra jobs such as floral arrangement, and even hair and makeup work. His mentors Edwin Duero and Hector Gellangarin encouraged him to finally acknowledge his talent in designing.
"They advised me [to] try to focus on dressmaking. And of course, my family and friends who unquestionably believed in me and supported me when I was still starting with this career as a designer."
Festival costumes and designing for the Ilongga queens
Looking at his work posted on social media, Tata's designs show his attention to detail, especially when it comes to the costumes he makes.
"There are a lot of things [that] inspires me to make intricate and detailed costumes. First, costumes are commonly known for their unique combination of colors, but it is rarely known that the colors and patterns bear symbolic meaning to the culture. My passion for making vibrant colors comes from the imagination I foresee when I watch different types of movies, opera (classic to modern genre), beautiful insights such as a reflection of mesmerizing scenery," he said.
"Festival costumes needs to be near authentic, [so] I do my research on the background [and] history [of a piece of clothing]. If my knowledge is not enough, I collaborate with my researcher friends. After that, the magic of imagination comes in. Integrating research and artistic imagination is one of the important processes in achieving a masterpiece."
As for his aesthetics, Tata said: "For me, aesthetic is a principle that defines a design's pleasing qualities. It includes factors such as balance, color, movement, pattern, scale, shape, and visual weight. I make my masterpiece by means of studying history, culture and know every detail so that I can insinuate things in my mind to produce my best experiment. "
"Also, aesthetics complement my designs' usability and enhance by all the available means of my materials with attractive layouts that I make. The originality of my designs is a method of putting form and content together, just as art, has multiple definitions; there is no single definition. Design can be art. Design can be aesthetics. Design is so simple, that's why it is so complicated."
In October, Iloilo found itself in the spotlight after Rabiya Mateo won the Miss Universe Philippines title. It was Tata who designed Rabiya's national costume named after Maniwantiwan, the wife of Marikudo, chief of the Aeta tribe of Panay Island.
Tata said the win was a sweet one. "For me, it's not about only the wardrobe or whatever she wears. It's Rabiya Mateo herself. Kahit anong ganda ng damit mo, if my kulang sayo, wala pa din." (No matter how beautiful your outfit is, if you don't have it in you, you won't win.)
"So I believe in Rabiya's capacity. And as one of her chosen designers on her National Costume I'm feeling grateful and proud because Rabiya's win was also an impact for our culture since her national costume highlighted the Dinagyang Festival and of the characters in the Barter of Panay, Maniwantiwan. Eventually, everyone was interested in watching the festival and were curious about the Barter of Panay."
For the Binibining Pilipinas pageant, he designed the warrior-inspired outfit of Karen Laurrie Mendoza called "Bulalakaw." He made sure to incorporate Iloilo's culture through the colors and materials, which he said are normally used in the Dinagyang festival.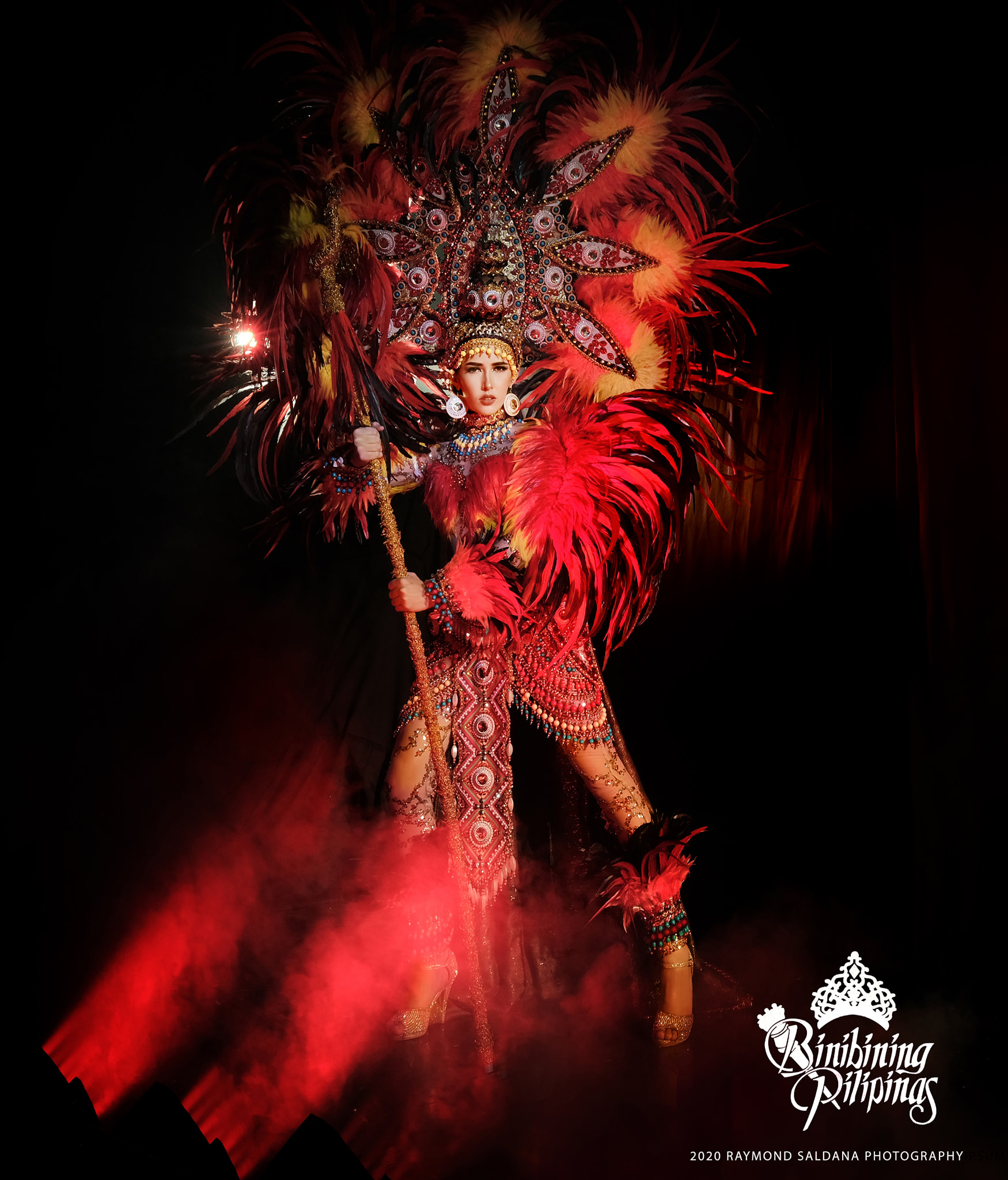 He also said that he's ready to make a costume for another Ilongga queen, Ann Palmares, who will vie for the Miss World Philippines title.
Challenges during the pandemic
Tata said like every fashion designer, he and his fellow Ilonggos struggled because of the pandemic.
"We're all affected. The demand for our designs comes from live events that need social gathering," he said. "As a designer, I have a lot of events and social gatherings that had to be postponed or canceled and that was the saddest part. But we need to be resilient to this pandemic situation. Despite this, I made PPEs and face masks for our frontliners."
As everyone looks forward to a better 2021, Tata said he said that while fashion is here to stay, it must offer something new.
"The designs [are] still there. The craftsmanship [is] still there. Nothing changes. But we need to do something new. Just continue the good work, do a good job."
His wish for the Philippine Fashion Industry?
"As a country blessed with an abundance of different natural resources we can see that there are a lot of artists in every province that unleashes creativity in every aspect of styles, intricate details of every costume, and textiles that we can bring internationally. All I dream is to have sustainability in the Philippine fashion industry. A sustainable growth, a future that aims to bring local designs globally for the benefit of local Filipino workers, retailers, and those who work in this field of artistry," he said.
"As we strive to produce a world-class piece in the midst of crisis we must maintain our economy afloat by means of raising a fashion style rich in pride and honor as a Filipino, as an industry that delivers great quality to the world's demand, to love our products locally with a noble purpose and passion." – Rappler.com