The Philippines is home to many such beautiful lagoons, some of them listed below. Book a ticket and take in the beauty and stillness of one or more of these
There is something magical about lagoons. From a sea of wind and waves, you enter still waters, sometimes with a quiet broken only by birdsong. The water has the glassy smoothness of a lake but with the saltiness of sea. A once open sea is now embraced by natural formations like cliffs and trees. (READ: IN PHOTOS: 8 PH lakes to add to your travel bucket list)
Lagoons are like pauses, sanctuaries from continuous sea waves. 
The Philippines is home to many such beautiful lagoons, some of them listed below. Book a ticket and take in the beauty and stillness of one or more of these.
1. Small Lagoon, El Nido, Palawan
An opening between two rocks will lead you inside this lagoon, which you can explore by kayak or by swimming. Small Lagoon's crystal-clear waters are encircled by jagged limestone cliffs dotted with trees.
While the lagoon is named "Small Lagoon," it is quite large, with a kayak best taken to see the entire stretch. Take your kayak to easily reach small, quieter corners walled off by rocks, and even a cave at the end of the lagoon. (READ: IN PHOTOS: Which of these 5 Palawan destinations will you visit next?)
How to get there: Take a flight to Puerto Princesa. From the airport, take a tricycle to the van and bus terminal. Ride a van or bus to El Nido (usually 5-6 hours), then take a tricycle to town. To see Small Lagoon, arrange island hopping Tour A (which Small Lagoon is part of) with tour agencies in El Nido or with your accommodation's staff.
2. Big Lagoon, El Nido, Palawan 
Adjacent to and on the same island as the Small Lagoon, the Big Lagoon lives up to its name, with an entrance wide enough for several outrigger boats to enter simultaneously, and the lagoon itself wider than that. The karsts here are massive and towering, with some as high as buildings. 
A boat ride during high tide is the best way to see the entire lagoon. Enjoy the many shapes and sizes of the karsts, and the clear waters which turn emerald as the waters deepen.
How to get there: Since the Big Lagoon is also part of El Nido's Tour A, follow the same directions for Small Lagoon. 
3. Twin Lagoon, Coron, Palawan 
Twin Lagoon is indeed two lagoons, separated by karst walls. The bigger lagoon is where the outrigger boats pass, and has deeper, darker waters. The smaller lagoon can be reached by swimming through an opening visible only during low tide. During high tide, this lagoon can still be easily entered through an opening accessible by ladder. 
The smaller lagoon has deep and quiet emerald waters. Even with their depth, the waters are clear enough for you to occasionally see fish and other marine life. Swim or float away as you take in the stillness of your surroundings. (READ: Discovering the jewels of Coron)
How to get there: Take a flight to Coron. From the airport, take the 45-minute shuttle to Coron town. Take a tricycle to the jump-off for boats, where the boats for island hopping are. You can also have your tour arranged with your accommodation's staff. Twin Lagoon is part of the Coron Island Loop tour.
4. Homoron Blue Lagoon, Mahatao, Batanes
Amid Batanes' raging and frothy waves is Homoron Blue Lagoon, a quiet sanctuary of deep blue green. A sloping rocky trail will lead you down to its refreshing waters. Best to take a dip during the summer, when the winds are less likely to be rough. 
The lagoon is also known among locals as the Spaniards' Blue Lagoon as during Spanish colonial rule, the Spaniards claimed the lagoon for themselves and only they swam its waters. Now, the lagoon is open to locals and tourists alike.
How to get there: Take a flight to Basco. Hire a tricycle to take you to the lagoon or join a South Batan tour (the lagoon is part of the tour) arranged by tour operators.
5. Paguriran Lagoon, Sorsogon City, Sorsogon  
From Paguriran beach, a rock island is visible not far out – except that it is no ordinary rock island, but a lagoon of clear waters encircled by rugged rock formations. At low tide, Paguriran Lagoon can easily be reached by foot from the beach, though it is most beautiful at high tide, when water fills the entire lagoon. This is also the best time to see it from above one of the rocks. Follow the trail for the best vantage point.
Low tide or high tide, you can easily take a dip in this lagoon that looks like a rock island from the shore. 
How to get there: Take a Sorsogon-bound bus from Pasay or Cubao bus terminals (12-14 hours). For a shorter trip, take a flight to Legaspi, then a two-hour van ride to Sorsogon City. Ride a jeep to Sawanga to get to Paguriran, which takes around two hours. From the main road, the beach is just a ten-minute walk away.                 
6. Tangke Saltwater Lagoon, Carles, Iloilo
Part of Islas de Gigantes, a chain of islands in Northeastern Iloilo abundant with beautiful white beaches, is Tangke Saltwater Lagoon. Tangke has clear, shallow waters closed off by sheer limestone cliffs similar to Palawan's. Locals also call it "Enchanted Lagoon," with the belief that enchanted beings live there, and thus warn tourists not to make noise in the lagoon.
It is best to come here during the summer as boats cannot usually stop outside the lagoon when the waves are strong. A quick climb through rocks will take you inside Tangke.
How to get there: Take a flight to Iloilo. Then take a multicab to Jaro's Tagbak Terminal, where you will ride a bus (3-4 hours) or van (2 ½-3 hours) to Carles or Estancia. From Carles or Estancia, ride a passenger boat to Gigantes (1 ½-2 hours). You can then hire a pump boat to explore the islands.
Alternatively, instead of flying to Iloilo City, you can fly to Roxas, which is closer to Estancia than Iloilo (just two hours away by bus). Follow the abovementioned directions from Estancia.
7. Danjugan Island Lagoons, Cauayan, Negros Occidental 
Danjugan Island is an unspoiled sanctuary with marine life so rich you can already see much in waters only ankle-deep, and with different species of birds circling the sky, among them sea eagles. It is also home to quiet white beaches and lagoons surrounded by mangroves and craggy formations.
Enjoy the corals, brightly-colored fish, and moray eels as you kayak or walk around the Third Lagoon or Moray Lagoon. On some areas you will hear the call both of birds and bats. Kayak around the bigger, lakelike First Lagoon hemmed in by sloping, tree-rich rock formations. Savor the silence as you watch eagles soar above. Even in rainy weather, Danjugan's lagoons remain beautiful, with shades of mirror-gray and deep emerald. 
As part of its conservation efforts, Danjugan limits number of guests in the island, so make sure you have a reservation. Visit their website or Facebook page. (READ: The wild, unspoiled beauty of Danjugan Island)
How to get there: Take a flight to Bacolod. Ride a multicab or taxi to the South Ceres Bus Terminal. Take the bus to Hinoba-an and get off at Cauayan (4 hours). Ask the conductor to drop you off at Crossing Remollos-Quadro de King in Barangay Bulata. Walk to the shore, and from there a boat will pick you up to take you to Danjugan 5-10 minutes away.      
8. Sohoton Blue Lagoon and Tojoman Lagoon, Socorro, Surigao del Norte 
Part of Bucas Grande Island in Surigao, Sohoton is a maze of forest-covered islets and caves amid aquamarine waters. You enter its stillness through a cave passable only during low tide. Its Blue Lagoon, aptly named because of the water's colors, is walled off by limestone formations thick with trees. There are caves to explore and cliffs to dive from here. (READ: Perfect for summer: 8 cool-weather PH destinations)
The highlight for many travelers, though, is the Tojoman Lagoon, which teems with stingless jellyfish. (READ: The enchanting blue river of Hinatuan, Surigao del Sur) 
Tojoman is even quieter as only paddle boats are allowed here; you will have to transfer to one from the pump boat. Jellyfish season starts March, ending with peak months around July and August. (READ: The hidden world of Bucas Grande Island) 
How to get there: Take a flight to Surigao City. Ride a tricycle to Surigao Pier, then take the three-hour passenger boat to Socorro. From Socorro, hire a boat to Sohoton. For a faster trip, from Surigao City you can take a one-hour bus ride to Hayanggabon Port, then hire a boat to Sohoton. (READ: Head to 'Borawan' and these 5 unspoiled PH beaches)
9. Blue Lagoon, Cantilan, Surigao del Sur
Stingless jellyfish can also be found in a lesser-known yet beautiful lagoon, the Blue Lagoon in Cantilan. Rock formations with rich greenery surround the clear waters that reflect the sky's blue and the trees' green. A strip of these rocks separate the lagoon into two areas, one with structures like cottages and a ten-foot-high diving board, and a quieter area surrounded by greenery.  (READ: Hit the road: Cool off at these 5 PH waterfalls)
Blue Lagoon is part of General Island off the coast of Cantilan.                             
How to get there: Take a flight to Surigao City. From the city terminal, ride a bus or van to Tandag and get off at Cantilan (2 hours). From Cantilan terminal, take a tricycle to Consuelo port, the jump-off point to Blue Lagoon. Hire a pump boat to take you there.
10. Great Sta. Cruz Island Lagoon, Zamboanga City 
Great Sta. Cruz Island in Zamboanga City, the bigger of two Sta. Cruz islands, is well-known for its beaches with pinkish white sand. Not many travelers know, though, that it also has a clear, beautiful lagoon fringed not by rocks but by mangroves. Ask your boatman to take you there during high tide. 
The mangroves are home to fruit bats, and you will likely find them hanging upside down from branches, or even flying away.
How to get there: Take a flight to Zamboanga City. Ride a tricycle to Paseo del Mar, or a multicab then a walk to Paseo's port. Hire a boat to the island. The ride takes around 45 minutes. It is best to book with the tourism office, a short walk away from the port, beforehand. 
Will you be traveling soon? Tell us about your experiences in the comments below. – Rappler.com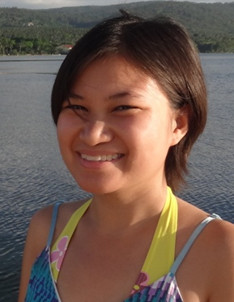 Claire Madarang is a writer, traveler and seeker. Her wanderlust takes her on adventures like backpacking for 7 weeks straight. Her seeking leads her to different wellness practices like meditation and healthy (mostly vegetarian) eating. Follow her adventures, tips and epiphanies at her blog, Traveling Light.