My recent visit to the 'City of Goodwill' brought me to places where locals usually dine. Let's take a look at these great eats as well as the beautiful locations
Situated at the heart of south central Mindanao, Tacurong City sits at the crossroads of Davao-Gensan-Cotabato highways. It is the only city in the province of Sultan Kudarat and was proclaimed as a chartered city on September 18, 2000.
This relatively young and progressive city used to be a part of the town of Buluan. It became a separate municipality on August 3, 1951 and has since then turned into a vibrant location.
Tacurong is proud of its multicultural society as it is home to migrants from the Islands of Panay and Negros, Ilocos, Cebu as well as Moro tribes such as Maranao, Tausug and Maguindanao. Because majority of the migrants were from Panay and Negros, Hiligaynon became the most dominant language
Tacurong City offers interesting and delectable cuisines that will surely satisfy one's gastronomic cravings. My recent visit to the City of Goodwill brought me to places where locals usually dine.
Here is my list of must-try food in the city.
Kansi at Palm Bistro
Kansi is an Ilonggo dish which is often compared to a sinigang and bulalo due to its sour broth and bone marrow. Palm Bistro offers this sumptuous soup dish at very affordable price.
Fresh Lumpia and Palabok at Fortune Place
For over 40 years, Fortune Place has continued to offer the best fresh lumpia and palabok in Tacurong City. Ask a local and chances are he/she has already tried Fortune Place's array of comfort food. They offer generous serving at very cheap prices.
Native Chicken Bulalo at El Favoritos
If you are into something peppery, you must try El Favorito's Native Chicken Bulalo. Yes, it's made of chicken instead of the usual beef shank. You'll love the tenderness of the chicken as well as the spiciness of the broth.
Grilled Native Chicken at Nandings
Never leave Tacurong without trying the sumptuous and tasty native chicken and hito at Nanding's BBQ and Lechon Manok. Locals flock to this place to have a taste of their delicious native chicken. There is nothing fancy about the place but the food will speak for itself!
Local delicacies from the women behind the Self Employment Assistance Kaunlaran Program of Tacurong City
A group of women – mothers, unemployed adults, and out of school youth – was assisted by the local government unit to come up with a livelihood program.
They were trained to market their products mostly food items which made them earn a living. Some of the must try delicacies are their bibingkang kanin and coco piaya. There's a lot more so come, visit Tacurong now.
Aside from the wonderful eats, you can also visit for their festival or experience their local culture through various festivals and events.
Talakudong Festival
Talakudong Festival is an annual streetdancing and field demonstration competition held every 18th of September to celebrate the city's unique culture.
Talakudong comes from the word "kudong" which means headgear, used by the early settlers of this part of the country. What makes this festival distinct is the use of the Kudong. It's the main element of the festival and is depicted in every participant's presentation. The kudong used are usually painted in vibrant colors which make them more attractive.
This year, Tribu Kudong from VF Griño National High School and North Tacurong District bagged the championship trophy as well as all the special awards. Tribu Kadsayap from AS Bernardo National High School, Raja Muda National High School, and South Tacurong District took home the 1st Runner Up award. Tribu Manubiaw from Tacurong Pilot Elementary School on the other hand emerged as the 2nd Runner Up.
Baras Bird Sanctuary
Baras Bird Sanctuary is a popular eco-tourism site in Tacurong City and is one of the 101 things to experience in Mindanao featured in the Department of Tourism's Mindanao Fun 101 magazine. The sanctuary is home to over 20,000 species of birds, mostly herons and egrets, living in harmony.
Mr. Rey Malana owned the land where the birds found home. It used to be a peppercorn farm before it became a bird sanctuary.
Baras Bird Sanctuary is located about 20-30 minutes away from the city proper. It is reachable by all types of vehicles as the road is already paved. If you are commuting from the city, your best option is to charter a tricycle and have the driver wait for you.
Handicrafts made From water hyacinth
Water hyacinths are often seen as a source of trouble in the towns surrounding Liguasan Marsh. But, in Tacurong City, a group of women is making money out of this aquatic plant.
Mrs. Melinda Bonayos, owner and proprietress of Double Day Handicraft in Purok Onse, Poblacion is Tacurong's pride in water hyacinth hand-weaving.
She teaches local women the art of making handicrafts made from water hyacinths. The process starts by drying the stalks of water hyacinths. After, they make braids and twines out of the dried stalks. These are the materials used in making pouches, bags, belts, slippers and other accessories.
Kalakat Weaving
Kalakat weaving is one of the thriving industries in Tacurong City. Since Palm Oil trees are abundant, locals use its fronds instead of the usual bamboo slats in making their Kalakat. It only costs a little over a hundred to buy a ply board of Kalakat.
Will you be visiting Tacurong? Tell us about your most recent travel stories in the comments below. – Rappler.com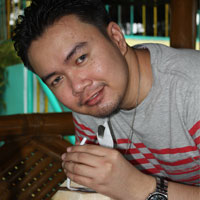 Glen Santillan is a freelance HR Consultant and a travel junkie. He has backpacked around the Philippines in 50 days by land. He is currently the Vice President of the Davao Bloggers Society. He is the writer behind Escape Manila, a Pinoy travel blog.