As a visual journalist, I've been assigned to many challenging and exciting events in the past. None compare to the physical demands of this trek, part of one of the most gratifying journeys I've ever taken
HIMALAYAS, Nepal –  It's the middle of autumn. The monsoon season has just gone by and winter is just about to set in. The weather is just as pleasant as the mountain views, making it the peak season for trekkers from around the world. 
For the next 10 days, I would trek through different landscapes, cross numerous towns and forests and climb thousands of feet to document and photograph part of the journey of a Philippine mountaineering group as they try to climb Ama Dablam, one of the most technical climbs in the Himalayan mountain range. 
Our trip begins with a short adrenaline-filled flight out of Kathmandu through a maze of mountains and valleys, inside a small 10-seater airplane. After landing at what is rated as the most dangerous airport in the world, we arrive at Lukla, a small town in the northeast region of Nepal, marking the start of our journey. (READ: Why Nepal should be part of your travel bucket list) 
Considered the gateway to the Khumbu region, it is also the jump-off point for anyone about to climb Mt. Everest. As we set off  on our trek, the thin crisp cold mountain air fills my lungs, giving me my first taste of the effects of high altitude.
I was traveling relatively light with just a small backpack and two cameras slung around my neck and yet my unacclimatized body made it feel like I was carrying tons more. We walk out of Lukla through a narrow stone path, passing chains of little trekking shops tempting me with gear I may have forgotten. Just a few minutes into the trek and we are met with views of the majestic Himalayan mountain ranges.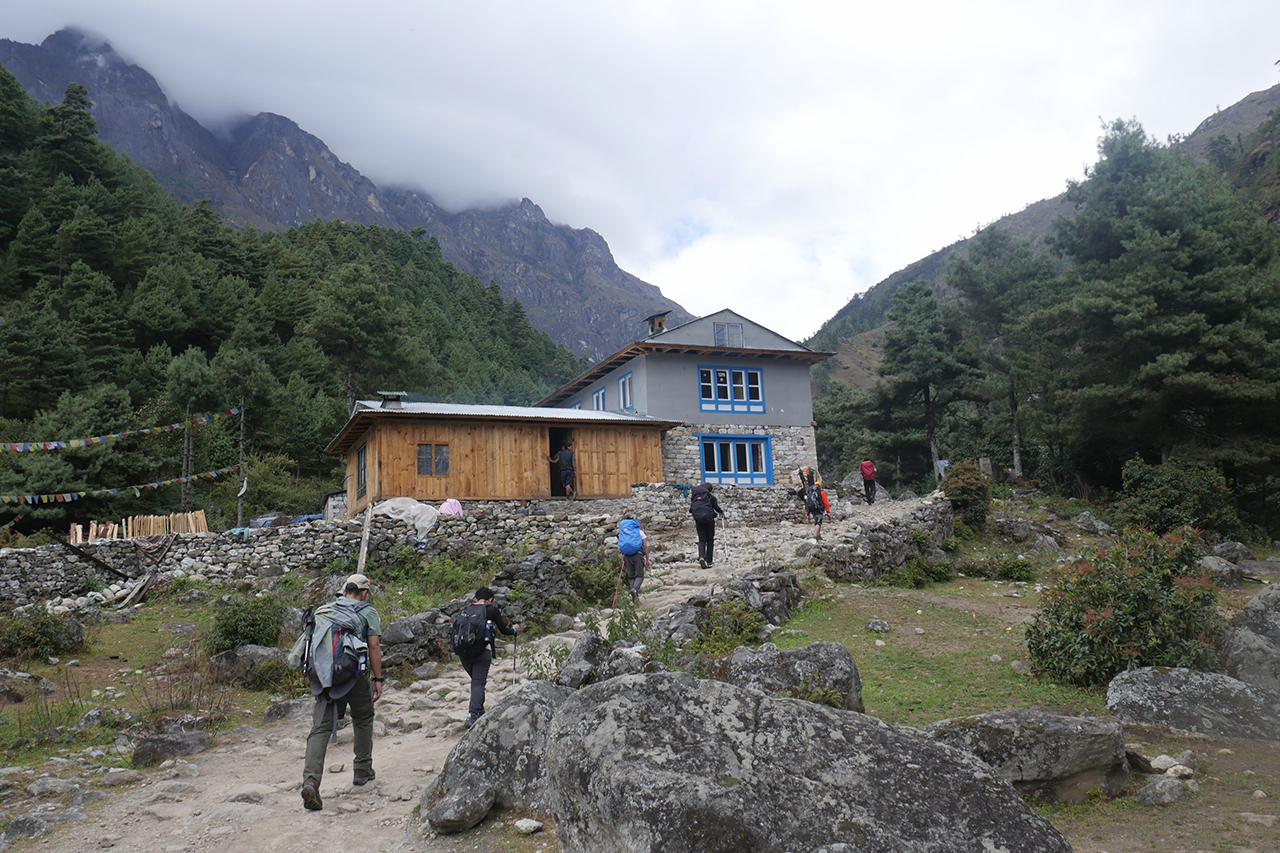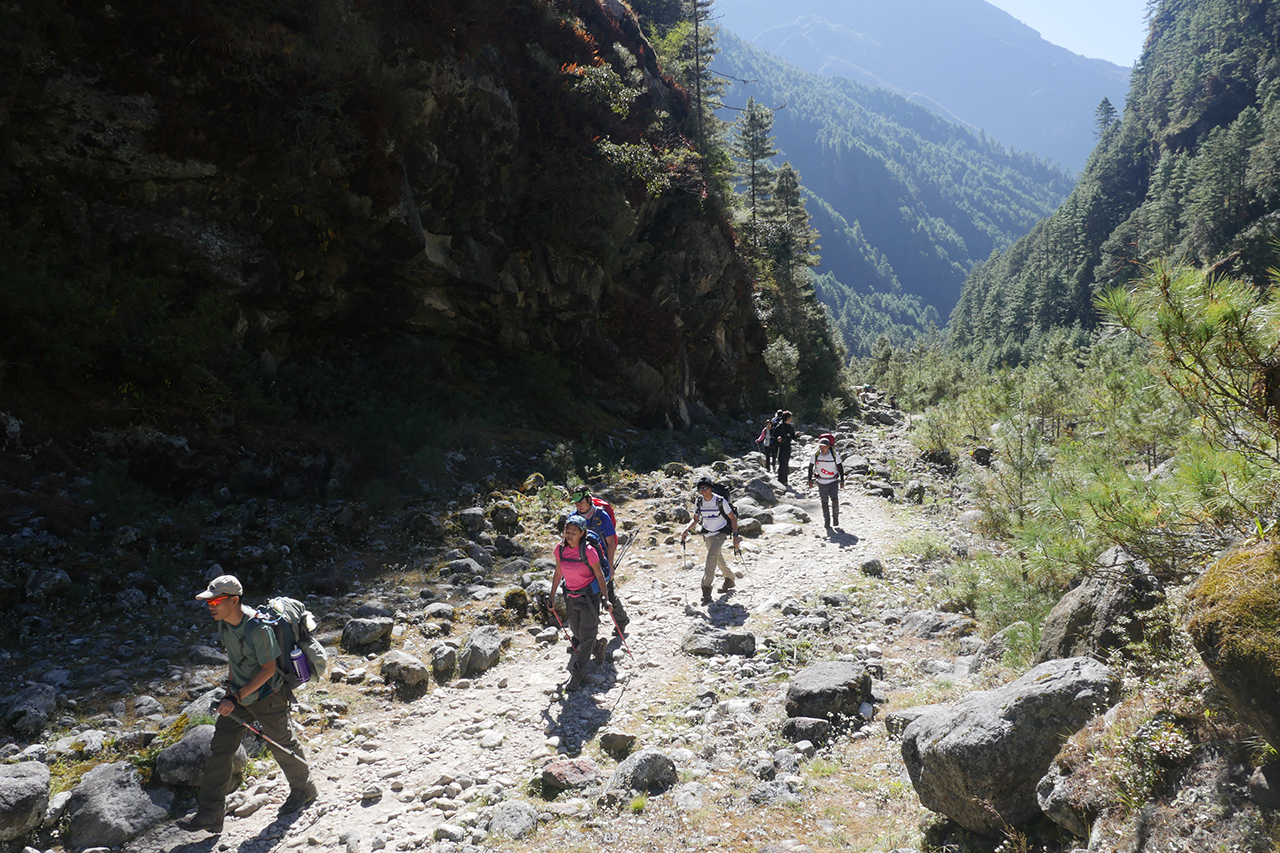 A few hours in, while trekking amidst the high mountains and deep gorges, my mind gets preoccupied with visions of those who have gone before me. All those who have climbed Mt. Everest – or are about to climb it – have to walk the same route as it is the only way. This thought gives me a strange sense of bravado despite the many who have gone before me.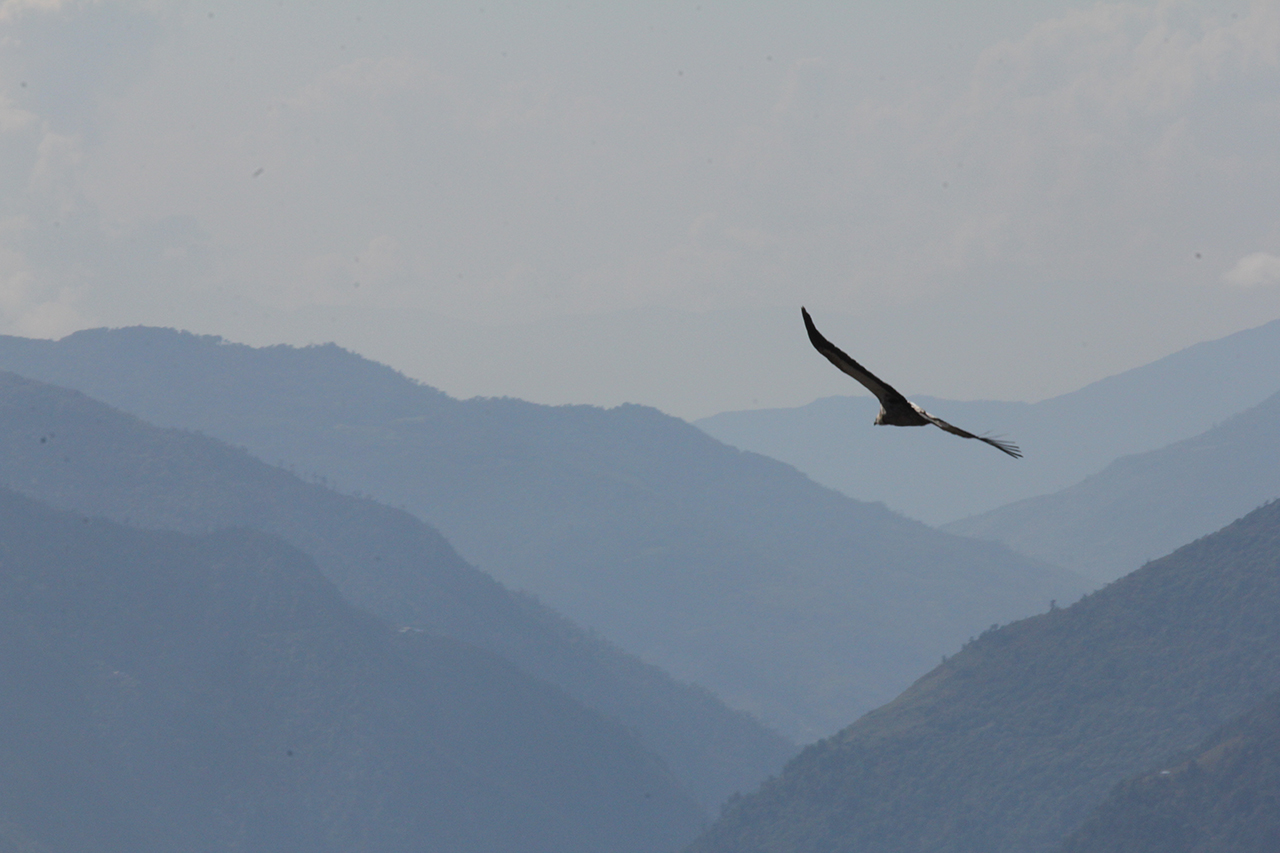 Commonly seen along the paths are Mani stones. These are smooth stone tablets inscribed with the mantra "Om mani padme hum" written in Sanskrit. It is a form of Tibetan Buddhist prayer. In some places, these tablets are compiled and form Mani Walls, which could stretch up to kilometers long and reach about 10 feet high. We also come across numerous "prayer wheels", hollow metal cylinders, often beautifully embossed, with the same mantra inscriptions. Our guide tells us that spinning these prayer wheels is just as effective as reciting the sacred texts aloud, consequently giving one blessings and good luck.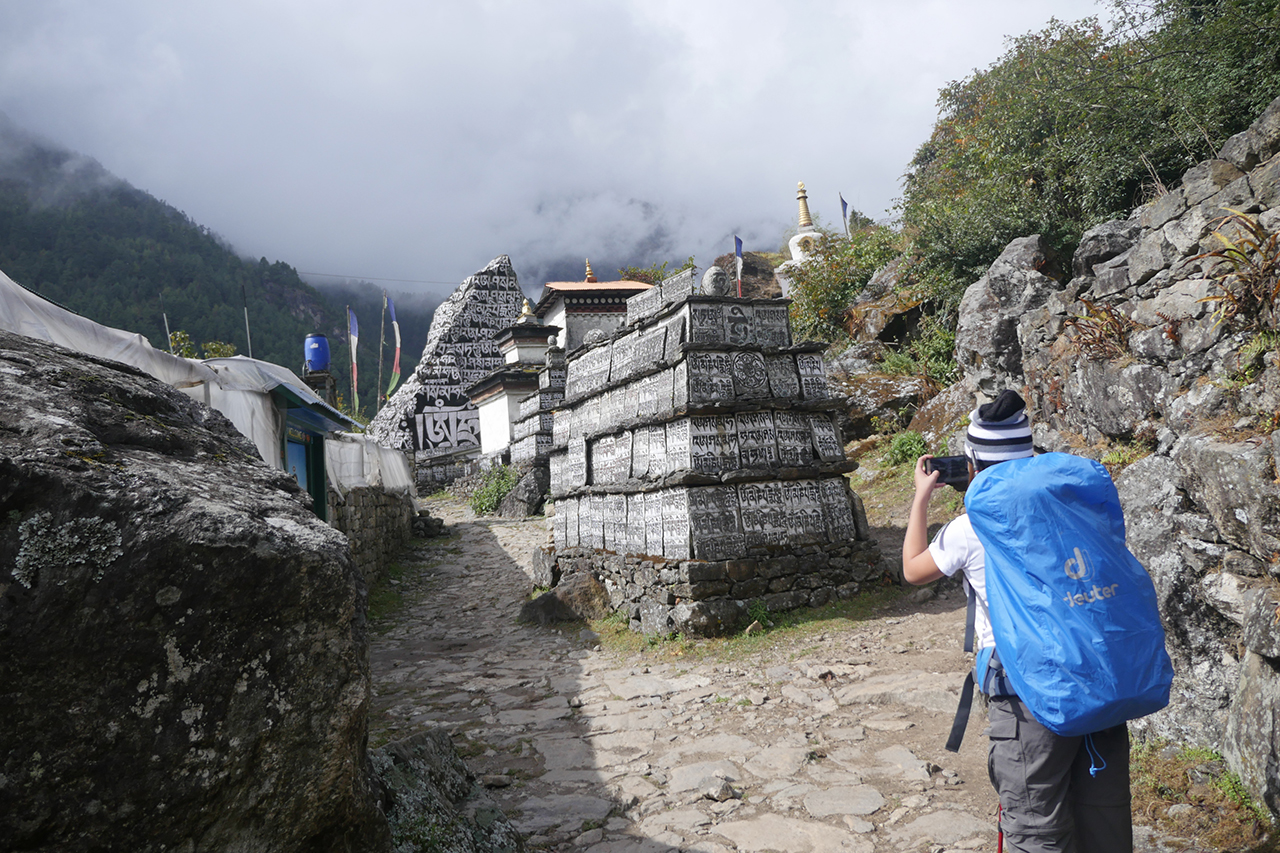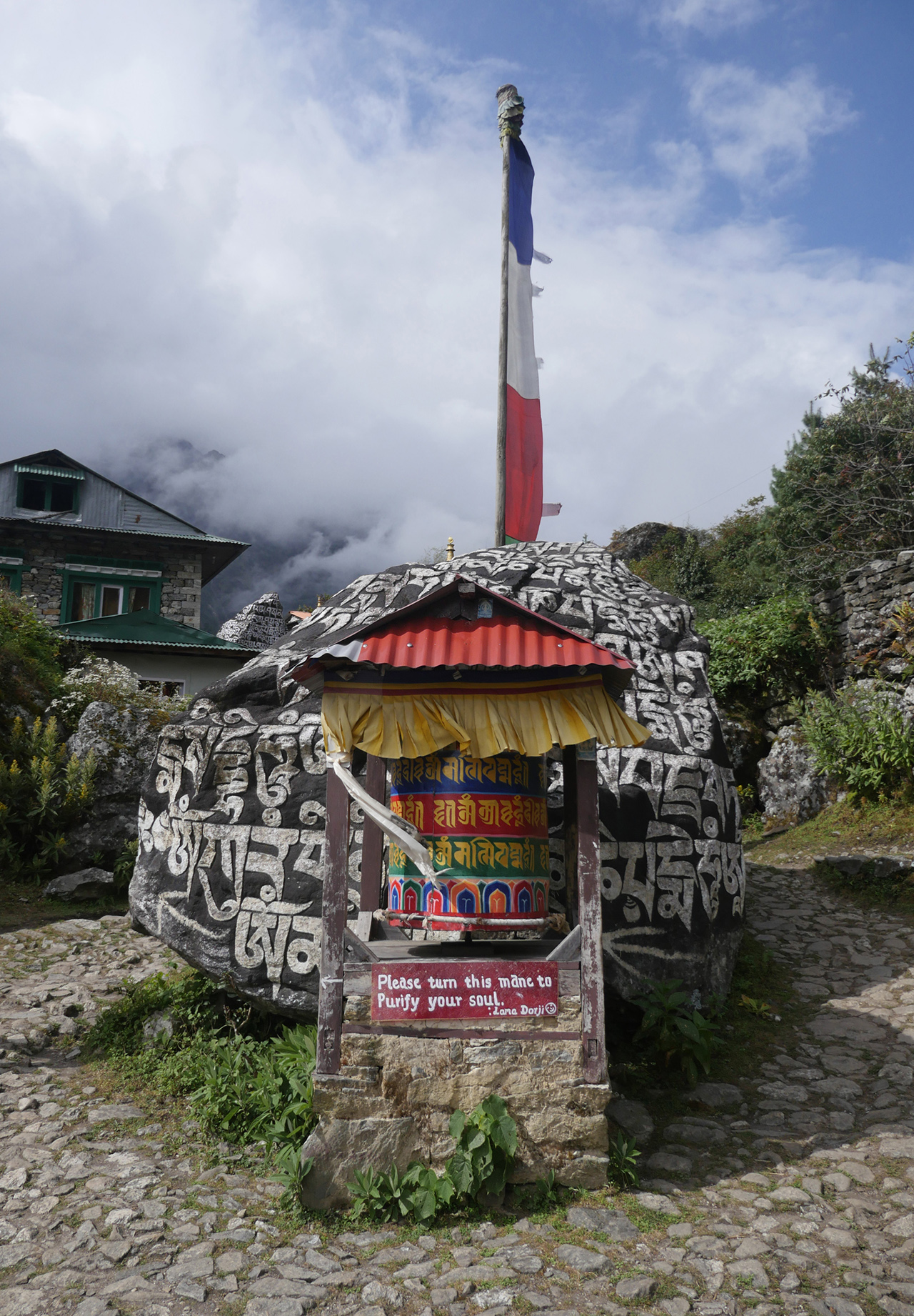 After over 6 hours of trekking, we end our first day in the small town of Chummoa. We spend the night in a little teahouse (teahouses are essentially small hotels found in most local villages that offer both a place to sleep as well as home-cooked meals). After having the traditional local favorite Dhal Bhatt (rice & lentils) for dinner, we call it a night and rest for what would be one of the most physically challenging parts of our trek.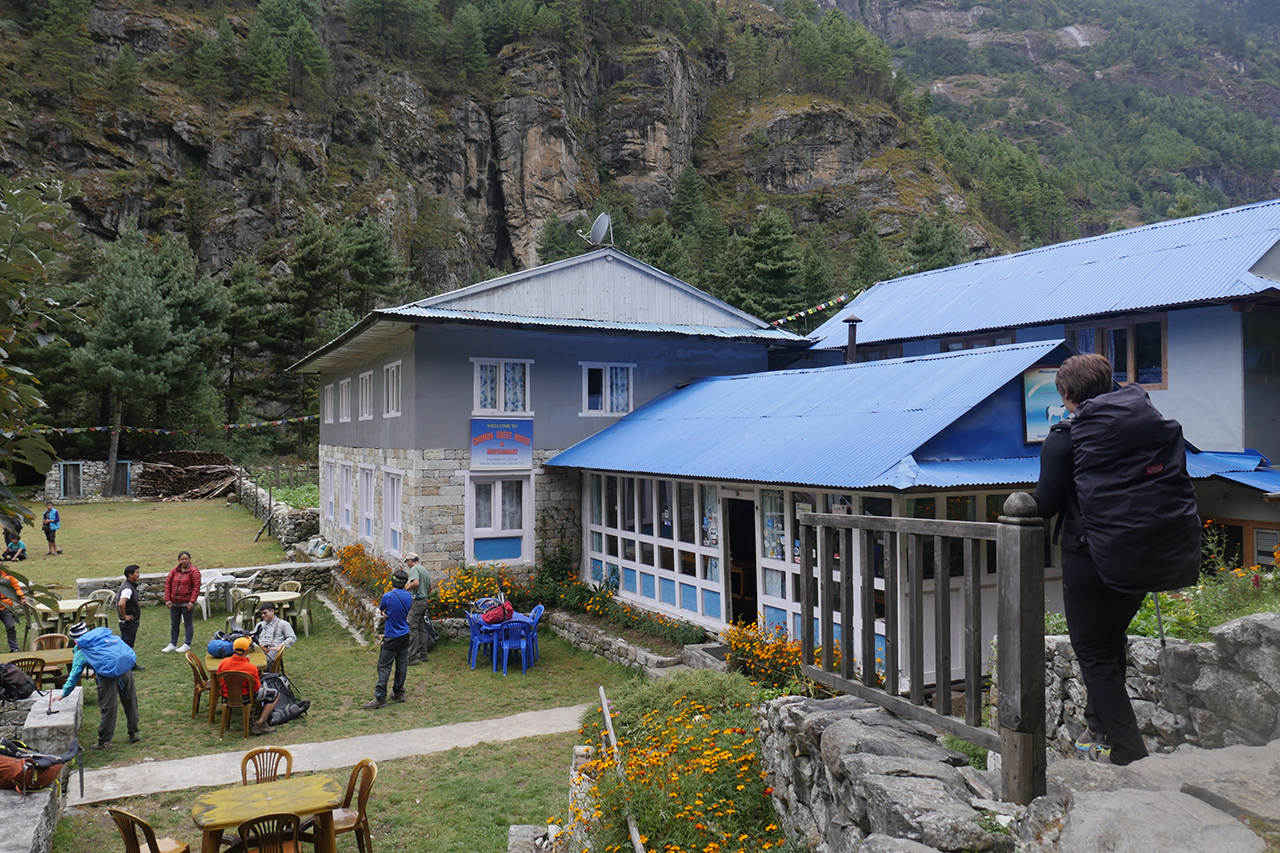 Just as the sun is about to rise, we start the difficult trek from Phakding to Namche Bazar. This part is infamous for its long consistently steep uphill climbs and the numerous high suspension bridges that you have to cross throughout the trek. Again, my bag and cameras felt 10 times heavier and just taking 3 small steps felt like walking a mile. Switching between cameras and taking photos had me gasping for air.
This part of the trek is also one of the busiest sections, we continually come across other trekkers, locals and the frequent traffic of yaks and porters carrying supplies to and from Namche.
After about 6 hours of arduous uphill trekking, and around 2,000 feet of gained altitude, we finally reach the picturesque town of Namche Bazar. We arrive exhausted, but with a great sense of accomplishment knowing that we've just completed this difficult leg.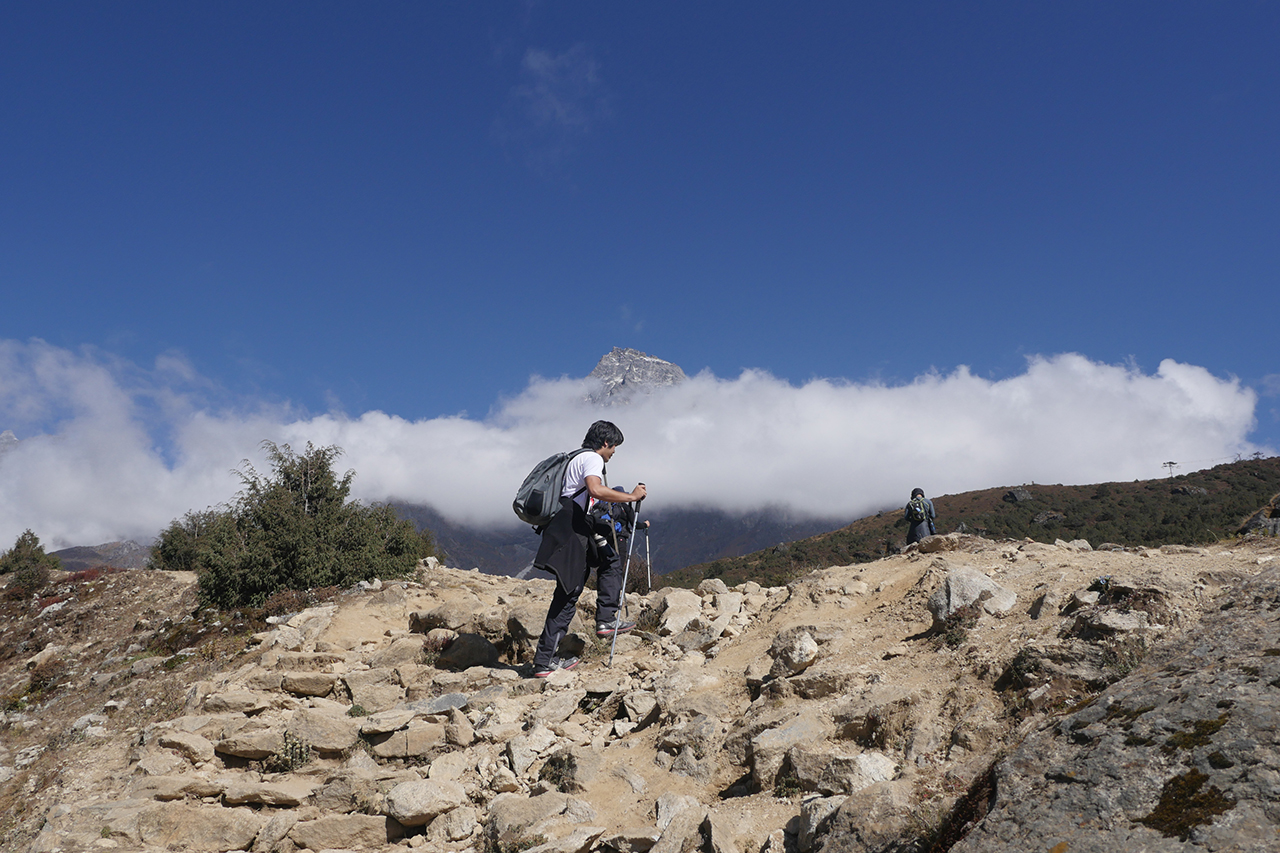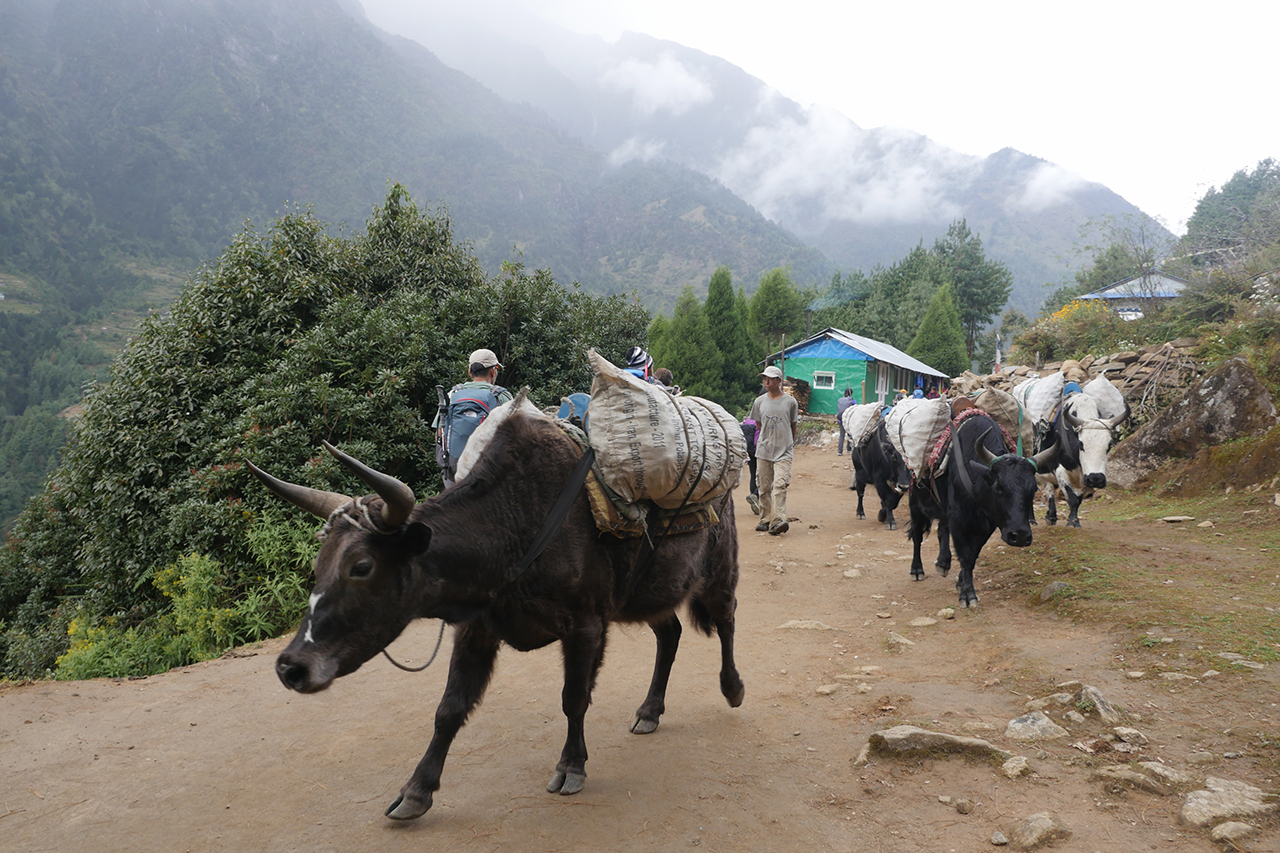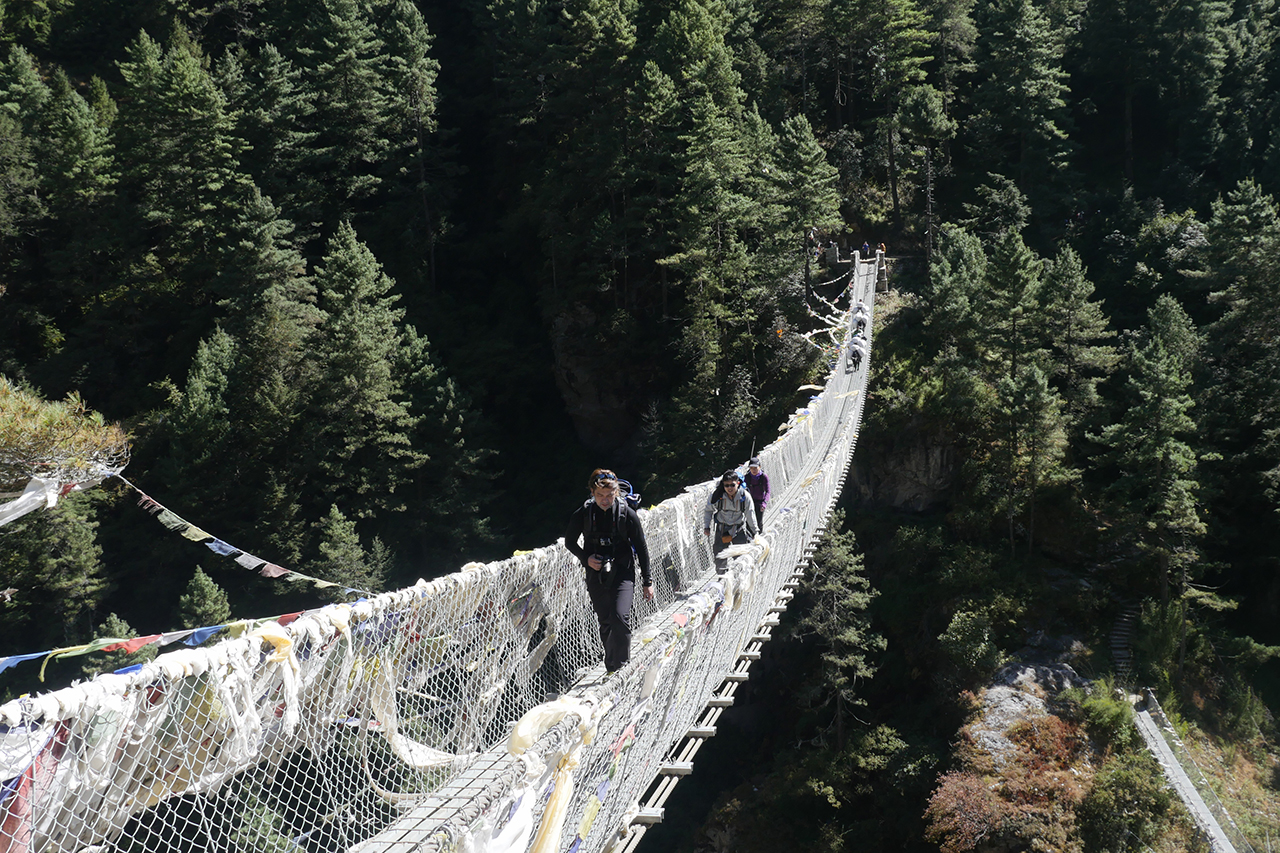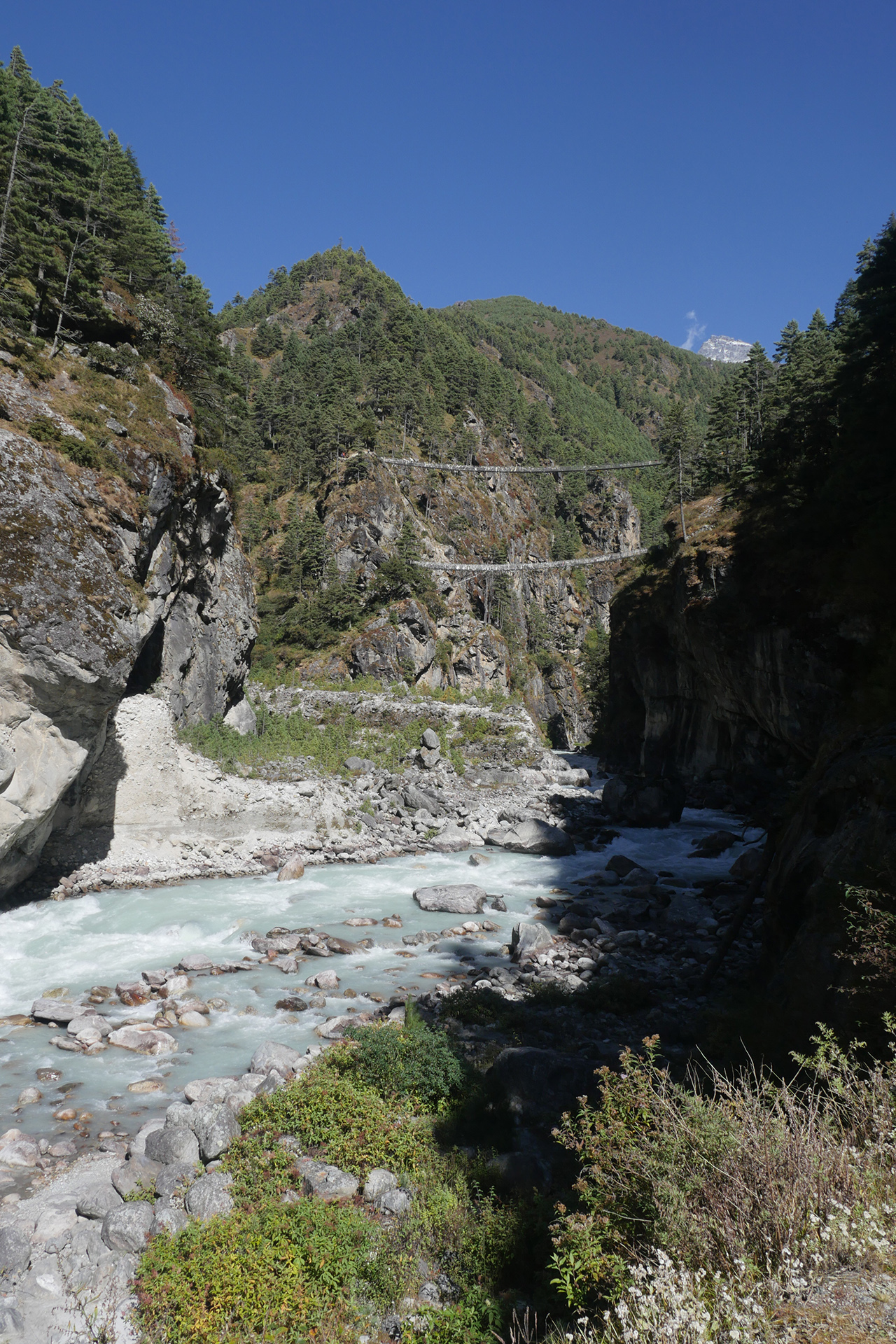 The town of Namche sits on a crescent-shaped slope along the Khumbu Valley. There is something about this town I find charming in that most of its structures are quaint in design yet a lot are filled with modern Internet cafés, coffee shops, karaoke bars and even Irish pubs. There is also an abundance of trekking and souvenir shops lined along the alleyways all around town, making it feel somewhat like a small shopping center.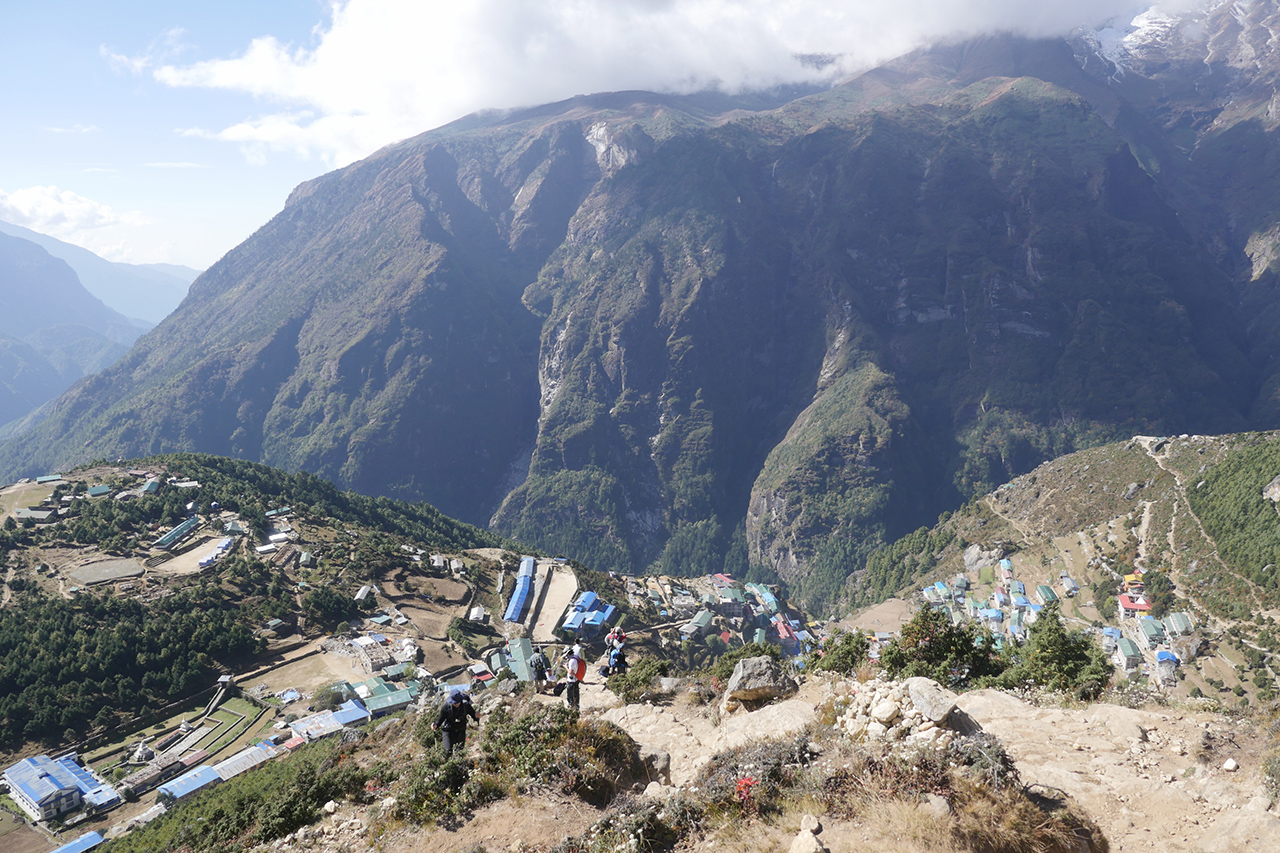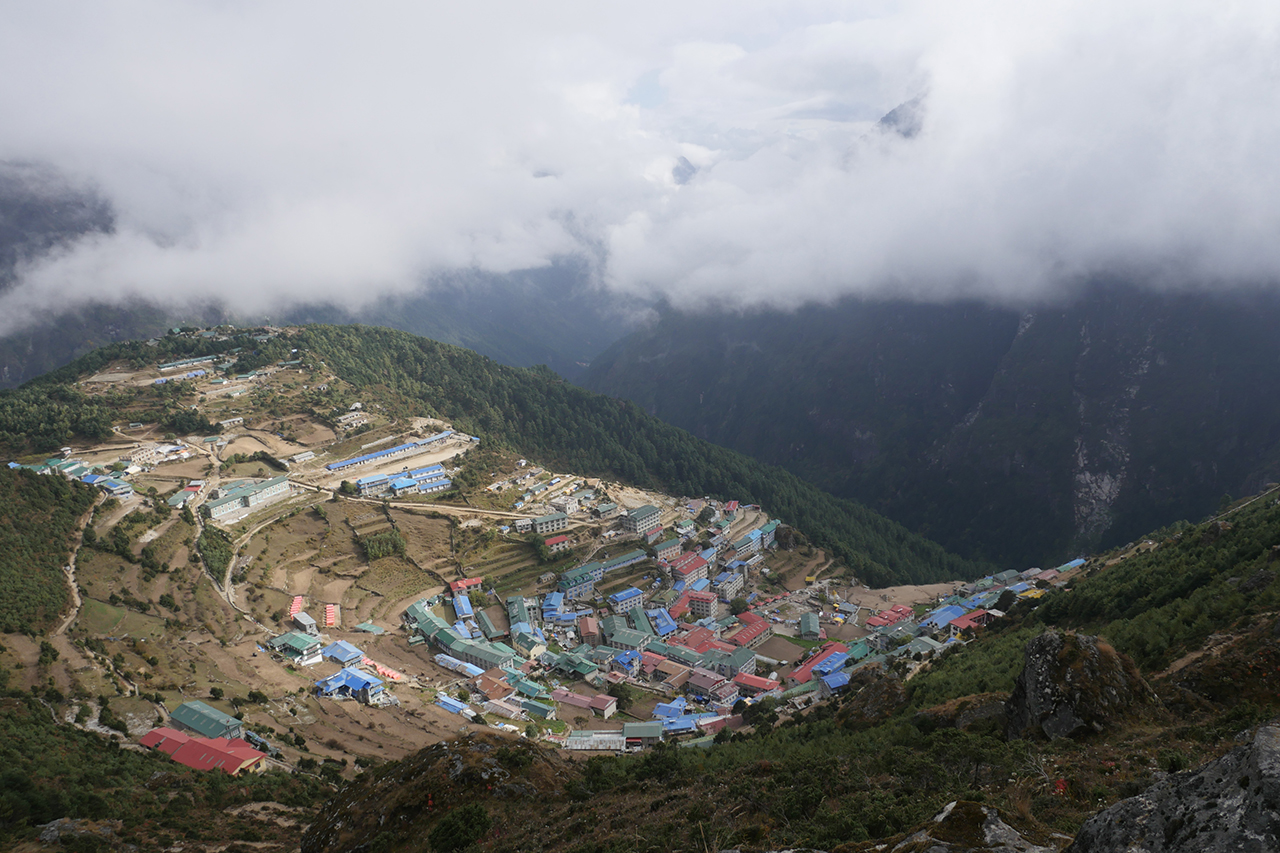 The next morning, we had our acclimatization trek to Khumjung, a 3-hour walk from Namche. One of our stops on the way is Everest View Hotel, the highest luxury hotel in the world sitting at 12,700 feet above sea level.
Here we see breathtaking views of Mt. Everest, Lhotse (the 4th tallest mountain) and Ama Dablam. After a couple of minutes taking in the majestic views and taking photos, we continue on with our trek.
Khumjung is similar to Namche in that it is also carved into the side of a mountain. It is also home to the largest school in the Khumbu region. We walk around Khumjung school, a school that was built with the help of fund raising efforts by Sir Edmund Hillary (the first person to summit Mt. Everest), then head down to Syangboche, then making it back to our teahouse in Namche just before dark.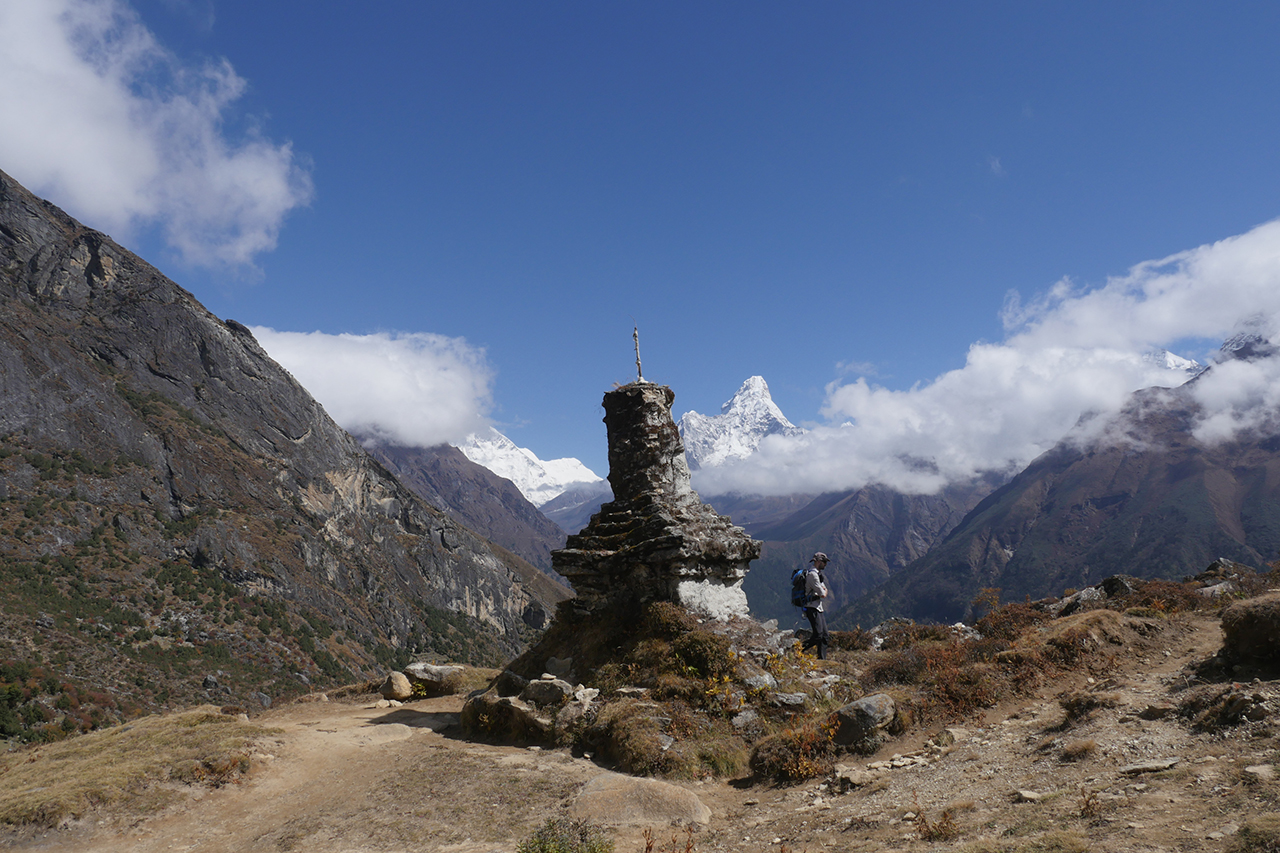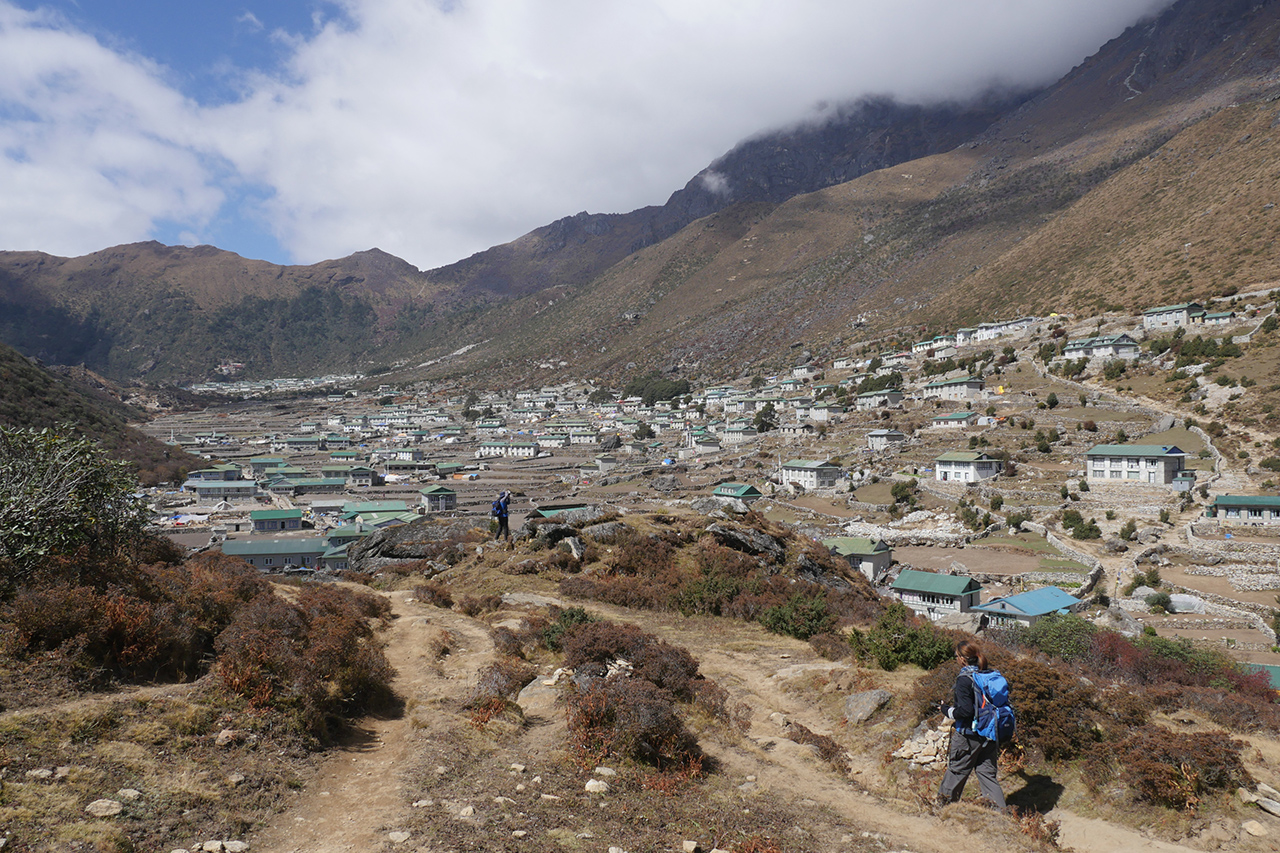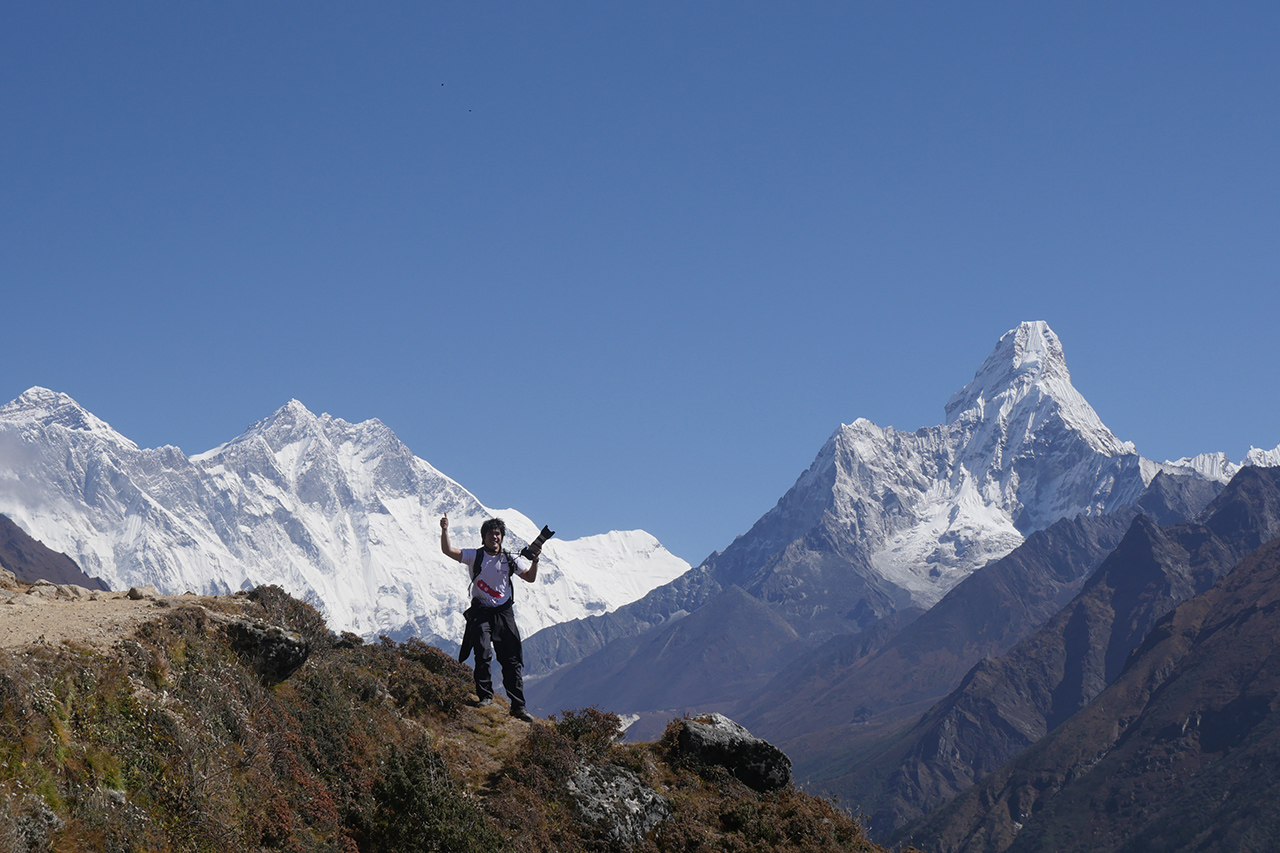 We woke up the next day to clear blue skies revealing the numerous snow-capped peaks towering behind Namche. My partner, our sherpa and I got ready to head back to Lukla while the rest of the team continued on to Everest Base Camp.
What took us 2 days to get from Lukla to Namche only took us 8 hours going back since our bodies were more acclimatized to the altitude. We arrived at Lulka at dusk and spent the remaining hours sharing stories over dinner and their local craft beer, to celebrate the end of our trek.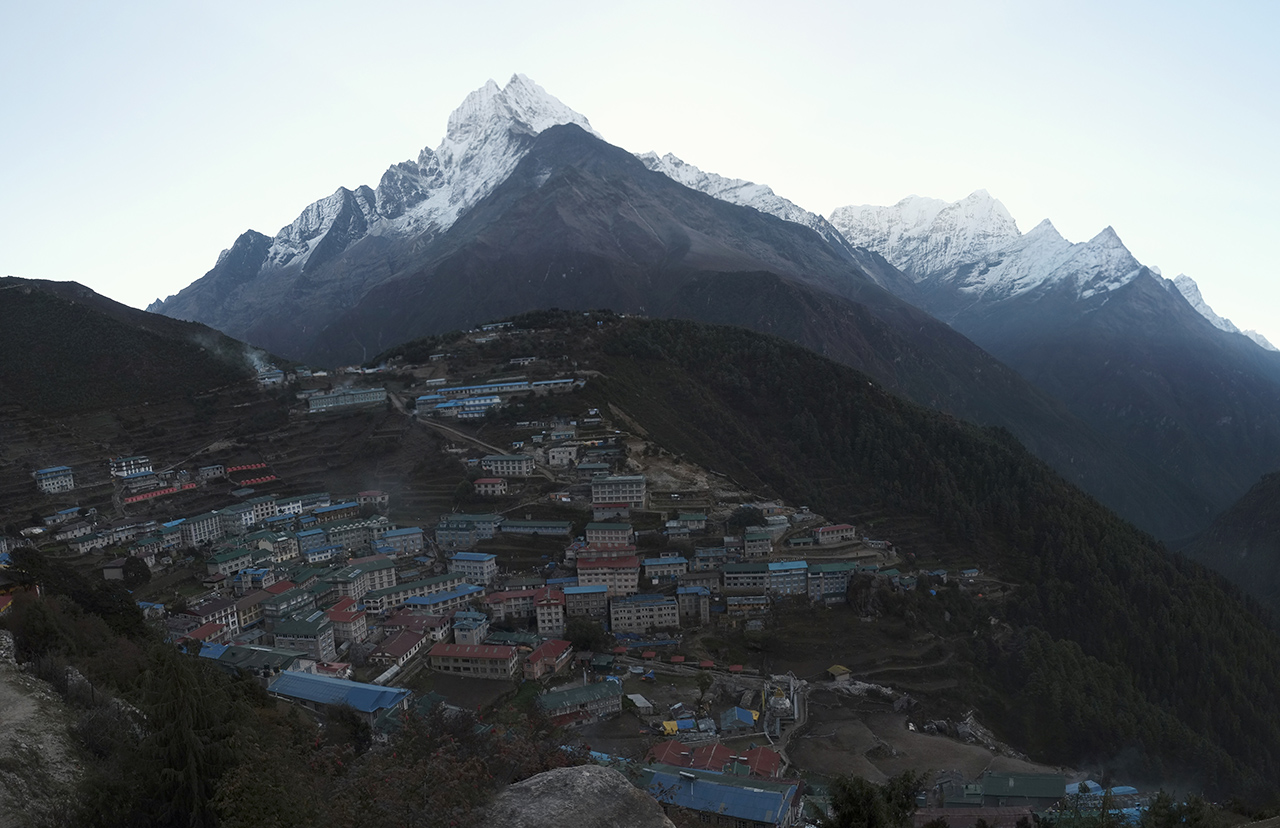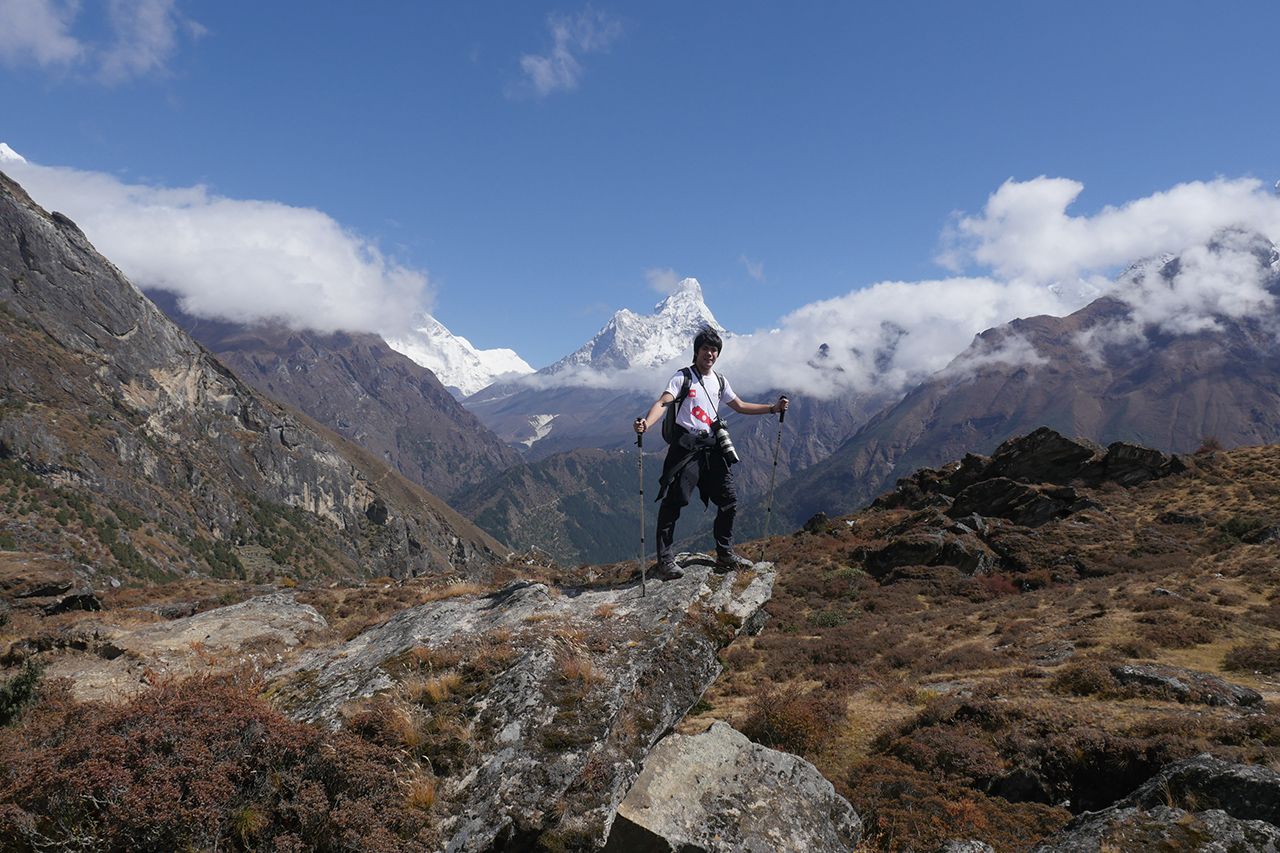 As a visual journalist I've been assigned to many challenging and exciting events in the past. From dodging bullets while filming in the middle of a war zone, to covering the biggest sporting events in the world. From filming the most beautiful places in our country to documenting the deadliest storms that ever hit it. From politics to entertainment.
None compare to the physical demands of this trek, the 7-hour, high-altitude treks per day across rough terrain, all while trying to cope with the pace of the mountaineering group to be able to photograph them.
The challenge of it all also made it the most gratifying, that I was able to overcome and accomplish something I have never done before.
The mix of breathtaking scenery, fascinating culture, and a personal sense of achievement, as well as the warm hospitality of the Nepalese people made this trek one of the most unforgettable experiences I've ever had. – Rappler.com
All photos by Adrian Portugal/Rappler