This is AI generated summarization, which may have errors. For context, always refer to the full article.
Staying in the city or looking to travel this Christmas? Take a look at these magical destinations that shine bright during the holidays in the Philippines
Christmas usually comes not only with celebrations, gifts, and reunions, but also colorful lights and decorations. There are some places in the Philippines, though, that beautifully transform during this season as though under a fairy godmother's spell, and cast their magic not only among locals but also among travelers who want to see and experience more holiday cheer. 
Below are some places in the country that shine bright and beautiful during Christmas. 
Tangub City, Misamis Occidental
Perhaps no other city shines as brightly and as magnificently for travelers as Tangub. During the holiday season usually until the first week of January, Tangub's plaza is filled with colorful and glowing structures of famous landmarks around the world. Visitors even get a passport to stamp as they enter each represented country's attraction.  
Riding around the city likewise gives a feel of world travel, as barangays' welcome arches are also decorated as other countries' famous landmarks. 
The city holds contests for Christmas lights and displays not just for structures with the around-the-world theme, but also for other categories, so the city dazzles visitors also with huge lanterns, well-lit houses and business establishments, and even a colorful public market. (IN PHOTOS: At Christmas, this PH city glows bright with stunning lights)
How to get there: From Manila, take a flight to Ozamiz in Misamis Occidental. Tangub City is around 30 minutes away by bus.
Pototan, Iloilo
Around mid-December, Pototan, a municipality around 30 to 40 minutes away from Iloilo City, comes alive with its Iwag Festival, with "iwag" literally meaning "to light." Aside from colorful street dances, a usual practice during festivals, Iwag Festival's staple is Pototan's well-lit plaza.
Larger than usual town plazas and even with an astrodome, Pototan's plaza is decorated with a giant Christmas tree and other colorful Christmas installations. Structures in and around the plaza are strung with lights. The plaza's fountain looks especially colorful and magical, with lights and colorful decorations. 
How to get there: Take a flight to Iloilo City. From the airport, ride a van to Jaro (or ride a van to SM, then a jeep to Jaro), then take a jeep to Tagbak Terminal. Ride a jeep to Pototan or a bus passing by Pototan. Total travel time from the airport is around 1 hour or more.
San Fernando, Pampanga 
As a home of master lantern makers and beautiful lanterns – locally known as "Parul Sampernandu" – that light up both national and international landmarks, San Fernando has become known as the country's Christmas capital.
Each year it also holds the Giant Lantern Festival, where intricately designed lanterns of around 10 to 12 feet are displayed as part of a competition among barangays. Also part of the visual treat are the lanterns' dancing lights and colors, synchronized with music. 
The competition is usually held on the Saturday before Christmas Eve, and usually at Robinsons Starmills. 
How to get there: Ride a bus to Olongapo, Iba, Sta. Cruz, or almost any northbound bus (just ask if the bus is passing by San Fernando) from Pasay, Cubao, or other terminals. You may have to take a jeep to the city proper if the bus will not be passing by there. Travel time is around one hour and a half or more.
Tarlac City, Tarlac
While its neighboring province showcases lanterns or parol, Tarlac displays unique versions of the belen (Nativity scene) during its Belenismo, which usually runs until first week of January.
Belens that go beyond the traditional look and are made from native materials like bamboo and palm leaves, and recycled materials like CDs and plastic bottles, light up the city's major thoroughfares and government and private buildings. These unique belens, though, are found not just in the city but in Tarlac's other municipalities.
How to get there: Ride a bus to Dagupan, Baguio, or any bus passing by Tarlac from Cubao, Pasay, or other terminals. Travel time is around three hours. 
Naga City, Camarines Sur
All throughout December each year, Naga celebrates Christmas and its charter anniversary. The celebration is aptly called Kamundagan Festival, with "kamundagan" literally meaning birth, also alluding to the birth of Jesus, aside from the city's anniversary. At this time the plaza and other areas of the city are aglow with Christmas lights and decorations. 
A colorful Christmas parade is held, and Christmas-themed performances like choir carols and the "Yule Dance" are held at the plaza. Each night there are different performances, Christmas-themed or otherwise, at the plaza.
How to get there: Take a flight to Naga, or a bus to Naga from Cubao, Pasay, or Alabang terminals. Travel time by bus is usually 9 hours.
Carmen, Davao del Norte
A little over an hour away from Davao City is the municipality of Carmen, which shines bright during Christmas on its Kahayag Festival. "Kahayag" literally means bright. 
During the month-long Kahayag Festival on December, schools, local government units, and other organizations participate in competitions making Christmas symbols, particularly the belen and Christmas tree. The life-sized displays beautifully brighten up Carmen's plaza. 
How to get there: Take a flight to Davao City. Ride a northbound bus going to Tagum, Butuan, Mati, or Surigao, and get off at Carmen Integrated Bus Terminal or in front of the municipal hall. Travel time from Davao City is around one hour and a half. 
Metro Manila
Yes, Metro Manila. Even amid traffic jams and the holiday rush, Metro Manila's Christmas charm remains, with towering Christmas trees and amazing light displays and shows. Streets like Ayala Avenue have unique Christmas light installations every year. Government buildings like city halls and also private buildings are festooned – sometimes lavishly – with Christmas lights.
Choreographed light shows like the Ayala Triangle's Festival of Lights and events like the Lantern Parade in the University of the Philippines in Diliman are anticipated by city dwellers every year.
There is much to see in Metro Manila if one would brave the holiday traffic jams.
Where will you be this Christmas? Share your stories with us in the comments below. – Rappler.com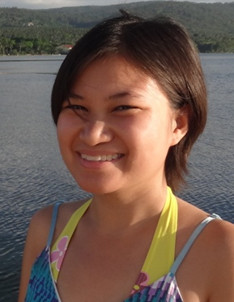 Claire Madarang is a writer, traveler and seeker. Her wanderlust takes her on adventures like backpacking for 7 weeks straight. Her seeking leads her to different wellness practices like meditation and healthy (mostly vegetarian) eating. Follow her adventures, tips and epiphanies at her blog, Traveling Light.