This is AI generated summarization, which may have errors. For context, always refer to the full article.
Thinking to pursue a great relationship in Europe, writer Trisha Velarmino was denied a Schengen visa. About to join a US road trip, she was then denied a US visa – but Trisha hasn't let that get her down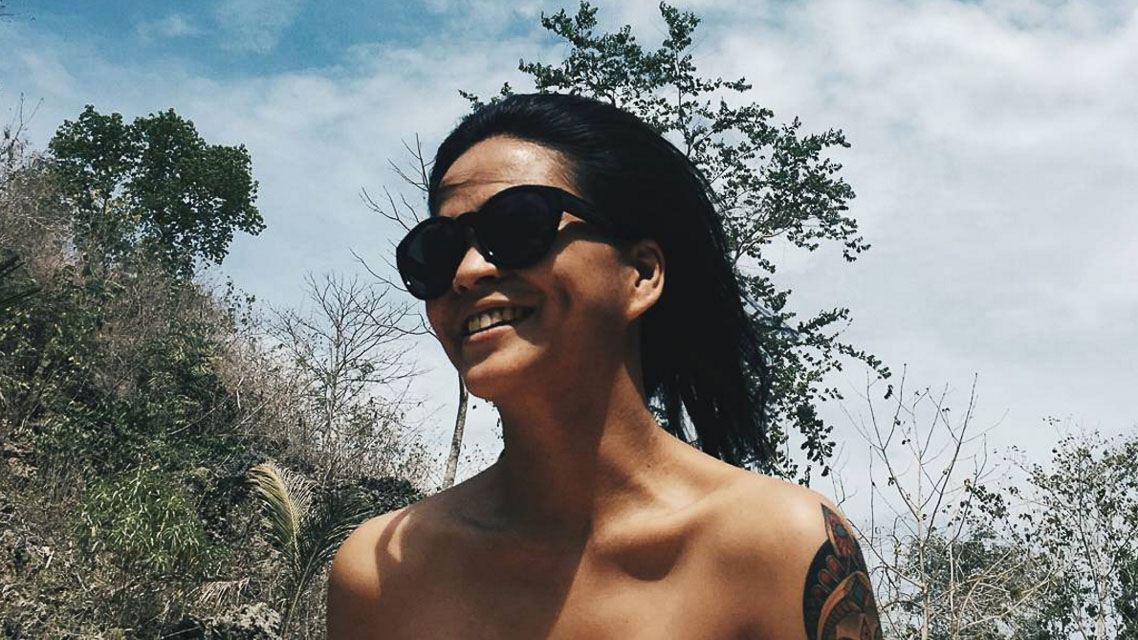 I am smiling as I am about to type this. I literally just arrived at my parents' humble abode in Manila from my US visa interview.
I smiled as I told my mom, "I did not get the visa. It's okay because I don't feel like it's a dead end. I still have everything figured out."
I smiled as an American blogger friend told me, "You keep changing plans. Where are you going after the Philippines? It seems like you're more all over the place than I am." 
I smiled as I responded to him, "You don't need a visa to every country in the world. For sure, my plans are all over the place than yours."
1.5 months ago
It had been 6 months since I came back from my 3-year South America backpacking trip and I had the feeling that I had to move again. Spain was an option because I was dating someone from Denmark for over a year now. There. I said it. We were actually looking into building a life together in Europe. You might ask why I applied for a visa in Spain when he is from Denmark?
1. felt like it was easier because I am fluent in Spanish;
2. I didn't want to depend on him to obtain a visa in Europe. He could easily marry me but I wanted to do things right. I wanted to go to Europe because of me, not because of us.
So I did things my way. I gathered all the needed documents to apply for a Spanish student visa in Spain. I figured a student visa was a strong shot because of my Spanish language fluency. Once my interview appointment was set, I went to the Spanish Embassy in Manila. Lining up outside with no proper waiting area, I patiently waited for my name to be called together with other Filipinos hoping to reach Spanish soil.  
Most of them were overseas Filipino workers (OFWs), and they seemed scared. I talked to a married couple who was going to try their luck in Spain. They told me they got a job in a restaurant and their plan is to save money in order to obtain Spanish nationality and eventually bring their children to Spain. I sat down quietly and listened as they complained how difficult life in the Philippines is, how their children will have no future here. 
I did not say this aloud, but I thought to myself: So they think their children will have a better life in Spain? The economy is not performing as well in that country. Even if Barcelona is my favorite city in the world, I will never live there if my intention is to save money. But of course, as in what I've written about Barcelona, if you want happiness, it is the right place to live in. 
"How about you? What are you going to do there?" The woman asked. 
"I am going to study." I responded. The next few minutes were them talking about how privileged I am to do such a thing and how filthy rich my parents must be to be able to send me to study in Spain. It kept going and going until we were called for the interview. 
When it was my turn, I was confident. The interviewer was Filipina and she seemed to have positive vibes. She knew I was going to study writing novels in Spain so she automatically spoke to me in Spanish. The moment I opened my mouth, she was shocked by my accent and by how I was able to communicate using colloquial language. 
"Hablas Castellano muy bien. Como aprendiste?" ("You speak Spanish very well. How did you learn?") I told her I had no formal education and just learned it through my 3-year trip in South America, staying with local families and continuous practice even if I sounded ridiculous during the early stages of my learning. She told me to come back after 7 working days to know the results. 
I felt good. I felt that being able to speak 'their' language gave me a greater possibility to get approved.
Fast forward to 7 working days. I went back to the embassy only to find out that the visa application has been denied. There was no explanation whatsoever but it only said I had no proof that I will be going back to the Philippines.
I felt bad because my plans had to change. I felt worse when I had to break up with my boyfriend because there is no way this relationship will work if we are not together physically. I am usually not good with Skype calls or opposite timezones. I have high regard with Filipinas who have foreign boyfriends and are able to keep up with this lifestyle that even takes years.
My boyfriend and I broke up and it was a mutual decision. Yes, he is the one that got away (if you read that post a few months ago).
It's sad that our world is divided by geographic, class, gender and racial lines. It's sad that a fruitful, thriving, romantic relationship had to end just because of a piece of paper. And yes, if you are wondering, I've already been to Europe so it was weird to be rejected, given that I had previously obtained a Schengen visa.
You know what they say: when a door closes, another one opens. The Young Philanthropists, an American organization that arranges road trips all over the US and Europe, invited me to join their journey this year, all expenses paid. The moment I received the invitation was the confirmation that Spain was not for me. "Maybe this is for me." I said. The road trip would start in Los Angeles, CA and end in Savannah, GA. We would be on the road for 3 months (June – August). I gathered all the necessary documents right away because the trip sounded amazing. 
Fast forward to today, at the US Embassy in Manila
I did not have any feeling about being approved or rejected but I opened myself to both the possibilities. "I have nothing to lose. There are many other places to see." To be honest, I was not that all revved up about going to the US. I've had other places in mind. However, I accepted this blessing that volunteered itself before me. I have never been to the USA because I just did not feel the need/thirst/excitement to go there yet. Maybe this is the right time. Having a US visa is pretty convenient, too, because: 
1. I can go to Mexico, Belize, El Salvador, Guatemala and Honduras freely. I need not apply separate visas for these countries because Central America accepts US visa.
2.  Fares to anywhere I want to go will be cheaper from the US.
3. Free trip! 
The line was long; I waited 1.5 hours to be called.
The woman asked a lot of questions, but I will summarize my answer: "I am a writer and I was invited to join a 3-month US road trip. The trip will be paid by the organization and I only need to write about it." There were no questions about financial capability though she asked for the itinerary. I showed it to her, together with the letter of invitation and she said, "Please hold." 
She shut the microphone off, closed the tiny window where you slide your documents and asked the dude behind her. I couldn't hear anything but I was already seeing doubt on the white guy's face. She returned to me and said, "I am sorry madam, I can't give you a visa today. But this blue paper will give you more information."
I said thank you, smiled at her and walked out of the Embassy. Now I am writing this and you might be thinking I am crazy for smiling a lot after all these visa refusals. 
How can I smile if I already paid over P10,000 (about $214.00, Spain and US visa fees combined) knowing I am not getting a refund?
How can I smile if I am not going to the USA or Spain? 
How can I call this a beautiful experience?
There were so many realizations that came out from the 1.5 hours taxi ride from that flat white building in Roxas Boulevard…
Since I have traveled to a lot of countries, everyone thinks I'm immune; I'm not. I also have challenges. A young, single, childless, 'houseless,' jobless woman like me is always questionable when it comes to traveling because someone like me can be a terrorist (numerous passport stamps) or a tool for human trafficking. 
Which is ridiculous. But I understand. Even if I have a remarkable travel record let alone a public blog, it's not safe to say I am a trusted person. I am; I just can't prove that to them because I don't have enough means to.
I remember reading another writer's story. He was mugged in the Lower East Side of New York City, with a gun pointed at his head. To get out, he said, "I am a writer. Please don't kill me." What made him think being a writer would save him?  
I hoped for that, actually. During my interview, I consistently said, "writer" and not "blogger" because I really look at myself as a writer. I wish writers like me who try to make sense of the world through words won't have a difficult time in these situations in the future. Maybe, just maybe, blogging will be more acceptable to these entities as a career. 
I was able to travel my country. For the past few months, I traveled to wonderful Guimaras, Cebu, Iloilo, Boracay and probably found home in Siargao. That makes me really happy. I have come to realize that no matter where I've been to, no matter where I go, the Philippines is the most beautiful country in the world. I will be true to this for eternity.
For the first time in my life, I feel like it's not a dead end. If Spain and USA are not for me, then something must be out there for me. There are so many places I am really interested in! El Salvador, Mexico, Guatemala, Nicaragua, Iran, Azerbaijan, Georgia, Armenia, Uganda, Ethiopia, Kenya – believe me, I have a long list. Most of these countries are also visa-free for Filipinos. I feel like I will have more room for adventure there though it won't hurt to try to apply for a visa in the big league. I was also recently given a 5-year multiple entry visa to Japan last week. So it's a good start, no?
This is what I kept saying to my friends and readers who think it's the end of the world if they don't get a Schengen and US visa: it's not the end. There are really too many places to see. 
My passport is expiring soon. Maybe it's time to renew it. Do you believe in the energies of the things you own? I do, in the same manner that I believe in my relationship with the universe. I strongly feel that my passport has to go. I have already filled 31/43 pages and it has to retire. Country stamps where I was challenged, pushed down, survived and learned. I need to make new passport memories. So I decided not to wait until it expires. I will renew it this week. It needs new positive energies. It needs to start over. 
We keep going. That's what we do. I have so many things to be happy about rather than make drama out of my continuous visa refusals. Doing a TED Talk is one of them. It might be simple for you but for a writer like me, it's a big deal. Today, I also got the confirmation letter that I will be traveling to Israel for an all expense paid trip! The conclusion is to focus on what I have rather than what I don't – to be able to divert my energies to greater opportunities rather than dwell on the things I don't have control over.
I am happy and I hope you understand why. I am happy because I am still experiencing difficulties. Life has given me nothing but wonderful and beautiful opportunities. I am not comfortable with having no challenges in life, with being given all. I want to be challenged. I want to experience difficulties every once in a while. It will teach me to bounce back. It will hone my life skills further.
One day, you will find joy in adversity, I promise you that.
I leave you with what my Aunt Cherylle told me: "There are no sad endings. Endings are always happy. If it's not happy, it's not the end yet."
I don't have my next move yet but I will continue writing about the past few months I was traveling in my country. Maybe I can get something out of it. Maybe it will help me decide where to go next. – Rappler.com
Trisha is one of those people who left their comfortable life to travel the world and learn about life. She is the author of the travel blog, P.S. I'm On My Way where she writes about things she learned on the road while traveling: on how evolved millennials are now and how they are coping up with the travel trend. She loves culture and languages so she also focuses on immersion adventures: on what it feels like to eat, cook, speak and sleep in another culture that isn't yours. Her favourite cities in the world are Barcelona and Buenos Aires. Follow her life adventures on Facebook.