Here are tips and stories to inspire as you plan your dream wedding
MANILA, Philippines – Dreaming of getting married on the beach? Or in a garden surrounded by lush greenery and colorful flowers? Or in any out-of-town, exotic location?
For some, June is a month especially for brides. In case you are planning a June 2014 wedding (or a wedding in any month, for that matter), here are tips from brides and their grooms who've had successful destination weddings.
1. When you pick your location, take into account logistics, especially for your guests
Are you getting married on the beach or in a garden out of town? How easy is it to get there? Can your older relatives travel there? Will you be paying for your guests' transportation and accommodation costs or will they be paying? The answer to the last question should be clarified with your guests early on. 
If you plan to have an outdoor wedding, wedding planner Guia de Leon advises giving your guests a welcome kit. The kit should have mosquito repellant, comforting footwear, basic information on and maps of the place, and program. At the very least, inform them in detail and in advance what to expect and what to bring.
Transporting delicate items like a wedding dress can also be tricky. For beach weddings, it is best to have a wedding dress with light fabric so that it can be folded and transported easily. It will be more comfortable to wear outdoors, too! 
Bride Ria Natividad wore a light chiffon dress with only a narrow border of sequins to her beach wedding. "The sun was hot, but because of the light dress I wore, I felt cool and unencumbered," she recalls. "I also chose to wear white Havaianas slippers embellished with handmade silk flowers so it would be easy for me to walk on the sand and stand for long periods of time."
Ria's groom, Web, also had a comfortable wedding getup: a white linen shirt, white pants and Havaianas slippers.
2. Compare costs between wedding essentials in your wedding location and where you are coming from
Local suppliers and materials cost lower (usually), so you might want to get them at your location instead of bringing them with you. There are some cases, though, when the cost at the location is more expensive, especially if you are having your wedding overseas. 
For example, Manila-based Jun Baris bridged his long-distance love affair with Singapore-based Cynthia through a wedding ceremony in Singapore. Since wedding essentials were more expensive there, Jun and his family brought Cynthia's wedding dress, Jun's vest and tie, flowers and a few other wedding essentials all the way from Manila.
This helped them cut down significantly on costs and still have a memorable wedding. 
3. Enlist your family and friends and/or a wedding planner for help
Jana and Joaqui Tupas had 3 wedding ceremonies: they said their "I do's" in a cove in Boracay in the presence of immediate family, they marched with their entourage at a garden in Tagaytay and they had their wedding kiss at a big party with all their friends in Manila.
How did they pull it off, and with a limited budget? With the help of trusted family and friends.
Jana's sister coordinated the Boracay wedding, while friends coordinated the Tagaytay and Manila ones. Some of their wedding essentials and requirements were given by their family and friends as gifts. Their wedding performers, for example, performed for free.
Whether it's family and friends or professionals, Guia explains that it is important to work with your dream team. "Go with who and what makes you happy, relaxed and radiant," she advises.
4. Out of town need not be out of town in the conventional sense 
If your main goal is to travel and celebrate with your family and friends for your wedding, you don't need to do all — ceremony and reception — out of town. Let your taste and creativity be your guide.
Outdoor enthusiasts Kaiz and Rowjie Galang, for example, had a simple ceremony in Manila at a bar which also doubles as an outdoor shop, then had their post-wedding photo shoot and celebration with their family and friends — camping and backpacking — at the beach.
5. You can also have a travel-themed wedding!
If you love to travel but would like to keep the ceremony in town (and save the out of town for the honeymoon), you can go with a travel-themed wedding.
Technically, OFWs Rain and Jonathan Campanilla already had an out-of-town wedding as they did it in New Zealand where they were working at the time. They took it a notch further, though, by having a theme of a "mishmash of Bohemian travel and nostalgia," from their vintage wedding outfits to travel-inspired food down to their wedding favors with luggage tags and airmail stamps.
For their photo booth, they had analog cameras which the guests could also use.
"The theme, motif and the totality of your dream wedding are best if reflective of your personalities, and show your great love for each other," Guia explains.
6. In the end, don't stress too much on the details
"Cliche as it may sound, one must handle everything with a smile," Guia advises.
Ria also says that on the day of the wedding, "just relax and let go."
Your wedding is, after all, only part of the big picture, says Kaiz. "It isn't how glamorous your wedding turned out that people will remember; it is how you lived your lives as a married couple," she says emphatically. 
Here are more tips on planning out-of-town weddings: 
– Rappler.com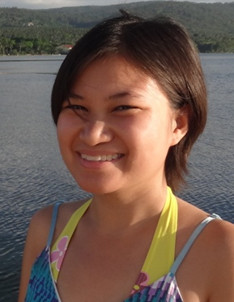 Claire Madarang is a writer, traveler and seeker. Her wanderlust takes her on adventures like backpacking for 7 weeks straight. Her seeking leads her to different wellness practices like meditation and healthy (mostly vegetarian) eating. Follow her adventures, tips, and epiphanies at her blog, Traveling Light.