From history buffs to nature lovers and adrenaline junkies, Ilocos Norte has got it covered
MANILA, Philippines – Heading north? There's more to see aside from the famous white sand beaches of Pagudpud in Ilocos Norte. Spend a weekend in this province and allow yourself to be smitten by its rich cultural heritage and natural wonders.
1. Visit Paoay's UNESCO World Heritage Church
The Church of St. Augustine, more popularly known as Paoay Church, is a picture-perfect Baroque church in the municipality of Paoay. The green grass, the ancient gray church, and the blue sky make for a perfect shot.
In 1993, Paoay Church was recognized as a UNESCO World Heritage Site.
READ: Celebrating PH's World Heritage Sites
2. Explore the Malacañang of the North
Once the official residence of the Marcos family whenever they were in Ilocos Norte, this sprawling Spanish-designed house is now a museum showcasing Marcos memorabilia. From the curving staircase to the painstakingly carved furniture, everything looks grand, fitting for a palace of the then-First Family.
After soaking in the culture and heritage inside the museum, go outside and breathe in the fresh breeze blowing across Paoay Lake.
3. Go sandboarding
What, sandboarding? Well, we don't have snow in the Philippines to do snowboarding, but we do have plenty of sand — and sand dunes — in Ilocos Norte. Ride a 4×4 to get to the La Paz sand dunes in Laoag, get on a sandboard and cruise down the steep mountain of sand, all while keeping your balance. Perfect adrenaline rush!
4. Feel the rush of wind from Bangui's windmills
On your way to the white sand beaches of Pagudpud, don't forget to stop by Bangui. Let yourself feel small — in a good way — amid the 50-meter-tall windmills, spinning blades not yet included. Feel the rush both from the wind and from the waves of Bangui Bay.
If you have time, watch the sun set and see the windmills' dark silhouettes spinning against an orange sky.
Bangui's windmills are not only beautiful but also useful. They produce sustainable energy that provides 40% of Ilocos Norte's electricity.
5. Try ziplining and other activities at Blue Lagoon
Pagudpud's famous Blue Lagoon, with its crystal blue waters and white sands, is now a haven not only for beach bums but also for adrenaline junkies and water sports enthusiasts. You can try the usual banana boat rides as well as more physically demanding activities like surfing.
Or, you can simply and effortlessly ride the zipline across the sea. 
6. Stop by and take in the view from Patapat Viaduct
On your way to and back from Pagudpud, you will be passing by this long snaking bridge that is the 4th longest bridge in the Philippines. Take a moment to savor the sight of gray concrete, green mountains and blue sea. If you are driving, you can stop by to relish the view longer.
7. Climb up some steps to Cape Bojeador Lighthouse
Built in the municipality of Burgos, this century-old lighthouse still guides international ships entering the Philippines from the north. You climb up steps on a hill to take in not only this old Spanish lighthouse but also the view of the clear blue waters where Spanish galleons used to sail.
8. Marvel at the majestic Kapupurawan rock formation
Standing at the edge of the sea, this massive rock formation shines conspicuously white, hence its name "Kapurpurawan," which means "white" in Ilocano. Also in Burgos like Cape Bojeador Lighthouse, this rock formation is easily accessible via a horseback ride.
READ: Ilocos Norte's best-kept secret
9. Go food tripping
From pinakbet to empanada, Ilocos is home to unique and delicious cuisine. Try as much local delicacies as you can and some unusual ones too, like the pinakbet pizza and the longganisa pizza, both served at Herencia Café near Paoay Church.
Laoag is also home to many restaurants serving local cuisine, while Batac locals swear by the taste of their empanada. So, don't forget to include a gastronomic tour in your Ilocos Norte itinerary. – Rappler.com
You can also read: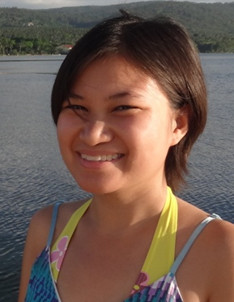 Claire Madarang is a writer, traveler and seeker. Her wanderlust takes her on adventures like backpacking for 7 weeks straight. Her seeking leads her to different wellness practices like meditation and healthy (mostly vegetarian) eating. Follow her adventures, tips and epiphanies at her blog, Traveling Light.