Here are two interesting ways to make the journey as exciting as the destination
Often, when planning a summer vacation for the family, the destination remains the focus of the entire trip.
But with these two new modes of transportation, getting there can be part of the fun.
Created out of the love for road trips with the family, The Luxe Bus boasts safe, earth-friendly luxurious travel that is complete with an attendant and chauffeur to man the uniquely customized traveling vehicles. 
The fleet is completely designed and specially made by owner Angie Lu. Her family is the exclusive distributor of MAN trucks and buses. They are travelers here in the Philippines, and travelers can see the strict attention paid to every detail in making these luxurious buses fit for comfortable and hassle-free travel.  
Leather reclining seats, individual screens for each passenger, power sources to charge electronics, and wifi to check on social media – Angie has covered all bases for modern day travel by land. 
Passengers can enjoy gourmet coffee and refreshments, and The Luxe Bus can even prepare hot meals to be served en route to your destination if requested in advance.
With buses that accommodate from 18-24 people, these modes of transportation are far from the people movers that are used to get one from point A to point B. 
Fully stocked and manned by the staff ready to assist you safely and efficiently, these MAN buses set the standard of European efficiency by meeting the Euro 3 emission requirement. Passengers ride in style and comfort knowing that they have made a conscious decision to take better care of the environment.
Extended travel to provinces can be made even more simple with The Luxe Bus when you avail of their packages. Bringing the bus out of town enables passengers to enjoy their time together instead of caravanning on dangerous roads and looking for parking once you arrive. The ease with which family and even business travel can be organized by The Luxe Bus allows passengers to not only look forward to their destination but enjoy getting there as well.
For more, visit their Facebook or text (917) 6255346
Similarly, if you'd like to enjoy a night out with friends and leave the hassle of traffic, parking, and designating a driver at home, you can avail of the services from The Party Bus Manila. 
When the team came up with the idea of The Party Bus Manila, they imagined it to be their version of a "Manila Pub Crawl." Fashioned after the widely documented pub crawls one would encounter when visiting big cities in Europe, they wanted their passengers to enjoy nonstop partying here in Manila as well.  
The Party Bus Manila is geared towards the younger crowd who'd like to use the service and convenience of traveling by bus, but with a little more fun in mind. It's a game-changer for night life because the party doesn't stop when en route to the different establishments who have partnered up with the Party Bus Manila team. Known for visiting the hottest spots in Manila night life, the Party Bus Manila team makes sure to arrange everything – from VIP tables in each of the establishments, what bottles should be chilled, even waiting for passengers.
Passengers leave everything up to the staff of The Party Bus Manila by simply relaying their requests for additional hot spots they'd like to visit, or even alcohol they'd like to consume en route. All the passengers have to do is show up with  friends ready to party the night away. 
Service is completed with a host who can provide ice-breakers and get the party started. The beauty of traveling by The Party Bus Manila while in traffic is that the fun never ends. 
Moving around with a big group no longer has to be tiresome if caught in traffic, or taxing when the destination is quite far. With the new buses that can be booked online and through a reservation, traveling by land, and seeing Manila's night life just became a lot easier. – Rappler.com
Rates start at P35,000. For more, visit their Facebook or call (2) 637 8112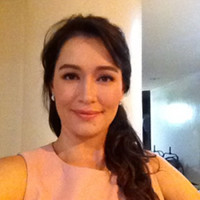 Michelle Ressa-Aventajado is a Filipina American who grew up in NY and now makes Manila her home. When she's not busy raising her four children, she enjoys teaching, reading and writing about her passions. Follow her blog Momma 'N Manila as she documents her adventures and growth in parenting.