This is AI generated summarization, which may have errors. For context, always refer to the full article.
Would you star in topless pics on Instagram, even if they're only from the back?
MANILA, Philippines – As you scan the usual travel photos on social media, you may begin to notice something a little more risqué than your typical selfies filling up your Instagram feed. 
Meet The Topless Tour. Started by three London-based university students Olivia Edginton, 20, Lydia Buckler, 21, and Ingvild Olsen, 20, the movement encourages travelers to take topless photos from the back at their latest holiday destination.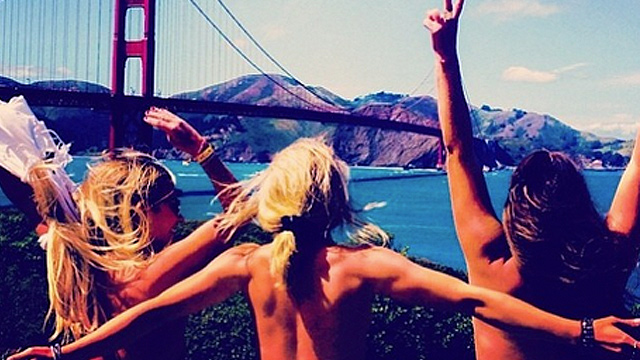 "Hello USA," they write in the caption to the photo above. "We were featured on Good Morning America this morning, so we wish to welcome all our new friends and followers. In your honour from #TheGoldenGateBridge #SanFrancisco."
They say that the trend aims to promote body image and self-love, hoping to enable young women to "[embrace] who they are and love for their body," says Edginton in an interview with FOX News. 
The Topless Tour was born when the three girls, students at the Trinity Laban Conservatoire of Music & Dance in London, were taking a spontaneous topless swim in a lake during a vacation in Norway and decided others should share in the moment of freedom.
Continuing to pose topless against scenic backgrounds during their travels in New York and Europe, they called on others to embrace their bodies in its most natural form and share their bare-backed photos from all around the globe. 
With a growing audience of almost 20,000 Instagram followers, there is no doubt that travelers worldwide are taking a liking to the sense of liberation that posing topless allows. It is a "liberation that will connect you with your surroundings and the people you love," Edginton tells HLN TV. 
Even guys have joined in on the fun, and for the founding trio, the experience has proven to be nothing but rewarding. In an interview with CNN, Edginton says that it has allowed people to "feel themselves again, be proud of who they are and love their beautiful bodies". 
"The Topless Tour is the opening of your bare chest and heart to the world," she continues, and judging by its positive reception, the movement shows no signs of slowing down, not even for Instagram's no-nudity policy.  
Here are just a few more of the photos on The Topless Tour: 
Cool idea, or cringe-worthy? Would you star in topless selfies on Instagram? Let us know in the comments below. – Rappler.com