A group of beautiful, untouched islands is Surigao del Sur's best-kept secret, specifically in the municipality of San Agustin
MANILA, Philippines – Summer is months away but at this time of the year you must already prepare where to go to make it more memorable.
It's the best-kept secret of Surigao del Sur – a group of islands in the municipality of San Agustin. 
San Agustin is blessed with 24 islands and islets scattered all over Lianga Bay, which faces the Pacific Ocean. The group of islands is called Britania, named after its barangay. (READ: Head to 'Borawan' and these 5 unspoiled PH beaches)
Britania, an ancient term for Roman Britain, is actually a Latin name derived from the Greek form "Prettanike" or "Brettaniai," which means "a collection of islands with individual names."
Most of the islands are uninhabited with minimal or no vegetation.  But all have one thing in common: they are surrounded with crystal clear waters. The Geographic Channel featured it as one of the best spots in Asia.
One visitor wrote in Trip Advisor: "In my opinion, the Britannia Group of Islands is the next best thing to Boracay in the Philippines in terms of pristine white beaches some people at a time can enjoy. While Boracay has been a popular choice (because of the night life there), this group of islands offers adventurers a real deal and one would give a true appreciation of the spectacular white beaches…" (READ: Spotlight on Sugar Beach, Sipalay's sweet surprise)
During our recent visit, we managed to visit only 3 islands.  According to our guide, it was named after the weed that used to grow in the island.  There were few coconuts growing in the island; the trees become sort of a shade for visitors.
The Naked Island was the second place we visited.  The reason why it is called as such it's because there's nothing to it but an island with white sand floating on top of the water.  The White Island of Camiguin comes to mind but Naked Island is much wider and more stunning.
The largest among the group is called Boslon Island.  It's a perfect place for taking pictures which can be used a cover photo in your Facebook account. Seeing the beautiful photo would make your friends drop their jaws.   There is a cross and a statue of Virgin Mary standing on the side of the island.
It was at Boslon Island that I took a plunge and really had fun time swimming. It was too good to be true. We were, indeed, lucky that there were only very few people.
Our guide said that during low tide, visitors can walk into the nearby two subsidiary islets. The twin rock promontories, both named Panlangagan, hold a secret cave which was used by Japanese as a burial ground of fallen soldiers during World War II. 
There are places to stay overnight in the town proper. But if you want to be near the group of islands, you could stay at La Entrada Resort and Restaurant. It has also some boats for rent which can bring you to various islands. 
Britania Islands is a 6-hour ride from Davao City and about 3 hours from Butuan City.  You can get there through private vehicles or by public utility vehicles plying in the area. If you take a bus, alight at the Salvacion junction where there's a tourist assistance center. Since Britania is still 2.8 kilometers away, you can hire a motorcycle going to the place. – Rappler.com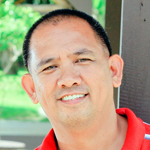 Henrylito D. Tacio is an award-winning journalist based in the southern part of the Philippines. He specializes on reporting science, environment, medicine, agriculture, and travel features.