Dating, committed, considering proposing? Or is it complicated – and you just want to pack up and go? Travel ideas for the different stages of your relationship
As an archipelago blessed with both natural and historical wonders, our country will never come up short of beautiful places to explore, and many of them definitely inspire romance. (READ: No fighting! Tips to stay sane while planning your trip for two)
There aren't any hard and fast rules, of course – that's what's great about both love and travel. But for the romantics out there, here are just a few suggestions for each milestone of your love story.
Getting to know you: Intramuros
Great for a first date, or a fun date in the early stages of your relationship
Walk the cobblestone streets and take in the charming, old-world architecture dating back hundreds of years. Explore plazas and gardens with archways and fountains, like the Plaza San Luis Complex. Enter the UNESCO World Heritage site San Agustin Church, where countless couples have said their "I dos."
There are more things to do if you'd like to make it extra special in the early stages of your relationship. 
In the evening, dine at one of the walled city's garden restaurants like Ilustrado, or catch a cultural show with dinner at Barbara's, also at Plaza San Luis Complex. Or eat while enjoying the view of Intramuros and Manila's landmarks like the City Hall clock from Bayleaf Hotel's roof deck restaurant. 
Day trip: Tagaytay
Enjoying each other's company? Take that short day trip and spend more than a few hours together
Breathe in the cool air and enjoy the classic view of Taal Volcano while having a long, leisurely lunch on one of the city's restaurants along the ridge.
Or dine in a relaxing and colorful garden setting like Sonya's Garden, or, if you can really splurge, eat at Antonio's. Antonio's is recognized as the country's best restaurant in the Miele Guide, the authoritative guide book to Asian restaurants.
In the afternoon, have fun like kids with the rides at Sky Ranch. Catch the sunset from Sky Eye, the country's tallest ferris wheel, to also see Tagaytay from one of the best vantage points. 
If you and your partner are adventurous types, before you have that leisurely lunch you can start the day early and take a boat to Taal Volcano, then trek for at least 30 minutes or ride a horse to the crater to see one of the country's most beautiful lakes. (READ: IN PHOTOS: 8 PH lakes to add to your travel bucket list)
Cozy up to each other: Baguio
Together a while and ready for a longer trip? #ShareBaguio
With beautiful mountain scenery and pine trees, the view might look like something out of a dream, with wisps of fog, and colorful flowers and strawberries, Baguio is a perfect romantic destination. And, of course, the cool air is perfect for snuggling. A weekend here might just strengthen your relationship. 
Walk hand in hand under Camp John Hay's pine trees. Feast your eyes on the bright flowers of Baguio Botanical Garden and the city's other parks and gardens. 
Eat at Hill Station or other restaurants with a view – and of course, delicious food. (READ: 15 amazing Baguio City eats)
Go outside the city for experiences of red, the color of love: strawberries at La Trinidad farm, and roses at Bahong farm. (READ: Baguio City: Your complete weekend itinerary) 
Island getaway: Boracay
Take a longer trip here for a sweet anniversary 
While some might say Boracay is a cliché and overrated destination, this island has an undeniable charm that keeps people coming and coming back. Its shores have been witness to many a proposal and wedding. Travel+Leisure magazine even recognized it as the 5th most romantic island in the world, in addition to its other awards and recognitions.
On your first year together, have a relaxing and romantic weekend in Boracay by walking barefoot along White Beach's powdery sand (you can visit Puka if you prefer a less crowded beach), catching the famous Boracay sunset, and having dinner and drinks at the beach.
If you're up for an adrenaline rush, try parasailing together. The view alone is worth it. (READ: Diniwid beach: The quiet side of Boracay)
The long road together: Ilocos Sur and Norte
Been a couple for some time? Take a few days off to fall in love all over again
Nothing like a long road trip, a romantic evening, an outdoor adventure, and couple time extending beyond the weekend to bring you two even closer together.
First, take it easy in Vigan. Walk its historic streets, especially Calle Crisologo and its old white houses, cobblestones, and calesas. Then wait for night to fall and watch the street lights bathe the white houses and streets in gold. Dine al fresco on one of the street's restaurants like Cafe Leona and take in Vigan at its most magical – and romantic – time. 
This romance is in fact not only in its streets, but also in its history. During World War II, Vigan was saved from being burned to the ground when a priest took in a Japanese officer's Filipino wife and their child. The Japanese, who already had drums of gasoline stored in strategic areas in town, did not push through with their plan.
After Vigan, head farther north, to Pagudpud. Stay at one of the resorts along Saud's white beach and from there explore neighboring attractions. Trek and see up close the blinding white majesty of the Kapurpurawan rock formations. (READ: 6 amazing PH rock formations)
Take a dip in the Blue Lagoon's bright waters. Feel the rush of wind and waves in Bangui, and watch the windmills' dramatic silhouette against the setting sun. 
Proposal-worthy: Palawan
Whether you're ready to take the next step or just planning a major vacation, visit Palawan 
Take your pick between Coron and El Nido – both are postcard-perfect, with limestone formations carved by nature into awe-inspiring shapes, the clearest waters reflecting the forested karsts' greens and the skies' blues,  and what appears to be a never-ending supply of islands with stretches of white sand.
It is no surprise that travel magazines like Travel + Leisure and Conde Nast recognize Palawan as among the most breathtaking islands in the world.
With the sheer amount of beauty everywhere, it is almost impossible to take a bad photo, which means almost anywhere is a good place to pop the question, as long as you can hold on to the ring. Ask for the help of your tour guide if necessary.
For El Nido, you can have your big moment on of the beaches in the mainland. Corong-Corong's limestone formations in the horizon look especially dramatic during sunset.
Weddings and anniversaries: Batanes
The greenest hills that seem to roll on forever, dotted occasionally by a white lighthouse or a stone house, and the brightest blues foaming white as they shape, and if possible, make even more beautiful, Batanes' rugged cliffs. (READ: Through the eyes of a first-timer: Batanes, the evergreen)
Many have marked it on top of their bucket lists. And some couples dream of a Batanes wedding, or at least a Batanes honeymoon. (READ: Beautiful Batanes: 10 things to do)
Allow yourself and your partner to be swept away by these northern islands' beauty, much like Batanes' strongest waves can. Walk the green rolling hills, and sit down side by side and let time just pass by as you feel the wind and watch the waves pounding at the cliffs, and know that you have a lifetime ahead with your partner to see beautiful views like this.                    
And, if you can, say your I dos at the charming stone chapel of Tukon in Basco, or out in the open, surrounded by Batanes' natural beauty. 
Watch this couple exchange vows with Batanes as their breathtaking backdrop. The video is by Jason Magbanua.
Andrea and Mark's Wedding in Batanes from Jason Magbanua on Vimeo.
In the future, bring your children with you, and let them fall in love with Batanes, too.
These are just some of many romantic destinations to explore in the Philippines. Do you have a memorable travel moment in mind? Let us know in the comments below. – Rappler.com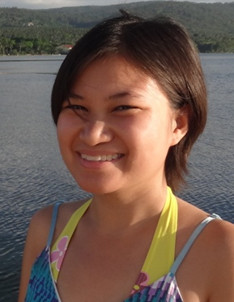 Claire Madarang is a writer, traveler, and seeker who believes in traveling light, particularly in the inner journey. Her wanderlust takes her to adventures like backpacking for seven weeks and exploring remote islands and bustling cities alike. Follow her adventures, travel tips, and epiphanies at Traveling Light