This is AI generated summarization, which may have errors. For context, always refer to the full article.
'Venice of the South,' the first mosque in the Philippines, unspoiled beaches, and more
Note: Parts of Mindanao are conflict areas and are included in some countries' travel advisories due to security concerns posed by rebel groups and kidnapping incidents.
Are you dreaming of an adventure in the southernmost part of the Philippines? Let me take you through this visual tour to the province of Tawi-Tawi. Parts of Mindanao are known as conflict areas, but the province itself is home to some of the most beautiful peace-seeking and friendly people in the country. (READ: 9 spectacular places to visit in Mindanao)
With this, the province has always kept its beauty intact.
Let's begin with Bongao.
Bongao
Most travels to Tawi-tawi start off in Bongao, the capital and the most densely populated municipality of the province. The flurry of colors and movement – from the tricycles to the merchandise of fish, vegetables –  all  point to the vibrant life in the province.
A short hike up the island is Bud Bongao (Bongao Peak), the highest peak in the province. The grassy peak of the island is perfect for watching the hustle and bustle of the town below while waiting for the sunset.
There are also friendly monkeys on the hike to the top, so pack extra bananas for sharing. Bongao also has dive sites, particularly in Pahut, where you'll see not only corals and fish, but a World War II plane wreck as well.
How to get there:
From Manila, Cebu or Davao, take a plane to Zamboanga City. From Zamboanga you can either take another plane to Tawi-Tawi for about an hour or you can opt to take a boat that will bring you to Bongao in less than 24 hours. The airport in Tawi-Tawi is located in Sanga-Sanga so you will have to take a tricycle to bring you to Bongao.
Simunul
Southeast of Bongao is Simunul, an unassuming island that is most famous not for its beaches or its beautiful waters, but for being home to the first mosque in the country. In 1380, Sheik Karimul Makhdum built the first mosque in the Philippines at Bohe Indangan. (READ: Beautiful mosques in the Philippines) 
The original structure, made of wood and other light materials, was destroyed by a fire after about 500 years of existence. It is now replaced with a concrete mosque, which houses the pillars of the original mosque. The mosque is now declared as a National Landmark after President Benigno Aquino signed R.A. 10573 declaring Sheik Makhdum Mosque a National Hstorical Landmark.
How to get there:
From Bongao, take a boat to Simunul from the town's Chinese port. The boats usually leave at noon so you have to be there before lunch time. Unless you are chartering a boat, you will have to stay overnight in the island as the schedule of the passenger boat going back to Bongao is set for around 8am.
Sibutu
To the west of Simunul is the island of Sibutu, known to be the home of the best ship and boat makers in Tawi-Tawi and neighboring islands.
Ask your boatman where his boat came from and chances are, he'll tell you that it came from Sibutu.
Woodcrafting is also popular here, and it's not uncommon to see ornate wooden markers around. Sibutu is also said to be the place where the Muslim missionary Sheik Karimul Makhdum was buried.
An unfinished but still admirable structure that fronts what is believed to be his burial ground stands in Tandu Banak.
The island of Sibutu also boasts of its crystal clear water and pristine white sand beaches open to the public to experience. (READ: Unspoiled beaches in Mindanao)
How to get there:
From Bongao, take a boat to either Tandu Banak or Sibutu town proper. We've asked the Philippine Marines stationed at the port and they recommended we take the boat to Tandu Banak, so we did. Travel time is around 3 hours for less than P200. Boat is schedule is usually on Tuesday, Thursday and Saturday so it's better to ask the boatmen from the Chinese port of their schedule a day before or early in the morning.
Sitangkai 
Sitangkai Island is a sword shaped island west of Sibutu, home of the stilted houses of the Sama Dilaut and Tausug. Sitangkai is populary labeled as the "Venice of the South" due to its welcoming wide canal which serves as a main gateway to the island municipality.
Along the canal you will see a set of smaller channels that leads to the inner communities and footbridges connecting the communities from both sides of the canal. Boat serves as the major mode of transportation on the island. 
How to get there:
Take a passenger boat from Bongao Port (different from the Chinese port) which will take you around 5-6 hours depending on the cargo load of the boat. It leaves Bongao around 10am on Monday, Wednesday and Friday. Alternatively, if you are already in Sibutu, you can charter a boat from Tandu Owak which is only about 45 minutes ride.
Saluag
Finally, there is Saluag, which is the southernmost island in the Philippine Archipelago. It is locally known as Sikulan and is inhabited by a small community of Sama Dilaut and Tausug that live off the waters teeming with fish and seaweed. It is easy to lose track of time in this island of clear waters and white sand.
There are two lighthouses standing on this island, an old rusty lighthouse and a modern serviceable one.
This island paradise is blessed with fine white sand and healthy green bushes that make it a perfect closing destination for a tour of Tawi-Tawi. 
How to get there:
From Tandu Banak or Sibutu proper, take a habal-habal (motor taxi) to Tandu Owak. From there, charter a boat to Saluag Island. Travel time is around 30 minutes.
– Rappler.com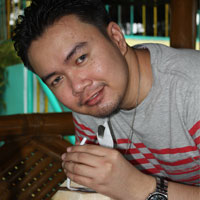 Glen Santillan is a freelance HR Consultant and a travel junkie. He has backpacked around the Philippines in 50 days by land. He is currently the Vice President of the Davao Bloggers Society. He is the writer behind Escape Manila, a Pinoy travel blog.