(UPDATED) Here are some tips on what you should do before, during, and after your trip
Pack a lot of patience and strength when traveling to Manila during the pandemic. It is, after all, the new normal.
After 3 attempts and two canceled flights from Philippine Airlines, I was finally able to land in Manila on July 17.
Here are some tips on what you should do before, during, and after your trip. This updated list is meant for travelers arriving on July 27 and afterwards. Please check government and airline announcements regularly, for any updates.
Before the trip
1. Make sure to regularly check flight updates from the airline's website and social media accounts. I experienced a last-minute cancellation, or a cancellation less than 24 hours before the flight. Some flights are also rerouted to other airports like Cebu.
2. A day before your departure, fill out necessary forms online. Each passenger traveling in a group must accomplish the applicable form.
For Overseas Filipino Workers (OFW): Accomplish this crucial electronic Red Cross form and save the QR code on your mobile phone so you can avail of the free swab tests upon arrival. You will need to show this code upon arrival in Manila. It is best to accomplish the form online to avoid unnecessary hassle and delay in the airport.
On top of this, land-based OFWs must also complete the OFW Assistance Information System (OASIS) here.
For non-OFWs: You have to first register via this link.
After submitting, a unique reference code and a link to the Electronic Case Investigation Form (e-CIF) will be sent to your e-mail. Please take note of your unique reference code and then fill out the e-CIF form. A QR code will also be sent to you.
3. I advise booking your hotel before arrival in Manila to save time. The hotel must be a government-approved facility. Here is PAL's list of approved hotels.
Please be reminded that non-OFWs, students, exchange visa participants, and returning residents must shoulder all expenses for quarantine.
4. Do your research.
5. Bring your own pen. You will be signing and filling out many documents.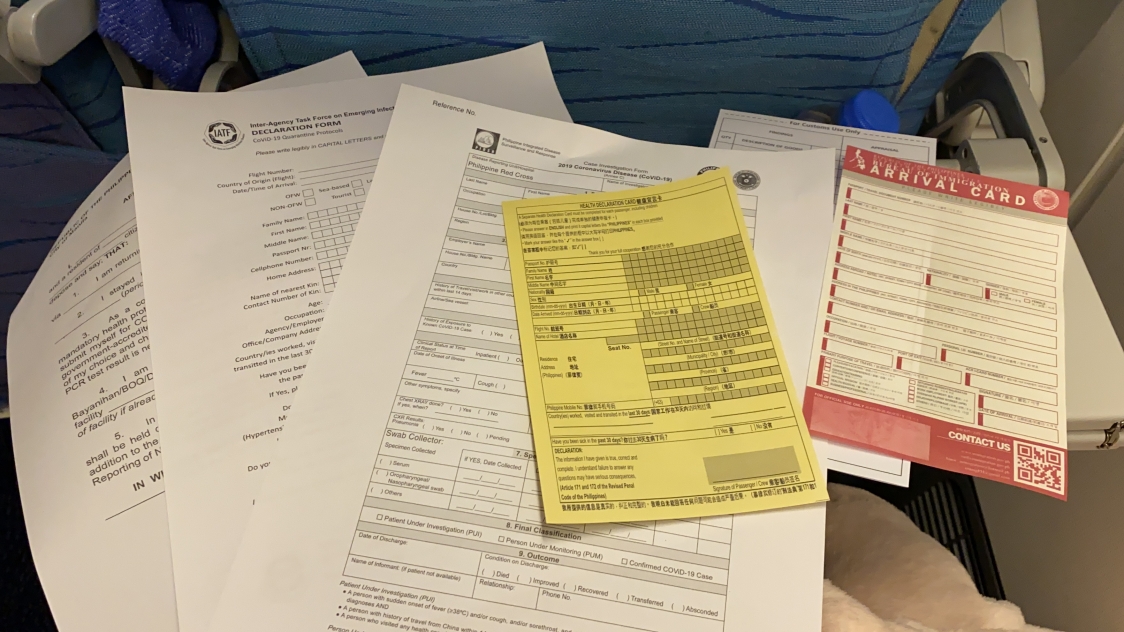 Day of trip
1. Be early at the airport.
2. Make sure your luggage, including carry-on, are not oversized and overweight. This will help you save time. There are usually long lines in the airport because many Filipinos also want to go home.
3. Bring Philippine pesos. At the Ninoy Aquino International Airport (NAIA) Terminal 2 where I landed, there were also money changers and ATMs.
4. Eat well. If you can, bring some snacks because most stores and restaurants in airports are closed.
5. Bring a mask, alcohol, sanitizer, and, if possible, a face shield.
NAIA arrival
This only applies to Manila arrival because other airports, such as Cebu and Clark, have their own arrival rules and processes.
1. Make sure you have accomplished all forms distributed during the flight. These include immigration arrival form, customs form, and Inter-Agency Task Force (IATF) declaration form, among others.
2. Upon disembarkation, there will be a thermal scan. Then, you will be briefed by the Philippine Coast Guard on the arrival process. They will ask you to prepare your QR code.
3. For OFWs: Accomplish the Project Care Slip
For non-OFWs: Accomplish the Affidavit of Undertaking
4. You will then undergo a verification process, where you will present your QR code code and your Philippine passport.
If you are an OFW, they will give you 6 sets of barcode stickers. The barcode will serve as your identity for the swab tests.
If you are a non-OFW, they will give you 3 sets of barcode stickers.
5.     Next is the testing. Starting July 27, only OFWs will be tested for free. Non-OFWs have to pay P4,500. Prior to this, everyone arriving in Manila is tested free of charge.
6. You will be asked to sit in front of a booth. Nurses in full personal protective equipment (PPE) will do both throat and nasal swab tests. The throat test will make you gag a bit but it's tolerable. The nasal test is uncomfortable but just breathe deeply to make the process as quick and painless as possible.
7. You will then line up for immigration. As of posting, only Filipino passport holders, dual citizens, and foreigners who have Filipino spouses (documentary evidence needed) are allowed to enter the country. But I advise checking government updates regularly.
8. Checking of quarantine hotel. Depending on your status – OFW, seafarer, returning resident – you will go to a specific help desk to verify your quarantine facility.
I am a non-OFW, specifically a US J-1 visa holder, and was assigned to the Department of Tourism help desk. DOT ensures that the hotel you booked is government-approved. There is also a separate line for those who have not yet booked their hotels. Again, if you are not an OFW, you will shoulder all quarantine costs.
9. Next, line up for the transportation booking. No private vehicles are allowed to pick up passengers. Only airport metered and coupon taxis can take passengers to their hotels. There are also government shuttles but it will take time to wait for these. I chose to book a coupon taxi (white).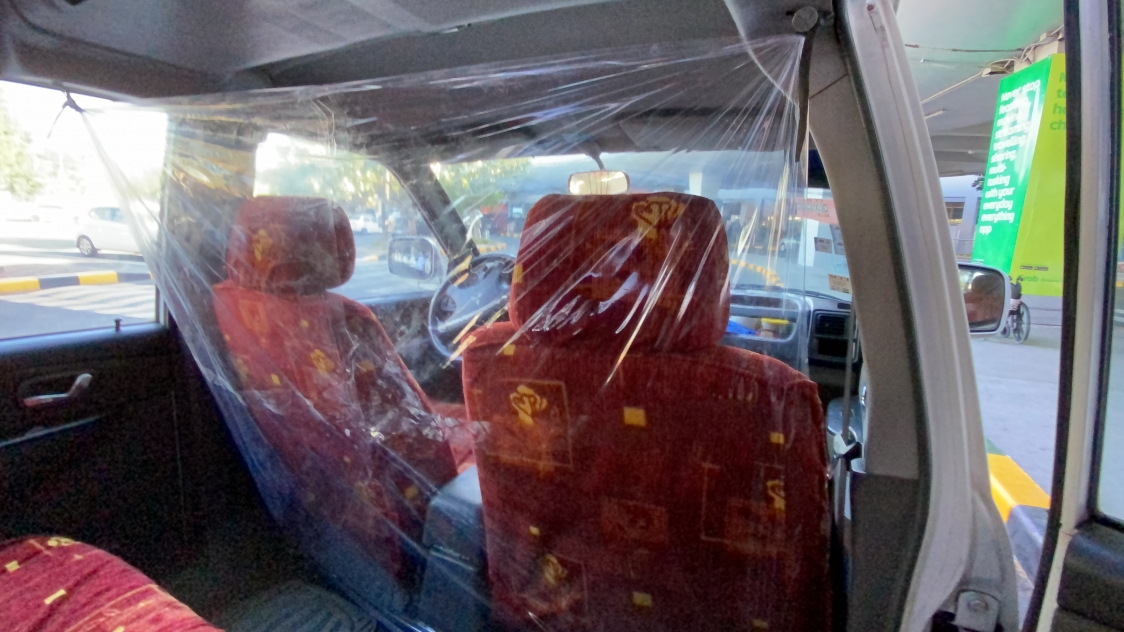 10. Get luggage
11. You are now ready to exit the airport. Before you can leave, PCG will check your signed affidavit of undertaking – allowing the government to check on your status in your quarantine facility – and transportation paper, which indicates your hotel and the type of transportation booked.
12. You are now ready to go to your hotel. I gave my transportation paper to the person manning the booth and to the taxi driver. You have to pay the driver in cash.
Quarantine
I chose to stay at a hotel in Alabang, near my place of residence so I can easily go home after quarantine.
Guests are strictly prohibited from leaving their rooms during quarantine. The hotel staff will leave food and drinks outside the door.
Food deliveries are allowed but you have to make sure these are already paid. The hotel staff would just have to bring the items outside your door.
While in quarantine, wait for Red Cross to email the results of the swab tests. Some said they got their results after 3 days while others said they had to wait for 5 to 7 days. You may also check the website and type your barcode and passport numbers to check your result.
If negative, you can ask the hotel to print the certificate and then check out.
If positive, somebody from the government will contact you and bring you to another facility.
Good luck and stay safe! – Rappler.com