For those planning a trip, here are a few tips that may help ease your anxiety
I'm fully vaccinated. But after braving a crowded airport, a fully-booked flight, and a confusing entry process in the Bacolod-Silay airport on Monday, November 15, I miss the old home-quarantine routine we braved as returning residents in July this year.
At around 10 am, I arrived at Terminal 2, which houses Philippine Airlines, for a 12:25 pm flight to Bacolod City. I had failed repeated attempts at online check-in the day before and expected long lines since many local government units now allow fully-vaccinated individuals to forgo the expensive real-time reverse transcription polymerase chain reaction (RT-PCR) test.
There are special flights (PR2129) from Manila to Bacolod for fully vaccinated passengers every Monday and Friday. I took the regular daily flight (PR2131) from Manila to Bacolod that allows fully vaccinated and unvaccinated (RT-PCR still required) passengers.
It took 35 minutes to check-in and the porter had taken me to the shortest line.
The terminal's check-in area was full. Most people wore face masks and shields. Some had their shields up or in their hands. There were many children: babies in carriages, some toddlers, some of elementary school age. Entire families, from grandparents to youngsters, were taking the opportunity to go home, many for the first time in 19 months.
One reason for the slow check-in process: Some people's S-Passes were still pending by the time of check-in because of slow clearance by LGUs.
In our line, three sets of passengers had that same problem. Three people traveling together pleaded as they showed their vaccination cards. Two groups showed RT-PCR tests. Ground staff — they all wore PPEs — scurried back and forth to check for LGU permission via other methods. This wasn't just for Bacolod; the check-in area lumps flights together.
What happened to physical distancing?
There's the usual confusion that stems from ever-changing regulations. A woman in front of me at the boarding gate said she thought the S-Pass was no longer a requirement for Bacolod City. Since she came from outside Metro Manila and arrived four hours early, she managed to fill up her S-Pass and get LGU approval just in time before the check-in window closed.
The check-in counter had a big sign asking us to scan. But nobody did and there was no reminder from ground staff, so that may be an old sign. The PAL website says to scan with Traze but nobody asked anything at the entrance and only the S-Pass is required at check-in.
If the entry hall was full, the waiting lounge was worse.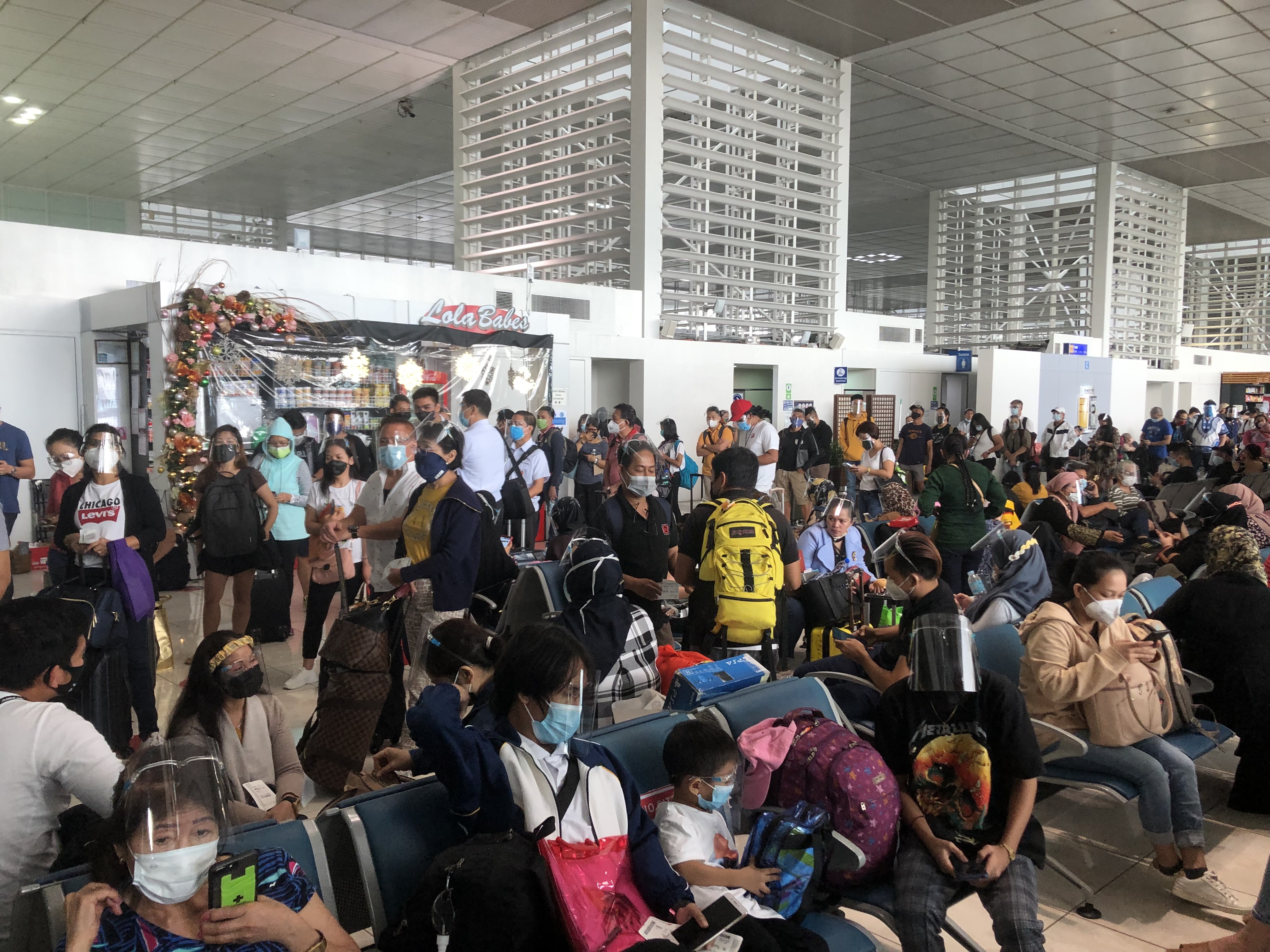 Physical distancing requirements require an empty seat between waiting passengers.
At Gate 17, where passengers for Bacolod and two other cities waited, a line of people sat on the floor with their backs to the wall, not a usual Terminal 2 scene. Some knelt or sat in front of their seated companions.
Pretty soon, many seats with marks were also taken – the logical conclusion when flights are fully-booked and authorities have halved the number of available ground seats. Just not sustainable.
PAL ground staff tried their best to remind people in the boarding lines to wait for their turn, according to airplane seats, and to follow the red circles on the floor indicating the required physical distance. They didn't have much success. The crush here is usually fueled by the desire to get first crack at the overhead baggage compartment. Ground crew tried to encourage passengers to check-in some carry-on luggage for free, to ease the boarding process. They did manage to send in passengers in small groups so there was less crowding on the plane aisle.
There is no physical distancing inflight. It's the old shoulder to shoulder arrangement. (In July, when fewer people were traveling, there were vacant seats between passengers.)
The airline uses High Efficiency Particulate Air (HEPA) filters to cleanse cabin air of bacteria, viruses, and impurities with 99.99% efficacy. In August 2020, PAL was chosen one of the world's top 10 safest carriers. That eased some nerves.
Need to improve communications system
On arrival, there are two exits: one for Bacolod City, the other for other Negros Occidental destinations.
There were two lines in the Bacolod area. I was waved to a shorter line. Maybe it was my salt and pepper hair but nobody asked, and there were also other younger folk in our line. I had held up my vaccination card to the person at the entrance of our hall, but nobody really checked it.
The curious thing was, the other line went through a desk where people took down information. If that was for unvaccinated folks – I'm a bit nervous because that was a much longer line.
The lack of clear communication made everything hazy.
Our line didn't have any checks. A person outside the exit kept waving at us. I pointed to the desk. He just kept on waving, so we all went out.
I know the city has a record of my entry because of the tracking system we need to fill up to get cleared by S-Pass, and I did attach my vaccination card there. But they could probably improve the communications system at the exit clearance station.
Tips
For those planning a trip, here are a few tips that may help ease your anxiety, based on my experience.
Make sure you fill up the S-Pass and apply for permission from your LGU a few days before your flight. Vaccinated folks will have an easier time. The unvaccinated have to get RT-PCR tests not more than 72 hours before arrival and some centers are slower than others in releasing test results.
Check your LGU's rules. Some require a vaccine certificate, some just your vaccination cards.
Residents returning from overseas will need a certificate of quarantine completion from the Bureau of Quarantine.
Double mask. There are just too many folks in a relatively small indoor setting.
For Bacolod travelers like me, here's the latest Bacolod Executive Order for Alert Level 2, issued by Mayor Evelio Leonardia on November 15.
Here's PAL's latest guidelines, last updated on November 12, on travel to Bacolod City and Negros Occidental. Bacolod was placed on Alert Level 2 on November 15 but the requirements are the same. – Rappler.com