13
8 beautiful Metro Manila churches for Visita Iglesia
MANILA, Philippines – For the Catholic faithful in our country, Visita Iglesia (church visit) is a common practice during Holy Week, especially on Maundy Thursday.
While there are churches all over Metro Manila, there are those which stand out for their rich history (some over 400 years old!) and beautiful architecture.
This Holy Week, why not do your Visita Iglesia while appreciating the beauty and history of some of these ancient churches?
Below is a suggested guide and route, with Edsa-Guadalupe as the starting point. Be prepared for some walking, though, which you may count as part of your panata (vow) or penitensya (penitence).
1. Nuestra Señora de Gracia Church, Guadalupe Viejo, Makati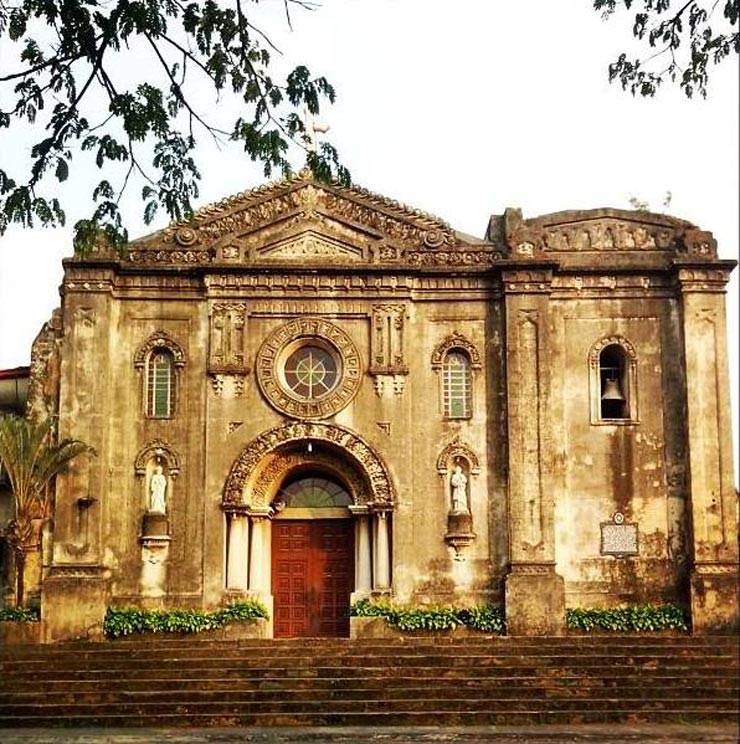 What makes it beautiful: Amid Makati's skyscrapers and commercial establishments is this old church with Renaissance and Baroque architecture. Its façade is simple but striking, with an arched entrance, columns, and a rose window.
How old is it? 400 years old. Founded by Augustinians, it was constructed in 1629, though parts of it were later rebuilt. Its roof collapsed from an earthquake in 1882, and parts of it were burned in 1898 during a fight between Filipinos and Americans. Its walls stood even after World War II. It was reconstructed and re-opened to the public again in 1983.
Address: 7440 Bernardino Street, Guadalupe Viejo, Makati City, Metro Manila
How to get there: Take a bus or the MRT train to Guadalupe Edsa. Go to Bernardino Street on the corner of Loyola Memorial Chapels. (If you are coming from Quezon City or MRT North Station, Loyola is at the right side of Edsa). Just walk along this street and you will find the church. Most jeeps along Bernardino Street also pass by Guadalupe Church. Just ask to be dropped off there.
2. Parish of Our Lady of the Abandoned (Sta. Ana Church), Sta. Ana, Manila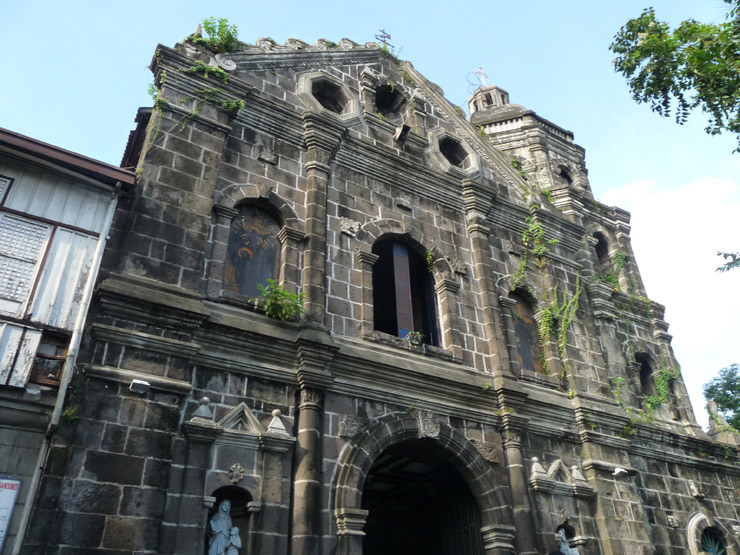 What makes it beautiful: Also with impressive arches and columns plus a domed bell tower, Sta. Ana Church is striking like Guadalupe church. The church and its Camarin de la Virgen have been declared by presidential decree as national cultural treasures.

The Camarin is the dressing room of the image of the Virgin Mary, where her vestments are changed during religious festivals and occasions. Here you will find ceiling murals of Mary and Jesus, old Spanish azulejos tiles, capiz windows, and other designs and furniture reflective of the times then.
How old is it? Almost 300 years old. The cornerstone was laid in 1720. Sta. Ana is also one of the churches spared by World War II so most of what you see today, including the Camarin de la Virgen, was what churchgoers saw hundreds of years ago.
Address: New Panaderos Street, Sta. Ana, Manila
How to get there: From Guadalupe Church, take a jeep to PRC or passing by PRC (confirm with the driver). Get off at PRC. Other landmarks are Jollibee and McDonalds. Take a tricycle (regular fare: P8, special fare: P20) to Sta. Ana Church.
3. Our Lady of Remedies Parish Church (Malate Church), Malate, Manila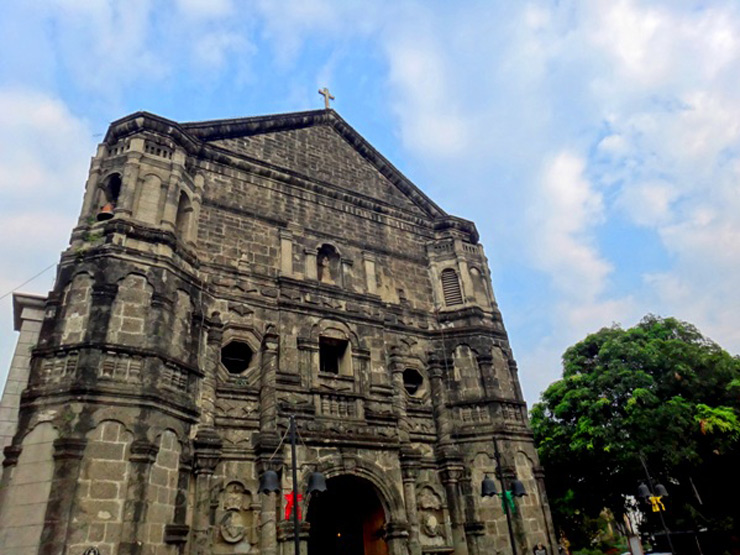 What makes it beautiful: Malate Church has the usual Baroque design of arches and columns, though with no bell tower and with Muslim design elements, particularly trefoil arches on its facade. What also makes this church unique is that from a bird's eye view, its rooftop forms the shape of a cross.
How old is it? Almost 150 years old, though it is technically 420+ years old. It was built in 1588, but was re-built in 1864 after it was destroyed by an earthquake and typhoon. It was also considerably damaged by fires during World War II.
Address: 2000 MH del Pilar, Malate, Manila
How to get there: From Sta. Ana Church, take a jeep to Padre Faura or passing by Padre Faura (P12). Get off at Padre Faura cor. Mabini streets. Then, take a Vito Cruz or Baclaran jeep (P8). Or, confirm with driver if jeep is passing by Malate Church.
4. San Agustin Church, Intramuros, Manila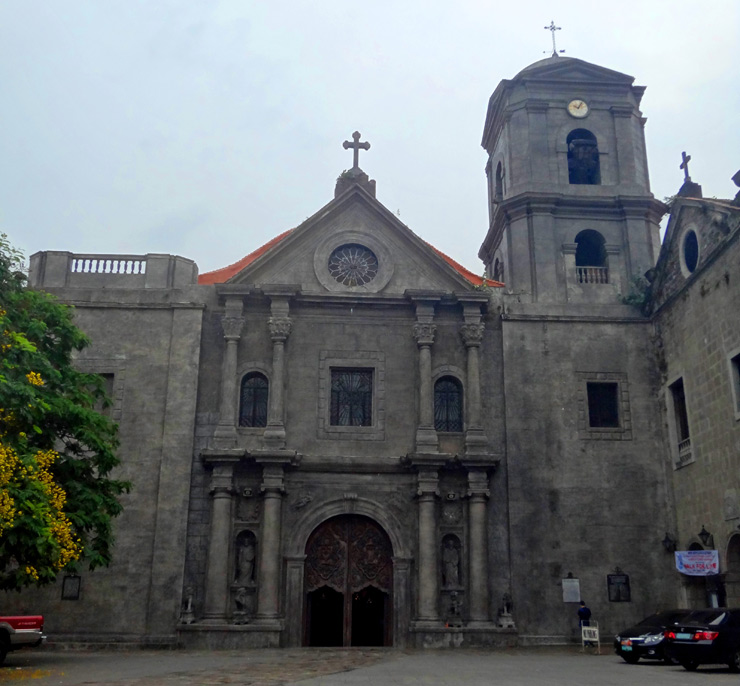 What makes it beautiful: The only church which is a UNESCO World Heritage site in Manila, San Agustin has not only striking Baroque architecture but also detailed trompe l'oeil murals on its walls and ceilings. Trompe l'oeil (literally "deceive the eye") art is two-dimensional but gives the illusion of 3D.
How old is it? Its original structure, though later re-built, is 440+ years old. Its reconstruction as a stone church was finished 1607 and has survived earthquakes and World War II with only a damaged roof.
Address: General Luna Street, Intramuros, Manila
How to get there: From Malate Church, take a jeep to Lawton (P8) or passing by Lawton. Cross to Intramuros on the other side, then walk or take a pedicab (P10 up. Don't forget to haggle) to San Agustin.
5. Manila Metropolitan Cathedral-Basilica (Manila Cathedral), Intramuros, Manila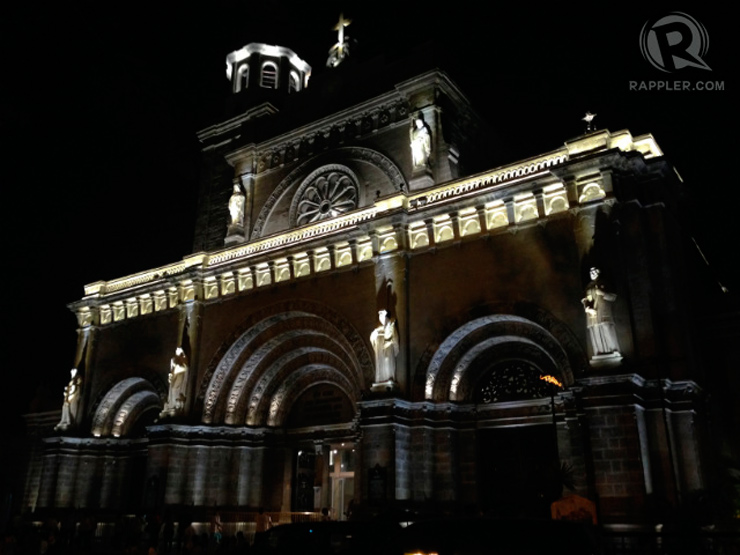 What makes it beautiful: With an area of almost 3,000 square meters, Manila Cathedral looks massive and awe-inspiring. What stands out in its façade are its multi-layered arches. Also striking are the rose window on the middle top tower and the church's domes. Its interiors are particularly grand because of its marble chapels, altar, and pulpit, among others.
How old is it? Technically 430+ years old, though the church has been destroyed several times, with its last re-construction in 1958. Its walls and façade survived World War II.
Address: Cabildo corner Beaterio Sts., Intramuros, Manila
How to get there: From San Agustin Church, take a pedicab or walk to Manila Cathedral.
(READ: Cardinal Tagle reopens Manila Cathedral: 'PH too will rise')
6. Minor Basilica of San Lorenzo Ruiz (Binondo Church), Binondo, Manila


What makes it beautiful: Aside from its arches and pillars, what is interesting about this granite church is its octagonal bell tower, which may reflect the Chinese culture of its parishioners, as 8 is considered an auspicious number. Recently, though, parts of the façade have been painted red, raising protests from those who would like to preserve the church's beauty and history in its original state.
Inside, be sure to look up to see the ceiling paintings depicting biblical scenes.
How old is it? Close to 420 years old, but was destroyed by British bombing in 1762 and re-constructed in 1852. This structure's west façade, walls, and bell tower survived World War II.
Address: Plaza Lorenzo Ruiz, Binondo, Manila
How to get there: From Manila Cathedral, walk back to Lawton then take a jeep to Divisoria (P8).
From Binondo Church, you have two options for your last stop:
7. Santo Niño de Tondo Parish, Tondo, Manila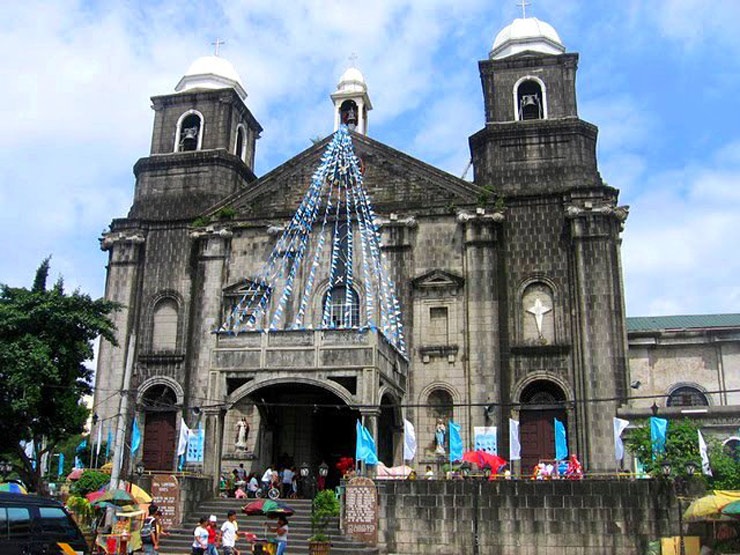 What makes it beautiful: Aside from its arches and columns, easily noticeable are Tondo Church's twin domed bell towers on either side, and one small domed bell tower resting on the roof.
How old is it? Over 380 years old, but was re-built after 1863 because of earthquake damage.
Address: 600 Lorenzo Chacon St., Tondo, Manila, Philippines
How to get there: From Binondo Church, ride a Divisoria-bound jeep (P8) and get off at KP Tower in Divisoria. Take a pedicab to Tondo church (around P20 or more, but haggle with the pedicab driver).
OR
7. Minor Basilica of San Sebastian (San Sebastian Church), Quiapo, Manila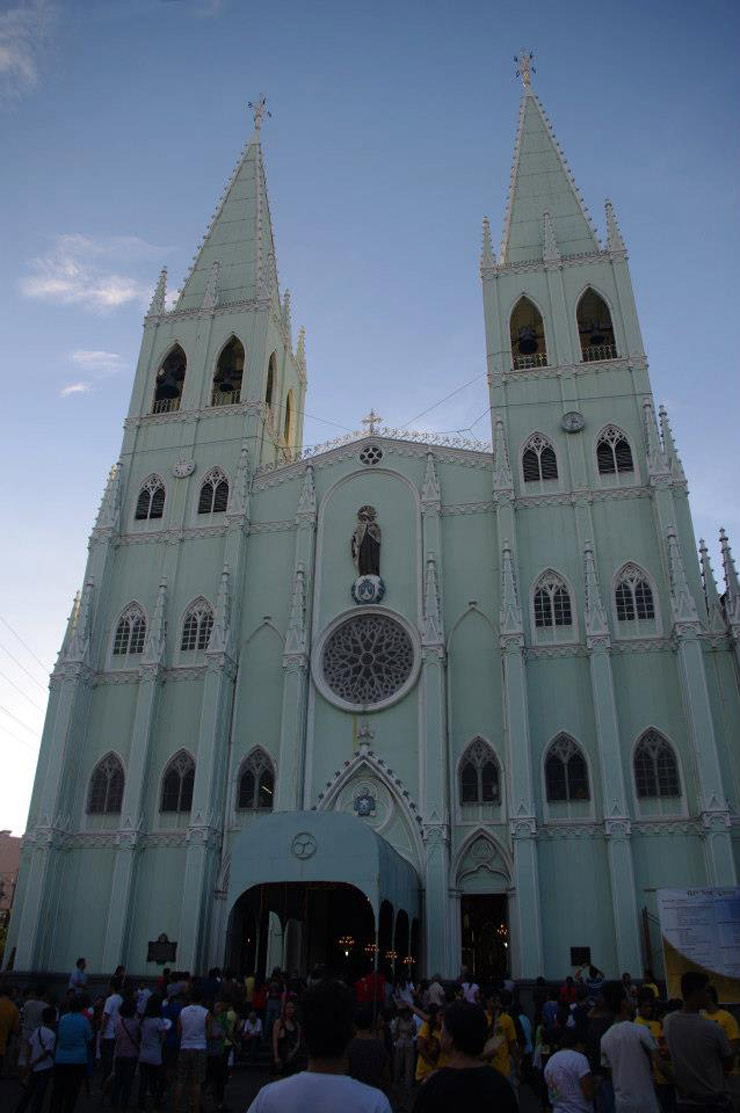 What makes it beautiful: While the previous churches' staples are arches and domes, San Sebastian Church's Gothic architecture has its towering twin spires. It is also the only all-steel church in the Philippines, with materials imported from Belgium. Gustave Eiffel, the engineer of Paris' Eiffel Tower, is said to have been involved in San Sebastian's design and construction. The church has been declared as a national historical landmark and is on the tentative list of UNESCO World Heritage Sites.
The interiors are majestic with its pillars, crystal chandeliers, and stained glass windows.
How old is it? Technically over 300+ years old, though the original structure was made of wood and was burned during a 1651 Chinese revolt. The current structure is 120+ years old.
Address: Plaza del Carmen, Quiapo, Manila
How to get there: From Binondo Church, walk along Ongpin Street in the corner. From Ongpin, turn left to Teodora Alonzo St. until you reach Recto. Ride a jeep to Cubao or Aurora, or any jeep passing by Legarda. Get off at Recto-Legarda intersection. Turn right at Legarda Street then turn right at Bilibid Viejo Street. San Sebastian Church will be at the right side of the street.
Check these out if you need more directions:
Visita Iglesia Tips:
Start early so you can leisurely explore all 7 or 8 churches.

Bring plenty of water as the summer heat and the walking can make you thirsty.

Wear comfortable footwear for walking.

Bring a cap or umbrella for the summer heat.

Stay alert and look out for your safety and your belongings.
– Rappler.com

Claire Madarang is a writer, traveler and seeker. Her wanderlust takes her on adventures like backpacking for 7 weeks straight. Her seeking leads her to different wellness practices like meditation and healthy (mostly vegetarian) eating. Follow her adventures, tips and epiphanies at her blog, Traveling Light.