The Pantawid Pamilyang Pilipino Program is the Aquino administration's flagship poverty alleviation program and covers more than 4,400,000 Filipino households in 2015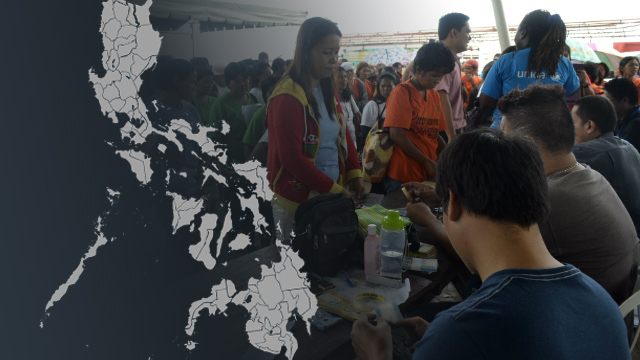 MANILA, Philippines – The Pantawid Pamilyang Pilipino Program (4Ps) of the Department of Social Welfare and Development (DSWD) is deemed the flagship program of the Aquino administration against poverty – but it has not been without criticism.
The 4Ps – otherwise called the Conditional Cash Transfer (CCT) – provides cash grants to the poorest of the poor in the Philippines to relieve them of the problems brought about by their socioeconomic status.
A household-beneficiary with 3 children may receive P1,400 ($30)* a month or P15,000 ($331) a year. These are expected to be used to relieve themselves of problems related to their socioeconomic status: poor health, malnutrition, and lack of education, among others.
Since it started in 2008, the Department of Social Welfare and Development (DSWD)-led social protection program continued to be under scrutiny mainly because of the annual huge budget allocations and the alleged flaws in the roster of beneficiaries.
Social Welfare Secretary Corazon Juliano-Soliman, however, maintained that the "full effect" of 4Ps can be seen in the long-run. (READ: Soliman: Anti-poverty program takes time)
Soliman gave assurances the department has worked to purge the list of beneficiaries and improved its targeting to cover those who fit their requirements. (READ: Soliman: DSWD is keeping 4Ps database clean)
Aside from being identified by the DSWD's targeting system as poor, household-beneficiaries should have children aged 0 to 14 years old or be a pregnant member during registration.
Data from the 2015 program portfolio of 4Ps show there are more than 4,400,000 targeted beneficiaries scattered across the Philippines. These beneficiaries are divided into two categories: the household beneficiaries of the regular CCT and beneficiaries of the Modified CCT. 
| | |
| --- | --- |
| CATEGORY | NUMBER OF TARGET HOUSEHOLD-BENEFICIARIES FOR 2015 |
| Regular CCT Beneficiaries | 4,309,769 |
| Modified CCT Beneficiaries | 126,963 |
| Total | 4,436,732 |
Below is the map of the distribution of 4Ps beneficiaries in 2015. The darker the gradient, the more beneficiaries in a specific province. Click on specific provinces to view the specific population of people enrolled in its social protection program. 
The Autonomous Region in Muslim Mindanao has the most number of 4Ps targeted beneficiaries with 44,8757. Maguindanao, a province that has been laden with conflict for years, is also the province with the most number of families enrolled in the program.
The top 25 provinces with most number of beneficiaries are:
| | |
| --- | --- |
| PROVINCE | NUMBER OF TARGET HOUSEHOLD-BENEFICIARIES FOR 2015 |
| Maguindanao (together with Cotabato City) | 200,537 |
| Zamboanga del Sur | 140,804 |
| Cebu | 129,986 |
| Pangasinan | 124,410 |
| Negros Occidental | 124,100 |
| Camarines Sur | 117,730 |
| Leyte | 113,385 |
| Zamboanga del Norte | 110,790 |
| Sulu | 107,368 |
| Quezon | 101,020 |
| Iloilo | 101,020 |
| Lanao del Sur | 99,269 |
| Batangas | 89,806 |
| Nueva Ecija | 89,281 |
| Cotabato (North Cotabato) | 83,392 |
| Bukidnon | 81,895 |
| Masbate | 81,615 |
| Albay | 80,747 |
| Misamis Oriental | 78,211 |
| Palawan | 77,297 |
| Negros Oriental | 71,537 |
| Lanao del Norte | 70,394 |
| Bulacan | 67,678 |
| South Cotabato | 65,831 |
| Sorsogon | 62,504 |
Twenty out of the top 25 provinces with the highest number of targeted beneficiaries are included in the list of priority areas identified by the Aquino government in its latest memorandum under Aquino's Social Contract.
These priority areas were based on data from the DSWD and the Philippine Statistical Authority (PSA) using two indicators: high poverty magnitude and high poverty incidence.
The remaining 5 priority areas with low 4Ps beneficiaries – compared to other provinces – were included due to individual context: Davao del Sur is the highest in Region XI, Eastern Samar was affected by Typhoon Yolanda (Haiyan), and Apayao, Camiguin, and Sarangani are included in the 2014 list of poorest provinces in the Philippines.
The road to 'clean database'
The 2015 breakdown shows that the DSWD has targeted its beneficiaries based on need, effectively locating the areas where high magnitude and incidence of poverty have been reported.
This is just among the results of the department's continued enforcement of means to maintain a "clean database" for the 4Ps.
The National Household Targeting System for Poverty Reduction (NHTS-PR) is also an effective mechanism. The system makes data available to national government agencies and related sectors to properly and accurately identify possible beneficiaries of various social protection programs – including 4Ps.
NHTS-PR aims to properly screen beneficiaries who are truly in need of government support to end poverty.
Another measure implemented by the DSWD is the Grievance Redress System (GRS). This system collates complaints directed to the program or to beneficiaries. The system alone has delisted more than 77,000 beneficiaries. 
They were delisted because of the following reasons: they did not follow the required tasks set by the department – such as regular health consultations, pre- and post-pregnancy care for mothers – and failed to encourage their children to attend school for a minimum number of times. 
As Aquino's administration comes to a close, Soliman said on Rappler Talk that people now have a benchmark of what works against poverty.
"You have a government that is accountable, that's transparent, that has shown budget reform, that has allocated significant amounts of funds for social service, for infrastructure, that had really been felt and seen by the people," she explained. "Now, the people have to judge all those who are going to say, 'I'm going to continue this.'" – Rappler.com