Watch the Manila Social Good Summit and follow the discussion on Innovation +SocialGood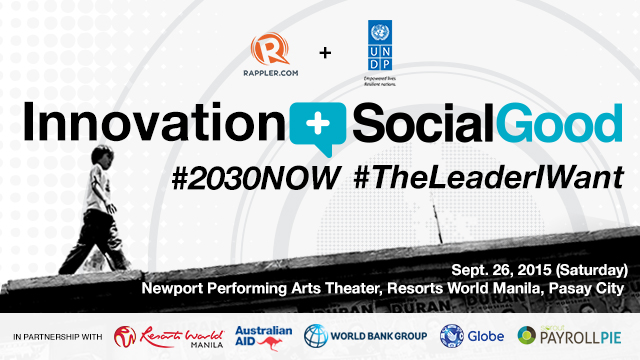 MANILA, Philippines – On September 26, Rappler and the United Nations in the Philippines, through the United Nations Development Program, joined the global community through the Social Good Summit.
Organized around the UN General Assembly, the Social Good Summit aims to start a global conversation on possible solutions to the world's toughest questions. (Read: What you need to know about the Social Good Summit)
Here's the program for the Innovation +SocialGood Plenary
Innovation +SocialGood Plenary

1:00 – 5:30 PM

PROGRAM HOSTS
Chay Hofileña Rappler Investigative Desk
Manny Ayala Chairman of the Board, Rappler.com and CEO, Hatchd Digital
Welcome Remarks
Maria Ressa
CEO, Rappler
The Challenge Today: 
Powering up social enterprise through competition & technology
Hon. Bam Aquino
Senator
KEYNOTE
Technology and Justice: How technology strengthens the justice system
Hon. Maria Lourdes Sereno Chief Justice, Philippine Supreme Court
The Global Goals for Sustainable Development
Ola Almgren  UN Resident Coordinator, UNDP Resident Representative in the Philippines
Technology, development and leadership
Maria Ressa  CEO and Executive Editor, Rappler
Big data, deep learning and smart nations
Mario Domingo Founder and Managing Partner, lloopp Natural Intelligence Solutions
Panel discussion and Q & A on Technology, leadership and the Global Goals:
Mario Domingo lloopp Natural Intelligence Solutions 
Kai Kaiser World Bank 
Ramya Gopalan UNDP Innovation Specialist 
Regina Estuar Ateneo eBayanihan
Moderated by Maria Ressa CEO, Rappler
Leadership #2030Now
Hon. Leni Robredo Representative, 3rd District of Camarines Sur
Joey Salceda Governor, Albay
Q and A : Leadership #2030NOW
#TheLeaderIWant and You
Voter registration challenge launch 
Hon. Andres Bautista Chairman, Commission on Elections
Maria Ressa CEO and Executive Editor, Rappler
Elections and #2030NOW: Why voter participation in elections is important for social good
Hon. Andres Bautista Chairman, Commission on Elections
Closing Remarks, Plenary
Glenda M. Gloria Managing Editor, Rappler
Musical Performance
Reese Lansangan
Click on the images below to watch the highlights of the Innovation +SocialGood Plenary
This year, the summit focuses on the Sustainable Development Goals or Global Goals adopted by world leaders on September 25 at the United Nations General Assembly.  The agenda aims to end extreme poverty, fight inequality and injustice, and fix climate change by 2030.
With the theme, Innovation +SocialGood: #2030Now #TheLeaderIWant, the Manila Social Good Summit explored how these Global Goals may be reached by 2030 using key ingredients: technology and innovation; engaged and active communities; competent and accountable leaders.
Innovation +SocialGood was held at the Newport Performing Arts Theater, Resorts World Manila in Pasay City. The summit explored the power of technology and the vital roles leaders play in fostering innovative ideas that can address the problems of our day.
RapplerTalks +SocialGood
10:00 – 12:00 PM
Welcome Remarks
Zak Yuson Director for Civic Engagement, MovePH
Video: A year of Moving the Philippines
Information as a lifeline: Innovations in disaster information management
Matthew Jakab Philippines Activity Leader – Community Safety Branch, Geoscience Australia

Bridging the digital divide: Communications technology and the social media for the bottom of the pyramid
Bong Esguerra Head for CSR, Globe Telecom 
Darwin Flores VP for Community Partnerships, Smart Communications
ShareSpace # 1
Celso Caballero Weather Philippines 
Dr. Reena Estuar eBayanihan 
Marina Azcarete FireChat 
Eugene A. Villar Open Street Map Community 
Myles Delfin Bike Scouts 
Collen Curran PDRF
Why we tell stories: #StoryofTheNation
Voltaire Tupaz MovePH and Dominic Go Rappler
Data-driven leadership: Innovations in analyzing open data and big data to improve governance and transparency
Kai Kaiser Senior Economist, World Bank
Securing our common future: Innovations in development programs that can exponentially change the world
Ramya Gopalan Innovation Specialist, UNDP
ShareSpace # 2 Minding the gap
Cdr. Armand Balilo World Vision 
Francesca Zimmer-Santos Co.Lab 
Patrick Gentry Sprout 
Amb. Henrietta de Villa PPCRV 
Ona Caritos Lente | Task Force 2016
Joey Dela Cruz YES4SDG 
Fr. Xavier Alpasa, SJ Simbahang Lingkod ng Bayan
Closing Remarks
Maria Ressa CEO, Rappler
PACE – Rappler MOA signing
Maria Ressa CEO, Rappler 
Marco Polo PACE President
Watch the full recording of the RapplerTalks +SocialGood morning session below
Click on the images below to watch the highlights of the RapplerTalks +SocialGood session
MOVE AWARDS NIGHT
6:00 – 8:30 PM

The Move Awards celebrates outstanding Filipinos who create change – not just for themselves, but also for others. They are making a difference in their communities, bringing new ideas to the table, and displaying excellence in their field.
Opening Remarks
Zak Yuson
Move Awards : Philosophy and Vision
Maria Ressa CEO, Rappler
Civic Mover       
Presented by Dingdong Dantes Commissioner, National Youth Commission
Creative Mover
Presented by Pepe Diokno Filmmaker
Enterprise Mover
Presented by Steve Benitez President and CEO, Bo's Coffee
Global Mover
Presented by Patricia Evangelista Award-winning multimedia journalist, Multimedia Manager, Rappler
Tech Mover
Presented by Mr Ken Lingan Google Philippines
Move Communities Recognition and Closing Remarks
Rupert Ambil Executive Director, Move.PH
Entertainment Number
Monica Cuenco and Ronnie Liang Stars of "Bituing walang Ningning," the Musicale
About  the RapplerTalks +SocialGood resource persons (in alphabetical order):
 Fernando "Bong" Esguerra Jr. is the head of Globe's Corporate Social Responsibility (CSR). Globe's CSR projects focuses on building the information and communications technology capacities of public high schools, local governments, environmental organizations, and social enterprises. They also have volunteer programs and electronic waste recycling initiatives. Esguerra was also a disaster preparedness panelist in 2013's Social Good Summit. 
For the last 12 years, Darwin Flores has been leading Smart's community engagement initiatives for the base of the pyramid communities in the Philippines. He heads the department responsible for developing ICT-oriented, socially relevant programs in the areas of education, health, disaster preparedness and response, environment and livelihood. Before joining Smart Communications, Inc. (Smart), Darwin was, for ten years, at the helm of fair trade and environmental conservation programs in Southeast Asia and the Pacific for Oxford-based  Oxfam UK-Ireland and Washington D.C.-based Conservation International. Previous to this, he was a political researcher in aid of national legislation for the Philippine Senate.
Ramya Gopalan leads UNDP's innovation practice in Asia Pacific, focusing on helping UNDP develop the next generation of its services based on approaches and methodologies mediated from different sectors. She manages a portfolio of around 40 innovation projects, leads the horizon scanning work and is responsible for building innovation capacity across the region. Ramya has helped set up a number of cutting edge initiatives in the area of technology and innovation and is a regular speaker at international conferences and events. She has also been contributing to exploring the nexus between public and private sector work, developing partnerships to adapt new technology and ideas for addressing development challenges and facilitating country exchanges and south-south cooperation. 
Matthew Jakab is the Disaster Geography Specialist in the Community Safety Branch of Geoscience Australia. Matthew completed a Bachelor of Geoinformatics and Surveying at the University of South Australia and has extensive experience in the application of surveying and the spatial sciences across three levels of government in Australia. Matthew has a strong interest in spatial analysis that supports urban and regional land use planning, natural resource management, infrastructure development, emergency management and natural hazard risk analysis. Matthew joined Geoscience Australia in 2009 and leads the exposure component of the Risk Analysis Project for Greater Metro Manila Area. The project is supported by the Australian aid program in the Philippines and implemented in partnership with Office of Civil Defense and the Collective Strengthening of Community Awareness for Natural Disasters (CSCAND) agencies.
Kai Kaiser, is a Senior Economist in the World Bank in Manila. He is primarily focused on public finance and public sector governance reform in the country.  Before this he was a Senior in Washington, DC where he worked on global public finance, intergovernmental relations, natural resource led development, and applied political economy and institutional reform issues. He has also worked in Jakarta, Indonesia where he focused on fiscal decentralization and service delivery reforms. He is the author of several books and papers on governance, development and public finance such as Good Practice Framework: Problem-Driven Governance and Political Economy Analysis and Rents to Riches: The Political Economy of Natural Resource-led Development. 
One of the pioneers of Move.PH, Rappler's citizen journalism arm, Voltaire Tupaz moves around the country organizing the 'Social Media for Social Change' chat series. Voltz creates and manages platforms for public discussion, opening avenues for citizen involvement online and on the ground. Before joining Rappler, he was the executive director of a consortium of non-government organizations that promotes sustainable development and food security. He also served as a policy advocacy specialist for various non-profit organizations and an international environmental network, raising awareness about a range of issues that included indigenous knowledge systems, appropriate technology, climate change and other development issues.
About  the RapplerTalks +SocialGood Host:
Zak Yuson is the head of Citizen Journalism at MovePH. He has a masters degree in public policy from the Lee Kuan Yew School at the National University of Singapore and a BA in political science from UP Diliman. Prior to working at Rappler, Zak was a policy wonk at the Presidential Management Staff where he distilled policy papers for the President's consumption. He was also an associate producer for the ABS-CBN News Channel (ANC). Offline, Zak is the QC Chapter President of CISV, a international volunteer youth organization that promotes peace education in more than 60 countries.
About the Innovation +SocialGood resource persons (in alphabetical order):
His Excellency Ola Almgren is the resident coordinator for the United Nations (UN) in the Philippines. He has been with the UN for 25 years, working on humanitarian affairs, development, peace and security, and disaster relief. He was director of the New York Office of UN's Organization for the Prohibition of Chemical Weapons, an organization that worked on the removal of chemical weapons in Syria. He was also the Mission Chief of Staff of the UN Stabilization mission in the Republic of Congo, where they worked on the security, the restoration of government stability, the return of displaced families to their homes, and to relaunch community economies after years of political turmoil. Ola Almgren was recently in Leyte where he visited various projects for the families and communities affected by Typhoon Yolanda.
Paolo Benigno "Bam" Aquino IV is the youngest Senator in the country. He chairs the Senate Committee on Trade, Commerce, and Entrepreneurship, as well as the Committee on Youth. The senator is a multi-awarded youth leader and social entrepreneur who co-founded the Hapinoy Program, a microfinance and micro-enterprise support meant to lift poor Filipinos out of poverty. He became the youngest person in Philippine history to head a government agency after he was appointed as chairman of the National Youth Commission at age 25. Aquino was named as one of the Ten Outstanding Young Men of the Philippines in the category of Social Enterprise and Community Development, and was chosen as one of the Ten Outstanding Young Persons of the World in 2012. 
Andres Bautista is the current Chairman of the Commission on Elections (COMELEC). Bautista used to serve as dean of the Far Eastern University's Institute of Law. He was also the CEO of the Kuok Group in the Philippines, the investments of which include Shangri-La hotels and resorts in the Southeast Asian country. Bautista later served as chairman and president of the Philippine Association of Law Schools, as partner in an international law firm, and as a constitutional reform commission member under different Philippine presidents. Bautista finished his law degree at the Ateneo de Manila University in 1990 as class valedictorian and topped the Bar the same year. He eventually took a master of laws degree at Harvard University in 1993. Bautista was a candidate for chief justice in 2012.
Mario Domingo is a co-founder and managing partner at Natural Intelligence Solutions, PTE Ltd. lloopp. He stands side by side with customers in finding new and effective ways to solve conventional problems using Deep Machine Learning, Big Data and closed-loop self-optimization technologies. A cognitive technology geek and Project Management guru, he previously served as Head of IT Transformation Strategy at Globe Telecom and subsequently as Head of Customer Operations for a Singapore-based Company.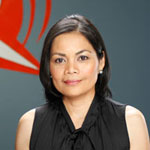 Glenda Gloria served as chief operating officer of ANC, the ABS-CBN News Channel from 2008 to January 2011. Under her management, ANC acted as the harbinger of new initiatives for the ABS-CBN news group. She played a key role in harnessing social media for the network's 2010 election coverage. She's written numerous books. With Marites Danguilan-Vitug she authored Under the Crescent Moon: Rebellion in Mindanao, a groundbreaking book on the conflict in Mindanao that won the National Book Award. In 2011, she wrote The Enemy Within: An Inside Story on Military Corruption with Aries Rufo and Gemma Bagayaua-Mendoza. Glenda now manages the Rappler newsroom, merging traditional journalism with innovative crowd-sourcing social media techniques.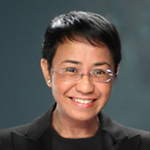 Maria A. Ressa has been a journalist in Asia for nearly 30 years and is the author of FROM BIN LADEN TO FACEBOOK: 10 Days of Abduction, 10 Years of Terrorismand Seeds of Terror: An Eyewitness Account of Al-Qaeda's Newest Center of Operations in Southeast Asia. She is one of the founders of independent production company, Probe Productions, before reporting for and heading CNN's Southeast Asia operations for nearly 2 decades (bureau chief in Manila then Jakarta). For 6 years, she was ABS-CBN's Senior Vice President for News & Current Affairs, handling news operations across multiple platforms. She is Rappler's CEO and Executive Editor.
Maria Leonor "Leni" Gerona-Robredo is a lawyer and a first-term representative of Camarines Sur's 3rd district in the House of Representatives. She is the widow of the late Interior Secretary Jesse Robredo, who died on a plane crash in 2012. She has lead groups advocating for women empowerment, such as Lakas ng Kababaihan and the Naga City Council for Women. She has also worked with Saligan, an organization that aims for legal empowerment for the poor and dispossessed. She is seen as a champion of good governance and freedom of information, authoring bills such as the Freedom of Information Act of 2013, and the Full Disclosure Act of 2013.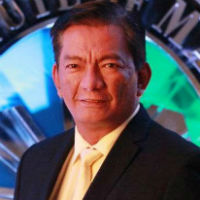 Governor Joey Sarte Salceda is often referred to as the Green Economist Governer of Albay. He is also considered as the father of the Albay and Manila Declarations on Disaster Risk Reduction (DRR) and Climate Change Adaptation (CCA). The declarations paved the way for The Climate Change Act of 2009 and the National Disaster Risk Reduction and Management Act which established DRR and CCA as priorities in both local and national government. 
 About the Innovation +SocialGood Program Hosts: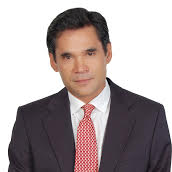 Manny Ayala is CEO of Endeavor Philippines, a non-profit that transforms markets by supporting high-impact entrepreneurs. He was previously managing director at IRG Ltd, a HK-based M&A boutique focused on the telecoms, media and tech industries. At IRG, Manny focused on a variety of projects in the Internet, mobile, television and online gaming sectors. Prior to that, Manny was the number two executive at Discovery Networks Asia, where he oversaw Strategic Planning, Programming, On-Air Branding and Program Sales. He was instrumental in turning Discovery Channel and Animal Planet into top-rated TV channels across the region. He is currently Chairman of the Board at Rappler.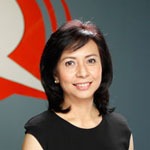 Chay Hofileña spearheaded Move.PH, Rappler's Citizen Journalism & Community Engagement arm. Before joining Rappler, she was a contributing writer of Newsbreak Magazine and was one of its founding editors. She has written extensively on media issues and authored the book, News for Sale: The Corruption and Commercialization of the Philippine Media (2004)." She co-wrote with Miriam Grace Go the top-selling book on the 2010 Philippine presidential elections, Ambition Destiny Victory: Stories from a Presidential Election (2011). She has been the recipient of awards from the Jaime V Ongpin Awards for Excellence in Journalism. She is currently Editor of Rappler's Investigative Reporting Desk.
About the Move Awards Night Resource Persons (in alphabetical order):
Rupert Ambil II began his career in the broadcast industry at the Philippines' first 24-hour news channel Sarimanok News Network, now ANC, or the ABS-CBN News Channel. In 2000 he left what could have been lucrative employment to work for an NGO in Eastern Samar. His love for journalism persisted and he found himself back at ABS-CBN in 2005 as a Futures Desk Specialist and Field Producer. He left the company as Head of Field Operations for the News Division. Now, he serves as the Executive Director of Move.PH, the citizen-journalism arm of Rappler.
Steve Benitez is the owner of Bo's Coffee, a local chain of coffeeshops. Starting out in Cebu in 1996, Bo's coffee now has more than 56 branches all across the country. Other than the usual fare for coffeeshops such as espressos and frappes, Bo's offers brewed coffee sourced locally from places such as Benguet, Sagada, Mt. Kitanglad, Mt. Matumtumm and Mt. Apo.  
Jose Sixto "Dingdong" Dantes III is a TV personality who was appointed as commissioner-at-large of the National Youth Commission in May 2014. He also serves as ambassador for Youth for the National Commission for Culture and the Arts, and is active with his foundation called Yes Pinoy Foundation. He has appeared in numerous TV shows (mostly in his home network GMA Network), movies, and advertisements since his teenage years. He now manages his own film studio named AgostoDos Pictures. He was married in December 2014 to his long-time screen partner and girlfriend Marian Rivera. The two expecting their first child on November.
Pepe Diokno is filmmaker. In 2009, his debut film "Engkwentro" premiered at the Venice Film Festival and won the Lion of the Future – "Luigi de Laurentiis" award for Best Debut Film, as well as the Orizzonti Prize for New Trends in Cinema. "Above the Clouds" is Pepe's second film. He is among "100 most exceptional emerging filmmakers" the 2010 book Take 100: The Future of Film, a list published by the UK's Phaidon Press. In 2010, Diokno also received the Ani ng Dangal Award from the President of the Philippines.
Patricia Evangelista is a journalist who has worked across a range of platforms including television production, documentary film and multi-platform collaborative projects focused on human rights, conflict, disaster, development and public interest issues. She writes for both online and print, and is a videographer, editor and producer. She is a fellow of the South East Asian Press Alliance and covered the refugee camps of Burma in 2009. In the same year, she was awarded by the Union Catholique Internationale de la Presse the Titus Brandsma Awardee for Emergent Journalism for trekking "treacherous grounds for journalists." In 2014, she won the Agence France-Presse Kate Webb Prize for her "balanced, nuanced eye and astonishing courage" covering two of the country's most brutal events of 2014 – the standoff between the military and Muslim rebels in Zamboanga and the aftermath of super typhoon Haiyan.
Performers at the Social Good Summit
There will also be performers during the event. The Innovation +SocialGood plenary,  will be capped off with a performance by Reese Lansangan, an indie pop/folk pop musician. Meanwhile, the Move Awards night will feature a performance from the stars of Bituing Walang Ningning, the musical.
Reese Lansangan, 24, is an indie pop/folk pop musician, she has over 3,000 followers on her Soundcloud and over 1,700 subscribers on YouTube. Her songs range from covers requested by her fans on Twitter to original songs about the use of proper grammar. Last July, she gave a talk on the power and potential of music to reflect human realities other than love and heartbreak and how there needs to be a better appreciation for less mainstream music at the TedxBritishSchoolManila. She was also a resource speaker at TEDxUST.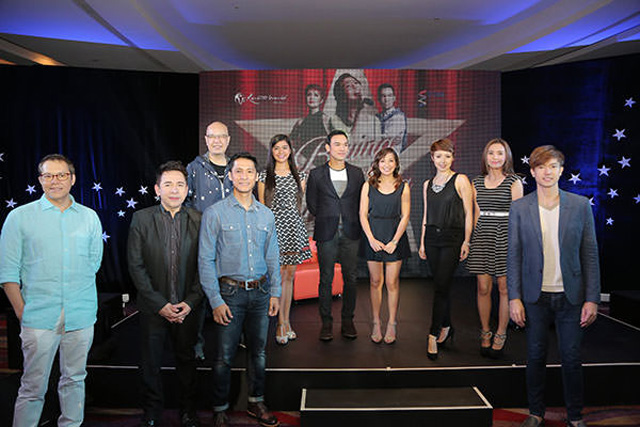 The old story of Bituing Walang Ningning sees new life through its new faces and voices performing a repertoire composed by Willy Cruz on stage and backed by the Manila Philharmonic Orchestra under the baton of Rodel Colmenar at the Newport Theater in Resorts World Manila. Among the many enduring songs of the repertoire are "Magandang Gabi," "Sana'y Maghintay ang Walang Hanggan," and of course, "Bituing Walang Ningning."