This is AI generated summarization, which may have errors. For context, always refer to the full article.
Netizens take to social media their sentiments about Marcos' decision. Some rejoice while others are angered by the idea that another Marcos would be in Malacañang.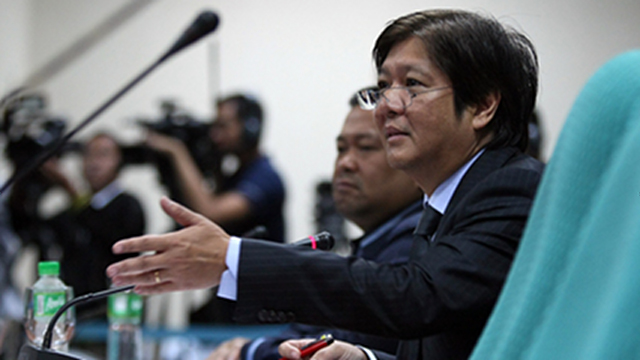 MANILA, Philippines – An otherwise quiet Monday evening, October 5, was rocked by the announcement of Senator Ferdinand Marcos, Jr, that he was running for vice president.
Netizens took to social media their sentiments about Senator Marcos, the son and namesake of the late dictator Ferdinand Marcos. Many were angered by the idea that another Marcos would be in Malacanang.
Voting for another Marcos, let alone glorifying their name, dismisses and trivializes the thousands of lives lost during Martial Law.

— Rarry Abatol (@senninrirray) October 6, 2015
I HAVE NO WORDS FOR SOMEONE WHO DOES NOT SEE WHY/HOW MARTIAL LAW IN THE MARCOS ERA IS BAD

— Isabel Rodriguez (@sisasaid) October 5, 2015
Marcos is running and people are applauding. i don't know what to say, tho i know that martial law should never happen again!

— Jasper Cajilig (@cajiligjasper) October 5, 2015
On Twitter, the word Marcos gained Monday night at least 14 million impressions, according to Rappler's social listening tool Reach. On Twitter, "impressions" means "the times a user is served a Tweet in timeline or search results." However, there were only more than 2,134 posts with the word Marcos. 
Meanwhile, in a comment posted under Rappler's article about Marcos' announcement, Lorenzo Hernandez reminded readers about how the ousted dictator perpetuated the "politics of personality."
"If there was any Filipino politician who practiced the 'politics of personality' it was Ferdinand Marcos Sr. Need I remind everyone of the ugly 30-meter high concrete bust of Marcos that was built along Marcos Highway in what was to be Marcos Park from 1978-1980? No wonder (those from the) young generation don't know that Mabini was a paralytic who lived over 100 years ago; they don't even know martial law and the rest of the Marcos era. As the saying goes, "those who don't remember the past are condemned to repeat it".
But others welcomed the senator's announcement:
On his official Facebook page, the status announcing Marcos' run has already gotten more than 42,000 likes, at least 8,000 shares, and more than 4,400 comments.
The top comment, "Sa wakas (Finally) a competent and very intelligent leader that prioritize the Filipino people and not his own political ambition," received 1,322 likes.
Over at the Rappler Facebook page, 14,040 likes greeted the posting of the breaking news item.
It also received more than 2,000 shares and at least 1,000 comments, with the top comment, "Hit LIKE kung Landslide winner si BBM as VICE PRESIDENT at DU30 as PRESIDENT" (Hit like if BongBong Marcos is landslide winner as Vice President and Duterte as President). While the second-highest comment, "NOOOOOO TO BONGBONG MARCOS…not marcos again!" received 514 likes and 314 replies.
The Senator's official twitter account sported 168 favorites and 161 retweets, two hours after the initial tweet announcing his candidacy.
READ: Sen. @bongbongmarcos' official statement: I have decided to run for Vice President in the May 2016 elections. http://t.co/dKcasCRgKB

— Bongbong Marcos (@bongbongmarcos) October 5, 2015
Marcos said he will support Davao City Mayor Rodrigo Duterte should the mayor decide to run for president. – With a report from Raisa Serafica/Rappler.com