This is AI generated summarization, which may have errors. For context, always refer to the full article.
The first day of COC filings see a large number of candidates, both serious and otherwise, declaring their political aspirations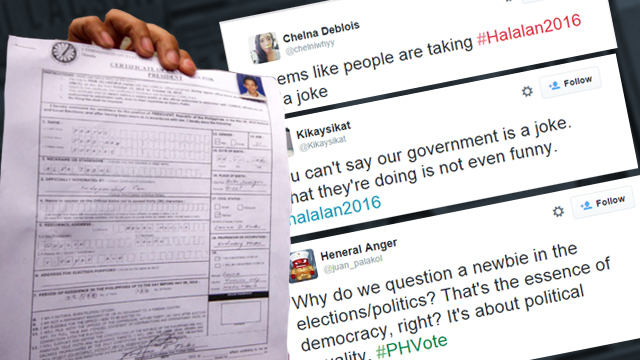 MANILA, Philippines – More than 22 presidential aspirants across the country have filed their candidacy with the Commission on Elections (Comelec) as of 4:18pm Monday, October 12, the first day of the filing of the certificates of candidacy (COC).
Social media reacted with skepticism toward many of the 22 candidates. Of this eclectic group who have formally declared themselves ready to hold the highest office in the land, a number have never actually held political positions. This prompted annoyance and frustration among many online.
It is the perceived irreverence to the presidency of many of these candidates that has upset netizens.
Of the 20 declared candidates so far, one is a Filipino who prides himself of his Russian ancestry (Ralph Masloff), another is a tricycle driver (Freddie Esher Llamas), and another even gave a foreshadowing of his foreign policy if elected by burning a Chinese flag outside Comelec right before registering his candidacy (Ely Pamatong).
Their inexperience has been a source of annoyance, leading to them being mostly called "nuisance" candidates.
However, not all netizens reacted negatively to the number of declared candidates. Some pointed out how it is necessary in a proper democracy for any citizen to be able to seek the opportunity of public service, including even the presidency.
Why do we question a newbie in the elections/politics? That's the essence of democracy, right? It's about political equality. #PHVote

— Heneral Anger (@juan_palakol) October 12, 2015
The people you are calling #nuisance are the ones who went against the current and actually stood up for their principles #PHVote

— L (@lmmendozaaaaa) October 12, 2015
While it is possible for anyone to register a COC, Comelec will eventually determine whether each declared candidate is truly eligible for the office they seek. We have yet to see if the current 20 candidates even meet the requirements to seek presidency.
ANYONE can file a COC for presidency but none of them are official candidates yet. Some can be disqualified. #Halalan2016

— Jochelle Inaldo (@SuperJochelle) October 12, 2015
You can find the full list of candidates, of all levels of seriousness, here. – Rappler.com
Lorenzo Benitez is a Rappler intern.