Cemeteries are actually quite beautiful if you just take a look around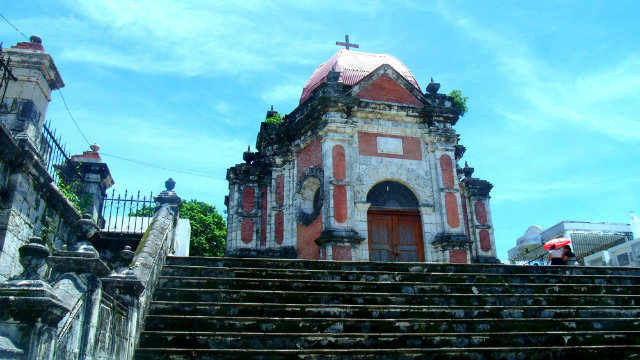 How about cemeteries as a base for tourism? Yes, this question is legitimate. In fact, there is such a thing as 'tombstone tourism' and even a bigger concept termed as 'dark tourism'.
'Dark tourism' is generally defined as tourism to places associated with death and disaster. Some people call it 'thanatourism' from the root 'thanatos' meaning 'death'.
Cemeteries become tourist drawers on merits of their cultural, historical, as well as architectural value. Ghoulish as it may sound, cemetery tourism is a growing phenomenon around the world. Its popularity must come from everybody's desire to trace their roots or pay homage to long-dead heroes and villains.
In Sapanta, Romania, the Merry Cemetery is a top tourist destination. Each grave site there is marked with  a brightly-colored tombstone that depicts either the person buried or a memorable scene from his/her life. London, England has the famous Highgate Cemetery, a haggard, Victorian-style cemetery built on the outskirts of North London. The final resting place of philosopher Karl Marx, a vampire was rumored to haunt its gates in the 1970s.
We are not wanting of sites like these in Iloilo. In fact, most travel writers from Manila and the rest of the country include cemeteries as part of their itinerary every time they visit the city and province of Iloilo. Realizing the importance of cemeteries, the Iloilo City Environment and Natural Resources Office  (CENRO) conducted an inventory of public cemeteries in all the districts to address congestion in its graveyards. I hope the next step is the beautification and restoration of these cemeteries.
Last week, my family went to San Joaquin, Iloilo's southernmost town. It's actually the hometown of my maternal grandmother. When lola was still alive, she would visit the town often. Now that she's gone, we rarely go there since it's quite far from the city. We are only forced to go there during important family occasions such as burials, weddings, and fiestas.
At first I didn't want to join. When Nanay told me that they were going to attend the burial of her 2nd cousin, I changed my mind. For me, it meant visiting the famous San Joaquin Cemetery. I had visited the place a couple of times back then, but I was too young to appreciate its beauty and mystery. It's my chance, I thought. Besides, the two-hour trip wouldn't be much of a hassle since we would be using a private car.
When we reached the place, I literally jumped out of the car in excitement. The cemetery is located around a kilometer before the town proper if you're from Iloilo City. Nanay and the rest of my companions remained inside the car because it was boiling hot outside. Armed with my ever reliable 'bridge camera', I ran towards the steps leading to the dome-shaped 'kapilya'. Good thing, Sharlyn, my niece, followed me. Without her, there wouldn't have been any photos of me in front of this imposing structure.
The Campo Santo of San Joaquin, Iloilo was built in 1892. The term 'campo santo' literally means 'holy field' and is used to refer to a cemetery. Its architecture is baroque, as evidenced by its entrance which is adorned by stone balustrades on both sides. On top of the gate is a life-size statue of Jesus Christ with arms stretched wide open.
The main feature of the campo santo is the mortuary chapel or capilla made of coral rocks and baked bricks. The structure's red dome caps its classic elegance. It's located at the center because it is where the dead is blessed before the actual interment.
My visit to the hauntingly beautiful San Joaquin Municipal Cemetery illuminates more than just mortality. In a way, it answered this childhood question: Will I live forever in a golden paradise, be reincarnated as a cat, or simply cease to exist? Cemeteries both fascinate and scare the daylights out of me. There in San Joaquin, I resolved not to flee from cemeteries, and not to flee from death itself. – Rappler.com
Paul Vincent Java Gerano holds a Master in Education (M.Ed.) degree major in English as a Second Language from the University of the Philippines. During his student days, he was awarded the 'Most Outstanding Tourism Writer in Western Visayas' by the Department of Tourism and the IWAG Award for his Outstanding Achievement in Campus Journalism by the Philippine Information Agency – Regional Office VI.